Abstract
The main objective of the study was to determine the landslide hazard in the drainage basin of the Niraj River taking into account as far as possible the dichotomous relationship between space and time. A broad inventory of the Romanian approaches concerned with natural hazard prediction reveals a clear preference for spatial analysis, while the temporal scale was almost totally neglected. To fill this gap, the proposed methodological approach combines GIS techniques for quantitative analysis with statistical analysis and detailed observation in the field, both directly and indirectly through remote sensing. Niraj River drainage basin is extended over an area of 658 km2 in the east-central part of Transylvania Depression, one of Romania's major geographic units. Due to the substrate composition, consisting essentially of marls, clays and sands, this area is often affected by rotational and shallow landslides causing important material damages. The first step of this approach was to develop a spatial model for determining the susceptibility to landslide occurrence related to several causative factors: lithology, geomorphology, structural, hydroclimatic, seismic, land use and anthropogenic factors. In order to develop the temporal side of the prediction, two subsidiary objectives were assumed. The first one, to obtain a more detailed database which contains also the temporal moments of the landslides activation or reactivation. Secondly, to realise a statistical analysis of cumulative rainfall, over a period of 90 days prior to the time of each sliding event, which allows us to identify the correlation between cumulative rainfall which had triggered recorded landslides (beginning with the year 2005) and the landslide occurrence moments. On this basis, the main results obtained were: (1) the identification the recurring interval of each value of precipitation amount; (2) the assessment of the temporal probability of landslide occurrence, accepting the assumption that the precipitation amount which led to landslide activation in the past will have the same effects in the future; and (3) the development of four scenarios of landslide occurrence, starting from the events of May 2005, April 2006, July 2010 and February 2013, which were used to determine the annual probability of landslide occurrence under similar precipitation conditions. Finally, by identifying the correlation curves between the probability of landslides and time, taking into account the susceptibility classes, additional scenarios were determined for representative years in the future (2021, 2050, 2071 and 2100). The probability values were used to create correlation curves for each susceptibility class, the corresponding mathematical expressions facilitating the computation of annual probability. The results from the study area highlight the fact that there is an acceleration trend of landslide processes in the high susceptibility area.
Access options
Buy single article
Instant access to the full article PDF.
US$ 39.95
Tax calculation will be finalised during checkout.
Subscribe to journal
Immediate online access to all issues from 2019. Subscription will auto renew annually.
US$ 119
Tax calculation will be finalised during checkout.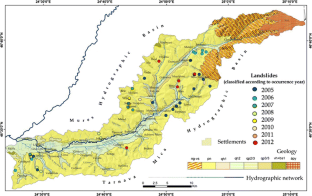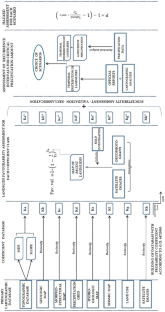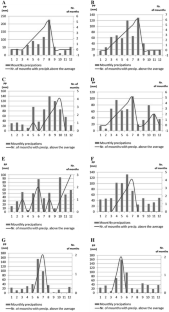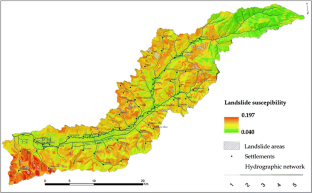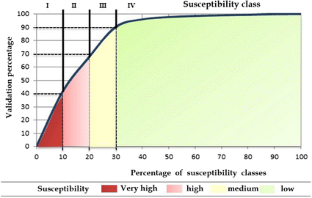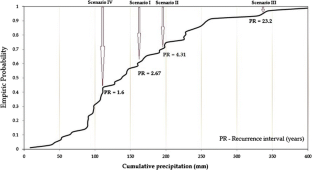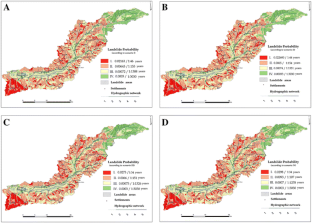 References
Akaike H (1974) A new look at the statistical model identification. IEEE Trans Autom Control 19(6):716–723. doi:10.1109/TAC.1974.1100705

Aleotti P (2004) A warning system for rainfall-induced shallow failures. Eng Geol 73:247–265

Aleotti P, Chowdhury R (1999) Landslide hazard assessment: summary review and new perspectives. Bull Eng Geol Environ 58:21–44

Arghiuş C, Arghiuş VI, Ozunu A, Munteanu OL, Mihăiescu R (2013) Landslide susceptibility assessment in the Codrului Hills (North-Western part of Romania). Carpath J Earth Environ Sci 8(3):137–144

Armas I (2011) An analytic multicriteria hierarchical approach to assess landslide vulnerability. Case study: Cornu Village/Romania. Zeitschrift fur Geomorphol 55(2):209–229

Bălteanu D, Micu M (2009) Landslide investigation: from morphodynamic mapping to hazard assessment. A case-study in the Romanian Subcarpathians: Muscel Catchment, in Landslide Process from Geomorphologic Mapping to Dynamic Modelling, Malet et al (eds). CERG Edotions, Strasburg, France, pp 235–241

Bilaşco Şt, Cs Horvath, Roşian Gh, Filip S, Keller IE (2011) Statistical model using GIS for the assessment of landslide susceptibility. Case-study: the Someş Plateau. Rom J Geogr 2:91–111

Brunetti MT, Peruccacci S, Rossi M, Luciani S, Valigi D, Guzzetti F (2010) Rainfall thresholds for the possible occurrence of landslides in Italy. Nat Hazards Earth Syst Sci 10:447–458

Burton A, Bathurst JC (1998) Physically based modelling of shallow landslide sediment yield at a catchment scale. Environ Geol 35:89–99

Carrara A, Cardinali M, Guzzetti F, Reichenbach P (1995) GIS-based technology in mapping landslide hazard. In: Carrara A, Guzzetti F (eds) Geographical information systems in assessing natural hazards. Kluwer Acad Publications, Dordrecht, pp 135–176

Carrara A, Guzzetti F, Cardinali M, Reichenbach P (1999) Use of GIS technology in the prediction and monitoring of landslide hazard. Nat Hazards 20(2):117–135

Chiţu Z (2010) Spatio-temporal hazard prediction using G.I.S. Case-Study Subcarpathians between Prahova and Ialomiţa Valey, doctorat thesys (in Romanian)

Chung CF, Fabbri AG (1999) Probabilistic prediction models for landslide hazard mapping. Photogramm Eng Remote Sens 65(12):1389–1399

Chung CF, Fabbri A (2003) Validation of spatial prediction models for landslide hazard mapping. Nat Hazards 30(3):451–472

Chung CF, Fabbri A (2012) Systematic procedures of landslide hazard mapping for risk assessment using spatial prediction models. In: Glade T, Anderson M, Crozier MJ (eds) Landslide hazard and risk. Wiley, New York doi: 10.1002/9780470012659.ch4

Coe JA, Michael JA, Crovelli RA,Savage WZ (2004a) Probabilistic assessment of precipitation triggered landslides using historical records of landslide occurrence, Seattle, Washington, Laprade WT, Nashem WD (eds) Environmental and Engineering Geoscience X(2):103–122

Coe JA, Godt JW, Baum RL, Bucknam RC, Michael JA (2004b) Landslide susceptibility from topography in Guatemala. In: Lacerda WA, Erlich M, Fontoura SAB, Sayao ASF (eds) Landslides, evaluation & stabilization. Proceedings of the 9th international Symposium on Landslides, Rio de Janeiro 1:69–79

Crozier MJ (1997) The climate–landslide couple: a Southern Hemisphere perspective. In: Matthews JA, Brunsden D, Frenzel B, Gläser B, Weiß MM (eds) Rapid mass movement as a source of climatic evidence for the Holocene. Gustav Fisher, Stuttgart, Palaeoclimate Research, 19: 333–354

Dai FC, Lee CF (2003) A spatio-temporal probabilistic modelling of storm induced shallow landsliding using aerial photographs and logistic regression. Earth Surf Process Landf 28(5):527–545. doi:10.1002/esp.456

Dai FC, Lee CF, Li J, Xu ZW (2001) Assessment of landslide susceptibility on the natural terrain of Lantau Island, Hong Kong. Environ Geol 40(3):381–391

Dikau R, Schrott L (1999) The temporal stability and activity of landslides in Europe with respect to climatic change (TESLEC): main objectives and results. Geomorphology 30:1–12

Dragotă C (2006) Execedentary precipitation in Romania. Academiei Române, Bucharest (in Romanian)

Dragotă C, Micu M, Micu D (2008) The relevance of pluvial regime for landslides genesis and evolution. Case study Muscel Basin (Buzău Supcarpathians), Romania. Present Environ Sustain Dev 2:242–257

Finlay PJ, Fell R (1997) Landslides: risk perception and acceptance. Can Geotech J 34(6):169–188

Glade T (1997) The temporal and spatial occurrence of landslide-triggering rainstorms in New Zealand. PhD thesis, Department of Geography, Victoria University of Wellington

Gokceoglu C, Aksoy H (1996) Landslide susceptibility mapping of the slopes in the residual soils of the Mengen region (Turkey) by deterministic stability analyses and image processing techniques. Eng Geol 44:147–161. doi:10.1016/S0013-7952(97)81260-4

Grecu F, Carablaisă S, Zaharia L, Toroimac IG (2012) Les précipitations—facteur de la dynamique des versants dans le défilé du Danube (Roumanie). Procedyngs of XXVème Colloque de l'Association Internationale de Climatologie, Les climats régionaux: observations et modélisation, pp 349–354

Grecu F, Toroimac IG, Constantin (Oprea) DM (2014) Le critère pluviométrique Angot dans la détermination de la susceptibilité du terrain aux aléas géomorphologiques en Roumanie. Procedyngs of  XXVIIe Colloque de l'Association Internationale de Climatologie, Vol 2, États de surface et hydrologie, pp 441–447

Guzzetti F (2006) Landslide hazard and risk assessment, http://hss.ulb.uni-bonn.de/2006/0817/0817.htm

Guzzetti F, Carrara A, Cardinali M, Reichenbach P (1999) Landslide hazard evaluation: a review of current techniques and their application in a multiscale study, Central Italy. Geomorphology 31(1–4):181–216

Guzzetti F, Reichenbach P, Cardinali M, Galli M, Ardizzone F (2005) Probabilistic landslide hazard assessment at the basin scale. Geomorphology 72(1–4):272–299

Jibson RW, Harp EL, Michael JA (2000) A method for producing digital probabilistic seismic landslide hazard maps. Eng Geol 58:271–289

Jurchescu M (2012), Olteţ catchment. Applied geomorphological study. Doctoral thesys, University of Bucharest, (in Romanian)

Lateltin O (1997) Berücksichtigung der Massenbewegungsgefahrenbeiraumwirksamen Tätigkeiten. Empfehlungen 1997. Swiss Federal Office for Water and Geology (FOWG). http://www.bwg.admin.ch/themen/natur/e/index.htm

Lee Moung J, Song WG, Won J S, Park I, Lee S (2013) Spatial and temporal change in landslide hazard by future climatic change scenarios using probabilistic-based frequency ratio model, Tailor and Francis, doi: 10.1080/10106049.2013.826739

Lee S, Chwae U, Min K (2002) Landslide susceptibility mapping by correlation between topography and geological structure: the Janghungarea, Korea. Geomorphology 46:149–162

Magliulo P, Di Lisio A, Russo F, Zelano A (2008) Geomorphology and landslide susceptibility assessment using GIS and bivariate statistic: a case study in southern Italy. Nat Hazards 47:411–435

Manea Ş, Surdeanu V (2012), Landslide hazard assessment in the upper and middle sectors of the Strei valley, Revista de Geomorfologie, University of Bucarest Press, 14: 49–55

Micu M (2008) Landslide hazard assessment in the Subcarpathians between Buzău and Teleajen, doctoral thesys. Institute of Geography, Bucharest (in Romanian)

Nagarajan R, Mukherjee A, Roy A, Khire MV (1998) Temporal remote sensing data and GIS application in landslide hazard zonation of part of Western Ghat, India. Int J Remote Sens 19:573–585. doi:10.1080/014311698215865

Năsui D, Petreuş A (2014) Landslide susceptibility assessment in the Irigău Glacis (Baia Mare City, Romania). Carpath J Earth Environ Sci 9:185–190

Petrea D, Şt Bilaşco, Roşca S, Vescan I, Fodorean I (2014) The determination of the Landslide occurence probability by spatial analysis of the Land Morphometric characteristics (case study: the Transylvanian Plateau). Carpath J Environ Sci 9:91–110

Polemio M, Petrucci O (2010) Occurrence of landslide events and the role of climate in the twentieth century in Calabria, southern Italy. Q J Eng Geol Hydrogeol 43:403–415. doi:10.1144/1470-9236/09-006

Rădoane M, Rădoane N (2007) Applied Geomorphology. University of Suceava Press, Suceava (In Romanian)

Roşca S, Şt Bilaşco, Petrea D, Fodorean I, Vescan I (2015) Bankfull discharge and stream power influence on the Niraj river morpgology. Carpath J Earth Environ Sci 10(1):133–146

Saha AK, Gupta RP, Arora MK (2002) GIS-based landslide hazard zonation in the Bhagirathi (Ganga) Valley, Himalayas. Int J Remote Sens 23:357–369. doi:10.1080/01431160010014260

Schmidt J, Dikau R (2004) Modelling historical climate variability and slope stability. Geomorphology 60:433–447. doi:10.1016/j.geomorph.2003.11.001

Talei R (2014) Landslide Hazard assessment in Hashtchin area, Nw-Iran. Carpath J Earth Environ Sci 9(3):123–134

Turrini MC, Visintainer P (1998) Proposal of a method to define areas of landslide hazard and application to an area of the Dolomites, Italy. Eng Geol 50:255–265

Van Westen CJ, Rengers N, Soeters R (2003) Use of geomorphological information in indirect landslide susceptibility assessment. Nat Hazards 30:399–419

Van Westen CJ, Van Asch TWJ, Soeters R (2006) Landslide hazard and risk zonation—why is it still so difficult? Bull Eng Geol Environ 65:167–184. doi:10.1007/s10064-005-0023-0

Vancea A (1960) Neogene from transylvanian basin. R.S.R. Press, Bucureşti 263 (In Romanian)

Varnes DJ, IAEG Commission on landslides and other Mass-Movements (1984) Landslide hazard zonation: a review of principles and practices. Unesco Press, Paris

Vâtcă AM, Irimuş IA, Rocaş S (2014) Landslide susceptibility in Zalău Municipality. J Geomorphol 16:37–45

Zêzere JL, Reis E, Garcia R, Oliveira S, Rodrigues ML, Vieira G, Ferreira AB (2004a) Integration of spatial and temporal data for the definition of different landslide hazard scenarios in the Area North of Lisbon (Portugal).Natural Hazards and Earth System Sciences, European Geosciences Union, 4: 133-146. SRef-ID: 1684-9981/nhess/2004-4-133

Zêzere JL, Rodrigues ML, Reis E, Garcia R, Oliveira S, Vieira G, Ferreira AB (2004b) Spatial and temporal data management for the probabilistic landslide hazard assessment considering landslide typology. In: Lacerda WA, Ehrlich M, Fontura SAB, Sayão ASF (eds) Landslides: evaluation and stabilization. Taylor & Fancis Group, London, pp 117–123

***, IAEG—International Association for Engineering Geology (1984)

*** Government Order no. 447 since April, 10, 2003, concerning the approval of the methodologycal rules related to the drafting and content of the natural hazards at floods and landslides maps, published in Monitorul Oficial, May, 7. 2013. (In Romanian)

***EEA (2004) Impacts of Europe's changing climate -An indicator-based assessment. European Environment Agency Report, 2

***Geological Institute of Romania (1967) Geological maps of Romania, 1:200000 scale (in Romanian)

***National Research and Deveolopment Institute for Earth Physics (2013) Seismic map of Romania, IOP Publishing Web. http://www.encipedia.org/stiri/noua-harta-de-zonare-seismica-conform-p100-1-2013.html. Accessed 9 Feb 2014
About this article
Cite this article
Sanda, R., Ştefan, B., Dănuţ, P. et al. Application of landslide hazard scenarios at annual scale in the Niraj River basin (Transylvania Depression, Romania). Nat Hazards 77, 1573–1592 (2015). https://doi.org/10.1007/s11069-015-1665-2
Received:

Accepted:

Published:

Issue Date:
Keywords
Hazard assessment

Landslide

Predictive curve

Susceptibility

Prediction

Statistical analysis

GIS modelling