Abstract
A conceptual framework for evaluating the vulnerability of industrialized coastal regions to storm surge was developed and implemented to evaluate the vulnerability of the Houston Ship Channel Industrial Corridor (HSC-IC) in Texas to storm surge. In the study, Hurricane Ike scenarios were modeled with SWAN + ADCIRC that involved changing the landfall location of the hurricane along the coast and incorporating the effect of increased wind speed. The storm surge data from the various landfall scenarios were cross-linked with geospatial and environmental data associated with facilities within the industrial region. This work uniquely combines the potential releases from storage tanks, records of past historical releases, and risk management planning to characterize environmental vulnerabilities using storage information and geospatial data. The resulting framework for vulnerability implemented within the HSC-IC found a relationship between storm surge and the total area inundated at a given storm surge level and between storm surge and the total number of storage tanks. Using the developed framework, it was possible to combine releases from storage tanks, records of past historical releases, and risk management planning to characterize environmental vulnerabilities on a facility by facility basis and for the modeled surge levels.
Access options
Buy single article
Instant access to the full article PDF.
USD 39.95
Price excludes VAT (USA)
Tax calculation will be finalised during checkout.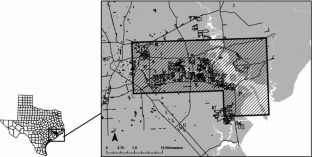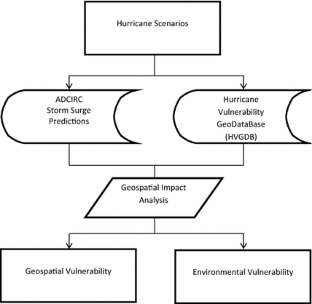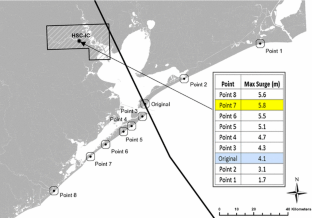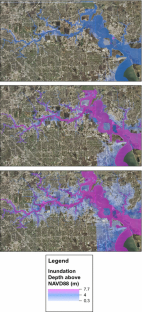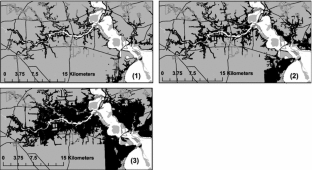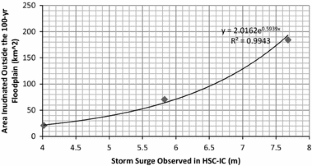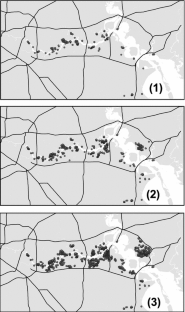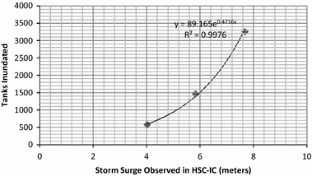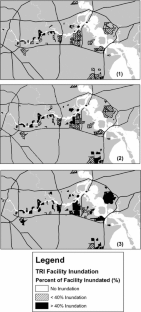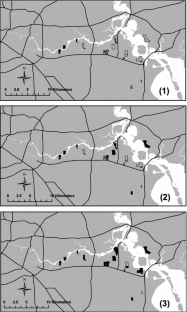 References
Adger WN (2006) Vulnerability. Glob Environ Change 16(3):268–281

Anderson-Berry LJ (2003) Community vulnerability to tropical cyclones: cairns, 1996–2000. Nat Hazards 30(2):209–232

Bonvicini S, Antonioni G, Morra P, Cozzani V (2015) Quantitative assessment of environmental risk due to accidental spills from onshore pipelines. Process Saf Environ Prot 93:31–49

Brody S, Blessing R, Sebastian A, Bedient P (2012) Delineating the reality of flood risk and loss in Southeast Texas. Nat Hazards Rev 14(2):89–97

Cauffman SA, Phan LT, Sadek F, Fritz WP, Duthinh D, Rossiter WJ (2006) Performance of physical structures in Hurricane Katrina and Hurricane Rita: A reconnaissance report (NIST TN 1476). National Institute of Standards and Technology: 222

Chakraborty J, Tobin G, Montz B (2005) Population evacuation: assessing spatial variability in geophysical risk and social vulnerability to natural hazards. Nat Hazards Rev 6(1):23–33

Cigler B (2009) Post-Katrina hazard mitigation on the Gulf Coast. Public Organ Rev 9(4):325–341

Cutter SL (1996) Vulnerability to environmental hazards. Prog Hum Geogr 20(4):529–539

Cutter SL, Barnes L, Berry M, Burton C, Evans E, Tate E, Webb J (2008) A place-based model for understanding community resilience to natural disasters. Glob Environ Chang 18(4):598–606

Dietrich JC, Bunya S, Westerink JJ, Ebersole BA, Smith JM, Atkinson JH, Jensen RE, Resio DT, Luettich RA Jr, Dawson CN, Cardone VJ, Cox AT, Powell MD, Westerink HJ, Roberts HJ (2010) A high resolution coupled riverine flow, tide, wind, wind wave and storm surge model for Southern Louisiana and Mississippi: part II—synoptic description and analyses of hurricanes Katrina and Rita. Mon Weather Rev 138:378–404

Dietrich JC, Zijlema M, Westerink JJ, Holthuijsen LH, Dawson CN, Luettich RA Jr, Jensen RE, Smith JM, Stelling GS, Stone GW (2011a) Modeling hurricane waves and storm surge using integrally-coupled, scalable computations. Coast Eng 58:45–65

Dietrich JC, Westerink JJ, Kennedy AB, Smith JM, Jensen RE, Zijlema M, Holthuijsen LH, Dawson CN, Luettich RA Jr, Powell MD, Cardone VJ, Cox AT, Stone GW, Pourtaheri H, Hope ME, Tanaka S, Westerink LG, Westerink HJ, Cobell Z (2011b) Hurricane Gustav (2008) waves and storm surge: hindcast, synoptic analysis, and validation in Southern Louisiana. Mon Weather Rev 139(8):2488–2522

Dietrich JC, Tanaka S, Westerink JJ, Dawson CN, Luettich RA Jr, Zijlema M, Holthuijsen LH, Smith JM, Westerink LG, Westerink HJ (2012) Performance of the unstructured-mesh, SWAN + ADCIRC model in computing hurricane waves and surge. J Sci Comput 52(2):468–497. doi:10.1007/s10915-011-9555-6

Ding A, White J, Ullman P, Fashokun A (2008) Evaluation of HAZUS-MH flood model with local data and other program. Nat Hazards Rev 9(1):20–28

Hope ME, Westerink JJ, Kennedy AB, Kerr PC, Dietrich JC, Dawson C, Bender C, Smith JM, Jensen RM, Zijlema M, Holthuijsen LH, Luettich RA Jr, Powell MD, Cardone VJ, Cox AT, Pourtaheri H, Roberts HJ, Atkinson JH, Tanaka S, Westerink HJ, Westerink LG (2013) Hindcast and validation of Hurricane Ike (2008) waves, forerunner, and storm surge. J Geophys Res Ocean 118:4424–4460

Irish JL, Resio DT, Ratcliff JJ (2008) The influence of storm size on hurricane surge. J Phys Oceanogr 38(9):2003–2013

Kerr PC, Donahue AS, Westerink JJ, Luettich RA, Zheng LY, Weisberg RH, Huang Y, Wang HV, Teng Y, Forrest DR, Roland A, Haase AT, Kramer AW, Taylor AA, Rhome JR, Feyen JC, Signell RP, Hanson JL, Hope ME, Estes RM, Dominguez RA, Dunbar RP, Semeraro LN, Westerink HJ, Kennedy AB, Smith JM, Powell MD, Cardone VJ, Cox AT (2013) U.S. IOOS coastal and ocean modeling testbed: inter-model evaluation of tides, waves, and hurricane surge in the Gulf of Mexico. J Geophys Res Ocean 118(10):5129–5172

Kleinosky L, Yarnal B, Fisher A (2007) Vulnerability of Hampton Roads, Virginia to storm-surge flooding and sea-level rise. Nat Hazards 40(1):43–70

Link LE (2010) The anatomy of a disaster, an overview of Hurricane Katrina and New Orleans. Ocean Eng 37(1):4–12

Maio CV, Gontz AM, Tenenbaum DE, Berkland EP (2012) Coastal hazard vulnerability assessment of sensitive historical sites on Rainsford Island, Boston Harbor, Massachusetts. J Coastal Res 28(1A):20

Marc L, Carol H (2005) Development of vulnerability functions for industrial/petrochemical facilities due to extreme winds and Hurricanes. Solut Coast Disasters. doi:10.1061/40774(176)50

Metzger M, Schröter D, Leemans R, Cramer W (2008) A spatially explicit and quantitative vulnerability assessment of ecosystem service change in Europe. Reg Environ Change 8(3):91–107

Morrow BH (1999) Identifying and mapping community vulnerability. Disasters 23(1):1

Petrova E (2006) Vulnerability of Russian regions to natural risk: experience of quantitative assessment. Nat Hazards Earth Syst Sci 6(1):49–54

Pine J (2006) Hurricane Katrina and oil spills: impacts on coastal and ocean environment. Oceanography 19(2):37–39

Rao AD, Chittibabu P, Murty TS, Dube SK, Mohanty UC (2007) Vulnerability from storm surges and cyclone wind fields on the coast of Andhra Pradesh, India. Nat Hazards 41(3):515–529

Sebastian A, Proft J, Dietrich JC, Du W, Bedient PB, Dawson CN (2014) Characterizing hurricane storm surge behavior in Galveston Bay using the SWAN and ADCIRC model. Coast Eng 88:171–181

Sengul H, Santella N, Steinberg LJ, Cruz AM (2012) Analysis of hazardous material releases due to natural hazards in the United States. Disasters 36(4):723–743

Sharma U, Patwardhan A (2008) Methodology for identifying vulnerability hotspots to tropical cyclone hazard in India. Mitig Adapt Strat Glob Chang 13(7):703–717

Sheng YP, JR Davis, Figueriredo R, Liu B, Liu H, Luettich R, Paramygin VA, Weaver R, Weisberg R, Xie L, Zheng L (2012) Regional testbed for storm surge and coastal inundation models—an overview. In: Proceedings of the 12th international conference on estuarine and coastal modeling. St. Augustine, Fl, ASCE, pp 476–495

Shuang-Ye W, Brent Y, Fisher A (2002) Vulnerability of coastal communities to sea-level rise: a case study of Cape May County, New Jersey, USA. Clim Res 22(3):255–270

Stearns M, Padgett J (2011) Impact of 2008 Hurricane Ike on bridge infrastructure in the Houston/Galveston region. J Perform Constr Facil 26(4):441–452

Stewart MG (2003) Cyclone damage and temporal changes to building vulnerability and economic risks for residential construction. J Wind Eng Ind Aerodyn 91(5):671–691

Topuz E, Talinli I, Aydin E (2011) Integration of environmental and human health risk assessment for industries using hazardous materials: a quantitative multi criteria approach for environmental decision makers. Environ Int 37(2):393–403

Unanwa CO, McDonald JR, Mehta KC, Smith DA (2000) The development of wind damage bands for buildings. J Wind Eng Ind Aerodyn 84(1):119–149

Vickery PJ, Lin J, Skerlj PF, Twisdale LA Jr, Huang K (2006) HAZUS-MH hurricane model methodology. II: damage and loss estimation. Nat Hazards Rev 7(2):94–103

Wang C, Yarnal B (2012) The vulnerability of the elderly to hurricane hazards in Sarasota, Florida. Nat Hazards 63(2):349–373

Weisberg R, Zheng L (2006) Hurricane storm surge simulations for Tampa Bay. Estuar Coasts 29(6):899–913

Westerink JJ, Luettich RA, Feyen JC, Atkinson JH, Dawson C, Roberts HJ, Powell MD, Dunion JP, Kubatko EJ, Pourtaheri H (2008) A basin- to channel-scale unstructured grid hurricane storm surge model applied to Southern Louisiana. Mon Weather Rev 136(3):833–864

Zijlema M (2010) Computation of wind-wave spectra in coastal waters with swan on unstructured grids. Coast Eng 57:267–277

Zio E, Kroger W (2009) Vulnerability assessment of critical infrastructures. IEEE Reliability Society 2009 Annual Technology Report
Acknowledgments
Support for this research from the Houston Endowment, the Texas Commission on Environmental Quality, the US EPA, and the National Science Foundation (NSF) GK-12 Program Award #0840889 is gratefully acknowledged. Maria Modelska is acknowledged for her dedicated work to the HVGDB, and Mary Tapscott is acknowledged for her work in collecting RMP data.
About this article
Cite this article
Burleson, D.W., Rifai, H.S., Proft, J.K. et al. Vulnerability of an industrial corridor in Texas to storm surge. Nat Hazards 77, 1183–1203 (2015). https://doi.org/10.1007/s11069-015-1652-7
Received:

Accepted:

Published:

Issue Date:

DOI: https://doi.org/10.1007/s11069-015-1652-7
Keywords