Abstract
Kedarnath (3,533 m, 30°44′05″N, 79°04′02″E) is situated within a kilometre of the termini of the Chorabari and Companion glaciers in the Indian Himalaya. An outburst flood from a lake (3,845 m) formed by right lateral moraine of the former caused severe damage to the village on 17 June 2013. We determined various physical parameters of the lake from three digital elevation datasets (CartoDEM, SRTM and ASTER) and selected the SRTM-derived data as they appeared to portray the region more accurately. The obtained parameters were used in predictive equations suggested by different authors to estimate peak discharge of the flood. We also compared high-resolution images of 10 December 1965 (Corona), June 2011 (Bing) and 25 June 2013 (Catrosat-1 Pan + LISS-4mx) to assess the damage caused to the village besides other geomorphic changes. The results showed that at least 149 mm of rainfall in its 291-ha catchment was required to fill up the lake, without considering the presence of antecedent water and loss from seepage and evaporation. At the point of breaching, the lake released 0.43 × 106 m3 of water with a peak discharge of 1,352 cumecs. The north-western section of Kedarnath village was on the direct path of the debris flow triggered by the flood and was almost completely destroyed. The southern and south-eastern sections were least affected. Out of 37,299 m2 of pre-event roof area of Kedarnath (259 structures), 44.2 % were obliterated and 26.7 % were partly damaged, representing 138 and 56 structures, respectively. Only one-quarter of the structures of the village emerged intact or slightly affected after the event.
Access options
Buy single article
Instant access to the full article PDF.
USD 39.95
Price excludes VAT (USA)
Tax calculation will be finalised during checkout.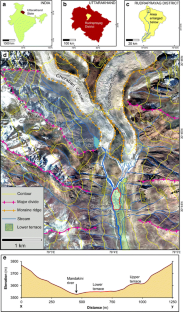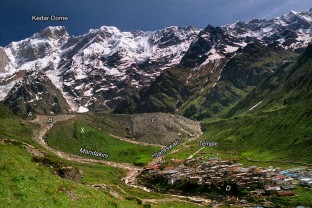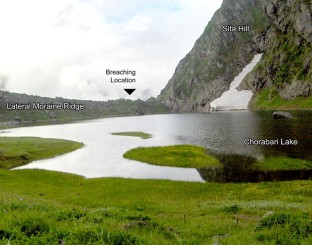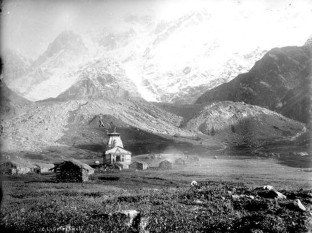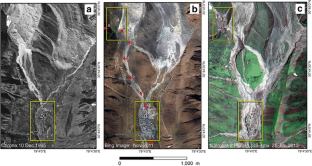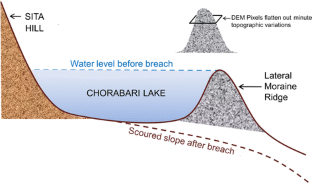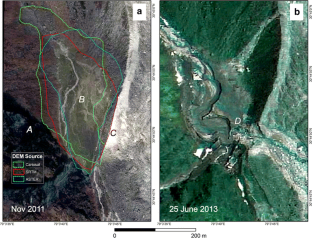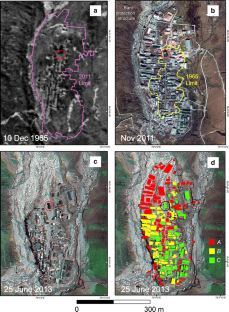 References
Bajracharya SR, Mool P (2009) Glaciers, glacial lakes and glacial lake outburst floods in the Mount Everest region,Nepal. Ann Glaciol 50(53):81–86

Bali R (2009) Advance and retreat of Chaurabari glacier. Curr Sci 97:471

Bandyopadhyay S, Kar NS (2014) The Kedarnath disaster: in search of scientific reasoning. Curr Sci 107:557

Bhambri R, Bolch T, Chaujar RK, Kulshreshtha SC (2011) Glacier changes in the Garhwal Himalaya, India, from 1968 to 2006 based on remote sensing. J Glaciol 57:543–556

Bolch T, Buchroithner MF, Peters J, Baessler M, Bajracharya S (2008) Identification of glacier motion and potentially dangerous glacial lakes in the Mt. Everest region/Nepal using spaceborne imagery. Nat Hazards Earth Syst Sci 8:1329–1340

Chaujar RK (2009) Climate change and its impact on the Himalayan glaciers: a case study on the Chorabari glacier, Garhwal Himalaya, India. Curr Sci 96:703–708

Clague JJ, Evans SG (2000) A review of catastrophic drainage of moraine-dammed lakes in British Columbia. Quat Sci Rev 19:1763–1783

Costa JE (1985) Floods from dam failures. US Geological Survey, Open-File Rep. No. 85-560. http://pubs.usgs.gov/of/1985/0560/report.pdf. Accessed 24 April 2014

Dobhal DP, Gupta AK, Mehta M, Khandelwal DD (2013) Kedarnath disaster: facts and plausible causes. Curr Sci 105:171–174

Dubey SC, Shukla DP, Ningreichon AS, Usham AL (2013) Orographic control of the Kedarnath disaster. Curr Sci 105:1474–1476

Durga Rao KHV, Rao VV, Dadhwal VK, Diwakar PG (2014) Kedarnath flash flood: a hydrological and hydraulic simulation study. Curr Sci 106:598–603

Evans SF (1986) The maximum discharge of outburst floods caused by the breaching of man-made and natural dams. Can Geotech J 23:385–387

Froehlich DC (1995) Peak outflow from breached embankment dam. J Water Resour Plan Manag 121:90–97

Fujita K, Suzuki R, Nuimura T, Akiko S (2008) Performance of ASTER and SRTM DEMs, and their potential for assessing glacial lakes in the Lunana region, Bhutan Himalay. J Glaciol 54:220–228

Fujita K, Sakai A, Takenaka S, Nuimura T, Surazakov AB, Sawagaki T, Yamanakuchi T (2013) Potential flood volume of Himalayan glacial lakes. Nat Hazards Earth Syst Sci 13:1827–1839

Govindha Raj KB (2010) Remote sensing based hazard assessment of glacial lakes: a case study from Zanskar basin, Jammu and Kashmir. Geomat Nat Hazards Risk 1:339–347

Govindha Raj KB, Kumar V (2013) Glacial lakes in Uttarakhand: a remote sensing perspective. National Remote Sensing Centre, Indian Space Research Organisation, Hyderabad. http://www.nrsc.gov.in/pdf/uk.pdf. Accessed 20 April 2014

Govindha Raj KB, Remya SN, Kumar KV (2013) Remote sensing-based hazard assessment of glacial lakes in Sikkim Himalaya. Curr Sci 104:359–364

GSI: Geological Survey of India (2013) Photo Archive: Carl Griesbach in Hundes and Spiti—Section II. http://www.portal.gsi.gov.in/portal/page?_pageid=127,763858&_dad=portal&_schema=PORTAL. Accessed 25 Nov 2013

Haeberli W (1983) Frequency and characteristics of glacier floods in the Swiss Alps. Ann Glaciol 4:85–90

Hagen VK (1982) Re-evaluation of design floods and dam safety. In: Proceedings of the 14th congress of international commission on large dams. International Commission on Large Dams, Paris

Hungr O, Morgan GC, Kellerhals R (1984) Quantitative analysis of debris torrent hazards for design of remedial measures. Can Geotech J 21:663–677

IAL: International Association of Limnogeology (2009) Lake origins. http://www.ohio.edu/Geology/ial/limnogeology/LakeOrigins.html Accessed 30 Nov 2014

IMD: India Meteorological Department (2013) A preliminary report on heavy rainfall over Uttarakhand during 16–18 June 2013 http://wwwimd.gov.in/doc/uttarakhand_report_04_09_2013.pdf. Accessed 20 April 2014

ISRO-NRSC: Indian Space Research Organisation—National Remote Sensing Center (2011) Evaluation of Indian national DEM from Cartosat-1 data: summary report ver 1. http://bhuvan-noeda.nrsc.gov.in/download/download/tools/document/CartoDEMReadme_v1_u1_23082011.pdf. Accessed 10 June 2014

Iturrizaga L (2011) Glacier lake outburst floods. In: Singh VP, Singh P, Haritashya UK (eds) Encyclopedia of snow, ice and glaciers. Springer Science, Dordrecht, pp 381–399

Ives JD (1986) Glacial lake outburst floods and risk engineering in the Himalaya. International Centre for Integrated Mountain Development, Occasional Paper 5:1–41

Ives JD, Shrestha RB, Mool PK (2010) Formation of glacial lakes in the Hindu Kush-Himalayas and GLOF risk assessment. International Centre for Integrated Mountain Development, Kathmandu

Iwata S, Ageta Y, Naito N, Sakai A, Narama C, Karma (2002) Glacial lakes and their outburst flood assessment in the Bhutan Himalaya. Global Environ Res 6:3–17

JAXA: Japan Aerospace Exploration Agency (2008) Glacial lakes in Bhutan Himalayas. http://www.eorc.jaxa.jp/en/imgdata/topics/2008/tp080402.html. Accessed 15 Nov 2014

Kala CP (2014) Deluge, disaster and development in Uttarakhand Himalayan region of India: challenges and lessons for disaster management. Int J Disaster Risk Reduct 8:143–152

Kirkpatrick, GW (1977) Evaluation guidelines for spillway adequacy in the evaluation of dam safety. In: Proceedings engineering foundation conference, Pacific Grove, California, American Society of Civil Engineers, pp 395–414

Komori J (2008) Recent expansions of glacial lakes in the Bhutan Himalayas. Quat Int 184:177–186

Komori J, Koike T, Yamanokuchi T, Tshering P (2012) Glacial lake outburst events in the Bhutan Himalayas. Global Environ Res 16:59–70

Lamsal D, Sawagaki T, Watanabe T, Byers AC (2014) Assessment of glacial lake development and prospects of outburst susceptibility: Chamlang South glacier, eastern Nepal Himalaya. Geomat Nat Hazards Risk. doi:10.1080/19475705.2014.931306

Mcdonald TC, Langridge-Monopolis J (1984) Breaching characteristics of dam failures. J Hydraul Eng 110:567–586

Meyer D et al. (2011) ASTER global digital elevation model version 2: summary of validation results. http://www.jspacesystems.or.jp/ersdac/GDEM/ver2Validation/Summary_GDEM2_validation_report_final.pdf. Accessed 10 June 2014

Mishra A, Srinivasan J (2013) Did a cloud burst occur in Kedarnath during 16 and 17 June 2013? Curr Sci 105:1351–1352

Mool PK, Wangda D, Bajracharya SR, Kunzang K, Gurung DR, Joshi SP (2001) Inventory of glaciers, glacial lakes and glacial lake outburst floods, monitoring and early warning systems in the Hindu Kush-Himalaya region: Bhutan. International Centre for Integrated Mountain Development, Kathmandu

Mool PK, Maskey PR, Koirala A, Joshi SP, Lizong W, Shrestha AM, Eriksson M, Gurung B, Pokharel B, Khanal NR, Panthi S, Adhikari T, Kayastha RB, Ghimire P, Thapa R, Shrestha B, Shrestha S (2011) Glacial lakes and glacial lake outburst floods in Nepal. International Centre for Integrated Mountain Development, Kathmandu

Muralikrishnan D, Pillai A, Narender B, Reddy S, Venkataraman VR, Dadhwal VK, Raghu V (2013) Validation of Indian National DEM from Cartosat-1 Data. J Ind Soc Remote Sens 41:1–13

NASA-EO: National Aeronautics and Space Administration—Earth Observatory (2009) Thorthormi glacier lake, Bhutan. http://earthobservatory.nasa.gov/IOTD/view.php?id=40962. Accessed 15 Nov 2014

Pierce MW, Thornton CI, Abt SR (2010) Predicting peak outflow from breached embankment dams. J Hydrol Eng 15:338–349

Quincey DJ, Richardson SD, Luckman A, Lucas RM, Reynolds JM, Hambrey MJ, Glasser NF (2007) Early recognition of glacial lake hazards in the Himalaya using remote sensing datasets. Glob Planet Chang 56:137–152

Rana N, Singh S, Sundriyal YP, Juyal N (2013) Recent and past floods in Alakananda valley: causes and consequences. Curr Sci 105:1209–1212

Richardson SD, Reynolds JM (2000) An overview of glacial hazards in the Himalayas. Quat Int 65(66):31–47

Rickenmann D (1999) Empirical relationship for debris flows. Nat Hazards 19:47–77

Rodríguez E, Morris CS, Belz JE (2006) A global assessment of the SRTM performance. Photogramm Eng Remote Sens 72:249–260

Sakai A, Chikita K, Yamada T (2000) Expansion of a moraine-dammed glacial lake, Tsho Rolpa, in Rolwaling Himal, Nepal Himalaya. Limnol Oceanogr 45:1401–1408

Sati VP (2013) Extreme weather related disaster, a case study of two flash flood hit areas of Badrinath and Kedarnath Valleys, Uttarakhand Himalaya, India. J Earth Sci Eng 3:562–568

Sati SP, Gahalaut VK (2013) The fury of floods in north-west Himalayan region: the Kedarnath tragedy. Geomat Nat Hazards Risk 4:193–201

Sharma A, Kartikeyan D (2014) Potential of CartoDEM in disaster management. J Geomat 8:96–100

Sharma MC, Owen LA (1996) Quaternary glacial history of NW Garhwal, central Himalayas. Quat Sci Rev 15:335–365

Singh DS (2014) Surface processes during flash floods in the glaciated terrain of Kedarnath, Garhwal Himalaya and their role in the modification of landmass. Curr Sci 106:594–597

Singh KP, Snorrason A (1982) Sensitivity of outflow peaks and flood stages to the selection of dam breach parameters and simulation models, vol 288. SWS Contract Report, Illinois Department of Energy and Natural Resources, State Water Survey Division, University of Illinois

Singh KP, Snorrason A (1984) Sensitivity of outflow peaks and flood stages to the selection of dam breach parameters and simulation models. J Hydrol 68:295–310

United States Bureau of Reclamation (1982) Guidelines for defining inundated areas downstream from Bureau of Reclamation dams. US Department of the Interior, Bureau of Reclamation, Denver

United States Soil Conservation Service (1981) Simplified dam-breach routing procedure. Technical Release 66

Uniyal A (2013) Lessons from Kedarnath tragedy of Uttarakhand Himalaya, India. Curr Sci 105:1472–1474

Wahl TL (2004) Uncertainity of predictions of embankment dam breach parameters. J Hydraul Eng 5:389–397

Walder JS, O'Connor JE (1997) Methods for predicting peak discharge of floods caused by failure of natural and constructed earthen dams. Water Resour Res 33:2337–2348

Westoby MJ, Glasser NF, Brasington J, Hambrey MJ, Quincey DJ, Reynolds JM (2014a) Modelling outburst floods from moraine-dammed glacial lakes. Earth Sci Rev 134:137–159

Westoby MJ, Glasser NF, Hambrey MJ, Reynolds JM, Hassan AAM (2014b) Reconstructing historic glacial lake outburst floods through numerical modelling and geomorphological assessment: extreme events in the Himalaya. Earth Surf Process Landf. doi:10.1002/esp.3617

Worni R, Huggel C, Stoffel M (2013) Glacial lakes in the Indian Himalayas: from an area-wide glacial lake inventory to on-site and modeling based risk assessment of critical glacial lakes. Sci of the Total Environ 468–469(Supplement 1):S71–S84

Yao X, Liu S, Sun M, Wei J, Guo W (2012) Volume calculation and analysis of the changes in moraine-dammed lakes in the north Himalaya: a case study of Longbasaba lake. J Glaciol 58:753–800
Acknowledgments
We thank Dr. Amal Kar for his advice and help in formulation of this article. Mr. Ratanlal Biswas kindly allowed us to use two photographs from his collection. We also thank the agencies from which the elevation and satellite data were sourced: United States Geological Survey (Corona, SRTM DEM and ASTER GDEM), India's National Remote Sensing Centre (CartoDEM and post-event image), and Bing Map (pre-event image).
About this article
Cite this article
Das, S., Kar, N.S. & Bandyopadhyay, S. Glacial lake outburst flood at Kedarnath, Indian Himalaya: a study using digital elevation models and satellite images. Nat Hazards 77, 769–786 (2015). https://doi.org/10.1007/s11069-015-1629-6
Received:

Accepted:

Published:

Issue Date:

DOI: https://doi.org/10.1007/s11069-015-1629-6
Keywords
GLOF

DEM

Remote sensing

Chorabari

Kedarnath