Abstract
Deaths from rip currents are a major hazard on global beaches, but few data are available at a national scale to support the development of appropriate intervention programs. Analysis of data from the Judicial Investigation Organization of Costa Rica indicates that drowning is the leading cause of violent death in the country, with 1,391 drownings between 2001 and 2012. Approximately 590 of those drownings occurred in a marine environment and are listed as being the result of rip currents. A majority (64 %) of the drownings attributed to rip currents involved victims from Costa Rica and tended to involve young single male students at beaches within a relatively short drive from San Jose on weekends and on national holidays. In comparison, the majority of foreign drowning victims were older males from the USA and Nicaragua with no statistically significant variation in the number of those drownings by day of the week. Predicted wave forcing and measured sediment characteristics suggest that the majority of drownings are associated with a transverse bar and rip (TBR) morphology with quasi-steady rip channels close to the beach. The interannual variation in both local and foreign drownings exhibits a statistically significant dependency on the variation in wave height with the Pacific-North American (PNA) Oscillation. Specifically, drownings peak during the negative phase of the PNA when wave heights are significantly smaller, which may reflect a tendency for beach users to enter calm water when the beach tends to have a TBR morphology. Further study is required to characterize the rip hazard at the most popular beaches on the Pacific and Caribbean coasts and to determine the level of rip knowledge by both local and foreign beach users.
Access options
Buy single article
Instant access to the full article PDF.
USD 39.95
Price excludes VAT (USA)
Tax calculation will be finalised during checkout.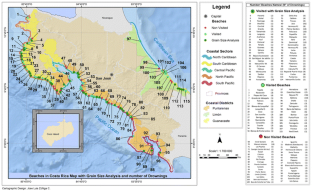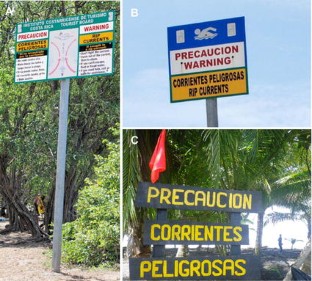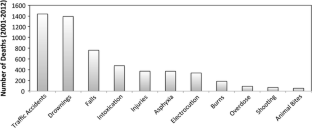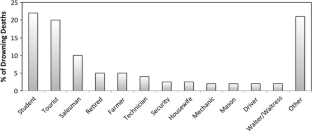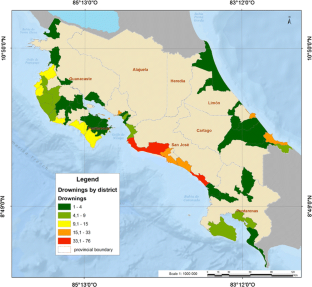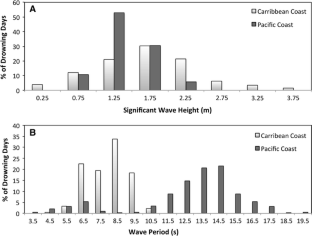 References
Barrett G, Houser C (2012) Identifying hot spots of rip current activity using wavelet analysis at Pensacola Beach, Florida. Phys Geogr 33:32–49

Brander RW, Bradstreet A, Sherker S, MacMahan J (2011) The behavioral responses of swimmers caught in rip currents: new perspectives on mitigating the global rip current hazard. Int J Aquat Res Educ 5:476–486

Brannstrom C, Trimble S, Santos A, Brown HL, Houser C (2014) Perception of the rip current hazard on Galveston Island and North Padre Island, Texas, USA. Nat Hazards 72(2):1123–1138

Brannstrom C, HouserC, Lee H, Trimble S, Santos A (2015) "You can't see them from sitting here:" Evaluating beach user understanding of a rip current warning sign. Appl Geogr 56:61–70

Brighton B, Sherker S, Brander R, Thompson M, Bradstreet A (2013) Rip current related drowning deaths and rescues in Australia: 2004–2011. Nat Hazards Earth Syst Sci 13:1069–1075

Caldwell N, Houser C, Meyer-Arendt K (2013) Ability of beach users to identify rip currents at Pensacola Beach, Florida. Nat Hazards 68:1041–1056

Denyer P, Arias O, Personius S (1994) Efecto tectónico del terremoto de Limón. Rev. Geol. Am. Central, Vol. Especial—Terremoto de Limón, 22 de Abril de 1991, 39–52

Drozdzewski D, Shaw W, Dominey-Howes D, Brander R, Walton T, Gero A, Sherker S, Goff J, Edwick B (2012) Surveying rip current survivors: preliminary insights into the experiences of being caught in rip currents. Nat Hazards Earth Syst Sci 12:1201–1211

Escalante G, Astorga A (1994) Geología del Este de Costa Rica y el Norte de Panamá Rev. Geol. Amér.Central, v. esp. Terremoto de Limón, pp 1–14

Ferguson RI, Church M (2004) A simple universal equation for grain settling velocity. Journal of Sedimentary Research 74:933–937

Fisher DM, Gardner TW, Marshall JS, Montero W (1994) Kinematics associated with late Cenozoic deformation in central Costa Rica: Western boundary of the Panama microplate. Geology 22:263–266

Fisher DM Gardner TW, Marshall JS, Sak PB, Protti M (1998) Effect of subducting sea-floor roughness on fore-arc kinematics, Pacific coast, Costa Rica. Geology 26:467–470

Gardner TW, Verdonck D, Pinter NM, Slingerland R, Furlong KP, Bullard TF, Wells SG (1992) Quaternary uplift astride the aseismic Cocos Ridge, Pacific coast, Costa Rica. Geol Soc Am Bull 104:219–232

Gensini VA, Ashley WS (2010) An examination of rip current fatalities in the United States. Nat Hazards 54:159–175

Houser C, Barrett G, Labude D (2011a) Alongshore variation in the rip current hazard at Pensacola Beach, Florida. Nat Hazards 57:501–523

Houser C, Caldwell N, Meyer-Arendt K (2011b) Hot times at Hot spots: The rip current hazard at Pensacola Beach, Florida. In: Leatherman S, Fletemeyer J (eds) Invited submission to refereed book Rip currents: Beach safety, physical oceanography and wave modeling. CRC Press, Boca Raton, pp 175–198

Houser C, Arnott R, Ulzhöfer S, Barrett G (2013) Nearshore circulation over transverse bar and rip morphology with oblique wave forcing. Earth Surf Proc Land 38:1269–1279

Klein A, Santana C, Diehl E, De Menezes J (2003) An analysis of hazards associated with sea bathing: results of five years work in oceanic beaches of Santa Catarina State, southern Brazil. J. Coastal Res, SI 35:107–116

Lushine JB (1991) A study of rip current drownings and related weather factors. Natl Wea Dig 16:13–19

Matarrita-Cascante D, Brennan MA, Luloff AE (2010) Community agency and sustainable tourism development. J Sustain Tour 18(6):756–765

Morgan D, Ozanne-Smith J, Triggs T (2009) Direct observation measurement of drowning risk exposure for surf bathers. J Sci Med Sport 12:457–462

Nost E (2013) The power of place: tourism development in Costa Rica. Tour Geogr 15(1):88–106

Scott T, Russell P, Masselink G, Wooler A (2009) Rip current variability and hazard along a macro-tidal coast. J Coast Res 56:895–899

Sherker S, Brander R, Finch C, Hatfield J (2008) Why Australia needs an effective national campaign to reduce coastal drowning. J Sci Med Sport 11:81–83

Sherker S, Williamson A, Hatfield J, Brander R, Hayen A (2010) Beachgoers' beliefs and behaviours in relation to beach flags and rip currents. Accid Anal Prev 42:1785–1804

Short AD, Hogan CI (1994) Rip currents and beach hazards: their impact on public safety and implications for coastal management. J Coast Res SI12:197–209

Van Noorloos F (2011) Residential tourism causing land privatization and alienation: new pressures on Costa Rica's coasts. Development 54(1):85–90

Warf B (2010) Do you know the way to San José Medical tourism in Costa Rica. J Lat Am Geogr 9(1):51–66

Wright LD, Short AD (1984) Morphodynamic variability of beaches and surf zones: a synthesis. Mar Geol 56:92–118
About this article
Cite this article
Arozarena, I., Houser, C., Echeverria, A.G. et al. The rip current hazard in Costa Rica. Nat Hazards 77, 753–768 (2015). https://doi.org/10.1007/s11069-015-1626-9
Received:

Accepted:

Published:

Issue Date:

DOI: https://doi.org/10.1007/s11069-015-1626-9
Keywords