Abstract
Rainfall has a considerable role in soil erosion and can be used to determine the rate of soil erosion at different areas. In general, the erosivity factor is represented by erosivity indices that are based on rainfall characteristics and drastically varies from place to place. However, developing appropriate models or calibrating available indices for erosivity estimation has been rarely taken into account in developing countries. The present study has, therefore, attempted to evaluate the accuracy of existing indices for estimation of erosivity factor and appropriate model calibration, and development was ultimately made. To achieve the study purposes, at first, the location of maximum number of accessible 14 stations distributed throughout Iran with 23-year common data span as well as the quality and the quantity of corresponding data was investigated to model the Wischmeier and Smith's erosivity index. The index was estimated by different erosivity indices, viz. Fournier, modified Fournier, Roose and Lo, mainly based on easily accessible rainfall data, and necessary comparisons were accordingly made. The results of comparison showed that the Roose's index had more applicability in estimating the Wishmeier and Smith's index in study stations with determination coefficient varied from 31 to 98 % (p < 0.32) and relative errors between 9.0 and 98.3 %. A calibrated Roose's index with reasonable statistical performance was consequently developed for different stations.
Access options
Buy single article
Instant access to the full article PDF.
US$ 39.95
Tax calculation will be finalised during checkout.
Subscribe to journal
Immediate online access to all issues from 2019. Subscription will auto renew annually.
US$ 119
Tax calculation will be finalised during checkout.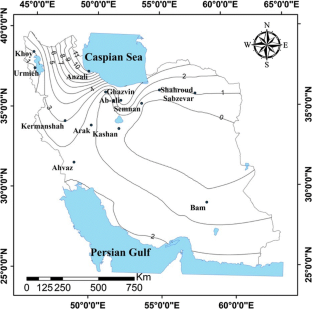 References
Alaimo A, Marchis M, Freni G, Messineo D (2012) Concept of a new pluviometer for metering rainfall erosivity. Adv Mater Res 452–453:316–320

Andrade O, Kappas M, Erasmi S (2010) Assessment of erosion hazard in Torres Municipality of Lara State (Venenzuela) based on GIS. Interciencia 35:348–356

Angulo-Martinez M, Begueria S (2009) Estimating rainfall erosivity from daily precipitation record: a comparison amang methods using data from the Ebro Basin (NE Spain). J Hydrol 372:111–121

Arnoldus HMJ (1977) Methodology used to determine the maximum potential average annual soil loss due to sheet and rill erosion in Morocco. In: Assessing soil degradation. FAO Soils Bulletin, Italy, pp 39–48

Arnoldus HMJ (1980) An approximation of the rainfall factor in the USLE. In: De Boodt M, Gabriels D (eds) Assessment of erosion. Wiley, Chichester, pp 127–132

Bonilla CA, Vidal KL (2011) Rainfall erosivity in central Chile. J Hydrol 410:126–133

Cerdá A (1997) Rainfall drop size distribution in the Western Mediterranean basin, València, Spain. Catena 30:169–182

Davison P, Hutchins MG, Anthony SG, Betson M, Johnson M, Lord EI (2005) The relationship between potentially erosive storm energy and daily rainfall quantity in England and Wales. Sci Total Environ 344:15–25

Diodato N (2005) Predicting RUSLE (revised universal soil loss equation) monthly erosivity index from readily available rainfall data in Mediterranean area. Environmentalist 25:63–70

Diodato N, Verstraeten G, Bellocchi G (2012) Decadal modelling of rainfall erosivity in Belgium. J Land Degrad Dev. 77:165–175

Elagib NA (2011) Changing rainfall, seasonality and erosivity in the hyper-arid zone of Sudan. J. Land Degrad Dev 22:505–512

Foster GR, McCool DK, Renard KG, Moldenhauer WC (1981) Conversion of universal soil loss equation to SI metric units. J Soil Water Conserv 36:355–359

Fournier F (1960) Climate et erosion; la relation entre lerosion du sol par leau et les precipitations atmospheriques. Universitaires de France, Paris

Gabriels D (2006) Assessing the modified Fournier index and the precipitation concentration index for some European countries. In: Poesen J, Boardman J (eds) Soil erosion in Europe. Wiley, New York, pp 675–684

González-Hidalgo JC, Batalla RJ, Cerdà A, De Luis M (2010) Contribution of the largest events to suspended sediment transport across the USA. J Land Degrad Dev 21:83–91

González-Hidalgo JC, Batalla RJ, Cerdà A, De Luis M (2012) A regional analysis of the effects of largest events on soil erosion. Catena 95:85–89

Jabari S, Berndtsson R, Olsson J, Bahri A (2012) Soil erosion estimation based on rainfall disaggregation. J Hydrol 436–437:102–110

Lastoria B, Miserocchi F, Lanciani A, Monacelli G (2008) An estimated erosion map for the Aterno–Pescara River Basin. Eur Water 21:29–39

Lawal O, Thomas G, Babatunde N (2007) Estimation of potential soil losses on a regional scale: a case of Abomey–Bohicon region. Benin Repub Agric J 2:1–8

Lee HJ, Heo JH (2011) Evaluation of estimation methods for rainfall erosivity based on annual precipitation in Korea. J Hydrol 409:30–48

Lo A, El-Swaify SA, Dangler EW, Shinshiro L (1985) Effectiveness of EI30 as an erosivity index in Hawaii. In: El-Swaify SA, Moldenhauer WC, Lo A (eds) Soil erosion and conservation. Soil Conservation Society of America, Ankeny, pp 384–392

Morgan RPC, Davidson DA (1986) Soil erosion and conservation. Longman Group UK, Harlow

National Geographical Organization (2012) The actual area of Iran. https://www.ngo-iran.ir/ngo.htm. (Accessed 4 Sep 2012)

Obi ME, Salako FK (1995) Rainfall parameters influencing erosivity in southeastern Nigeria. Catena 24:275–287

Olivares B, Verbist K, Lobo D, Vargas R, Silva O (2011) Evaluation of the USLE model to estimate water erosion in an Alfisol. J Soil Sci Plant Nutr 11:71–85

Petrovsek G, Mikos M (2004) Estimating the R factor from daily rainfall data in the sub-Mediterranean climate of southwest Slovenia. Hydrol Sci J 49:869–877

Qiang Z, Chen XW, Fan QX, Jin HP, Li JR (2011) A new procedure to estimate the rainfall erosivity factor based on tropical rainfall measuring mission (TRMM) Data. Sci China Technol Sci 54:2437–2445

Renard KG, Freimund JR (1994) Using monthly precipitation data to estimate the R-factor in the revised USLE. J Hydrol 157:287–306

Renard KG, Foster GR, Weesies GA, McCool DK, Yoder DC (1997) Predicting soil loss by water: a guide to conservation planning with the revised soil loss equation (RSULE). U.S. Department of Agriculture. Handbook No. 703, 404 pp

Roose E (1977) Erosion et ruissellement en Afrique de louest-vingt annees de mesures en petites parcelles experimentales. Pour faire face à ce problème préoccupant, I'ORSTOM et les Instituts Travaux et Documents de I'ORSTOM No. 78, 108 pp

Sadeghi SHR, Motamednia M, Behzadfar M (2011) Spatial and temporal variation in the rainfall erosivity factor in Iran. J Agric Sci Technol 34:451–464

Sauerborn P, Klein A, Botschek J, Skowronek A (1999) Future rainfall erosivity derived from large-scale climate models—methods and scenarios for a humid region. Geoderma 93:269–276

Shamshad A, Azhari MN, Isa MH, Wan Hussin WMA, Parida BP (2008) Development of an appropriate procedure for estimation of RUSLE EI30 index and preparation of erosivity maps for Pulau Penang in Peninsular Malaysia. Catena 72:423–432

Silva AM (2004) Rainfall erosivity map for Brazil. Catena 57:251–259

Sonneveld BGJS, Nearing MA (2003) A nonparametric/parametric analysis of the universal soil loss equation. Catena 52:9–21

Stocking MA, Elwell HA (1976) Rainfall erosivity over Rhodesia. Trans Inst Br Geogr 1:231–245

Taguas EV, Carpintero E, Ayuso JL (2013) Assesing land degradation risk through the long-term analysis of erosivity: a case study in southern Spain. J. Land Degrad Dev 24:179–187

Tombus FE, Yuksel M, Sahin M, Ozulu IM, Cosar M (2012) Assessment of soil erosion based on the method USLE, Corum Province example. FIG working week, Knowing to manage the territory, protect the environment, evaluate the cultural heritage, Rome, Italy, pp 1–11

Wang N, Jiao JY, Lei D, Chen Y, Wang DL (2012) Effect of rainfall erosion: seedling damage and establishment. J Land Degrad Dev. doi:10.1002/ldr.2183

Wischmeier WH, Smith DD (1965) Predicting rainfall erosion losses: a guide to conservation planning. U.S. Department of Agriculture Handbook No. 537, 58 pp

Xin Z, Yu X, Li Q, Lu XX (2010) Spatiotemporal variation in rainfall erosivity on the Chinese Loess Plateau during the period 1956–2008. Reg Environ Chang 11:149–159

Yang D, Kanae S, Oki T, Koike T, Musiake K (2003) Global potential soil erosion with reference to land use and climate change. Hydrol Process 17:2913–2928

Yu B, Hashim GM, Eusof Z (2001) Estimating the R-factor with limited rainfall data: a case study from peninsular Malaysia. J Soil Water Conserv 56:101–105

Zhang XC, Liu WZ (2005) Simulating potential response of hydrology, soil erosion, crop productivity to climate change in Changwu tableland region on the region on the Loss Plateau of China. Agric For Meteorol 131:127–142

Zhang H, Yang Q, Li R, Liu Q, Moore D, He P, Ritsema C, Geissen V (2013) Extension o f a GIS p rocedure for calculating the RUSLE equation LS f actor. Comput Geosci 52:177–188

Ziadat FM, Taimeh AY (2013) Effect of rainfall intensity, slop, land use and antecedent soil moisture on soil erosion in ariad environment. J Land Degrad Dev 24:582–590
About this article
Cite this article
Sadeghi, S.H., Tavangar, S. Development of stational models for estimation of rainfall erosivity factor in different timescales. Nat Hazards 77, 429–443 (2015). https://doi.org/10.1007/s11069-015-1608-y
Received:

Accepted:

Published:

Issue Date:
Keywords
Erosivity models

Modeling scale

Sediment yield

Soil erosion