Abstract
The present study aims at unraveling the acceptability and potential of flood insurance as a viable mechanism to cope the financial risk associated with flood events in rural Pakistan. Moreover, the factors influencing rural households' willingness to pay for flood insurance are also analyzed. Currently, the country faces an increasing rate of flooding due to climate change phenomenon resulting in abnormal monsoonal cycles and the melting of Himalayan glaciers in the region. The current flood management strategy of the country mainly involves ex-post relief and rehabilitation programs along with financial transfers to the flood victims from public funds without the involvement of private insurance companies. This puts enormous pressure on the public exchequer, leading to budgetary adjustments and tax escalation. Under such a scenario, flood insurance is thought to be a viable alternative to mitigate the financial risk associated with the catastrophic events like the flood that occurred in 2010. The study utilized primary level data from five districts in Pakistan to evaluate the willingness to pay for flood insurance as well as the factors affecting that willingness by using contingent valuation methodology. The results show that the acceptability of this intervention among flood victims depends on a multitude of factors such as the age of the household head, landownership, off-farm income sources and a preconception concerning the effectiveness of flood insurance. Moreover, rural families' readiness to pay an insurance premium is not significantly influenced by perceived risk of flooding but by their financial position.
Access options
Buy single article
Instant access to the full article PDF.
USD 39.95
Price excludes VAT (USA)
Tax calculation will be finalised during checkout.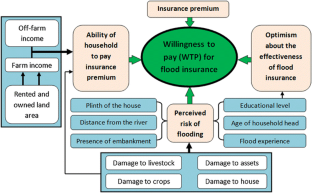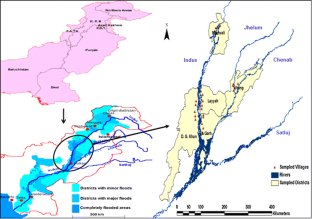 Notes
Pakistan has two distinct cropping seasons, namely Rabi and Kharif that usually last for 6 months each. Generally, floods hit Pakistan during the Kharif season when rice, cotton, sorgham (fodder), mung (pulse) and sugarcane are grown.
References
Afroz R, Hanaki K, Hasegawa-Kurisu K (2009) Willingness to pay for waste management improvement in Dhaka city, Bangladesh. J Environ Manag 90:492–503

Ahmed T (2013) Current status of index-based insurance in Bangladesh. WorldFish, Penang, Malaysia. Project Report: 2013 (38)

Akter S, Brouwer R, Choudhury S et al (2009) Is there a commercially viable market for crop insurance in rural Bangladesh? Mitig Adapt Strateg Glob Change 14:215–229

Akter S, Brouwer R, van Beukering PJH et al (2011) Exploring the feasibility of private micro flood insurance provision in Bangladesh. Disasters 35(2):287–307

Atta-ur-Rahman, Khan AN (2013) Analysis of 2010-flood causes, nature and magnitude in the Khyber Pakhtunkhwa, Pakistan. Nat Hazards 66:887–904

Azam K, Yussof RBM, Khan A (2012) The role of coping capacities in disaster perspective: a case of Pakistan flash floods, 2010. Int J Sust Dev 4(3):109–126

Bhutto AW, Bazmi AQ (2007) Sustainable agriculture and eradication of rural poverty in Pakistan. Nat Resour Forum 31:253–262

Bockstael NE, Hanemann WM, Kling CL (1987) Estimating the value of water quality improvements in a recreational demand framework. Water Resour Res 23(5):951–960

Bolch T, Kulkarni A, Kääb A et al (2012) The state and fate of Himalayan glaciers. Science 336:310–314

Botzen WJW, van den Bergh JCJM (2008) Insurance against climate change and flooding in the Netherlands: present, future and comparison with other countries. Risk Anal 28(2):413–426

Botzen WJW, van den Bergh JCJM (2009) Bounded rationality, climate risks, and insurance: is there a market for natural disasters? Land Econ 85(2):265–278

Botzen WJW, van den Bergh JCJM (2012) Risk attitudes to low-probability climate change risks: WTP for flood insurance. J Econ Behav Organ 82:151–166

Botzen WJW, Aerts JCJH, van den Bergh JCJM (2009) Willingness of homeowners to mitigate climate risk through insurance. Ecol Econ 68:2265–2277

Botzen WJW, de Boer J, Terpstra T (2013) Framing of risk and preferences for annual and multi-year flood insurance. J Econ Psychol 39:357–375

Bradford RA, O'Sullivan JJ, van der Craats IM et al (2012) Risk perceptions: issues for flood management in Europe. Nat Hazards Earth Syst Sci 12(7):2299–2309

Brouwer R, Akter S (2010) Informing micro insurance contract design to mitigate climate change catastrophe risks using choice experiments. Environ Hazards 9(1):74–88

Burn DH (1999) Perceptions of flood risk: a case study of the Red River flood of 1997. Water Res Res 35(11):3451–3458

CDKN (2012) Country snapshot-Pakistan. Climate and Development Knowledge Network, Islamabad

Clark DE, Novotny V, Griffin R et al (2002) Willingness to pay for flood and ecological risk reduction in an urban watershed. Water Sci Technol 45(9):235–242

Cook ER, Palmer JG, Ahmed M et al (2013) Five centuries of upper Indus River flow from tree rings. J Hydrol 486:365–375

Cooper JC (1999) Referendum CVM programmes. Economics Research Service, USDA, Washington, DC

Dawson RJ, Ball T, Werritty J et al (2011) Assessing the effectiveness of non-structural flood management measures in the Thames Estuary under conditions of socio-economic and environmental change. Glob Environ Chang 21(2):628–646

Dilley M, Chen RS, Deichmann U et al (2005) Natural disaster hotspots: a global risk analysis. World Bank and Columbia University, Washington, DC

FFC (2012) Annual flood report 2012. Federal Flood Commission, Government of Pakistan, Ministry of Water and Power, Islamabad-Pakistan

Fuks M, Chatterjee L (2008) Estimating the willingness to pay for a flood control project in Brazil using the contingent valuation method. J Urban Plan Dev 134(1):42–52

Glenk K, Fischer A (2010) Insurance, prevention or just wait and see? Public preferences for water management strategies in the context of climate change. Ecol Econ 69(11):2279–2291

Hanemann WM, Loomis JB, Kanninen BJ (1991) Statistical efficiency of double-bounded dichotomous choice contingent valuation. Am J Agric Econ 73(4):1255–1263

Hartmann H, Andresky L (2013) Flooding in the Indus River basin-a spatiotemporal analysis of precipitation records. Glob Planet Chang 107:25–35

Hirabayashi Y, Mahendran R, Koirala S et al (2013) Global flood risk under climate change. Nat Clim Change 3:816–821

Immerzeel WW, Beek LPH, Bierkens MFP (2010) Climate change will affect the Asian water towers. Science 328:1382–1385

Kabat P, van Vierssen W, Veraart J et al (2005) Climate proofing the Netherlands. Nature 438(7066):283–284

Kazi A (2014) A review of the assessment and mitigation of floods in Sindh, Pakistan. Nat Hazards 70(1):839–864

Kitamura R, Yoshii T, Yamamoto T (2009) The expanding sphere of travel behavior research. Emerald Group Publishing, UK

Kousky C (2011) Understanding the demand for flood insurance. Nat Hazards Rev 12(2):96–110

Krausmann E, Mushtaq F (2008) A qualitative Natech damage scale for the impact of floods on selected industrial facilities. Nat Hazards 46:179–197

Kundzewicz ZW (2002) Non-structural flood protection and sustainability. Water Int 27(1):3–13

Leichenko RM, Wescoat JL (1993) Environmental impacts of climate change and water development in the Indus delta region. Int J Water Resour Dev 9(3):247–261

Linnerooth-Bayer J, Mechler R, Pflug G (2005) Refocusing disaster aid. Science 309:1044–1046

Loureiro ML, Mccluskey JJ, Mittelhammer RC (2002) Will consumers pay a premium for eco-labeled apples? J Consum Aff 36(2):203–219

Michel-Kerjan EO, Kousky C (2010) Come rain or shine: evidence on flood insurance purchases in Florida. J Risk Insur 77(2):369–397

NDMA (2013) National disaster risk reduction policy. National Disasters Management Authority, Ministry of Climate Change, Govt. of Pakistan: Islamabad

Park T, Loomis BJ, Creel M (1991) Confidence interval for evaluating benefits estimates from dichotomous choice contingent valuation studies. Land Econ 67(1):64–73

PMD (2012) Climate change in Pakistan: focused on Sindh province. Pakistan Meteorological Department, Research and Development Division, P.O. Box 1214, Islamabad

ProVention/IIASA (2006) Disaster insurance for the poor? A review of microinsurance for natural disaster risk in developing countries

Rafiq L, Blaschke T (2012) Disaster risk and vulnerability in Pakistan at a district level. Geomat Nat Hazards Risk 3(4):324–341

Schmidt S, Nüsser M (2012) Changes of high altitude glaciers from 1969 to 2010 in the Trans-Himalayan Kang Yatze Massif, Ladakh, Northwest India. Arct Antarct Alp Res 44:107–121

Seifert I, Botzen WJW, Kreibich H, Aerts CJH (2013) Influence of flood risk characteristics on flood insurance demand: a comparison between Germany and Netherlands. Nat Hazards Earth Syst Sci 13(7):1691–1705

Spence A, Poortinga W, Butler C et al (2011) Perception of climate change and willingness to save energy related to flood experience. Nat Clim Change 1:46–49

Thieken AH, Petrow T, Kreibich H et al (2006) Insurability and mitigation of flood losses in private households in Germany. Risk Anal 26(2):383–395

Trenberth KE (2011) Changes in precipitation with climate change. Clim Res 47:123–138

Trenberth KE, Fasullo J, Smith L (2005) Trends and variability in column-integrated atmospheric water vapor. Clim Dyn 24:741–758

UN (2011) Pakistan floods: one year on 2011. A Report by the United Nations–Pakistan, Islamabad. http://unportal.un.org.pk/sites/unpakistan/pages/default.aspx. Accessed 7 Aug 2013

UNDP (2004) Reducing disaster risk: a challenge for development. United Nations Development Programme, Bureau for crisis prevention and recovery, New York: 146

van Schoubroeck C (1997) Legislation and practice concerning natural disasters and insurance in a number of European countries. Geneva Pap Risk Insur 83:238–267

Webster PJ, Toma VE, Kim H-M (2011) Were the 2010 Pakistan floods predictable? Geophys Res Lett 38(4)

Yao T, Thompson L, Yang W et al (2012) Different glacier status with atmospheric circulation in Tibetan plateau and surroundings. Nat Clim Chang 2:663–667

Zhai G, Suzuki T (2008) Effects of risk representation and scope on willingness to pay for reduced risks: evidence from Tokyo Bay, Japan. Risk Anal 28(2):513–522

Zhai G, Sato T, Fukuzono T et al (2006) Willingness to pay for flood risk reduction and its determinants in Japan. J Am Water Resour As 42(4):927–940
Acknowledgments
We would like to thank the Higher Education Commission of Pakistan for the financial support of this project. Our thanks are also due to the German Academic Exchange Service (DAAD) for the logistical support provided, and to Stiftung Fiat Panis for their financial support during data collection. We highly acknowledge the valuable comments and suggestions by the two anonymous reviewers. The cooperation of survey respondents is also highly appreciated.
Appendix
Appendix
See Table 4 in appendix.
About this article
Cite this article
Abbas, A., Amjath-Babu, T.S., Kächele, H. et al. Non-structural flood risk mitigation under developing country conditions: an analysis on the determinants of willingness to pay for flood insurance in rural Pakistan. Nat Hazards 75, 2119–2135 (2015). https://doi.org/10.1007/s11069-014-1415-x
Received:

Accepted:

Published:

Issue Date:

DOI: https://doi.org/10.1007/s11069-014-1415-x
Keywords
Flooding

WTP

Global warming

Instrument

Risk