Abstract
The reorganisation of the French flood warning system initiated in 2002 expresses the State's motivation to improve the anticipation and reactivity of crisis management services. However, the example of the 2009 flood in the Garonne Marmandaise territory highlights vulnerabilities in institutional warnings, resulting partly from the reorganisation of the flood warning system. Although this flood was perceived as ordinary by the mayors, several communities were flooded and became isolated. The present study focuses on adjustments carried out by stakeholders during the flood warning process. The concept of robustness is applied to the French flood warning system through the analysis of (1) the resources mobilised by stakeholders to process the warning, (2) the constraints that hinder their actions, (3) the interactions and the efforts of coordination that link stakeholders within the system. Our results indicate that the robustness of the flood warning system partially rests upon the coping capacities present at a local level. Indeed, these coping capacities allowed institutional vulnerabilities to be overcome during the 2009 event. In addition, feedback engaged after the 2009 flood favoured interactions and sharing of lay and scientific knowledge among the French flood warning system stakeholders. These interactions reinforced both the French flood warning system's robustness and coping capacities at a local level.
Access options
Buy single article
Instant access to the full article PDF.
US$ 39.95
Tax calculation will be finalised during checkout.
Subscribe to journal
Immediate online access to all issues from 2019. Subscription will auto renew annually.
US$ 119
Tax calculation will be finalised during checkout.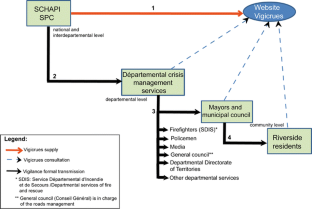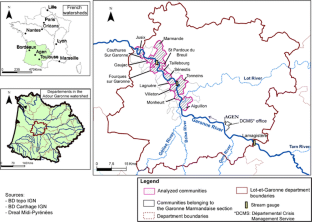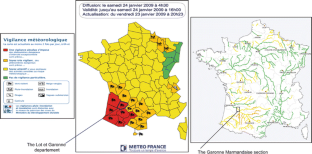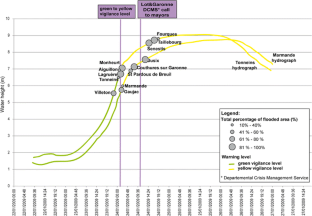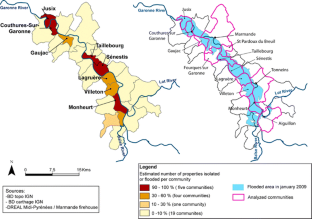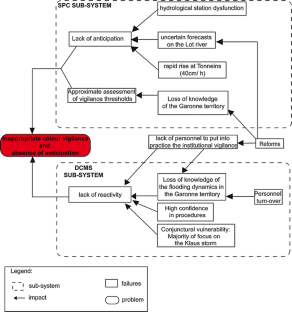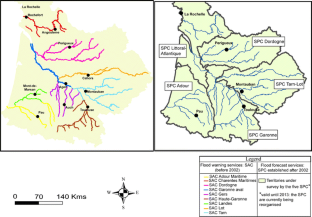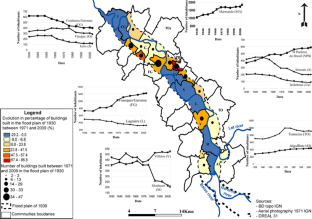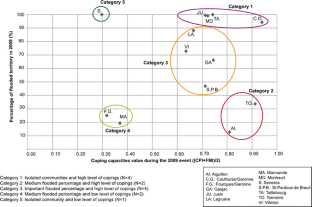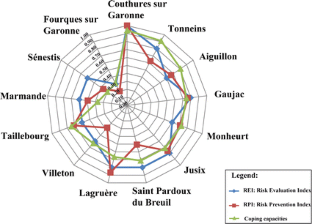 Notes
1.

Service de Prévision des Crues.

2.

Service Central d'Hydrométéorologie et d'Appui à la Prévision des Inondations.

3.

Service d'Annonce des Crues.

4.

France is made up of 101 départements that are divided into 36,700 municipalities. Each municipality is governed by a mayor and a municipal council.

5.

Loi n°2004-811 de modernisation de la sécurité civile de 2004—Law n°2004-811 about the Civil Defence Modernisation.

6.

≃21 % of the hydrographical network is monitored by the SCHAPI-SPCs in 2011.

7.

The flood warning dissemination system is ensured by automatic warning systems.

8.

Départemental Directorate of Territories in charge of the land-use planning measures, natural hazards prevention (…) at the départemental level.

9.

Emergency Preparedness & Response Organisation/Organisation de la Réponse de SÉcurité Civile.

10.

The centralisation of the emergency services process committed to by the law of 3rd May 1996 regrouped in a same départemental public structure (SDIS) the firefighter services which previously depended on municipalities or inter communal structures.

11.

"Réserve communale de sécurité civile" defined in the law of 2004.
References
Anderies JM, Janssen MA, Ostrom E (2004) A framework to analyze the robustness of social-ecological systems from an institutional perspective. Ecol Soc 9(1):18. http://www.ecologyandsociety.org/vol9/iss1/art18/. Accessed on 20 May 2013

Atwood LE, Major AM (1998) Exploring the "Cry Wolf" hypothesis. Int J Mass Emerg Disasters 16(3):279–302

Becerra S, Peltier A (2009) Risques et environnement: recherches interdisciplinaires sur la vulnérabilité des sociétés. L'Harmattan, Paris 575 pp

Becerra S, Peltier A (2012) Besoins opérationnels en matière de vigilance—Alerte aux crues et proposition d'amélioration, 128 pp

Becerra S, Peltier A, Antoine JM, et al (2013) Comprendre les comportements face à un risque modéré d'inondation. Etude de cas dans le périurbain toulousain (Sud-Ouest de la France). Hydrol Sci J 1–21. doi:10.1080/02626667.2013.786181

Birkmann J (ed) (2006) Measuring vulnerability to natural hazards: towards disaster resilient societies. United Nations University Press, Tokyo

Blaikie PM, Cannon T, Davis I, Wisner B (1994) At risk: natural hazards, people's vulnerability, and disasters. London, 284 pp

Boissières I (2005) Une approche sociologique de la robustesse organisationnelle: le cas du travail des réparateurs sur un grand réseau de télécommunication

Cardona OD (2006) A system of indicators for disaster risk management in the Americas. In: Birkmann J (ed) Measuring vulnerability to natural hazards: towards disaster resilient societies. UNU Press, Tokyo, pp 189–209

Carreño ML, Cardona OD, Barbat AH (2007) A disaster risk management performance index. Nat Hazards 41:1–20. doi:10.1007/s11069-006-9008-y

Créton-Cazanave L (2009) Warning! The use of meteorological information during a flash-flood warning process. Adv Sci Res 3:99–103

Créton-Cazanave L, Lutoff C (2013) Stakeholders' issues for action during the warning process and the interpretation of forecasts' uncertainties. Nat Hazards Earth Syst Sci 13:1469–1479. doi:10.5194/nhess-13-1469-2013

Créton-Cazanave L, Lutoff C, Soubeyran O (2009) Alerte aux crues rapides: de l'utilité d'une nouvelle approche. In: Becerra S, Peltier A (eds) Risques et environnement: recherches interdisciplinaires sur la vulnérabilité des sociétés. Harmattan, Toulouse, pp 483–494

De Vanssay B (1994) Information, prévention et reconstruction. "si vis pacem, para bellum". Crues et inondations Paris: Société Hydrotechnique de France, pp 789–795

Faure A (2004) Territoires/territorialisation. In Boussaguet L, Jacquot S, Ravinet P (eds) Dictionnaire des politiques publiques. Paris, Les Presses de Sciences Politiques, pp 430–437

Frémaux C (2002) La responsabilité des maires face aux risques naturels. Annales des mines, pp 42–48

Galley R, Fleury J (2001) Rapport de la commission d'enquête sur les causes des inondations répétitives ou exceptionnelles et sur les conséquences des imtempéries afin d'établir les responsabilités, d'évaluer les coûts ansi que la pertinence des outils de prévention, d'alerte et d'indemnisation. http://www.assemblee-nationale.fr/11/rap-enq/r3386-01.asp

Gallopín GC (2006) Linkages between vulnerability, resilience, and adaptive capacity. Glob Environ Change 16:293–303

Gazelle F (1984) La crue de décembre 1981 dans le bassin de la Garonne. Revue de Géographie des Pyrénées et du Sud-Ouest 55:5–28

Gibert P, Thoenig J-C (1993) La gestion publique: entre l'apprentissage et l'amnésie. Actes du Cinquième Colloque International -26/27 mars 1992 (Première partie). Politiques et management public, vol 11 no 1, Paris, pp 3–21

Gilbert C (2005) Erreurs, défaillances, vulnérabilités: vers de nouvelles conceptions de la sécurité ? In: Borraz O, Gilbert C, Joly PB (eds) Risques, crises et incertitudes: pour une analyse critique. MSH Alpes, Grenoble, pp 69–115

Handmer J (2000) Are flood warnings futile? Risk communication in emergencies. The Australian Journal of Disaster and Trauma Studies, vols. 2000–2002. Massey University, Palmerston North

Handmer J (2001) Improving flood warnings in Europe: a research nd policy agenda. Environ Hazards 3:19–28

Holling CS (1973) Resilience and stability of ecological systems. Annu Rev Ecol Syst 4:1–23

Huet P, Foin P, Laurain C, Cannard P (2003) Retour d'expérience des crues de septembre 2002 dans les départements du Gard, de l'Hérault, du Vaucluse, des Bouches-du-Rhône, de l'Ardèche et de la Drôme: rapport consolidé après phase contradictoire. http://www.ladocumentationfrancaise.fr/rapports-publics/034000547/index.shtml. Accessed 6 Jan 2013

Lambert R (1989) La moyenne Garonne aval: géomorphologie et dynamique des crues. Revue de Géographie des Pyrénées et du Sud-Ouest 60, fasc.4:555–567

Le Coz J (2008) Challenges in hydrometry: some examples from France. Seoul, Republic Of Korea, Experiences and Advancements in Hydrometry

Lefrou C, Martin X, Labarthe JP, et al. (2000) Les crues des 12, 13 et 14 novembre 1999 dans les départements de l'Aude, de l'Hérault, des Pyrénées-Orientales et du Tarn. Conseil Général des Ponts et chaussées, Inspection générale de l'Environnement. http://www.ladocumentationfrancaise.fr/var/storage/rapports-publics/014000280/0000.pdf. Accessed 6 Jan 2013

Lumbroso DM, Di Mauro M, Tagg AF et al (2012) FIM FRAME: a method for assessing and improving emergency plans for floods. Nat Hazards Earth Syst Sci 12:1731–1746. doi:10.5194/nhess-12-1731-2012

Mens MJP, Klijn F, de Bruijn KM, van Beek E (2011) The meaning of system robustness for flood risk management. Environ Sci Policy 14:1121–1131. doi:10.1016/j.envsci.2011.08.003

Moine A (2006) Le territoire comme un système complexe: un concept opératoire pour l'aménagement et la géographie. L'espace géographique 2006/2 Tome 35:115–132

Pardé M (1930) les inondations de mars 1930 dans le sud et le sud-ouest de la France. Revue de Géographie des Pyrénées et du Sud-Ouest 4:363–459

Pardé M (1953) Sur les inondations en Aquitaine spécialement dans le bassin de la Garonnne: A propos de la grande crue de février 1952 (Premier article). Les instituts de Géographie des Facultés des Lettres de Toulouse et de Bordeaux tome XXIV:163–257

Pardé M (1954) Sur les inondations en Aquitaine spécialement dans le bassin de la Garonnne: a propos de la grande crue de février 1952 (Deuxième article). Revue de Géographie des Pyrénées et du Sud-Ouest Tome XXV:5–38

Parker DJ (2004) Designing flood forecasting, warning and response systems from a societal perspective. Meteorol Z 13(1):5–11. doi:10.1127/0941-2948/2004/0013-0005

Parker DJ, Handmer JW (1998) The role of unofficial flood warning systems. J Contingencies Crisis Manag 6:45–60. doi:10.1111/1468-5973.00067

Parker DJ, Priest SJ (2012) The fallibility of flood warning chains: Can Europe's flood warnings be effective? Water Resour Manage 26:2927–2950. doi:10.1007/s11269-012-0057-6

Roux J (2006) Etre vigilant: l'opérativité discrète de la société du risque. Publications de l'Université de Saint-Etienne, France

Ruin I, Lutoff C (2004) Vulnérabilité face aux crues rapides et mobilités des populations en temps de crise. La Houille Blanche 6:114–119. doi:10.1051/lhb:200406016

Slovic P (1987) Perception of risk. New Ser 236:280–285

Sorensen J (2000) Hazard warning systems: review of 20 years of progress. Nat Hazards Rev 1:119–125. doi:10.1061/(ASCE)1527-6988(2000)1:2(119)

Sorensen JH, Sorensen BV (2007) Community Processes: Warning and Evacuation. In: Rodrıguez H, Quarantelli EL, Dynes RR (eds) Handbook of disaster research. Springer, New York, pp 183–199

Turner BL, Kasperson RE, Matson PA et al (2003) A framework for vulnerability analysis in sustainability science. Proc Natl Acad Sci USA 100(14):8074–8079

Vinet F (2007) Approches nationales de la prévention des risques et besoins locaux : le cas de la prévision et de l'alerte aux crues dans le Midi méditerranéen. Géocarrefour 82:35–42

Walker B, Holling CS, Carpenter SR, Kinzig A (2004) Resilience, adaptability and transformability in social-ecological systems. Ecol Soc 9(2):5

Weaver JF, Gruntfest E, Levy GM (2000) Two floods in Fort Collins, Colorado: learning from a natural disaster. Bull Am Meteorol Soc 81:2359–2366

Weiss K, Girandola F, Colbeau-Justin L (2011) Les comportements de protection face au risque naturel: de la résistance à l'engagement. Pratiques Psychologiques 17:251–262. doi:10.1016/j.prps.2010.02.002
Acknowledgments
The authors wish to acknowledge the funding support provided by the French National Research Agency (ANR ANR 09-RISK_001 AMAC) and all the interviewees. The authors also gratefully acknowledge researchers Laurence Créton-Cazanave and Brice Barret for their fruitful comments. Finally, we wish to thank the reviewers, whose constructive comments helped us to significantly improve this paper.
Appendix
Appendix
Indicator components for each index
Weight
Risk Evaluation Index (REI)
REI1
Historical flood data archives
0.2
REI2
Hazard evaluation
0.3
REI3
Hazard mapping
0.2
REI3
Vulnerability and risk assessment
0.3
Risk Prevention Index (RPI)
RPI1
Public awareness
0.4
 
RPI1a
Institutional informative document about risks
 
RPI1b
Municipal newspapers
 
RPI1c
Regular information meetings
 
RPI1d
Meetings with new inhabitants
 
RPI1e
Museum or cultural events dealing with water culture
 
RPI2
Evolution of the built environment between 1971 and 2009 in the floodplain
0.2
 
RPI2a
% > 30%
 
RPI2b
21 < % < 29
 
RPI2c
6 < % < 20
 
RPI2d
1 < % < 5
 
RPI2e
0 < % < 1
 
RPI2f
% < 0
 
RPI3
Implementation of hazard event control & protection techniques
0.4
 
RPI3a
Very high
 
 
RPI3b
High
 
 
RPI3c
Low
 
 
RPI3d
Very low
 
Crisis Preparedness Index (CPI)
CPI1
External communication resources
0.2
CPI2
Local preventive organisation involving riverside residents
0.2
 
CPI2a
High level of organisation with citizen participation
 
CPI2b
Medium level of organisation with citizen participation
 
CPI2c
No organisation and no citizen participation
 
CPI3
Emergency management plan and implementation of warning systems
0.3
 
CPI3a
Action plan mapping
 
CPI3b
Businesses and critical infrastructure referenced as exposed to floods
 
CPI3c
Riverside residents relocation identified
 
CPI3d
Vigicrues mentioned in the existing emergency action plan
 
CPI3e
Telephone directory of vulnerable inhabitants
 
CPI4
Material resources
0.3
 
CPI4a
Presence of boats in the community
 
CPI4b
Fire station existing in the municipality
 
CPI4c
Generators in case of power cuts
 
CPI4d
The crisis unit protected from major floods
 
Flood Management Index (FMI)
FMI1
Anticipatory protection actions to infrastructure and riverside residents
0.3
 
FMI1a
High anticipation before floods (with or without official alert)
 
FMI1b
Medium anticipation before floods (after receiving the official alert)/Real-time action during the flood without official alert
 
FMI1c
Monitoring of the event without action after the flood starts without official alert/Actions undertaken after the flood starts and the official alert reception
 
FMI1d
No reactivity after the official alert coming before the flood starts
 
 
FMI1e
No reactivity after the flood starts occurring before the official alert and no reactivity after the alert
 
FMI2
Mayors' Flood analysis
0.4
 
FMI2a
Use of information resulting from Vigicrues
 
FMI2b
Using text message and/or email coming from the départemental crisis management service
 
FMI2c
Using collective assessment with riverside residents
 
FMI2d
Empirical assessment by outdoor watchfulness of the Garonne river
 
FMI3
Riverside residents alert
0.3
 
FMI3a
Outdoor sirens
 
FMI3b
Display point at the council
 
FMI3c
Telephone call
 
FMI3d
Door to door
 
About this article
Cite this article
Daupras, F., Antoine, J.M., Becerra, S. et al. Analysis of the robustness of the French flood warning system: a study based on the 2009 flood of the Garonne River. Nat Hazards 75, 215–241 (2015). https://doi.org/10.1007/s11069-014-1318-x
Received:

Accepted:

Published:

Issue Date:
Keywords
Flood warning

France

Robustness

Coping capacities

Vulnerability

Collective action