Abstract
We report GPS measurements of continuous observations from the multi-parametric geophysical observatory (MPGO) at Ghuttu, Garhwal Lesser Himalaya. Other than the evidence of secular motion depicting strain accumulation due to locking of the underneath seismically active detachment, measurements at Ghuttu show annual variation of ±4 mm on horizontal component. Such variations are more prominent in the north coordinate and do not directly correlate with the meteorological parameters such as variations in rainfall, water table, and atmospheric pressure measured at the MPGO observatory. These variations are also not the artefact of data processing and network. They correlate with the water load storage in the Ganga plains, with minimum in displacement coinciding with the maximum storage of water in Ganga plains immediately after the monsoon and vice versa. Such variations also appear to cause annual variation in the low-magnitude earthquake frequency in the Himalayan region, being relatively more in the winter period.
Access options
Buy single article
Instant access to the full article PDF.
US$ 39.95
Tax calculation will be finalised during checkout.
Subscribe to journal
Immediate online access to all issues from 2019. Subscription will auto renew annually.
US$ 119
Tax calculation will be finalised during checkout.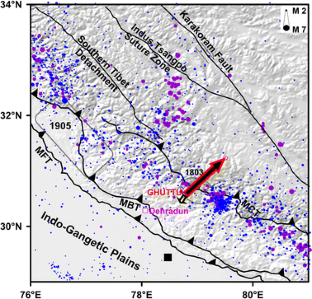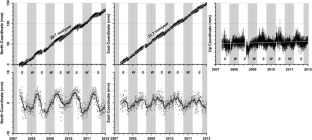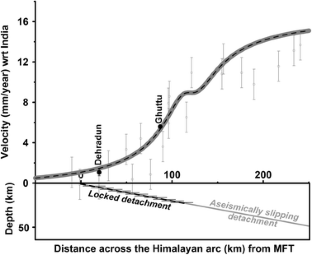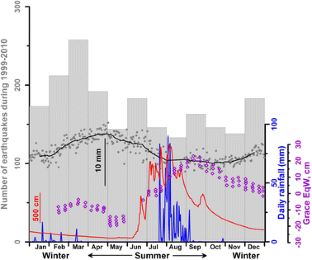 References
Altamimi Z, Collilieux X, Métivier L (2011) ITRF2008: an improved solution of the international terrestrial reference frame. J Geod. doi:10.1007/s00190-011-0444-4

Arora BR, Kumar A, Rawat G, Kumar N, Choubey VM (2008) First observations of free oscillations of the earth (FOE) from indian superconducting gravimeter in Himalaya. Curr Sci 95(11):1611–1617

Arora BR, Rawat G, Kumar N, Choubey VM (2012) Multi-parameter geophysical observatory: gateway to integrated earthquake precursory research. Curr Sci 103:1286–1299

Avouac JP (2003) Mountain building, erosion and the seismic cycle in the Nepal Himalaya. Adv Geophys 46:1–80

Banerjee P, Burgmann R (2002) Convergence across the northwest Himalaya from GPS measurements. Geophys Res Lett 29(13):30-1–30-4. doi:10.1029/2002GL015184

Bettinelli P, Avouac JP, Flouzat M, Jouanne F, Bollinger L, Willis P, Chitrakar GR (2006) Plate motion of India and interseismic strain in the Nepal Himalaya from GPS and DORIS measurements. J Geod. doi:10.1007/s00190-006-0030-3

Bettinelli P, Avouac JP, Flouzat M, Bollinger L, Ramillien G, Rajaure S, Sapkota S (2008) Seasonal variations of seismicity and geodetic strain in the Himalaya induced by surface hydrology. Earth Planet Sci Lett 266:332–344

Bilham R, Larson K, Freymueller J, Project Idylhim members (1997) GPS measurements of present-day convergence across the Nepal Himalaya. Nature 386:61–64

Blewitt G, Lavalee D, Clarke P, Nurutdinov K (2001) A new global mode of Earth deformation: seasonal cycle detected. Science 294(5550):2342–2345

Bollinger L, Perrier F, Avouac JP, Sapkota S, Gautam U, Tiwari DR (2007) Seasonal modulation of seismicity in the Himalaya of Nepal. Geophys Res Lett 34:L08304. doi:10.1029/2006GL029192

Choubey VM, Kumar N, Arora BR (2009) Precursory signatures in the radon and geohydrological borehole data for M4.9 Kharsali earthquake of Garhwal Himalaya. Sci Total Environ 407:5877–5883

Choubey VM, Arora BR, Barbosa SM, Kumar N, Kamra L (2011) Seasonal and daily variation of radon at 10 m depth in borehole, Garhwal LH, India. Appl Radiat Isot 69:1070–1078

Flouzat M, Bettinelli P, Willis P, Avouac JP, Héritier T, Gautam U (2009) Investigating tropospheric effects and seasonal position variations in GPS and DORIS time-series from the Nepal Himalaya. Geophys J Int 178:1246–1259

Gahalaut VK, Arora BR (2012) Segmentation of seismicity along the Himalayan Arc due to structural heterogeneities in the underthrusting Indian plate and overriding Himalayan wedge. Episodes 35:493–500

Gahalaut VK, Chander R (1997a) Evidence for an earthquake cycle in the NW outer Himalaya near 78°E longitude from precision levelling operations. Geophys Res Lett 24:225–228

Gahalaut VK, Chander R (1997b) On interseismic changes and strain accumulation for great thrust earthquakes in the Nepal Himalaya. Geophys Res Lett 24:1011–1014

Gahalaut VK, Chander R (1999) Geodetic evidence for accumulation of earthquake generating strains in the NW Himalaya near 75.5E longitude. Bull Seismol Soc Am 89:837–843

Gahalaut VK, Kundu B (2012) Possible influence of subducting ridges on the Himalayan arc and on the ruptures of great and major Himalayan earthquakes. Gondwana Res 21:1080–1088. doi:10.1016/j.gr.2011.07.021

Herring TA, King RW, McClusky SC (2010a) Documentation of the GAMIT GPS Analysis Software release 10.4. Department of Earth, and Planetary Sciences. Massachusetts Institute of Technology, Cambridge

Herring TA, King RW, McClusky SC (2010b) GLOBK, Global Kalman filter VLBI and GPS analysis program, version 10.4. Department of Earth, and Planetary Sciences. Massachusetts Institute of Technology, Cambridge

Jouanne F, Mugnier JL, Pandey M, Gamond J, LeFort P, Surruier L, Vigny C, Avouac JP (1999) Oblique convergence in the Himalaya of western Nepal deduced from preliminary results. Geophys Res Lett 26:1933–1936

Kamra L, Choubey VM, Kumar N, Rawat G, Khandelwal DD (2013) Radon variability in borehole from multi-parametric geophysical observatory of NW Himalaya in relation to meteorological parameters. Appl Radiat Isot 72:137–144

King RW, Bock Y (2005) Documentation of the GAMIT GPS Analysis Software release 10.2, report. Mass. Inst. of Technology, Cambridge

Kumar S, Chabak S (2009) Seasonal variations observed in seismicity of the NW Himalaya, India. Himal Geol 30:133–137

Kumar N, Paul A, Mahajan AK, Yadav DK, Bora C (2012) Mw 5.0 Kharsali, Garhwal Himalaya Earthquake of July 23, 2007: source characterization and tectonic implication. Curr Sci 102(12):1674–1682

Mahesh P, Catherine JK, Gahalaut VK, Kundu B, Ambikapathy A, Bansal A, Premkishore L, Narsaiah M, Ghavri S, Chadha RK, Choudhary P, Singh DK, Singh SK, Kumar S, Nagarajan B, Bhatt BC, Tiwari RP, Kumar A, Kumar A, Bhu H, Kalita S (2012) Rigid Indian plate: constraints from the GPS measurements. Gondwana Res 22:1068–1072

Molnar P (1990) A review of the seismicity and the rates of active underthrusting and deformation at the Himalaya. J Himal Geol 1:131–154

Ni J, Barazangi M (1984) Seismotectonics of the Himalayan collision zone: geometry of the underthrusting Indian plate beneath the Himalaya. J Geophys Res 89:1147–1163

Pandey MR, Tandukar RP, Avouac JP, Lave J, Massot JP (1995) Interseismic strain accumulation in the Himalayan crustal ramp in Nepal. Geophys Res Lett 22:741–754

Savage JC (1983) A dislocation model of strain accumulation and release at a subduction zone. J Geophys Res Solid Earth 88:4984–4996

Seeber L, and Armbruster J, (1981) Great Detachment earthquakes along the Himalayan Arc and long-term forecasting, In: Simpson DW, Richards PG (ed) Earthquake prediction—an international review, Maurice Ewing Series Am Geophys Union 4:259–277

Seeber L, Armbruster J, Quittmeyer R (1981) Seismicity and continental subduction in the Himalayan arc. In: Gupta HK, Delany FM (Ed) Zagros, Hindu Kush, Himalaya, Geodynamic Evolution, Geodynamics series 3. AGU, Washington, DC, pp 215–242
Acknowledgments
DDK thanks Director, WIHG, Dehradun, for his continuous support in running the observatory. We appreciate very constructive comments from two anonymous reviewers. We thank Ministry of Earth Sciences, New Delhi, for financial support through a Project (MoES/P.O. (Seismo)/NPEP(15)/2009). Authors from NGRI acknowledge support from CSIR-ARiEES.
About this article
Cite this article
Khandelwal, D.D., Gahalaut, V., Kumar, N. et al. Seasonal variation in the deformation rate in NW Himalayan region. Nat Hazards 74, 1853–1861 (2014). https://doi.org/10.1007/s11069-014-1269-2
Received:

Accepted:

Published:

Issue Date:
Keywords
Himalaya

GPS

Crustal deformation

Strain accumulation

MPGO Ghuttu