Abstract
Drought is a natural disaster that affects millions of people across the globe. Lack of rainfall reduces crop yields and livestock productivity and, in turn, food availability and income. In developing countries, these effects are even more detrimental. As droughts become more frequent, adaptation is a fundamental concern for countries and their policymakers. To support a development of drought adaptation policies, a combined hydrologic and system dynamics model was developed for a region in East Africa, focused on the Horn of Africa (i.e., a region bordering Kenya, Somalia, and Ethiopia), an area that has endured multiple droughts in the last few decades. The model simulates the interdependencies between water availability, land degradation, food availability, and socioeconomic welfare. The impacts of new adaptation policies on the region were evaluated over a 10-year simulation period using historical weather data. It was found that a combination of increased hydraulic infrastructure and innovative agricultural practice policy can reduce domestic water deficits by 54–100 % while increasing the income per capita up to 285 % over the 10 years. Innovatively combining hydrologic and systems dynamic modeling produces a realistic simulation of water scarcity and the effects on natural systems. Implementation of policies within the model aids the selection process by evaluating multiple options, quantifying the effectiveness the policies have on individual stakeholder livelihood (i.e., pastoralist, agro-pastoralists, and farmers), and analyzing the overall outcome to ensure equitable costs and benefits among the stakeholders.
This is a preview of subscription content,
to check access.
Access this article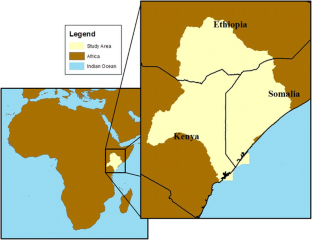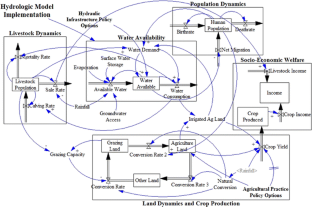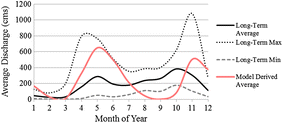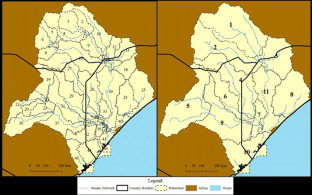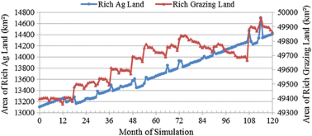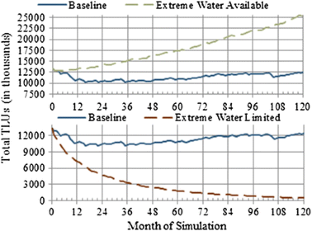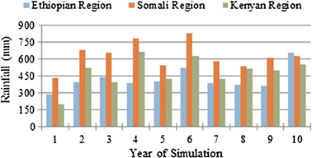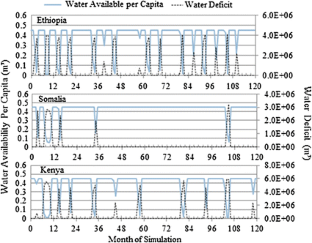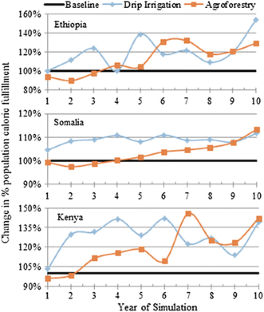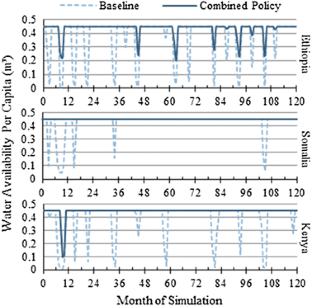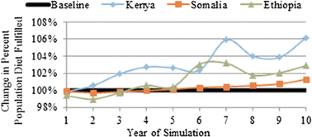 References
Abbott SP (2013) Hand dug wells: choice of technology and construction manual. World Bank Group. Accessed April 2013

AFDB (2008) Rainwater harvesting handbook. Assessment of best practises and experience in water harvesting. African Development Bank, Abidjan

Agusdinata DB (2013) System design framework for equity/fairness among actors. Proc Comput Sci 16:1122–1131

Angassa A, Oba G (2007) Relating long-term rainfall variability to cattle population dynamics in communal rangelands and a government ranch in southern Ethiopia. Agric Syst 94:715–725

Bai ZG, Dent DL (2006) Global assessment of land degradation and improvement: pilot study in Kenya. Report 2006/01, ISRIC—World Soil Information, Wageningen

Bailey D, Barrett C, Little P, Chabari F (1999) Livestock markets and risk management among East African pastoralists: a review and research agenda, Unpublished SR/GL-CRSP Pastoral Risk Management Project Technical Report no. 03/99, Utah State University, Logan

Barrett CB (2001) Livestock Pricing and Markets Performance. USAID Global Livestock CRSP Research Brief 01-05-PARIMA

Barrett CB (2003) Livestock pricing in the Northern Kenyan Rangelands. J Afr Econ 12(2):127–155

Barrett CB, Bellemare MF, Osterloh SM (2006) Household-level livestock marketing behavior among Northern Kenyan and Southern Ethiopian Pastoralists. In: McPeak J, Peter D (eds) Pastoral livestock marketing in Eastern Africa:research and policy challenges. ITDG Publishing, Little Warwickshire, pp 15–38

Basnyat DB (2007) Water resources of Somalia. Technical report no W-11, FAO-SWALIM, Nairobi, Kenya

Basnyat DB, Gadain HM (2009) Hydraulic behaviour of the Juba and Shabelle rivers: basic analysis for irrigation and flood management purposes. Technical report no W-13, FAO-SWALIM, Nairobi, Kenya

Baumann MPO, Zessin KH (1992) Productivity and health of camels (Camelus dromedarius) in Somalia: associations with trypanosomosis and brucellosis. Trop Anim Health Prod 24(3):145–156

Beaves RG (1993) The case for a generalized net present value formula. Eng Econ 38(2):119–133

Belder P, Rohrbach D, Twomlow S, Senzanje A (2007) Can drip irrigation improve the livelihoods of smallholders? Lessons learned from Zimbabwe. Global theme on agroecosystems report no. 33. PO Box 776, Bulawayo, Zimbabwe: International Crops Research Institute for the Semi-Arid Tropics, 32 pp

Benson TD (2004) Africa's food and nutrition security situation: Where are we and how did we get here?. International Food Policy Research Institute, Washington

Biazin B, Sterk G (2013) Drought vulnerability drives land-use and land cover changes in the Rift Valley dry lands of Ethiopia. Agric Ecosyst Environ 164:100–113

Bontkes TES (1993) Dynamics of rural development in southern Sudan. Syst Dyn Rev 9:1–21

Callihan DM, Eriksen JH, Herrick AB (1994) Famine averted: the United States Government Response to the 1991/92 Southern Africa Drought. Management systems international, evaluation synthesis report prepared for USAID/Bureau for Humanitarian response. Management Systems International, Washington

Center for International Earth Science Information Network (CIESIN)/Columbia University, International Food Policy Research Institute (IFPRI), The World Bank, and Centro Internacional De Agricultura Tropical (CIAT) (2011) Global Rural-Urban Mapping Project, Version 1 (GRUMPv1): Settlement Points. 1st ed. Palisades, NY: NASA Socioeconomic Data and Applications Center (SEDAC)

Central Statistical Agency of Ethiopia (2006) CSA 2005 National Statistics. Raw data. http://www.csa.gov.et

Collins S (2000) Hand-dug shallow wells. SKAT, Swiss Centre for Development Cooperation in Technology and Management, St. Gallen

Davenport ML, Nicholson SE (1993) On the relation between rainfall and the normalized difference vegetation index for diverse vegetation types in East Africa. Int J Remote Sens 14(12):2369–2389

Farmer E, Mbwika J (2012) End market analysis of Kenyan livestock and meat: a desk study. Rep. no. MicroREPORT #184 USAID

Franzel SC, Scherr SJ (2002) Trees on the farm: assessing the adoption potential of agroforestry practices in Africa. CABI Pub. in Association with the International Centre for Research in Agroforestry, Wallingford, Oxon

Frenken K (2005) Irrigation in Africa in figures: AQUASTAT Survey, 2005. Food and Agriculture Organization of the United Nations, Rome

FSAU-FAO (1999) Map. Somalia: livestock population/distribution. Food Security Assessment Unit, Nairobi

Harvey PA (2004) Borehole sustainability in rural Africa: an analysis of routine field data. IN: Proceedings of the 30th WEDC Conference, Vientiane, Lao PDR

Hollinger SE, Changnon SA (1994) Response of corn and soybean yields to precipitation augmentation, and implications for weather modification in Illinois. Illinois State Water Survey, Champaign

International Federation of Red Cross and Red Crescent Societies (IFRC) (2011) Drought in the horn of Africa: preventing the next disaster. Geneva

Kandji ST, Verchot LV, Mackensen J, Boye A, Van Noordwijk M, Tomich TP, Ong C, Albrecht A, Palm C (2006) Chapter 13. Opportunities for linking climate change adaptation and mitigation through agroforestry systems. World Agroforestry into the Future. Nairobi: World Agroforestry Centre, pp 113–22

Keller J (2001) Gardening with low-cost drip irrigation in Kenya: for health and profit. Sustainable Sanitation and Water Management (SSWM). Web. April 2013

Kenya Open Data Project. Livestock population by type and district. Kenya Open Data. Web. 22 Feb 2013

Lindqvist AK (2005) Water from ponds, pans and dams. Tech. no. 32. Nairobi: ICRAF

MacDonald AM, Davies J, O'Dochartaigh BE (2001) Simple methods for assessing groundwater resources in low permeability areas of Africa. British Geological Survey Commissioned Report CR/01/168N 71 pp, BGS Keyworth UK

Mati B, Muchiri JM, Njenga K, Penning de Vries F, Merrey D (2005) Assessing water availability under pastoral livestock systems in drought-prone Isiolo District, Kenya, No H038781, IWMI Working Papers, International Water Management Institute

McCabe JT (1987) Drought and recovery: livestock dynamics among the Ngisonyoka Turkana of Kenya. Hum Ecol 15(4):371–389

Moore N, Alagarswamy G, Pijanowski B, Thornton P, Lofgren B, Olson J, Andresen J, Yanda P, Qi J (2012) East African food security as influenced by future climate change and land use change at local to regional scales. Clim Change 110(3-4):823–844

Morton J (2007) The impact of climate change on smallholder and subsistence agriculture. Proc Natl Acad Sci USA (104)50: 19680–19685

Neitsch SL, Arnold JG, Kiniry JR, Williams JR (2011) Soil and water assessment tool theoretical documentation version 2009. Tech. no. TR-406. College Station, TX, Texas Water Resources Institute

Nicholson SE (1996) A review of climate dynamics and climate variability in eastern Africa. In: Ivan Johnson, A (ed) The limnology, climatology and paleoclimatology of the East African Lakes, pp 25–56

Oba G (2001) The effect of multiple droughts on cattle in Obbu, Northern Kenya. J Arid Environ 49(2):375–386

Olsen JM, Misana S, Campbell DJ, Mbonile M, Mugisha S (2004) The spatial patterns and root causes of land use change in East Africa. Land use change impacts and dynamics (LUCID) project Working Paper 47. Nairobi, Kenya: International Livestock Research Institute

Olsson L (1993) On the causes of famine—drought, desertification and market failure in the Sudan. Ambio 22:395–403

Padilla-Ramirez JS, Acosta-Diaz E, Gaytan-Bautista R, Acosta-Gallegos JA, Esquivel-Esquivel E, Mayek-Perez N, Kelly JD (2004) Rainfall pattern and seed yield of dry bean in the semiarid highlands of Mexico. Annual Report. Vol. 47. NP, Bean Improvement Cooperative, pp 291–292

Pathak P, Sahrawat KL, Wani SP, Sachan RC, Sudi R (2009) 11: Opportunities for water harvesting and supplemental irrigation for improving rainfed agriculture in semi-arid areas. Rainfed agriculture: unlocking the potential. By Wani SP, Rockström J, Yousef T Oweis. Wallingford, UK: CABI, pp 197–221

Puri S, Aureli A (eds) (2009) Atlas of transboundary aquifers: global maps, regional cooperation and local inventories. UNESCO-IHP, Rep. Paris

Qudrat-Ullah H, Seong BS (2010) How to do structural validity of a system dynamics type simulation model: the case of an energy policy model. Energy Policy 38(5):2216–2224

RCSD (2008) Low cost drip irrigation manual. Resources Centre for Sustainable Development (RCSD), Assam

Reid RS, Kruska RL, Muthui N, Taye A, Wotton S, Wilson C, Mulatu W (2000) Land-use and land-cover dynamics in response to changes in climatic, biological and socio-political forces: the case of Southwestern Ethiopia. Landsc Ecol 15:339–355

RELMA in ICRAF & UNEP (2005) Potential for rainwater harvesting in Africa: a GIS overview, vol 1. Publication

Reuveny R (2007) Climate change-induced migration and violent conflict. Polit Geogr 26(6):656–673

Rockström J (2003) Resilience building and water demand management for drought mitigation. Physics and Chemistry of the Earth, Parts A/B/C 28.20-27, pp 869–77

Rowhani P, Lobell DB, Linderman M, Ramankutty N (2011) Climate variability and crop production in Tanzania. Agric For Meteorol 151:449–460

Ruotsalainen A, Turunen P (1994) Assessment of water resources and implementation of rural water supplies in Western Kenya. Rep. no. 222. IAHS, 1994. Future groundwater resources at risk (Proceedings of the Helsinki Conference, June 1994)

Sahelian Solutions Foundation (SASOL) (2009) A practical guide to sand dam implementation: water supply through local structures as adaptation to climate change. Rainwater Harvesting Implementation Network. Rain Foundation, Acacia Water, Ethiopian Rainwater Harvesting Association, Action for Development

Sanchez PA (1995) Science in agroforestry. Agrofor Syst 30:5–55

Saxton KE (2006) Soil water characteristic estimates by texture and organic matter for hydrologic solutions. Soil Sci Soc Am J 70(5):1569–1578

Saysel AK, Barlas Y, Yenig O (2002) Environmental sustainability in an agricultural development project: a system dynamics approach. J Environ Manage 64:247–260

Seaman John (1993) Famine mortality in Africa. IDS Bull 24(4):27–32

Sijali IV (2001) Drip irrigation options for smallholder farmers in Eastern and Southern Africa. Sida's Regional Land Management Unit, Stockholm

Simpkin SP (2005) ICRC livestock study in the Greater Horn of Africa. International Committee of the Red Cross, Nairobi

Solomon A (2003) Livestock marketing in Ethiopia: a review of structure, performance, and development initiatives. Livestock Marketing Authority, Federal Democratic Republic of Ethiopia, Addis Ababa

Soulsby D (2010) Technical review: borehole drilling and rehabilitation under field conditions. Tech. Geneva, Switzerland, ICRC

Sterman J (2000) Business dynamics: systems thinking and modeling for a complex world. Irwin/McGraw-Hill, Boston

Stern JH, Stern A (2011) Water harvesting through sand dams. Tech. NP, Echo Technical Note

Sweet J (1998) Livestock—coping with drought: Namibia—a case study. http://www.fao.org/ag/AGP/AGPC/doc/pasture/livestck.htm. Tsumeb, Namibia

Thompson J, Porras IT, Katui-Katua M, Mujwahuzi MR, Tumwine JK (2003) Drawers of water II: assessing change in domestic water use in East Africa. Waterlines 22(1):22–25

USAID and FEWS NET (2011) Livelihood zoning "plus" activity in Kenya. The Famine Early Warning System Network

Van Waes B, Bouman D, Worm J (2007) Smart water harvesting solutions examples of innovative, low-cost technologies for rain, fog, runoff water and groundwater. Netherlands Water Partnership (NWP), NP

Verchot LV, Noordwijk M, Kandji S, Tomich T, Ong C, Albrecht A, Mackensen J, Bantilan C, Anupama KV, Palm C (2007) Climate change: linking adaptation and mitigation through agroforestry. Mitig Adapt Strateg Glob Change 12(5):901–918

Wani SP, Rockström J, Oweis TY (2009) Rainfed agriculture: unlocking the potential. CABI, Wallingford

Wilhite DA (2005) Drought and water crises: science, technology, and management issues. Taylor & Francis, Boca Raton
Acknowledgments
The authors acknowledge the support of the Global Policy Research Institute. Graduate students Patrick Ongom and Jaspreet Aulakh of Purdue University also contributed to the study.
About this article
Cite this article
Gies, L., Agusdinata, D.B. & Merwade, V. Drought adaptation policy development and assessment in East Africa using hydrologic and system dynamics modeling. Nat Hazards 74, 789–813 (2014). https://doi.org/10.1007/s11069-014-1216-2
Received:

Accepted:

Published:

Issue Date:

DOI: https://doi.org/10.1007/s11069-014-1216-2
Keywords