Abstract
This paper explores the size and arrival of tsunamis in Oregon and Washington from the most likely partial ruptures of the Cascadia subduction zone (CSZ) in order to determine (1) how quickly tsunami height declines away from sources, (2) evacuation time before significant inundation, and (3) extent of felt shaking that would trigger evacuation. According to interpretations of offshore turbidite deposits, the most frequent partial ruptures are of the southern CSZ. Combined recurrence of ruptures extending ~490 km from Cape Mendocino, California, to Waldport, Oregon (segment C) and ~320 km from Cape Mendocino to Cape Blanco, Oregon (segment D), is ~530 years. This recurrence is similar to frequency of full-margin ruptures on the CSZ inferred from paleoseismic data and to frequency of the largest distant tsunami sources threatening Washington and Oregon, ~M w 9.2 earthquakes from the Gulf of Alaska. Simulated segment C and D ruptures produce relatively low-amplitude tsunamis north of source areas, even for extreme (20 m) peak slip on segment C. More than ~70 km north of segments C and D, the first tsunami arrival at the 10-m water depth has an amplitude of <1.9 m. The largest waves are trapped edge waves with amplitude ≤4.2 m that arrive ≥2 h after the earthquake. MM V–VI shaking could trigger evacuation of educated populaces as far north as Newport, Oregon for segment D events and Grays Harbor, Washington for segment C events. The NOAA and local warning systems will be the only warning at greater distances from sources.
Access options
Buy single article
Instant access to the full article PDF.
US$ 39.95
Tax calculation will be finalised during checkout.
Subscribe to journal
Immediate online access to all issues from 2019. Subscription will auto renew annually.
US$ 119
Tax calculation will be finalised during checkout.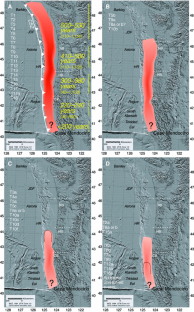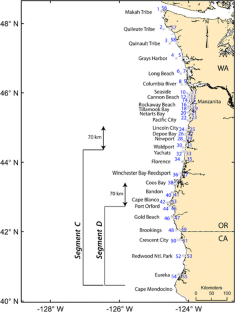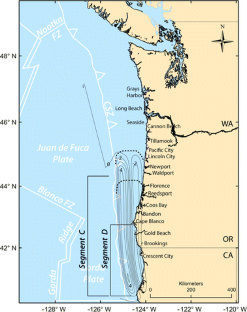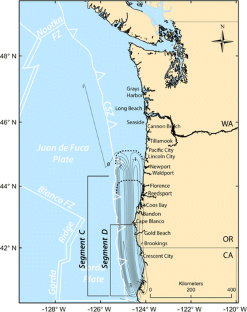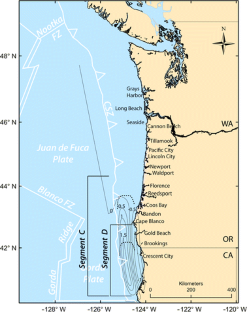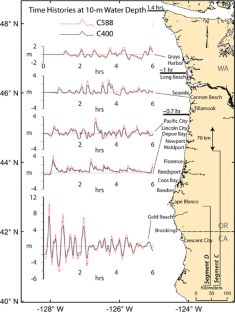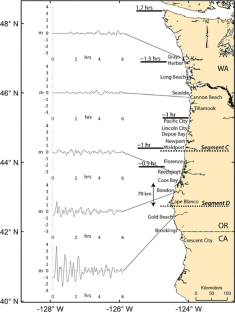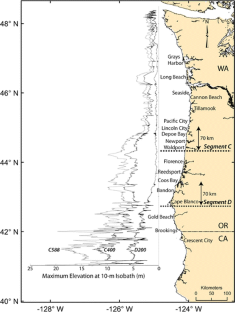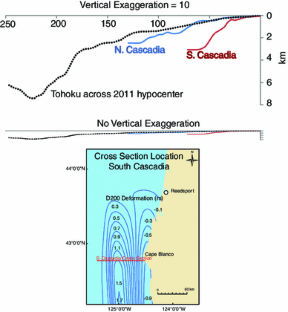 Abbreviations
DOGAMI:

Oregon Department of Geology and Mineral Industries

CSZ:

Cascadia subduction zone

MHHW:

Mean higher high water

NOAA:

National Oceanic and Atmospheric Administration
References
Atwater BF, Nelson AR, Clague JJ, Carver GA, Yamaguchi DK, Bobrowsky PT, Bourgeois J, Darienzo ME, Grant WC, Hemphill-Haley E, Kelsey HM, Jacoby GC, Nishenko SP, Palmer SP, Peterson CD, Reinhart MA (1995) Summary of coastal geologic evidence for past great earthquakes at the Cascadia subduction zone. Earthq Spectra 11(1):1–18

Atwater BF, Musumi-Rokkaku S, Satake K, Tsuji Y, Ueda K, Yamaguchi DK (2005) The orphan tsunami of 1700—Japanese clues to a parent earthquake in North America. U.S. Geological Survey Professional Paper 1707

Blaser L, Krüger F, Ohmberger M, Scherbarum F (2010) Scaling relations of earthquake source parameter estimates with special focus on subduction environment. Bull Seismol Soc Am 100(6):2914–2926

Borrero J, Dengler L, Uslu B, Synolakis C (2006) Numerical modeling of tsunami effects at marine oil terminals in San Francisco Bay, report prepared for Marine Facilities Division of the California State Lands Commission. Accessed June 2013. http://www.slc.ca.gov/Division_Pages/MFD/MOTEMS/SFTsunamiReport/SF_MOT_final_report.pdf

Boyarko DC, Brudzinski MR (2010) Spatial and temporal patterns of nonvolcanic tremor along the southern Cascadia subduction zone. J Geophys Res 115(B00A22). doi:10.1029/2008JB006064

Cherniawsky JY, Titov VV, Wang K, Li J-Y (2007) Numerical simulations of tsunami waves and currents for southern Vancouver Island. Pure Appl Geophys 164:465–492

Delouis B, Nocquet J-M, Vallée M (2010) Slip distribution of the February 27, 2010 Mw = 8.8 Maule earthquake, central Chile, from static and high‐rate GPS, InSAR, and broadband teleseismic data. Geophys Res Lett 37(L17305). doi:10.1029/2010GL043899

Dengler L, Uslu B, Barberopoulou A, Borrero J, Synolakis C (2008) The vulnerability of Crescent City, California, to tsunamis generated by earthquakes in the Kuril Islands region of the northwestern pacific. Seismol Res Lett 79(5):608–619. doi:10.1785/gssrl.79.5.608

Dragert H, Hyndman RD (1995) Continuous GPS monitoring of elastic strain in the northern Cascadia subduction zone. Geophys Res Lett 22:755–758

Freund LB, Barnett DM (1976) A two-dimensional analysis of surface deformation due to dip-slip faulting. Bull Seismol Soc Am 66:667–675

Geist EL (1998) Local tsunamis and earthquake source parameters. In: Dmowska R, Saltzman B (eds) Tsunamigenic earthquakes and their consequences, Adv Geophys 39: 2-1–2-16

Goldfinger C, Nelson CH et al (2003) Deep-water turbidites as Holocene earthquake proxies: the Cascadia Subduction zone and northern San Andreas fault systems. Ann Geofis 46(5):1169–1194

Goldfinger C, Nelson CH, Morey A, Johnson JE, Gutierrez-Pastor J, Eriksson AT, Karabanov E, Patton J, Gracia E, Enkin R, Dallimore A, Dunhill G, Vallier T (2012) Turbidite event history: methods and implications for Holocene paleoseismicity of the Cascadia subduction zone, USGS Professional Paper 1661-F, Reston, VA, U.S. Geological Survey, 178 p., 64 figures

González FI et al (2009) Probabilistic tsunami hazard assessment at Seaside, Oregon, for near- and far-field seismic sources. J Geophys Res 114(C11023). doi:10.1029/2008JC005132

Kelsey HM, Nelson AR, Hemphill-Haley E, Witter RC (2005) Tsunami history of an Oregon coastal lake reveals a 4600 yr record of great earthquakes on the Cascadia subduction zone. Geol Soc Am Bull 117:1009–1032

Myers EP III, Baptista AM (2001) Analysis of factors influencing simulations of the 1993 Hokkaido Nansei-Oki and 1964 Alaska Tsunamis. Nat Hazards 23:1–28

Nelson AR, Kelsey HM, Witter RC (2006) Great earthquakes of variable magnitude at the Cascadia subduction zone. Quat Res 65:354–365

Obermeier SF, Dickenson SE (2000) Liquefaction evidence for the strength of ground motions resulting from Late Holocene Cascadia subduction earthquakes, with emphasis on the event of 1700 AD. Bull Seismol Soc Am 90(4):876–896

Okada Y (1985) Surface deformation due to shear and tensile faults in a half-space. Bull Seismol Soc Am 75(4):1135–1154

Priest GR, Goldfinger C, Wang K, Witter RC, Zhang Y, Baptista AM (2009) Tsunami hazard assessment of the Northern Oregon coast: a multi-deterministic approach tested at Cannon Beach, Clatsop County, Oregon. Oregon Department of Geology Mineral Industries Special Paper 41

Priest GR, Goldfinger C, Wang K, Witter RC, Zhang Y, Baptista AM (2010) Confidence levels for tsunami-inundation limits in northern Oregon inferred from a 10,000-year history of great earthquakes at the Cascadia subduction zone. Nat Hazards. doi:10.1007/s11069-009-9453-5

Satake K, Wang K, Atwater BF (2003) Fault slip and seismic moment of the 1700 Cascadia earthquake inferred from Japanese tsunami descriptions. J Geophys Res 108:ESE7-1–ESE7-17

Schatz CE, Curl H, Burt WV (1964) Tsunamis on the Oregon coast. The Ore Bin 26(12):231–232

Seno T (2002) Tsunami earthquake as transient phenomena. Geophys Res Lett 29. doi:10.1029/2002GL014868

Tsuji T, Kawamura K, Kanamatsu T, Kasaya T, Fujikura K, Ito Y, Tsuru T, Kinoshita M (2013) Extension of continental crust by anelastic deformation during the 2011 Tohoku-oki earthquake: the role of extensional faulting in the generation of a great tsunami. Earth Planet Sci Lett 364:44–58

US Geological Survey (2001) USGS ShakeMap: Arequipa, Peru. Accessed June 2013. http://earthquake.usgs.gov/earthquakes/shakemap/atlas/shake/200106232033/

US Geological Survey (2010) USGS ShakeMap: Offshore Maule, Chile. Accessed March 2013. http://earthquake.usgs.gov/earthquakes/shakemap/global/shake/2010tfan/

Wang K, He J (2008) Effects of frictional behaviour and geometry of subduction fault on coseismic seafloor deformation. Bull Seismol Soc Am 98(2):571–579

Wang K, Hu Y (2006) Accretionary prisms in subduction earthquake cycles: the theory of dynamic Coulomb wedge. J Geophys Res 111:B06410. doi:10.1029/2005JB004094

Wang K, Wells R, Mazzotti S, Hyndman RD, Sagiya T (2003) A revised dislocation model of interseismic deformation of the Cascadia subduction zone. J Geophys Res 108(B1):2026. doi:10.1029/2001JB001227

Wang P-L, Engelhart SE, Wang K, Hawkes AD, Horton BP, Nelson AR, Witter RC (2013) Heterogeneous rupture in the great Cascadia earthquake of 1700 inferred from coastal subsidence estimates. J Geophys Res Solid Earth 118. doi:10.1002/jgrb.50101

Wilson R, Davenport C, Jaffe B (2012) Sediment scour and deposition within harbors in California (USA), caused by the March 11, 2011 Tohoku-oki tsunami. Sediment Geol 282(C):228–240. doi:10.1016/j.sedgeo.2012.06.001

Witter RC (2008). Prehistoric Cascadia tsunami inundation and runup at Cannon Beach, Clatsop County, Oregon. Oregon Department of Geology Mineral Open-File Report O-08-12

Witter RC, Zhang Y, Wang K, Priest GR, Goldfinger C, Stimely L, English JT, Ferro PA (2011) Simulating tsunami inundation at Bandon, Coos County, Oregon, using hypothetical Cascadia and Alaska earthquake scenarios. Oregon Department of Geology Mineral Industries Special Paper 43

Witter RC, Zhang Y, Wang K, Goldfinger C, Priest GR, Allan JC (2012) Coseismic slip on the southern Cascadia megathrust implied by tsunami deposits in an Oregon lake and earthquake-triggered marine turbidites. J Geophys Res 117:B10303. doi:10.1029/2012JB009404

Zhang Y (2012) SELFE. In: Proceedings and results of the 2011 NTHMP model benchmarking workshop, National Tsunami Hazard Mitigation Program, pp 303–336. http://nthmp.tsunami.gov/documents/nthmpWorkshopProcMerged.pdf. Accessed 25 Mar 2013

Zhang Y, Baptista AM (2008) An efficient and robust tsunami model on unstructured grids Part I: inundation benchmarks. Pure Appl Geophys 165(11–12):2229–2248. doi:10.1007/s00024-008-0424-7

Zhang Y, Witter RW, Priest GP (2011) Tsunami-tide interaction in 1964 Prince William Sound tsunami. Ocean Model 40:246–259

Zilkoski DB, Richards JH, Young GM (1992) Results of the general adjustment of the North American Vertical Datum of 1988. Am Congr Surv Mapp Surv Land Inf Syst 52(3):133–149. http://www.ngs.noaa.gov/PUBS_LIB/NAVD88/navd88report.htm. Accessed 25 Mar 2013
Acknowledgments
This investigation was supported by National Oceanic and Atmospheric Administration (NOAA) Grants NA08NWS4670028 and #NA09NWS4670014. Some simulations used in this paper were conducted using computational facilities at the College of William and Mary which were provided with the assistance of the National Science Foundation, the Virginia Port Authority, and Virginia's Commonwealth Technology Research Fund, and also using the Extreme Science and Engineering Discovery Environment (XSEDE; Grant #TG-CCR120029), which is supported by National Science Foundation grant number OCI-1053575.
Electronic supplementary material
Below is the link to the electronic supplementary material.
About this article
Cite this article
Priest, G.R., Zhang, Y., Witter, R.C. et al. Tsunami impact to Washington and northern Oregon from segment ruptures on the southern Cascadia subduction zone. Nat Hazards 72, 849–870 (2014). https://doi.org/10.1007/s11069-014-1041-7
Received:

Accepted:

Published:

Issue Date:
Keywords
Tsunami

Cascadia

Segment ruptures

Warning

Earthquake