Abstract
Effective seismic damage simulation is an important task in improving earthquake resistance and safety of dense urban areas. There exist two significant technical challenges for realizing such a simulation: accurate prediction and realistic display. A high-fidelity structural model is proposed herein to accurately predict the seismic damage that was inflicted on a large number of buildings in an urban area via time-history analysis, with which the local damage to different building stories is also explicitly obtained. The accuracy and efficiency of the proposed model are validated by a refined finite element analysis of a typical building. A physics engine-based algorithm is also proposed that realistically displays building collapse, thus overcoming the limitations of the high-fidelity structural model. Furthermore, a visualization system integrating the proposed model and collapse simulation is developed so as to completely display the seismic damage in detail. Finally, the simulated seismic damage of a real medium-sized Chinese city is evaluated to demonstrate the advantages of the proposed techniques, which can provide critically important reference information for urban disaster prevention and mitigation.
Access options
Buy single article
Instant access to the full article PDF.
USD 39.95
Price excludes VAT (USA)
Tax calculation will be finalised during checkout.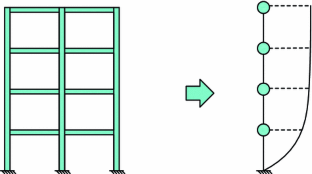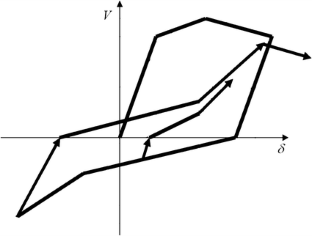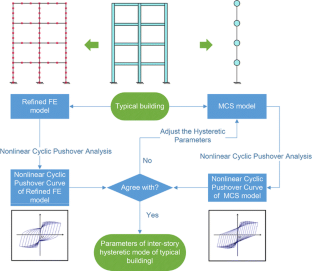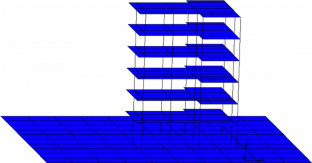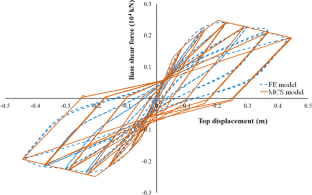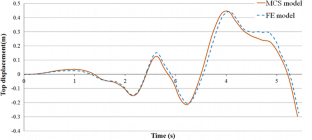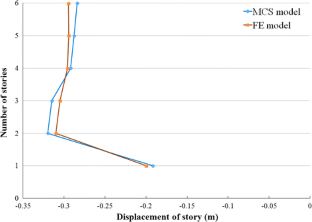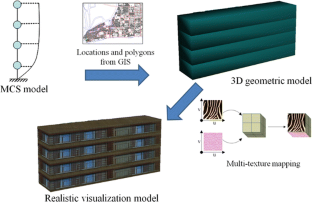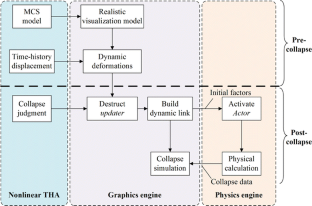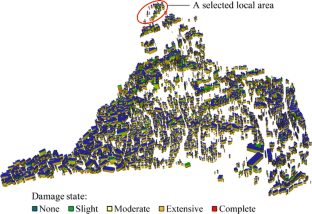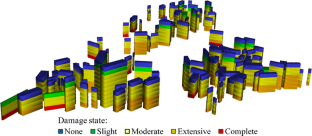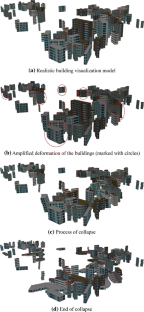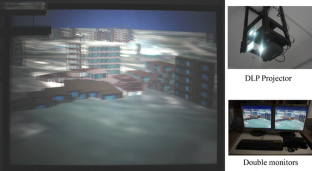 References
Abdalla R, Tao V (2005) Integrated distributed GIS approach for earthquake disaster modelling and visualization. Geo-information for disaster management. Springer, Berlin, pp 1183–1192

Boeing A, Bräunl T (2007) Evaluation of real-time physics simulation systems. In: Proceedings of 5th International Conference on computer graphics and interactive techniques in Australia and Southeast Asia, ACM, New York, pp 281–288

Chopra AK (1995) Dynamics of structures. Prentice Hall, New Jersey

Duzgun HSB, Yucemen MS, Kalaycioglu HS (2011) An integrated earthquake vulnerability assessment framework for an urban areas. Nat Hazards 59:917–947

Federal Emergency Management Agency (FEMA) (2009) FEMA P695-Quantification of building seismic performance factors. Washington, DC

Federal Emergency Management Agency (FEMA) (2012a) Multi-hazard loss estimation methodology, earthquake model, HAZUS–MH 2.1 technical manual. Washington, DC

Federal Emergency Management Agency (FEMA) (2012b) Multi-hazard loss estimation methodology HAZUS–MH 2.1 advanced engineering building module (AEBM) technical and user's manual. Washington, DC

Federal Emergency Management Agency-National Institute of Building Sciences (FEMA-NIBS) (1997) Earthquake loss estimation methodology–HAZUS97. Washington, DC

Federal Emergency Management Agency-National Institute of Building Sciences (FEMA-NIBS) (1999) Earthquake loss estimation methodology–HAZUS99. Washington, DC

Game Physics Simulation (2012) Bullet physics library. http://www.bulletphysics.com

Gonzalez-Huizar H, Velasco AA, Peng ZG, Castro RR (2012) Remote triggered seismicity caused by the 2011, M9.0 Tohoku-Oki, Japan earthquake. Geophys Res Lett 39:L10302

Guan H, Loo YC (1997) Layered finite element method in cracking and failure analysis of beams and beam-column-slab connections. Struct Eng Mech An Int J 5:645–662

Han B, Lu XZ, Xu Z (2012) Urban regional seismic damage prediction based on GPU-CPU hybrid computing. In: Proceedings of 15th World Conference in Earthquake Engineering. Lisbon, Portugal

Havok (2012) Havok physics. http://www.havok.com/products/physics

Hori M (2011) Introduction to computational earthquake engineering, 2nd edn. Imperial College Press, London

Hori M, Ichimura T (2008) Current state of integrated earthquake simulation for earthquake hazard and disaster. J Seismol 12:307–321

Joselli M, Clua E, Montenegro A, Conci A, Pagliosa P (2008) A new physics engine with automatic process distribution between CPU–GPU. In: Proceedings of 2008 ACM SIGGRAPH symposium on Video games, ACM. New York, pp 149–156

Korkmaz KA (2009) Seismic safety assessment of unreinforced masonry low-rise buildings in Pakistan and its neighborhood. Nat Hazards Earth Syst Sci 9:1021–1031

Lindell MK (2010) Built-in resilience. Nat Geosci 3:739–740

Lorito S, Romano F, Atzori S et al (2011) Limited overlap between the seismic gap and coseismic slip of the great 2010 Chile earthquake. Nat Geosci 4:173–177

Lu X, Lu XZ, Guan H, Ye LP (2013) Collapse simulation of reinforced concrete high-rise building induced by extreme earthquakes. Earthq Eng Struct Dyn 42:705–723

Maciel A, Halic T, Lu Z, Nedel LP, De S (2009) Using the PhysX engine for physics-based virtual surgery with force feedback. Int J Med Robot Comp 5:341–353

Millington I (2007) Game physics engine development (The Morgan Kaufmann Series in Interactive 3D Technology). Morgan Kaufmann Publishers Inc, San Francisco

Ministry of Construction of the People's Republic of China (MCPRC) (2002) Load code for the design of building structure (GB 500092001). China Architecture & Building Press, Beijing

NVIDIA Corporation (2012) PhysX. http://www.nvidia.cn/object/physx_new_cn.html

OSG Community (2012) OpenSceneGraph. http://www.openscenegraph.org/projects/osg/

Steelman J, Hajjar J (2009) Influence of inelastic seismic response modeling on regional loss estimation. Eng Struct 31:2976–2987

Tang BX, Lu XZ, Ye LP, Shi W (2011) Evaluation of collapse resistance of RC frame structures for Chinese schools in seismic design categories B and C. Earthq Eng Eng Vib 10:369–377

Tsai F, Lin HC (2007) Polygon-based texture mapping for cyber city 3D building models. Int J Geogr Inf Sci 21:965–981

Tyagunov S, Grunthal G, Wahlstrom R, Stempniewski L, Zschau J (2006) Seismic risk mapping for Germany. Nat Hazards Earth Syst Sci 6:573–586

Wijerathne M, Hori M, Kabeyazawa T, Ichimura T (2013) Strengthening of parallel computation performance of integrated earthquake simulation. J Comput Civil Eng 27:570–573

Xu F, Chen XP, Ren AZ, Lu XZ (2008) Earthquake disaster simulation for an urban area with GIS, CAD, FEA, and VR integration. Tsinghua Sci Technol 13:311–316

Xu Z, Lu XZ, Guan H, Ren AZ (2013) Physics engine-driven visualization of deactivated elements and its application in bridge collapse simulation. Automat Constr 35:471–481

Yamashita T, Kajiwara K, Hori M (2011) Pet scale computation for earthquake engineering. Comput Sci Eng 13:44–49

Ye LP, Lu XZ, Li Y (2010) Design objectives and collapse prevention for building structures in mega-earthquake. Earthq Eng Eng Vib 9:189–200
Acknowledgments
The authors are grateful for the financial support received from the National Key Technology R&D Program (No. 2013BAJ08B02), the National Nature Science Foundation of China (Nos. 51308321, 51178249, 51222804), the Tsinghua University Initiative Scientific Research Program (No. 2012THZ02-2) and China Postdoctoral Science Foundation (2013M530632).
About this article
Cite this article
Xu, Z., Lu, X., Guan, H. et al. Seismic damage simulation in urban areas based on a high-fidelity structural model and a physics engine. Nat Hazards 71, 1679–1693 (2014). https://doi.org/10.1007/s11069-013-0972-8
Received:

Accepted:

Published:

Issue Date:

DOI: https://doi.org/10.1007/s11069-013-0972-8
Keywords