Abstract
In April 2010, an ice/rockfall into Lake 513 triggered a glacial lake outburst flood (GLOF) along the Chucchun River in the Cordillera Blanca of Peru. This paper reconstructs the hydrological characteristics of this as yet undocumented event using a 1D flood model prepared with HEC-RAS. The principle model inputs were obtained during detailed field surveys of surface characteristics and topography within the river and across the adjacent floodplain; a total of 120 cross-sections were surveyed. These inputs were refined further by eyewitness accounts and additional geomorphological observations. The flood modelling has enabled us to constrain the extent of the water surface and its elevation at each cross-section in addition to defining the peak discharge (580 m3 s−1). These modelling results show good agreement with other information about the flood including: flood marks and minimum flood levels; the lake displacement wave height; the extent of the flooded area; and the travel time from Lake 513 to the confluence with the Santa River. This demonstrates that the model offers a reliable reconstruction of the basic hydrological characteristics of the GLOF. It provides important information about the flood intensity and significantly improves our ability to model future flood scenarios along both the studied river and within neighbouring catchments. The flood hazard, defined by the flood depth during peak discharge, shows that the majority of the damaged infrastructure (houses, bridges, and a drinking water treatment plant) was only subjected to low or medium flood intensities (defined by a maximum water depth of less than 2 m). These low flood intensities help to explain why the flooding caused comparatively minor damage despite the significant public attention it attracted.
This is a preview of subscription content,
to check access.
Access this article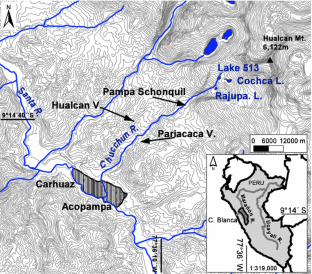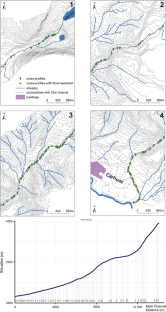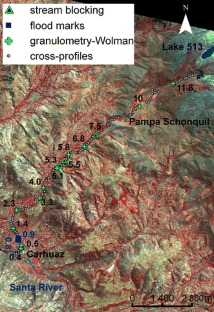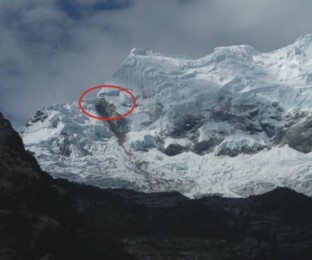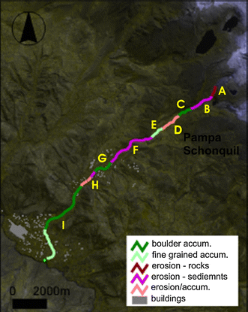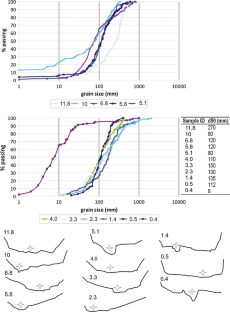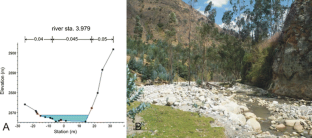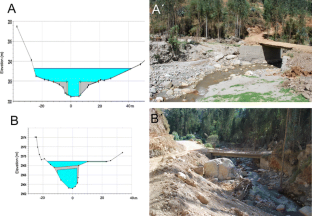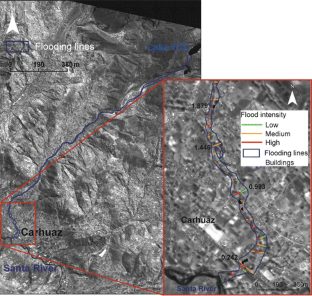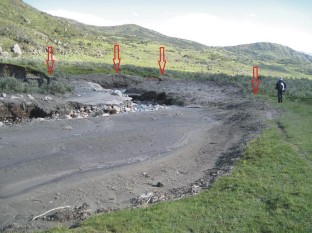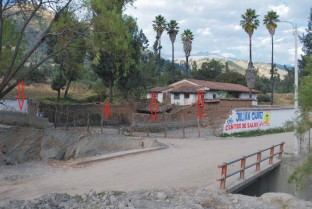 References
Awal R, Nakagawa H, Kawaike K, Baba Y, Zhang H (2011) Study on moraine dam failure and resulting flood/debris flow hydrograph due to waves overtopping and erosion. In: Proceedings of the international conference on debris-flow hazards mitigation: mechanics, prediction, and assessment, Padua, Italy, 14–17 June 2011, 3–12

Bajracharya B, Shrestha AB, Rajbhandari L (2007) Glacial lake outburst floods in the Sagarmatha region. Mt Res Dev 27:336–344

Bohorquez P, Darby SE (2008) The use of one- and two-dimensional hydraulic modelling to reconstruct a glacial outburst flood in a steep Alpine valley. J Hydrol 361:240–261

Bolch T, Buchroithner MF, Peters J, Bassler M, Bajracharya S (2008) Identification of glacier motion and potentially dangerous glacial lakes in the Mt. Everest region/Nepal using spaceborne imagery. Nat Hazards Earth Syst Sci 8:1329–1340

Brunner GW (2010) HEC-RAS river analysis system hydraulic reference manual. US Army Corps of Engineers, Hydrologic Engineering Center

Carey M (2010) In the shadow of melting glaciers—climate change and Andean Society. Oxford University Press, Oxford

Carey M, Huggel Ch, Bury J, Portocarrero C, Haeberli W (2012) An integrated socio-environmental framework for glacier hazard management and climate change adaptation: lessons from Lake 513, Cordillera Blanca, Peru. Clim Chang 112:733–767

Carrivick JL (2006) Application of 2D hydrodynamic modelling to high-magnitude outburst floods: an example from Kverkfjöll, Iceland. J Hydrol 321:187–199

Cenderelli DA, Wohl EE (2001) Peak discharge estimates of glacial-lake outburst floods and "normal" climatic floods in the Mount Everest region, Nepal. Geomorphology 40:57–90

Chow TV (1959) Open channel hydraulics. McGraw-Hill, New York

Clague JJ, Mathews WH (1973) The magnitude of jökulhlaups. J Glaciol 12:501–504

Clauge JJ, Evans SG (2000) A review of catastrophic drainage of moraine-dammed lakes in British Columbia. Quat Sci Rev 19:1763–1783

Costa JE, Schuster RL (1988) The formation and failure of natural dams. Geol Soc Am Bull 100:1054–1068

Dussaillant A, Benito G, Buytaert W, Carling P, Meier C, Espinoza F (2010) Repeated glacial-lake outburst floods in Patagonia: an increasing hazard? Nat Hazards 54:469–481

Emmer A (2011) The analysis of moraine-dammed lake destructions. BSc Thesis, Charles University in Prague

Emmer A, Cochachin A (2013) Causes and mechanisms of moraine dammed lake failures in Cordillera Blanca (Peru), North American Cordillera, and Central Asia. AUC Geogr 48:5–15

Emmer A, Vilímek V, Klimeš J, Cochachin A (2014) Glacier retreat, lakes develoment and associated natural hazards in Cordilera Blanca, Peru. In: Shan W, Guo Y, Wang F, Marui H, Strom A (eds) Landslides in cold regions in the context of climate change, Springer, pp 231–252. doi:10.1007/978-3-319-00867-7_17

Evans SG, Clague JJ (1994) Recent climatic change and catastrophic geomorphic processes in mountain environments. Geomorphology 10:107–128

Haeberli W (2013) Mountain permafros – research frontiers and a special long-term change. Cold Reg Sci Technol 96:71–76. doi:10.1016/j.coldregions.2013.02.004

Hubbard B, Heald A, Reynolds JM, Quincey D, Richardson SD, Luyo MZ, Portilla NS, Hambrey MJ (2005) Impact of a rock avalanche on a moraine-dammed proglacial lake: Laguna Safuna Alta, Cordillera Blanca, Peru. Earth Surf Process Landf 30:1251–1264

Huggel C, Kääb A, Haeberli W, Krummenacher B (2003) Regional-scale GIS-models for assessment of hazards from glacier lake outbursts: evaluation and application in the Swiss Alps. Nat Hazards Earth Syst Sci 3:647–662

Huggel C, Cochachin A, Frey H, García J, Giráldez C, Gómez J, Haeberli W, Ludeña S, Portocarrero C, Price K, Rohrer M, Salzmann N, Schleiss A, Schneider D, Silvestre E (2012) Integrated assessment of high mountain hazards, related risk reduction and climate change adaptation strategies in Peruvian Cordilleras. In: Extended abstracts of international disaster and risk conference, Davos, Switzerland, 26–30 August, 329–332

Jarrett RD (1992) Hydraulics of Mountain Rivers. In: Yen BC (ed) Channel flow resistance—centennial of manning's formula: international conference for the centennial of manning's and Kuichling's rational formula. Water Resources Publications, Littleton, CO, pp 287–298

Kershaw JA, Clauge JJ, Evans SG (2005) Geomorphic and sedimentological signature of a two-phase outburst flood from moraine-dammed Queen Bess Lake, British Columbia, Canada. Earth Surf Process Landf 30:1–25

Lateltin O, Haemmig Ch, Raetzo H, Bonnard Ch (2005) Landslide risk management in Switzerland. Landslides 2:313–320

Lliboutry L, Morales BA, Pautre A, Schneider B (1977) Glaciological problems set by the control of dangerous lakes in Cordillera Blanca, Peru, historical failures of moranic dams, their causes and prevention. J Glaciol 18:239–254

Loat R, Petrascheck A (1997) Berücksichtigung der Hochwassergefahren bei raumwirksamen Tätigkeiten. Empfehlungen 1997, BWW/BRP/BUWAL. http://www.bafu.admin.ch/publikationen/publikation/00786 (in German)

Matoušek V, Hejduková L, Krupička J, Sklenář P (2011) Sběr a zpracování dat z polního měření k určení hydraulické drsnosti koryta (Acquisition and processing of information from field measurements for channel hydraulic roughness estimation). ČVUT, Prague (in Czech)

Narama C, Duishonakunov M, Kääb A, Daiyrov M, Abdrakhmatov K (2010) The 24 July 2008 outburst flood at the western Zyndan glacier lake and recent regional changes in glacier lakes of the Teskey Ala-Too range, Tien Shan, Kyrgyzstan. Nat Hazards Earth Syst Sci 10:647–659

Novotný J, Klimeš J (submitted) The mechanical properties of soils within the Cordillera Blanca, Peru: an overlooked factor in determining moraine dam stability. J Mt Sci

Plafker G, Ericksen GE (1978) Nevados Huascaran avalanches, Peru. In: Voight B (ed) Rockslides and avalanches: natural phenomena. Elsevier, Amsterdam, pp 277–314

Reynolds JM, Dolecki A, Portocarrero C (1998) The construction of a drainage tunnel as part of glacial lake hazard mitigation at Hualcán, Cordillera Blanca, Peru. In: Maund J, Eddleston M (eds) Geohazards in engineering geology. Geological Society Engineering Group Special Publication No. 15, pp 41–48

Schneider D, Frey H, García J, Giráldez C, Guillén S, Haeberli W, Huggel Ch, Rohrer M, Salzmann N, Schleiss A (2012) Climate change adaptation and disaster risk reduction due to glacial recession in the Cordillera Blanca, Peru, unpublished report, University of Zurich

Somos-Valenzuela M, McKinney DC (2011) Modeling a glacial lake outburst flood (GLOF) from Palcacocha Lake, Peru. http://www.caee.utexas.edu/prof/mckinney/research/high-mountain-glacial-water/reports.html. Accessed 06.05.2013

Valderrama MP, Vilca O (2010) Dinámica del aluvión de la Laguna 513, Cordillera Blanca, Ancash Perú: primeros alcances. Congreso Peruano de Geología, Cusco, PE. 27th September-1st October 2010. Extended abstracts, Sociedad Geológica del Perú, Lima, pp 336–341

Valderrama MP, Cádenas J, Carlotto V (2007) Simulación FLOW 2D en las ciudades Urubamba y Ollantantambo, Cusco. Sociedad Geológica del Perú, Boletín 102:43–62

Vilímek V, Zapata ML, Klimeš J, Patzelt Z, Santillán N (2005) Influence of glacial retreat on natural hazards of the Palcacocha Lake area, Peru. Landslides 2:107–115

Walder JS, Costa JE (1996) Outburst floods from glacier-dammed lakes: the effect of mode of lake drainage on food magnitude. Earth Surf Process Landf 21:701–723

Wang X, Liu S, Guo W, Xu J (2008) Assessment and simulation of glacier lake outburst floods for Longbasaba and Pida lakes, China. Mt Res Dev 28:310–317

Wilson J, Reyes L, Garayar J (1995) Geología de los cuadrángulos de Pallasca, Tayabamba, Corongo, Pomabamba, Carhuaz y Huari, Boletín No. 16, Boletín No. 60, INGEMET, Lima

Worni R, Stoffel M, Huggel CH, Volz C, Casteller A, Luckman B (2012) Analysis and dynamic modeling of a moraine failure and glacier lake outburst flood at Ventisquero Negro, Patagonian Andes (Argentina). J Hydrol 11:134–145

Yochum SE, Bledsoe BP, David GCL, Wohl E (2012) Velocity prediction in high-gradient channels. J Hydrol 424–425:84–98

Zapata ML (2002) La dinamica glaciar en lagunas de la Cordillera Blanca. Acta Montana 123:37–60
Acknowledgments
The authors wish to acknowledge the financial support provided by the Czech Science Foundation (Grant No. P209/11/1000).
Electronic supplementary material
Below is the link to the electronic supplementary material.
About this article
Cite this article
Klimeš, J., Benešová, M., Vilímek, V. et al. The reconstruction of a glacial lake outburst flood using HEC-RAS and its significance for future hazard assessments: an example from Lake 513 in the Cordillera Blanca, Peru. Nat Hazards 71, 1617–1638 (2014). https://doi.org/10.1007/s11069-013-0968-4
Received:

Accepted:

Published:

Issue Date:

DOI: https://doi.org/10.1007/s11069-013-0968-4
Keywords