Abstract
The past decade has seen an increase in the number of significant natural disasters that have caused considerable loss of life as well as damage to all property markets in the affected areas. In many cases, these natural disasters have not only caused significant property damage, but in numerous cases, have resulted in the total destruction of the property in the location. With these disasters attracting considerable media attention, the public are more aware of where these affected property markets are, as well as the overall damage to properties that have been damaged or destroyed. This heightened level of awareness has to have an impact on the participants in the property market, whether a developer, vendor seller or investor. To assess this issue, a residential property market that has been affected by a significant natural disaster over the past 2 years has been analysed to determine the overall impact of the disaster on buyer, renter and vendor behaviour, as well as prices in these residential markets. This paper is based on data from the Brisbane flood in January 2011. This natural disaster resulted in loss of life and partial and total devastation of considerable residential property sectors. Data for the research have been based on the residential sales and rental listings for each week of the study period to determine the level of activity in the specific property sectors, and these are also compared to the median house prices for the various suburbs for the same period based on suburbs being either flood affected or flood free. As there are 48 suburbs included in the study, it has been possible to group these suburbs on a socio-economic basis to determine possible differences due to location and value. Data were accessed from realestate.com.au, a free real estate site that provides details of current rental and sales listings on a suburb basis, RP Data a commercial property sales database and the Australian Bureau of Statistics. The paper found that sales listings fell immediately after the flood in the affected areas, but there was no corresponding fall or increase in sales listings in the flood-free suburbs. There was a significant decrease in the number of rental listings follow the flood as affected parties sought alternate accommodation. The greatest fall in rental listings was in areas close to the flood-affected suburbs indicating the desire to be close to the flooded property during the repair period.
Access options
Buy single article
Instant access to the full article PDF.
USD 39.95
Price includes VAT (USA)
Tax calculation will be finalised during checkout.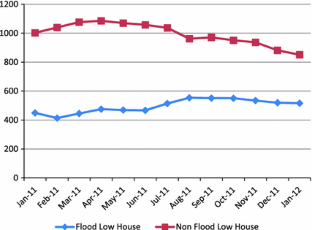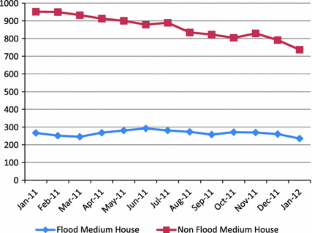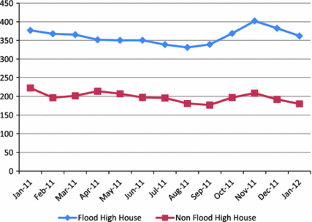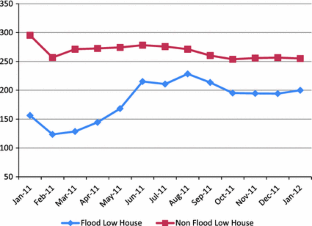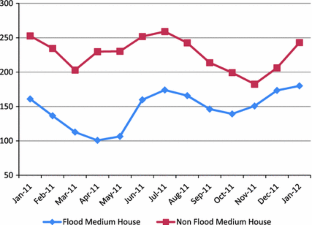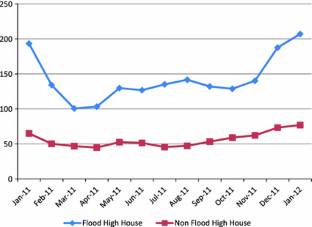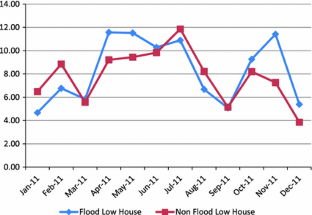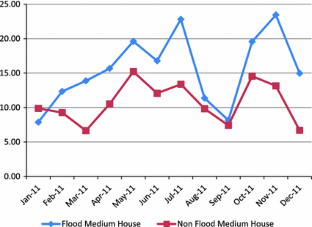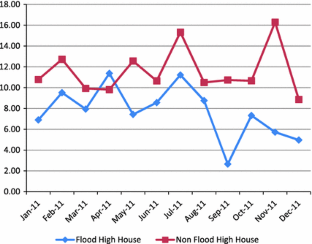 References
Apel H, Thieken AH, Merz B, Bloschl G (2004) Flood risk assessment and associated uncertainty. Nat Hazards Earth Sci 2004(4):295–308

Australian Government (2007) Natural disasters in Australia. www.australia.gov.au/australian-storey/natural disasters. Accessed 14 Feb 2012

Bell R (1999) Real estate damages. Appraisal Institute, Chicago

Chou SH, Shih HC (2001) Impact assessment of flood risk on residential property market in Taipei metropolis. In: Proceedings of 8th European real estate society conference. June 2001

Crompton RP, McAneney KJ (2008) Normalised Australian insured losses from meteorological hazards 1967-2006. Environ Sci Policy 11(5):371–378

Department of Community Services (2002) 2002 Bushfire Victims Assistance. Parliament of NSW Hansard Full day transcript, p 7763

Donelly WA (1988) Hedonic price analysis of the effect of floodplain on property values. J Am Water Resour As 25(3):581–586

EM-DAT (2012) Int disaster database. www.emdat.be. Accessed 2 Feb 2012

Eves C (1999) The influence of flooding on residential property. Unpublished conference paper. International real estate society conference, Kuala Lumpur Malaysia. January 1999

Eves C (2002) The long term impact of flooding on residential property values. Prop Manag 20(4):214–227

Eves C (2004a) The impact of bushfires on residential property markets. Pac Rim Prop Res J 10(4):413–427

Eves C (2004b) The impact of flooding on residential property buyer behaviour: an England and Australian comparison of flood affected properties. Struct Surv 22(2):84–94

Eves C (2012) Natural disasters and property markets: a global issue. In: 6th International real estate research symposium. Inspen Campus, Kuala Lumpur, Malaysia 24th–25th April 2012

Eves C, Brown SK (2002) The impact of flooding on residential property values in England. In: Proceedings of 9th European real estate society conference, Glasgow, Scotland

Fibbens M (1992) Effect of flooding on residential property values. University of Western Sydney-Hawkesbury, Property Research Centre Report

Jonkman SN (2005) Global perspectives on loss of human life caused by floods. Nat Hazards 34:151–175

Kreibich H, Thieken AH, Petrow Th, Muller M, Merz B (2005) Flood loss reduction of private households due to building precautionary measures—lessons learned from the Elbe Flood in August 2002. Nat Hazards Earth Syst Sci 2005(5):117–126

Lambley DB, Cordery I (1991) Effect of floods on the housing market in Sydney. In: Conference proceedings, international hydrology and water symposium, Perth Western Australia, October 1991

Lamond J, Proverbs D (2006) Does the price impact of flooding fade away. Struct Surv 24(5):363–377

Lamond J, Proverbs D, Antwi A (2005) The effect of floods and floodplain designation on the value of property: an analysis of past studies. In: Proceedings of the second Scottish conference for postgraduate researchers of the built and natural environment, Glasgow Caledonian University, November, pp 633–642

Lamond J, Proverbs D, Antwi A (2007) Measuring the impact of flooding on UK house prices. Prop Manag 25(4):344–359

Merz B, Kreibich H, Thieken A, Schmidtke R (2004) Estimation uncertainty of direct monetary flood damage to buildings. Nat Hazards Earth Syst Sci 2004(4):153–163

NSW Fire Brigades (2003) Disasters. www.nswfb.nsw.gov.au/index. 07/04/2003

Reibeek H (2005) The rising cost of natural hazards. Earth Observatory-NASA

Sapir G, Hargitt D, Hoyois P (2004) Thirty years of natural disasters: 1974–2003: the numbers. UCC Presses Universitaires De Louvain, Brussels

Skrantz TR, Strickland TH (1987) House prices and a flood event: an empirical investigation of market efficiency. J Real Estate Res 22(1):75–83

Tobin GA, Montz BE (1988) Catastrophic flooding and the response of the real estate market. Soc Sci J 25(2):161–177

Tobin GA, Montz BE (1990) Response of the real estate market to frequent flooding: the case of Des Plaines, Illinois. Bull Ill Geogr Soc XXXII(2):11–21

Tobin GA, Montz BE (1994) The flood hazard and dynamics of the urban residential land market. Water Resour Bull 30(4):673–685

Tobin GA, Montz BE (1997) The impacts of a second catastrophic flood on property values in Linda and Olivehurst, California. Quick Response report No. 95. www.colorado.edu/hazards/research/qr/qr95/qr95.html. Accessed November 2013

Victorian Government (2010) 2009 Victorian Bushfires: Royal Commission Final Report. Government Printer victoria, p 32

Worthington AC (2008) The impact of natural events and disasters on the Australian stock market: a GARCH-M analysis of storms, floods, cyclones, earthquakes and bushfires. Glob Bus Econ Rev 10(1):1–10

United Nations (2011) Population distribution, urbanisation, uinternal migration and development: An international perspective. UN Department of Economic and Social Affairs. population Division. ESA/P/WP/223
About this article
Cite this article
Eves, C., Wilkinson, S. Assessing the immediate and short-term impact of flooding on residential property participant behaviour. Nat Hazards 71, 1519–1536 (2014). https://doi.org/10.1007/s11069-013-0961-y
Received:

Accepted:

Published:

Issue Date:
Keywords
Natural disasters

Floods

Flood impact

Residential property

Property returns

Buyer and seller behaviour

Property sales