Abstract
A statistical procedure for estimating the risk of strong winds from hurricanes, known as the Hurricane Risk Calculator, is demonstrated and applied to several major cities in Louisiana. The procedure provides an estimate of wind risk over different length periods and can be applied to any location experiencing this hazard. Results show that an area 100 km around the city of New Orleans can expect to see hurricane winds blowing at 49 ms−1 (44.3–53.7) [90 % confidence interval (CI)] or stronger, on average, once every 20 years. In comparison, for the same time period, the capital city of Baton Rouge and the surrounding area can expect to see hurricane winds of 43 ms−1 (38.2–47.8) (90 % CI) or stronger. Hurricane track direction is also analyzed at the cities of interest. For Morgan City, Lafayette, Lake Charles, and Alexandria, tropical cyclones with winds at least 18 ms−1 travel from the southeast to northwest. New Orleans and Baton Rouge tropical cyclones have a greater tendency to turn toward the east while within 100 km of the city, historically giving them a southwesterly approach. Tropical cyclones within 350 km off the south-central Louisiana coast occur most often in September, and the most extreme of these events are becoming stronger through time as shown with quantile regression.
Access options
Buy single article
Instant access to the full article PDF.
US$ 39.95
Tax calculation will be finalised during checkout.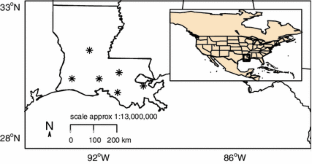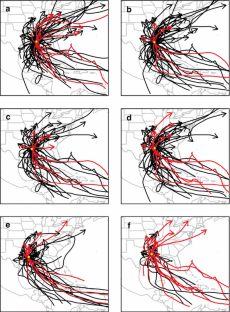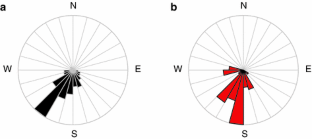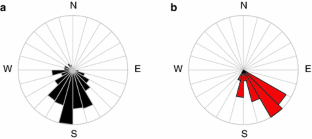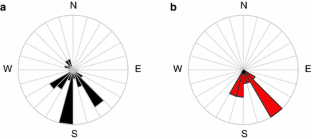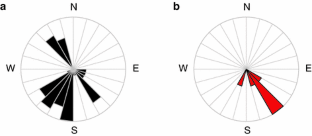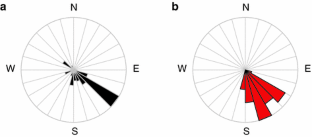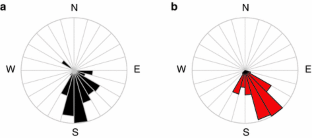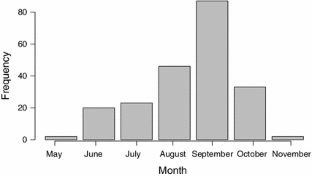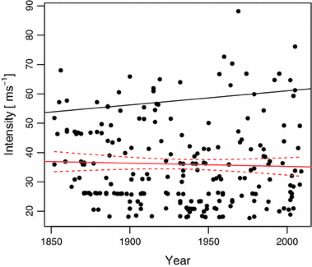 References
Chu P, Wang J (1998) Modeling return periods of tropical cyclone intensities in the vicinity of Hawaii. J Appl Meteorol Climatol 37:951–960

Coles S (2001) An introduction to statistical modeling of extreme values. Springer, Berlin

Coles S, Powell E (1996) Bayesian methods in extreme value modelling: a review and new developments. Int Stat Rev 64:119–136

Elsner J, Jagger T, Liu K (2008) Comparison of hurricane return levels using historical and geological records. J Appl Meteorol Climatol 47:368–374

Elsner J, Kossin J, Jagger T (2008) The increasing intensity of the strongest tropical cyclones. Nature 455:92–95

Elsner JB, Jagger TH (2013) Hurricane climatology: a modern statistical guide using R. Oxford University Press, New York, p 430

Embrechts P, Resnick S, Samorodnitsky G (1999) Extreme value theory as a risk management tool. N Am Actuar J 3:30–41

Fernandez-Partagas J, Diaz H (1996) Atlantic hurricanes in the second half of the nineteenth century. Bull Am Meteorol Soc 77:2899–2906

Fisher R, Tippett L (1928) Limiting forms of the frequency distribution of the largest or smallest member of a sample. Process Camb Philos Soc 24:180–190

Heckert N, Simiu E, Whalen T (1998) Estimates of hurricane wind speeds by 'peaks over threshold' method. J Struct Eng ASCE 124:445–449

Jagger T, Elsner J (2006) Climatology models for extreme hurricane winds in the United States. J Clim 19:3220–3236

Jagger T, Elsner J, Niu X (2001) A dynamic probability model of hurricane winds in coastal counties of the United States. J Appl Meteorol 40:853–863

Keim B, Muller R, Stone G (2007) Spatiotemporal patterns and return periods of tropical storm and hurricane strikes from Texas to Maine. J Clim 20:3498–3509

Knutson T, McBride J, Chan J, Emanuel K, Holland G, Landsea C, Held I, Kossin J, Srivastava A, Sugi M (2010) Tropical cyclones and climate change. Nat Geosci. doi:10.1038/NGEO779

Kotz S, Nadarajah S (2000) Extreme value distributions: theory and applications. Imperial College Press, London

Landsea C, Anderson C, Charles N, Clark G, Dunion J, Fernandez-Partagas J, Hungerford P, Neumann C, Zimmer M (2004) The Atlantic hurricane database reanalysis project: documentation for the 1851–1910 alterations and additions to the HURDAT database. In: Murnane R, Liu K (eds) Hurricanes and Typhoons: past, present, and future. Columbia University Press, New York, pp 177–221

Malmstadt J, Elsner J, Jagger T (2010) Risk of strong hurricane winds to Florida cities. J Appl Meteorol Climatol 49:2121–2132

Malmstadt J, Scheitlin K, Elsner J (2009) Florida hurricanes and damage costs. Southeast Geogr 49:108–131

Neumann CJ, Jarvinen BR, McAdie CJ, Elms JD (1993) Tropical cyclones of the North Atlantic Ocean, 1871–1992. National Climatic Center, Asheville, North Carolina, p 193

Parisi F, Lund R (2008) Return periods of continental U.S. hurricanes. J Clim 21:403–410

Pielke R Jr, Gratz J, Landsea C, Collins D, Saunders M, Musulin R (2008) Normalized hurricane damage in the United States: 1900–2005. Nat Hazards Rev 9:29–42

R Development Core Team (2010) R: a language and environment for statistical computing. R Foundation for Statistical Computing, Vienna, Austria. http://www.R-project.org. ISBN 3-900051-07-0

Stone GW, Grymes III JMG, Dingler JR, Pepper DA (1997) Overview and significance of hurricanes on the Louisiana coast, U.S.A. J Coast Res 13:656–669
Acknowledgments
The authors would like to thank James Elsner and Thomas Jagger for the use of their R code.
About this article
Cite this article
Trepanier, J.C., Scheitlin, K.N. Hurricane wind risk in Louisiana. Nat Hazards 70, 1181–1195 (2014). https://doi.org/10.1007/s11069-013-0869-6
Received:

Accepted:

Published:

Issue Date:
Keywords
Hurricane

Risk

Extreme value

Hurricane tracks