Abstract
Of the various types of disasters caused by extreme climate and weather, extreme temperature events (ETEs) have led to a heightened awareness due to their increasing frequency, intensity, widespread distribution, and severe health impacts. Although many previous studies have surveyed the severe impacts of specific ETEs, few systematic studies have analyzed the temporal trends and the spatial patterns of this type of ETEs at the global scale. In the present study, disaster data from 1981 to 2010 compiled by Emergency Events Database were used to obtain a global view of the distribution of and the changes in the recorded ETEs. In addition, the daily maximum/minimum temperature data provided by National Centers for Environmental Prediction /Department of Energy Reanalysis 2 were used to explore the potential meteorological causes of these events. The results showed 2.7 and 6.4 increases in the frequencies of heat waves and cold spells per decade, respectively, since the 1980s. However, a large regional variability was found worldwide. Moreover, more than 40 % of the recorded ETEs occurred in Europe, and Asia experienced 33 and 26 % of the heat wave and cold spell events, respectively. Additionally, the global pattern for the occurrence frequency of ETEs in recent decades could be largely ascribed to the meteorological indexes: the heat stress index (HSI) and the cold stress index (CSI). The frequency of heat wave events increased from 1981 to 2010, and this trend is consistent with the increase in the HSI. However, the cold spell events did not appear to be reduced, as demonstrated by the disaster records, and this finding is inconsistent with the CSI trend. This result indicates that other factors also influence the occurrence of disaster events.
Access options
Buy single article
Instant access to the full article PDF.
US$ 39.95
Tax calculation will be finalised during checkout.
Subscribe to journal
Immediate online access to all issues from 2019. Subscription will auto renew annually.
US$ 119
Tax calculation will be finalised during checkout.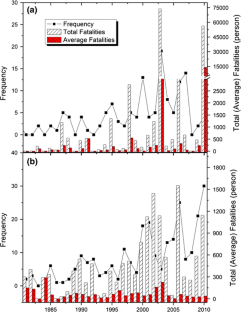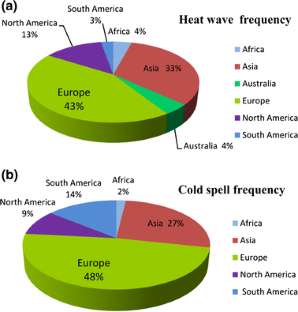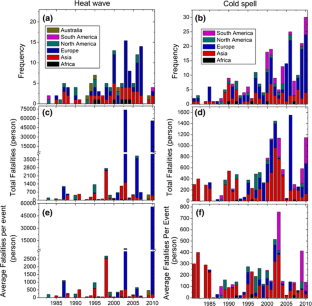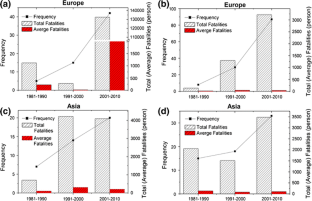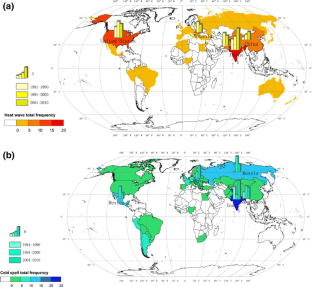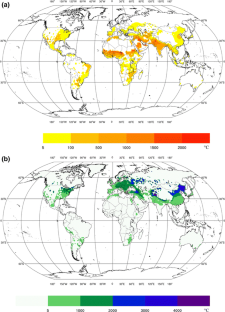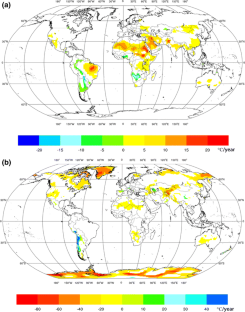 References
Alcántara-Ayala I (2002) Geomorphology, natural hazards, vulnerability and prevention of natural disasters in developing countries. Geomorphology 47(2–4):107–124. doi:10.1016/S0169-555X(02)00083-1

Alexander LV, Zhang X, Peterson TC, Caesar J, Gleason B, Klein Tank AMG, Haylock M, Collins D, Trewin B, Rahimzadeh F, Tagipour A, Rupa Kumar K, Revadekar J, Griffiths G, Vincent L, Stephenson DB, Burn J, Aguilar E, Brunet M, Taylor M, New M, Zhai P, Rusticucci M, Vazquez-Aguirre JL (2006) Global observed changes in daily climate extremes of temperature and precipitation. J Geophys Res Atmos 111(D5):D05109. doi:10.1029/2005jd006290

Barnett TP, Hasselmann K, Chelliah M, Delworth T, Hegerl G, Jones P, Rasmusson E, Roeckner E, Ropelewski C, Santer B, Tett S (1999) Detection and attribution of recent climate change: a status report. Bull Am Meteorol Soc 80(12):2631–2659. doi:10.1175/1520-0477(1999)080<2631:daaorc>2.0.co;2

Barriopedro D, Fischer EM, Luterbacher J, Trigo R, Garcia-Herrera R (2011) The Hot Summer of 2010: redrawing the Temperature Record Map of Europe. Science 332(6026):220–224. doi:10.1126/science.1201224

Berkhout F, Hertin J, Jordan A (2002) Socio-economic futures in climate change impact assessment: using scenarios as 'learning machines'. Glob Environ Change Human Policy Dimens 12(2):83–95. doi:10.1016/s0959-3780(02)00006-7

Brown SJ, Caesar J, Ferro CAT (2008) Global changes in extreme daily temperature since 1950. J Geophys Res Atmos 113 (D5):D05115. doi:10.1029/2006jd008091

Cattiaux J, Vautard R, Cassou C, Yiou P, Masson-Delmotte V, Codron F (2010) Winter 2010 in Europe: a cold extreme in a warming climate. Geophys Res Lett 37. doi:10.1029/2010gl044613

Conlon KC, Rajkovich NB, White-Newsome JL, Larsen L, O'Neill MS (2011) Preventing cold-related morbidity and mortality in a changing climate. Maturitas 69(3):197–202. doi:10.1016/j.maturitas.2011.04.004

Conti S, Masocco M, Meli P, Minelli G, Palummeri E, Solimini R, Toccaceli V, Vichi M (2007) General and specific mortality among the elderly during the 2003 heat wave in Genoa (Italy). Environ Res 103(2):267–274. doi:10.1016/j.envres.2006.06.003

Crowley TJ (2000) Causes of climate change over the past 1000 years. Science 289(5477):270–277. doi:10.1126/science.289.5477.270

Curriero FC, Heiner KS, Samet JM, Zeger SL, Strug L, Patz JA (2002) Temperature and mortality in 11 cities of the Eastern United States. Am J Epidemiol 155(1):80–87. doi:10.1093/aje/155.1.80

Dash SK, Jenamani RK, Kalsi SR, Panda SK (2007) Some evidence of climate change in twentieth-century India. Climatic Change 85(3–4):299–321. doi:10.1007/s10584-007-9305-9

Diaz J, Jordan A, Garcia R, Lopez C, Alberdi JC, Hernandez E, Otero A (2002) Heat waves in Madrid 1986–1997: effects on the health of the elderly. Int Arch Occup Environ Health 75(3):163–170. doi:10.1007/s00420-001-0290-4

Dilley M, Chen RS, Deichmann U, Lerner-Lam AL, Arnold M, Agwe J, Buys P, Kjekstad O, Lyon B, Yetman G (2005) Natural disaster hotspots: a global risk analysis. Disaster risk management series no. 5. The World Bank and Columbia University, Washington, DC

Ding YH, Wang ZY, Song YF, Zhang J (2008) The unprecedented freezing disaster in January 2008 in Southern China and its possible association with the global warming. Acta Meteorol Sin 22(4):538–558

El Kenawy A, Lopez-Moreno JI, Vicente-Serrano SM (2011) Recent trends in daily temperature extremes over northeastern Spain (1960-2006). Nat Hazards Earth Syst Sci 11(9):2583–2603. doi:10.5194/nhess-11-2583-2011

Ellis FP (1972) Mortality from heat illness and heat-aggravated illness in United-States. Environ Res 5(1):1. doi:10.1016/0013-9351(72)90019-9

Ferris R, Ellis RH, Wheeler TR, Hadley P (1998) Effect of high temperature stress at anthesis on grain yield and biomass of field-grown crops of wheat. Ann Bot 82(5):631–639. doi:10.1006/anbo.1998.0740

Fouillet A, Rey G, Laurent F, Pavillon G, Bellec S, Guihenneuc-Jouyaux C, Clavel J, Jougla E, Hemon D (2006) Excess mortality related to the August 2003 heat wave in France. Int Arch Occup Environ Health 80(1):16–24. doi:10.1007/s00420-006-0089-4

Garcia-Herrera R, Diaz J, Trigo RM, Luterbacher J, Fischer EM (2010) A review of the European summer heat wave of 2003. Crit Rev Environ Sci Technol 40(4):267–306. doi:10.1080/10643380802238137

Giorgi F, Bi XQ, Pal J (2004) Mean, interannual variability and trends in a regional climate change experiment over Europe. II: climate change scenarios (2071–2100). Clim Dyn 23(7–8):839–858. doi:10.1007/s00382-004-0467-0

Grize L, Huss A, Thommen O, Schindler C, Braun-Fabrlander C (2005) Heat wave 2003 and mortality in Switzerland. Swiss Med Wkly 135(13–14):200–205

Hay J, Mimura N (2010) The changing nature of extreme weather and climate events: risks to sustainable development. Geomat Nat Hazards Risk 1(1):3–18. doi:10.1080/19475701003643433

Healy JD (2003) Excess winter mortality in Europe: a cross country analysis identifying key risk factors. J Epidemiol Commun Health 57(10):784–789. doi:10.1136/jech.57.10.784

Hong CC, Li T (2009) The extreme cold anomaly over Southeast Asia in February 2008: roles of ISO and ENSO. J Clim 22(13):3786–3801. doi:10.1175/2009jcli2864.1

Huynen M, Martens P, Schram D, Weijenberg MP, Kunst AE (2001) The impact of heat waves and cold spells on mortality rates in the Dutch population. Environ Health Perspect 109(5):463–470. doi:10.2307/3454704

IPCC (2007) Climate change 2007: impacts, adaptation and vulnerability. In: Parry ML, Canziani OF, Palutikof JP, van der Linden PJ, Hanson CE (eds) Contribution of working group II to the fourth assessment report of the intergovernmental panel on climate change. Cambridge University Press, Cambridge, UK, 976 pp

IPCC (2012) Managing the risks of extreme events and disasters to advance climate change adaptation. In: Field CB, Barros V, Stocker TF, Qin D, Dokken DJ, Ebi KL, Mastrandrea MD, Mach KJ, Plattner G-K, Allen SK, Tignor M, Midgley PM (eds) A special report of working groups I and II of the intergovernmental panel on climate change. Cambridge University Press, Cambridge, 582 pp

Kalsi SR, Pareek RS (2001) Hottest April of the 20th century over north-west and central India. Curr Sci 80(7):867–873

Katz R, Brown B (1992) Extreme events in a changing climate: variability is more important than averages. Clim Change 21(3):289–302. doi:10.1007/bf00139728

Keatinge WR, Donaldson GC, Cordioli E, Martinelli M, Kunst AE, Mackenbach JP, Nayha S, Vuori I (2000) Heat related mortality in warm and cold regions of Europe: observational study. BMJ 321(7262):670–673. doi:10.1136/bmj.321.7262.670

Koch H, Vögele S (2009) Dynamic modelling of water demand, water availability and adaptation strategies for power plants to global change. Ecol Econ 68(7):2031–2039. doi:10.1016/j.ecolecon.2009.02.015

Kruger AC, Sekele SS (2013) Trends in extreme temperature indices in South Africa: 1962–2009. Int J Climatol 33(3):661–676. doi:10.1002/joc.3455

Lambert FH, Chiang JCH (2007) Control of land-ocean temperature contrast by ocean heat uptake. Geophys Res Lett 34(13). doi:10.1029/2007gl029755

McMichael AJ, Woodruff RE, Hales S (2006) Climate change and human health: present and future risks. Lancet 367(9513):859–869. doi:10.1016/S0140-6736(06)68079-3

Medina-Ramon M, Schwartz J (2007) Temperature, temperature extremes, and mortality: a study of acclimatisation and effect modification in 50 US cities. Occup Environ Med 64(12):827–833. doi:10.1136/oem.2007.033175

Meehl GA, Zwiers F, Evans J, Knutson T, Mearns L, Whetton P (2000) Trends in extreme weather and climate events: issues related to modeling extremes in projections of future climate change. Bull Am Meteorol Soc 81(3):427–436. doi:10.1175/1520-0477(2000)081<0427:tiewac>2.3.co;2

Mileti D (1999) Disasters by design: a reassessment of natural hazards in the United States. Joseph Henry Press, Washington, DC

Nakaji S, Parodi S, Fontana V, Umeda T, Suzuki K, Sakamoto J, Fukuda S, Wada S, Sugawara K (2004) Seasonal changes in mortality rates from main causes of death in Japan (1970–1999). Eur J Epidemiol 19(10):905–913. doi:10.1007/s10654-004-4695-8

NCEP/DOE 2 Reanalysis data provided by the NOAA/OAR/ESRL PSD, Boulder, Colorado, USA, from their Web site at http://www.esrl.noaa.gov/psd/

Newell RE (1979) Climate and the Ocean: measurements of changes in sea-surface temperature should permit us to forecast certain climatic changes several months ahead. Am Sci 67(4):405–416. doi:10.2307/27849329

Pantavou K, Theoharatos G, Mavrakis A, Santamouris M (2011) Evaluating thermal comfort conditions and health responses during an extremely hot summer in Athens. Build Environ 46(2):339–344. doi:10.1016/j.buildenv.2010.07.026

Patt AG, Tadross M, Nussbaumer P, Asante K, Metzger M, Rafael J, Goujon A, Brundrit G (2010) Estimating least-developed countries' vulnerability to climate-related extreme events over the next 50 years. Proc Natl Acad Sci. doi:10.1073/pnas.0910253107

Pirard P, Vandentorren S, Pascal M, Laaidi K, Le Tertre A, Cassadou S, Ledrans M (2005) Summary of the mortality impact assessment of the 2003 heat wave in France. Euro Surveill 10(7):153–156

Poumadere M, Mays C, Le Mer S, Blong R (2005) The 2003 heat wave in France: dangerous climate change here and now. Risk Anal 25(6):1483–1494. doi:10.1111/j.1539-6925.2005.00694.x

Prasad DH, Wibig J, Rzepa M (2010) Numerical modeling of the severe cold weather event over Central Europe (January 2006). Adv Meteorol. doi:10.1155/2010/619478

Seager R, Naik N, Vogel L (2011) Does global warming cause intensified interannual hydroclimate variability? J Clim 25(9):3355–3372. doi:10.1175/jcli-d-11-00363.1

Shi PJ (1991) Theory and practice on disaster system. J Nanjing University (Nat Sci) 11:37–42 (in Chinese)

Shi PJ (1996) Theory and practice of disaster study. J Nat Dis 4(4):6–15 (in Chinese)

Shi W, Tao F, Liu J (2013) Regional temperature change over the Huang-Huai-Hai Plain of China: the roles of irrigation versus urbanization. Int J Climatol. doi:10.1002/joc.3755

Simon F, Lopez-Abente G, Ballester E, Martinez F (2005) Mortality in Spain during the heat waves of summer 2003. Euro Surveill 10(7):156–161

Smoyer KE (1998) A comparative analysis of heat waves and associated mortality in St. Louis, Missouri-1980, and 1995. Int J Biometeorol 42(1):44–50. doi:10.1007/s004840050082

Smoyer-Tomic K, Kuhn R, Hudson A (2003) Heat wave hazards: an overview of heat wave impacts in Canada. Nat Hazards 28(2–3):465–486. doi:10.1023/a:1022946528157

Stohlgren TJ, Chase TN, Pielke RA, Kittel TGF, Baron JS (1998) Evidence that local land use practices influence regional climate, vegetation, and stream flow patterns in adjacent natural areas. Glob Change Biol 4(5):495–504. doi:10.1046/j.1365-2486.1998.t01-1-00182.x

SwissRe (2010) Weather climate change: insurance solutions for more resilient communities, annual report

Tank A, Konnen GP (2003) Trends in indices of daily temperature and precipitation extremes in Europe, 1946–1999. J Clim 16(22):3665–3680

Theoharatos G, Pantavou K, Mavrakis A, Spanou A, Katavoutas G, Efstathiou P, Mpekas P, Asimakopoulos D (2010) Heat waves observed in 2007 in Athens, Greece: synoptic conditions, bioclimatological assessment, air quality levels and health effects. Environ Res 110(2):152–161. doi:10.1016/j.envres.2009.12.002

Wang HJ, Chen YN, Chen ZS, Li WH (2013) Changes in annual and seasonal temperature extremes in the arid region of China, 1960–2010. Nat Hazards 65(3):1913–1930. doi:10.1007/s11069-012-0454-4

William JK (2006) Deadly cold wave sweeps across Europe. Accessed June 4, 2013

WMO (2010) Unprecedented sequence of extreme weather events. Accessed June 4, 2013

WorldBank (2010) Poverty headcount ratio. http://povertydata.worldbank.org/poverty/country/IND. Accessed June 5, 2013

Xiao RB, Weng QH, Ouyang ZY, Li WF, Schienke EW, Zhang ZM (2008) Land surface temperature variation and major factors in Beijing, China. Photogramm Eng Remote Sens 74(4):451–461

Yan Z, Jones PD, Davies TD, Moberg A, Bergström H, Camuffo D, Cocheo C, Maugeri M, Demarée GR, Verhoeve T, Thoen E, Barriendos M, Rodríguez R, Martín-Vide J, Yang C (2002) Trends of extreme temperatures in Europe and China based on daily observations. Clim Change 53(1–3):355–392. doi:10.1023/a:1014939413284

Ye Q, Wang M, Han J (2012) Integrated risk governance in the Yungui Plateau, China: the 2008 ice-snow storm disaster. J Alp Res Special Issue "Mountain, marginality and disaster":100–101. doi:10.4000/rga.1731

Zhang X, Chuhan L, Zhaoyong G (2012) Weakened cyclones, intensified anticyclones and recent extreme cold winter weather events in Eurasia. Environ Res Lett 7(4):044. doi:10.1088/1748-9326/7/4/044044
Acknowledgments
This study was funded by the National Basic Research Program of China (2012CB955404), the Fundamental Research Funds for the Central Universities, and the State Key Laboratory of Earth Surface Processes and Resource Ecology of Beijing Normal University (2010-ZY-10).
About this article
Cite this article
Song, X., Zhang, Z., Chen, Y. et al. Spatiotemporal changes of global extreme temperature events (ETEs) since 1981 and the meteorological causes. Nat Hazards 70, 975–994 (2014). https://doi.org/10.1007/s11069-013-0856-y
Received:

Accepted:

Published:

Issue Date:
Keywords
Heat wave

Cold spell

Global pattern

Climate change

Extreme temperature