Abstract
Vulnerability, resilience, and adaptation are three fundamentally inter-related concepts among such research communities as global environmental/climatic change, social–ecological and disaster risk science. However, their mutual relationships are still unclear so far particularly in the field of disaster risk reduction, which to some extent blocks the reasonable risk analysis and scientific decision making. This paper performed a brief overview on the basic definitions and evolution processes of vulnerability, resilience, and adaptation, and tentatively categorized past diverse thoughts of their relationships into three modalities, such as, vulnerability preference, resilience preference, and overlapped relationships. From a "hit-damage-recovery-learning cycle" insight and based on an empirical case study, we put forward two conceptual frameworks to address the relationships of vulnerability, resilience, and adaptation within the disaster risk domain, and we further discussed their broader implications in terms of disaster risk management and social–ecological sustainability. In an attempt to bring together the analytical frameworks of vulnerability, resilience, and adaptation, this study indicates that a sustainable adaptation strategy to the unavoidable disasters or changes should not only seek to reduce the vulnerability of a social–ecological system, but also to foster its resilience and adaptive capacity to future uncertainties and potential risks.
Access options
Buy single article
Instant access to the full article PDF.
USD 39.95
Price excludes VAT (USA)
Tax calculation will be finalised during checkout.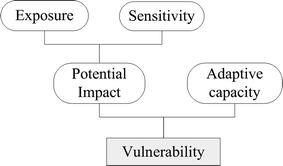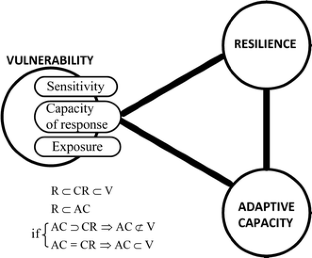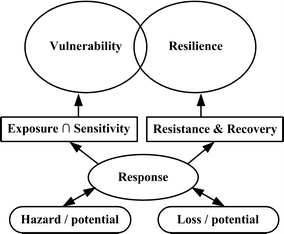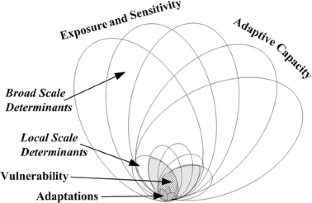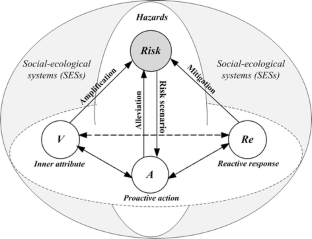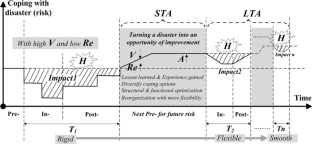 References
Adger WN (2006) Vulnerability. Glob Environ Change 16:268–281

Adger WN, Huq S, Brown K, Conwaya D, Hulmea H (2003) Adaptation to climate change in the developing world. Prog Dev Stud 3:179–195

Adger WN, Hughes TP, Folke S, Carpenter SR, Rockström J (2005) Social-ecological resilience to coastal disasters. Science 309:1036–1039

Berkes F (2007) Understanding uncertainty and reducing vulnerability: lessons from resilience thinking. Nat Hazards 41:283–295

Berkes F, Colding J, Folke C (eds) (2003) Navigating social-ecological systems: building resilience for complexity and change. Cambridge University Press, Cambridge

Birkmann J (ed) (2006) Measuring vulnerability to natural hazards: towards disaster resilient societies. United Nations University Press, Tokyo

Brooks N (2003) Vulnerability, risk and adaptation: a conceptual framework, Tyndall Centre working paper

Burton I, Kates RW, White GF (eds) (1978) The Environment as Hazard. Oxford University Press, New York

Carpenter S, Walker B, Anderies JM, Abel N (2001) From metaphor to measurement: resilience of what to what? Ecosystems 4(8):765–781

Cutter SL, Finch C (2008) Temporal and spatial changes in social vulnerability to natural hazards. Proc Natl Acad Sci USA 105(7):2301–2306

Cutter SL, Boruff BJ, Shirley WL (2003) Social vulnerability to environmental hazards. Social Sci Q 84:242–261

Cutter SL, Barnes L, Berry M, Burton C, Evans E, Tate E, Webb J (2008) A place-based model for understanding community resilience to natural disasters. Glob Environ Change 18(4):598–606

Denevan WM (1983) Adaptation, variation and cultural geography. Professional Geographer 35:399–406

Downing TE, Ringius L, Hulme M, Waughray D (1997) Adapting to climate change in Africa. Mitig Adapt Strateg Glob Change 2:19–44

Endfield GH (2012) The resilience and adaptive capacity of social-environmental systems in colonial Mexico. Proc Natl Acad Sci USA 109:3628–3631

Engle NL (2011) Adaptive capacity and its assessment. Glob Environ Change 21(2):647–656

Folke C (2006) Resilience: the emergence of a perspective for social-ecological systems analyses. Glob Environ Change 16:253–267

Folke C, Carpenter S, Elmqvist T, Gunderson L, Holling CS, Walker B (2002) Resilience and sustainable development: building adaptive capacity in a world of transformations. Ambio 31:437–440

Folke C, Carpenter SR, Walker B, Scheffer M, Chapin T, Rockström J (2010) Resilience thinking: integrating resilience, adaptability and transformability. Ecol Soc 15(4):20

Gallopin GC (2006) Linkages between vulnerability, resilience, and adaptive capacity. Glob Environ Change 16(3):293–303

Han GY (2011) Understanding regional dynamics of vulnerability: a historical approach to the flood problem in China Ph.D. Dissertation Graduate School of Geography, Clark University, Worcester, MA, USA

Holling CS (1973) Resilience and stability of ecological systems. Annu Rev Ecol Syst 4:1–23

Holling CS (1996) Engineering resilience versus ecological resilience. In: Schulze PC (ed) Engineering within ecological constraints. National Academy Press, Washington, D.C., USA

IPCC (1995) Second assessment report (ar2). Cambridge University Press, Cambridge

IPCC (2001) Third assessment report (ar3). Cambridge University Press, Cambridge

IPCC (2007) Fourth assessment report (ar4). Cambridge University Press, Cambridge

IPCC (2012) Managing the risks of extreme events and disasters to advance climate change adaptation. A special report of working groups I and II of the intergovernmental panel on climate change [Field CB, V Barros, TF Stocker, D Qin, DJ Dokken, KL Ebi, MD Mastrandrea, KJ Mach, GK Plattner, SK Allen, M Tignor, and PM Midgley (eds.)]. Cambridge University Press, Cambridge, UK, and New York, NY, USA

IRG (Integrated Risk Governance Project) (2010) Science Plan. IHDP Report. 80 pp, Potsdam/Beijing

Kasperson JX, Kasperson RE (2001) Climate change, vulnerability and social justice. Stockholm Environment Institute, Stockholm

Kasperson JX, Kasperson RE (2005) The social contours of risk, vol 1. Earthscan, London

Kimhi S, Shamai M (2004) Community resilience and the impact of stress: adult response to Israel's withdrawal from Lebanon. J Commun Psychol 32(4):439–451

Klein RJT, Nicholls RJ, Thomalla FT (2003) Resilience to natural hazards: how useful is this concept? Environ Hazards 5:35–45

Marshall NA, Marshall PA, Tamelander J, Obura D, Malleret-King D, Cinner JE (2009) A framework for social adaptation to climate change. Sustaining Tropical Coastal Communities and Industries, Gland

McLaughlin P (2011) Climate change, adaptation, and vulnerability: reconceptualizing societal-environment interaction within a socially constructed adaptive landscape. Organ Environ 24:269–291

Miller F, Osbahr H, Boyd E, Thomalla F, Bharwani S, Ziervogel G, Walker B, Birkmann J, Vander Leeuw S, Rockström J, Hinkel J, Downing T, Folke C, Nelson D (2010) Resilience and vulnerability: complementary or conflicting concepts? Ecol Soc 15(3):11

O'Brien K (2012) Global environmental change II: from adaptation to deliberate transformation. Prog Hum Geogr 36(5):667–676

O'Brien K, Robin K, Venema H et al (2004) Mapping vulnerability to multiple stressors: climate change and globalization in India. Glob Environ Change 14:303–313

Resilience Alliance (2009) Assessing and managing resilience in social-ecological systems: a practitioner's workbook, Version 1.0

Smit B, Wandel J (2006) Adaptation, adaptive capacity and vulnerability. Glob Environ Change 16:282–292

Smit B, Burton I, Klein RJT, Wandel J (2000) An anatomy of adaptation to climate change and variability. Climatic Change 45:223–451

Smith K (ed) (1996) Environmental hazards: assessing risk and reducing disaster, 2nd edn. Routledge, London

Stakhiv E (1993) Evaluation of IPCC adaptation strategies. Institute for Water Resources, U.S. Army Corps of Engineers, Fort Belvoir

Timmerman P (1981) Vulnerability, resilience and the collapse of society: a review of models and possible climatic applications. University of Toronto, Canada, Institute for Environmental Studies

Turner BLII (2010) Vulnerability and resilience: coalescing or paralleling approaches for sustainability science? Glob Environ Change 20:570–576

Turner BLII, Kasperson RE, Matson PA et al (2003) A framework for vulnerability analysis in sustainability science. Proc Natl Acad Sci USA 100:8074–8079

UNISDR (2009) Terminology on disaster risk reduction. http://www.unisdr.org/eng/terminology/UNISDR-terminology-2009-eng.pdf

UNISDR (2010) Contributing to the implementation of the hyogo framework for action. Switzerland, Geneva

Vogel C, Moser SC, Kasperson RE, Dabelko G (2007) Linking vulnerability, adaptation, and resilience science to practice: pathways, players, and partnerships. Glob Environ Change 17:349–364

Walker B, Holling CS, Carpenter SR, Kinzig A (2004) Resilience, adaptability and transformability in social-ecological systems. Ecol Soc 9(2):5

Walker B, Abel N, Anderies JM, Ryan P (2009) Resilience, adaptability, and transformability in the Goulburn-Broken Catchment Australia. Ecol Soc 14(1):12

White GF (1974) Natural hazards research: concepts, methods, and policy implications. In: White GF (ed) Natural Hazards: Local, National and Global. Oxford University Press, New York

Winterhalder G (1980) Environmental analysis in human evolution and adaptation research. Human Ecol 8:135–170

Wisner B, Blaikie P, Cannon T, Davis I (eds) (2004) At risk: natural hazards, people's vulnerability and disasters, 2nd edn. Routledge, London

Young OR, Berkes F, Gallopin GC, Janssen MA, Ostrom E, Van der Leeuw S (2005) The globalization of socio-ecological systems: an agenda for scientific research. Glob Environ Change 16:304–316

Zhou H, Rompaey AV, Wang J (2009) Detecting the impact of the "Grain for Green" program on the mean annual vegetation cover in the Shaanxi province, China using SPOT-VGT NDVI data. Land Use Policy 26:954–960

Zhou H, Wang J, Wan J et al (2010) Resilience to natural hazards: a geographic perspective. Nat Hazards 53:21–41
Acknowledgments
This study was jointly supported by the National Natural Science Foundation of China (No.41171402; No.41201553) and the State Key Scientific Program of China (973 Project) (No.2012CB955403). Sincere thanks should be given to the editor and two anonymous reviewers for their constructive comments and suggestions that greatly helped to improve the quality of this article.
About this article
Cite this article
Lei, Y., Wang, J., Yue, Y. et al. Rethinking the relationships of vulnerability, resilience, and adaptation from a disaster risk perspective. Nat Hazards 70, 609–627 (2014). https://doi.org/10.1007/s11069-013-0831-7
Received:

Accepted:

Published:

Issue Date:

DOI: https://doi.org/10.1007/s11069-013-0831-7
Keywords