Abstract
In this study, the aerosol behavior during two contradictory events, i.e., dust storm (DS) and Diwali (DW) has been studied over Jaipur. The aerosol particle number concentration shows distinct features between DS and DW events. The total ANC was found minimum during DS while maximum during DW. The 24 h mean of total ANC was 9.15 × 104 (±7.71 × 104) and 5.38 × 105 (±3.73 × 105 particles/l) during DS and DW, respectively. The total ANC increases from 7.78 × 104 to 5.32 × 105 and 3.52 × 105 to 1.70 × 106 particles/l in 24 h during DS and DW, respectively. In DS, the ANC in coarse mode (2 < particle diameter < 20 μm) is significantly high while in DW, the ANC in fine mode (0.3 < particle diameter < 2 μm) exhibits higher concentration. During dust episode, a significant change in ANC (3.0 × 103 to 1.12 × 105 particles/l) was observed for the particle of size range in 2.0–20 μm with a slight increase in particles number concentration (7.48 × 104 to 4.20 × 105 particles/l) in 0.3–2.0 μm range is also observed. During DS, the fine and coarse mode particles increased 4.61 and 36.44 times while during DW, it increased 3.83 and 0.95 times, respectively. The relatively high particle levels during DW are attributed for two reasons: local emissions due to burning of fire crackers and meteorological conditions, i.e., low wind speeds and low mixing-layer heights lead to relatively high particle concentrations.
Access options
Buy single article
Instant access to the full article PDF.
USD 39.95
Price includes VAT (USA)
Tax calculation will be finalised during checkout.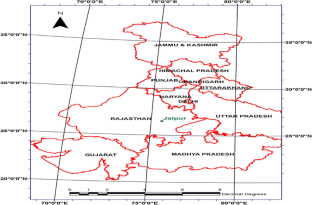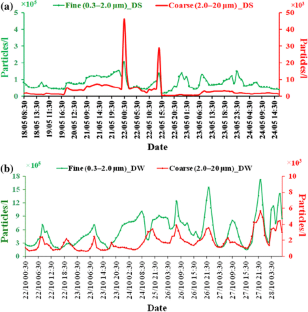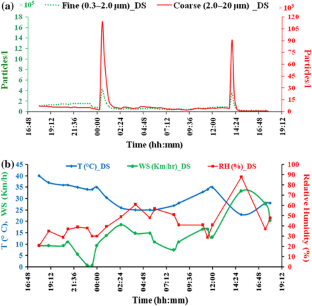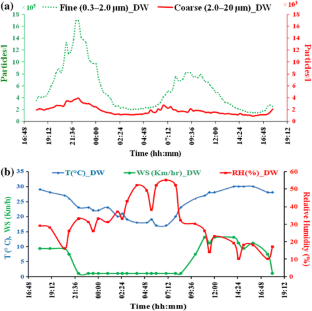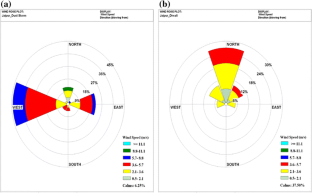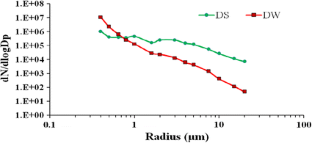 References
Baldasano JM, Valera E, Jiménez P (2003) Air quality data from large cities. Sci Total Environ 307:141–165

Buzorius G, Hämeri K, Pekkanen J, Kulmala M (1999) Spatial variation of aerosol number concentration in Helsinki city. Atmos Environ 33:553–565

Chun Y, Kim J, Choi JC, Boo KO, Oh SN, Lee M (2001) Characteristic number size distribution of aerosol during Asian dust period in Korea. Atmos Environ 35:2715–2721

Dey S, Tripathi SN, Singh RP, Holben BN (2004) Influence of dust storms on the aerosol optical properties over the Indo-Gangetic basin. J Geophys Res. doi:10.1029/2004JD004924

Dockery DW, Pope C (1994) Acute respiratory effects of particulate air pollution. Annu Rev Public Health 15:107–132

Dockery DW, Pope CA III, Xu X, Spengler JD, Ware JH, Fay ME, Ferris BG, Speizer FE (1993) An association between air pollution and mortality in six US cities. New Engl J Med 329:1753–1759

Dunn MJ, Jimenez JL, Baumgardner D, Castro T, Mc-Murry PH, Smith JN (2004) Measurements of Mexico City nano particle size distributions: observations of new particle formation and growth. J Geophys Lett. doi:10.1029/2004GL019483

Faiz A, Sturm PJ (2000) New directions: air pollution and road traffic in developing countries. Atmos Environ 34(27):4745–4746

Hämeri K, Kulmala M, Aalto P, Leszczynski K, Visuri R, Hämekoski K (1996) The investigations of aerosol particle formation in urban background area in Helsinki. Atmos Res 41:281–298

Horvath H, Kasaharat M, Pesava P (1996) The size distribution and composition of the atmospheric aerosol at a rural and nearby urban location. J Aerosol Sci 27(3):417–435

Ketzel M, Wåhlin P, Kristensson A, Swietlicki E, Berkowicz R, Nielsen OJ, Palmgren F (2004) Particle size distribution and particle mass measurements at urban, near-city and rural level in the Copenhagen area and Southern Sweden. Atmos Chem Phys 4:281–292

Liu DY, Rutherford D, Kinsey M, Prather KA (1997) Real-time monitoring of pyrotechnically derived aerosol particles in the troposphere. Anal Chem 69:1808–1814

Liu S, Hu M, Wu Z, Wehner B, Wiedensohler A, Cheng Y (2008) Aerosol number size distribution and new particle formation at a rural/coastal site in Pearl River Delta (PRD) of China. Atmos Environ 42:6275–6283

Longley ID, Gallagher MW, Dorsey JR, Flynn M, Allan JD, Alfarra MR, Inglis D (2003) A case study of aerosol (4.6 nm < Dp < 10 nm) number and mass size distribution measurements in a busy street canyon in Manchester, UK. Atmos Environ 37(2):1563–1571

Mclain JH (1980) Pyrotechnics from the viewpoint of solid state chemistry. The Franklin Institute Press, Philadelphia, pp 155–157

Mohan M, Payra S (2006) Relation between fog formation and accumulation mode aerosols in urban environment Delhi, India. Ind J Environ Prot 26(4, April 2006):294–300 (ISSN:0253-7141)

Mönkkönen P, Koponen IK, Lehtinen KEJ, Hämeri K, Uma R, Kulmala M (2005) Measurements in a highly polluted Asian mega city observations of aerosol number size distribution, modal parameters and nucleation events. Atmos Chem Phys 5:57–66

Moreno T, Querol X, Alastuey A, Minguillón MC, Pey J, Rodriguez S, Miró JV, Felis C, Gibbons W (2007) Recreational atmospheric pollution episodes: inhalable metalliferous particles from firework displays. Atmos Environ 41:e913–e922. doi:10.1016/j.atmosenv.2006.09.019

Payra S, Verma S, Prakash D, Kumar P, Soni M, Holben B (2013) Aerosols properties during dust-storm episodes over Jaipur, Northwestern India, AIP conference proceedings (ISBN 978-0-7354-1152-4), vol. 1527, pp. 515–518. doi:http://dx.doi.org/10.1063/1.4803319

Pease PP, Tchakerian VP, Tindale NW (1998) Aerosols over the Arabian Sea: geochemistry and source areas for aeolian desert dust. J Arid Environ 39:477–496

Penttinen P, Timonen KL, Tiittanen P, Mirme A, Ruuskanen J, Pekkanen J (2001) Number concentration and size of particles in urban air: effects on spirometric lung function in adult asthmatic subjects. Environ Health Perspect 109:319–323

Peters A, Wichmann HE, Tuch T, Heinrich J, Heyder J (1997) Respiratory effects are associated with the number of ultrafine particles. Am J Respir Crit Care Med 155:1376–1383

Pope CA (2000) Review: epidemiological basis for particulate air pollution health standards. Aerosol Sci Technol 32:4–14

Pope CA III, Dockery DW, Spengler JD, Raizenne ME (1991) Respiratory health and PM10 pollution—a daily time series analysis. Am Rev Respir Dis 44:668–674

Ravindra K, Mor S, Kaushik CP (2003) Short-term variation in air quality associated with firework events: a case study. J Environ Monit 5:260–264

Samet JM, Zeger SL, Dominici F, Curriero F, Coursac I, Dockery DW, Schwartz J, Zanobetti A (2000) The national morbidity, mortality, and air pollution study, Part II: morbidity and mortality from air pollution in the United States. Research report 94, Health Effects Institute, Cambridge, MA

Schwartz J, Slater D, Larson T, Pierson WE, Koenig JQ (1993) Particulate air pollution and hospital emergency visits for asthma in Seattle. Am Rev Respir Dis 147:826–831

Seinfeld JH, Pandis SN (1998) Atmospheric chemistry and physics. John Wiley & Sons Inc, New York

Shi JP, Evans DE, Khan AA, Harrison RM (2001) Sources and concentration of nano particles (<10 nm in diameter) in the urban atmosphere. Atmos Environ 35:1193–1202

Sikka DR (1997) Desert climate and its dynamics. Curr Sci 72(1):35–46

Stanier CO, Khlystov AY, Pandis SN (2004) Ambient aerosol size distributions and number concentrations measured during the Pittsburgh Air Quality Study (PAQS). Atmos Environ 38:3275–3284

Steinhauser G, Sterba JH, Foster M, Grass F, Bichler M (2008) Heavy metals from pyrotechnics in New Years Eve snow. Atmos Environ 42:e8616–e8622. doi:10.1016/j.atmosenv.2008.08.023

Tiwari S, Payra S, Mohan M, Verma S, Bisht S (2011) Visibility Degradation during foggy period due to anthropogenic urban aerosol at Delhi, India, atoms. Pollut Res 2(1):116–120. doi:10.5094/APR.2011.014

Tyagi A, Singh OP, Singh SS, Kumar S (2012) Climate of Jaipur. Indian Meteorological Department, India

Väkevä M, Hämeri K, Kulmala M, Lahdes R, Ruuskanen J, Laitinen T (1999) Street level versus rooftop concentrations of submicron aerosol particles and gaseous pollutants in an urban street canyon. Atmos Environ 33:1385–1397

Verma S, Boucher O, Upadhyaya HC, Sharma OP (2006) Sulfate aerosols forcing: an estimate using a three-dimensional interactive chemistry scheme. Atmos Environ 40(40):7953–7962

Verma S, Boucher O, Reddy MS, Upadhyaya HC, Le Van P, Binkowski FS, Sharma OP (2012) Tropospheric distribution of sulphate aerosols mass and number concentration during INDOEX-IFP and its transport over the Indian Ocean: a GCM study. Atmos Chem Phys 12:6185–6196. doi:10.5194/acp-12-6185-2012

Verma S, Payra S, Gautam R, Prakash D, Soni M, Holben B, and Bell S (2013) Dust events and their influence on aerosol optical properties over Jaipur in North western India, Environmental Monitoring and Assessment (ISSN 0167-63690), Springer, EMAS-D-12-11425. doi:10.1007/s10661-013-3103-9)

Wang Y, Zhuang G, Xu C, An Z (2007) The air pollution caused by the burning of fireworks during the lantern festival in Beijing, China. Atmos Environ 41:417–431

Washington R, Todd M, Middleton NJ, Goudie AS (2003) Dust storm source as determined by the total ozone monitoring spectrometer and surface observations. Ann As Am Geogr 93:297–313

Wehner B, Birmili W, Gnauk T, Wiedensohler A (2002) Particle number size distributions in a street canyon and their transformation into the urban-air background: measurements and a simple model study. Atmos Environ 36:2215–2223

Wehner B, Wiedensohler A, Heintzenberg J (2000) Submicrometer aerosol size distributions and mass concentration of the millennium fireworks 2000 in Leipzig, Germany. J Aerosol Sci 31(12):1489–1493

Wiedensohler A, Wehner B, Birmili W (2004) Aerosol number concentrations and size distributions at mountain-rural, urban-influenced rural, and urban-background sites in Germany. J Aerosol Med. doi:10.1089/089426802320282365

Williams PI, Choularton TW, Gallagher M, Coe WH, Bower KN (1998) Results of monitoring ultrafine, fine and accumulation mode particles above an urban canyon within the city of Manchester. J Aerosol Sci 29:593–594

Woo KS, Chen DR, Pui DYH, McMurry PH (2001) Measurements of Atlanta Aerosol Size Distributions: observations of ultra fine particle events. Aerosol Sci Technol 34:75–87

Zhang M, Wang X, Chen J, Cheng T, Wang T, Yang X, Gong G, Geng F, Chen C (2010) Physical characterization of aerosol particles during the Chinese New Year's firework events. Atmos Environ 44:e5191–e5198. doi:10.1016/j.atmosenv.2010.08.048
Acknowledgments
We greatly acknowledge and thank SERB, Department of Science and Technology (DST), Govt. of India for financial support under research project SR/S4/AS:39/2009. The first author acknowledges support from DST in the form of research fellowship for PhD research. We are thankful to Dr K. R. Khicher for the support during data collection. The authors also thankfully acknowledge the Executive Director Prof Purnendu Ghosh, BISR for resources to carry out the study.
About this article
Cite this article
Prakash, D., Payra, S., Verma, S. et al. Aerosol particle behavior during Dust Storm and Diwali over an urban location in north western India. Nat Hazards 69, 1767–1779 (2013). https://doi.org/10.1007/s11069-013-0780-1
Received:

Accepted:

Published:

Issue Date:
Keywords
Aerosol number concentration

Dust storm

Diwali

Emissions, percentage change