Abstract
The current practice of flood risk assessment focuses mainly on damages that can be easily measured in monetary terms, i.e. the so-called tangible damages on assets that have market values. However, quite often flood events are causing damages on assets that have no market values, e.g. environmental impacts, which usually are neglected. In this context, the present paper explores the potential of Contingent Valuation Method (CVM) to estimate the environmental costs of floods. CVM is a method widely used in environmental economics valuating environmental goods and services that have no market prices. In this case, it is applied to estimate the environmental costs of the severe flooding event that emerged in the Evros River (Greece) during March/April 2006. The environmental costs are elicited by asking three groups of local stakeholders (local scientific and administration experts, farmers and hunters) for their willingness to pay (WTP) to avoid such impacts, particularly on the soil, the biodiversity and the aesthetic environment. Additionally, the experts are asked to state in their opinion, which part of the regional gross domestic product (GDP) should be allocated to avoid environmental flood impacts in the Evros River. The opinions of the three local stakeholders groups were considered in the survey since they are the most informed parts of the population on such a complex issue. Consequently, both the WTP and GDP estimations do not represent the preferences of the wider local population. The findings of this valuation approach have the potential to contribute to a more comprehensive assessment and thus to a more unbiased flood risk management.
Access options
Buy single article
Instant access to the full article PDF.
USD 39.95
Price excludes VAT (USA)
Tax calculation will be finalised during checkout.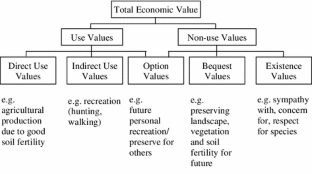 References
Arrow K, Solow R, Portney P, Leamer E, Radner R, Schuman H (1993) Report of the NOAA panel on contingent valuation. National Oceanic and Atmospheric Administration, Washington

Belyaev Y, Kriström B (2010) Approach to analysis of self-selected interval data. CERE Publications, WP2/2010

Birol E, Karousakis K, Koundouri P (2006) Using economic valuation techniques to inform water resources management: a survey and critical appraisal of available techniques and an application. Sci Total Environ 365:105–122

Boyle KJ, Welsh MP, Bishop RC, Baumgartner RM (1995) Validating contingent valuation with surveys of experts. Agric Resour Econ 24:247–254

Carson RT, Flores NE, Meade NF (2001) Contingent valuation: controversies and evidence. Environ Resour Econ 19:173–210

Commission on Geosciences Environment and Resources (1997) Valuing ground water: economic concepts and approaches http://www.nap.edu/books/0309056403/html/75.html 1997

Cummings RG, Brookshire D, Schulze W (1986) Valuing environmental goods: an assessment of the contingent valuation method. Rowman and Allenhold, Totowa

Daun CM, Clark D (2000) Flood risk and contingent valuation willingness to pay studies: a methodological review and applied analysis. Institute for Urban Environmental Risk Management, Marquette University, Milwaukee

Defra/Environment Agency (2005) The appraisal of human related intangible impacts of flooding, R&D Technical Report FD2005/TR

Garrod G, Willis K (1999) Economic valuation of the environment. Edward Elgar, Cheltenham

Hamilton MJ (2007) Coastal landscape and the hedonic price of accommodation. Ecol Econ 62:594–602

Hartje V, Meyer I, Meyerhoff J (2001) Kosten einer möglichen Klimaänderung auf Sylt. In: Daschkeit A, Schottes P (Hrsg.): Sylt—Klimafolgen für Mensch und Küste. Berlin

Hoevenagel R (1994) The contingent valuation method: scope and validity. Vrije University, Amsterdam

IP/07/206 (2007) EU solidarity fund. Brussels 20 February 2007 http://europa.eu.int/comm/regional_policy/funds/solidar/solid_en.htm

Lancaster K (1966) A new approach to consumer theory. J Polit Econ 84:132–157

Messner F, Penning-Rowsell E, Green C, Meyer V, Tunstall S, van der Veen A (2007) Evaluating flood damages: guidance and recommendations on principles and methods. FLOODsite-Report T09-06-01, pp 176

Meyer V, Messner F (2005) National flood damage evaluation methods—a review of applied methods in England, the Netherlands, the Czech Republic and Germany, UFZ-Diskussionspapiere 21/2005

Mitchell RC, Carson RT (1989) Using surveys to value public goods: the contingent valuation method. Johns Hopkins University Press, Baltimore

OECD (2000) The economic appraisal of environmental projects and policies. A practical guide. Paris 2000

Old G, Acreman M, Laize C, Nottage A, Overton I, Mountford O, Packman J, Walton S, Cowx I, Thorne C, Thompson J, Newman J, Ramsbottom D, Gouldby B, Lumbroso D, Gowing D (2010) Ecological impact assessment tools for fluvial flooding and coastal inundation. Environment agency, pp 114 (CEH project number: CO3429)

Pearce DW, Smale R (2005) Appraising flood control investments in the UK. In: Brouwer R, Pearce DW (eds) Cost-benefit-analysis and water resource management. Edward Elgar, Cheltenham, pp 71–92

Pearce DW, Turner K (1990) Economics of natural resources and the environment. Harvester Wheatsheaf, Hemel Hempstead

Penning-Rowsell E, Johnson C, Tunstall S, Tapsell S, Morris J, Chatterton J, Coker A, Green C (2003) The benefits of flood and coastal defence: techniques and data for 2003. Flood Hazard Research Centre, Enfield

Samuels P, Gouldby B, Klijn F, Messner F, van Os A, Sayers P, Schanze J, Udale-Clarke H (2009) Language of risk—project definitions, 2nd edn. Floodsite Report T32-04-01

Schanze J (2006) Flood risk management—a basic framework. In: Schanze J, Zeman E, Marsalek J (eds) Flood risk management—Hazards. Vulnerability and mitigation measures. Springer, Berlin, pp 149–167

Shabman L, Stephenson K, Thunberg E, Dietz B (1998) Comparing benefit estimation techniques: residential flood hazard reduction benefits in Roanoke. Virginia, IWR Report 98-R-2

Smith K, Ward RC (1998) Floods: physical processes and human impacts. Chichester, New York

Turner RK, Adger N, Doktor P (1995) Assessing the economic costs of sea level rise. Environ Plan A 27(11):1777–1796

Vatn A, Bromley D (1995) Choices without prices without apologies. In: Bromley DW (ed) Handbook of environmental economics. Blackwell Scientific Publications, Oxford, UK, pp 3–25

Whitehead CJ, Hobant TJ, Cliffordt WB (1995) Measurement issues with iterated, continuous/interval contingent valuation data. J Environ Manage 43:129–139
Appendix
Appendix
1.1

Questionnaire
1.

Which of the following environmental assets were affected by the flooding events of March/April 2006?

2.

In your opinion, how important are the following environmental assets for the local welfare?

3.

'Would you be willing to pay an annual household fee for avoiding the floods in the Evros River, and hence minimizing the economic, environmental and social impacts?' If no go to question 4. If yes go to question 5.

4.

Which is the reason why you are not willing to pay?

1.

I don't believe in this approach

2.

I don't know how much I am willing to pay

3.

I can't afford to pay

4.

It is an international issue and should be treated globally

5.

The state should pay for this

6.

I disagree in general and I'm not willing to pay

7.

Other

5.

How much would you be willing to pay annually as a household for avoiding the floods in the Evros River?

0,1–5€

5–30€

30–70€

70–200€

6.

'From the above selected interval value which percentage would you allocate for addressing the following potential environmental impacts emerging from the floods in the Evros River?'

| | | |
| --- | --- | --- |
| 1. Soil degradation (erosion, contamination) | % | Experts, farmers |
| 2. Biodiversity impacts | % | Experts, farmers, hunters |
| 3. Aesthetic environment | % | Experts |

7.

'Which percentage of the Evros Prefecture's gross domestic product (GDP) should be disposed for mitigating and avoiding the environmental impacts caused by the floods in the Evros River?'

| No contribution (%) |   |
| --- | --- |
| 0.01–0.05 |   |
| 0.05–0.1 |   |
| 0.1–0.5 |   |
| 0.5–1 |   |
| 1–2 |   |
| 2–4 |   |
| 4–6 |   |

8.

In your opinion, how should the initial amount be allocated to each affected environmental asset?

| | |
| --- | --- |
| 1. Soil degradation (erosion, contamination) | % |
| 2. Biodiversity impacts | % |
| 3. Aesthetic environment | % |

9.

In your opinion, what should be the funding source for the flood mitigation measures in the Evros River basin?

1.

The Greek state

2.

The Greek state and EU

3.

European Union

4.

New taxes imposed on all citizens

5.

National funds from Greece, Turkey, Bulgaria
About this article
Cite this article
Markantonis, V., Meyer, V. & Lienhoop, N. Evaluation of the environmental impacts of extreme floods in the Evros River basin using Contingent Valuation Method. Nat Hazards 69, 1535–1549 (2013). https://doi.org/10.1007/s11069-013-0762-3
Received:

Accepted:

Published:

Issue Date:

DOI: https://doi.org/10.1007/s11069-013-0762-3
Keywords