Abstract
Based on the questionnaire survey, this paper analyzes China's public perception of climate change in terms of several influence factors and some empirical findings are obtained. We find that some respondents are willing to take individual actions to address climate change, and they pay more attention to climate change or approve that climate change does harm to residents and society; meanwhile, they tend to have confidence in the government to deal with climate change or believe that fiscal and taxation policies are the effective policy measures. However, there are also other respondents unwilling to take actions and argue that climate change proves the natural consequences. Thus, in order to motivate the public to take actions, the paper suggests that the government should widespreadly disseminate relevant knowledge about climate change to the public and guide the work to address climate change and adopt proper fiscal and taxation policies.
Access options
Buy single article
Instant access to the full article PDF.
US$ 39.95
Tax calculation will be finalised during checkout.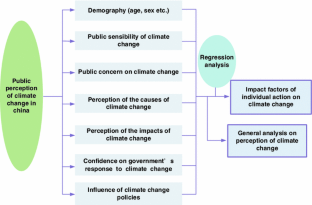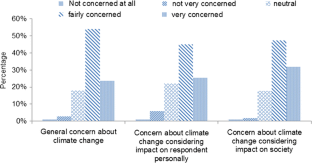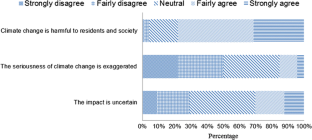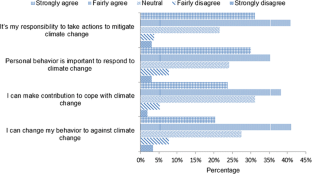 References
Aitken C, Chapman R, McClure J (2011) Climate change, powerlessness and the commons dilemma: assessing New Zealanders' preparedness to act. Global Environ Chang 21(2):752–760

Bord RJ, Fisher A, O'connor RE (1998) Public perceptions of global warming: United States and international perspectives. Climate Res 11:75–84

Bostrom A, Morgan MG, Fischhoff B, Read D (1994) What do people know about global climate change. Risk Anal 14(6):959–970

Brulle RJ, Carmichael J, Jenkins JC (2012) Shifting public opinion on climate change: an empirical assessment of factors influencing concern over climate change in the US, 2002–2010. Clim Change 114:169–188

Chan RYK (1999) Environmental attitudes and behavior of consumers in China: survey findings and implications. J Int Consumer Mark 11:25–52

Chen T (2011) An investigation of climate change cognition of the civil net citizens in China. Value Eng 30:142–144 (in Chinese)

Chinadialogue (2012) Officials struggling to respond to China's year of environment protests. http://www.chinadialogue.net/article/show/single/en/5438-Officials-struggling-to-respond-to-China-s-year-of-environment-protests. Accessed 06 December 2012

Corner A, Venables D, Spence A, Poortinga W, Demski C, Pidgeon N (2011) Nuclear power, climate change and energy security: exploring British public attitudes. Energ Policy 39(9):4823–4833

Geir IO, Luo J, Zhuang GY (2010) A comparative study on attitudes towards climate change between the Chinese and Norwegian university students. Chin J Eur Stud 6:89–100 (in Chinese)

Huda MN (2013) Understanding indigenous people's perception on climate change and climatic hazards: a case study of Chakma indigenous communities in Rangamati Sadar Upazila of Rangamati District, Bangladesh. Nat Haz 65:2147–2159

IPCC (2007) Climate change 2007: the fourth assessment report of the intergovernmental panel on climate change. Cambridge University Press, London

Kempton W (1997) How the public views climate change. Environment 39(9):12–21

Kish L, Ni JX (1997) Survey sampling, 1st edn. China Statistics Press, Beijing (in Chinese)

Leiserowitz A (2006) Climate change risk perception and policy preferences: the role of affect, imagery and values. Clim Change 77:45–72

Leiserowitz A, Maibach E, Roser-Renouf C, Smith N (2010) Climate change in the American mind: Americans' global warming beliefs and attitudes in Jun 2010. Yale University and George Mason University

Liang QM, Wei YM (2012) Distributional impacts of taxing carbon in China: results from the CEEPA model. Appl Energ 92:545–551

Lorenzoni I, Pidgeon NF (2006) Public views on climate change: European and USA perspectives. Clim Change 77:73–95

O'Connor RE, Bord RJ, Fisher A (1999) Risk perceptions, general environmental beliefs, and willingness to address climate change. Risk Anal 19(3):461–471

Patt AG, Schroter D (2008) Perceptions of climate risk in Mozambique: implications for the success of adaptation strategies. Global Environ Chang 18(3):458–467

Poortinga W, Spence A, Whitmarsh L, Capstick S, Pidgeon NF (2011) Uncertain climate: an investigation into public skepticism about anthropogenic climate change. Global Environ Chang 21(3):1015–1024

Shields T, Zeng K (2012) The reverse environmental gender gap in China: evidence from the China survey. Soc Sci Quart 93:1–20

Whitmarsh L (2011) Skepticism and uncertainty about climate change: dimensions, determinants and change over time. Global Environ Chang 21(2):690–700

Xie HZ, Chen T (2012) An analysis of factors influencing the Chinese public's willingness to cope with climate change based on 3489 web questionnaires. China Soft Sci 3:79–92 (in Chinese)

Xu GQ, Guo HZ, Yuan YY, Dong ZY (2011) Evaluation and influence factors of climate change awareness of enterprise management personnel. Adv Clim Change Res 7:59–64 (in Chinese)

Zhou JB, Feng XZ (2011) Cognition of adaptation to climate change and its policy evaluation. China Pop Res Environ 21(7):57–61 (in Chinese)
Acknowledgments
We are grateful to the financial support of National Basic Research Program of China under the Grant No. 2012CB955704, National Natural Science Foundation of China under the Grant Nos. 71020107026, 71001008, and 71273028.
About this article
Cite this article
Yu, H., Wang, B., Zhang, YJ. et al. Public perception of climate change in China: results from the questionnaire survey. Nat Hazards 69, 459–472 (2013). https://doi.org/10.1007/s11069-013-0711-1
Received:

Accepted:

Published:

Issue Date:
Keywords
Public perception

Climate change

Questionnaire survey

Individual actions