Abstract
In recent decades, many of the larger glaciers in the Himalaya and Andes that have experienced increased melting have become glacial lakes. Some of these lakes present a risk of glacial lake outburst floods that can unleash stored lake water and eroded debris, often causing enormous devastation downstream. Many of these new glacial lakes have formed in the Mt. Everest and Makalu Barun National Parks of Nepal, nine of which in the remote Hinku and Hongu valleys have been designated as "potentially dangerous" based on remote sensing analyses. Until recently, however, relatively little ground-based information was available for these lakes, including their physical characteristics, danger level, prospective downstream impacts in the event of an outburst, and mitigation methods appropriate and applicable to remote regions within the Nepal Himalaya. This paper describes three separate, interdisciplinary expeditions to the Hinku and Hongu valleys between 2009 and 2012 that were designed to close these information gaps. Each expedition combined remote sensing with field-based analyses, repeat photography, interviews with local people, bathymetric surveys, ground penetrating radar, and flood modeling. Eight of the "potentially dangerous" lakes surveyed were found to be stable, and one that had escaped mention in previous studies (L464) was found to contain a high risk of an outburst flood. In the data-deficient high mountain world, we suggest that the combined use of sophisticated remote sensing and modeling technologies with traditional, field-based methods can provide the most thorough understanding of glacial lakes possible at this time, including the actual risks that they pose as well as the most appropriate and community-based risk reduction strategies.
Access options
Buy single article
Instant access to the full article PDF.
USD 39.95
Price excludes VAT (USA)
Tax calculation will be finalised during checkout.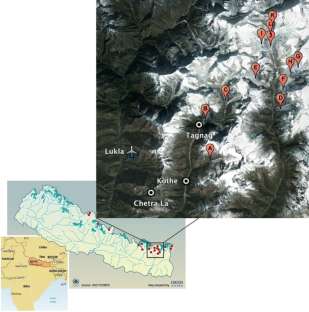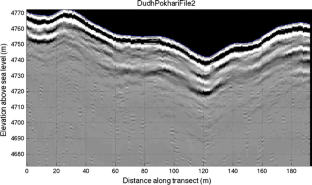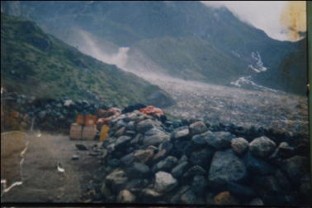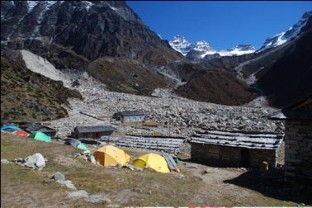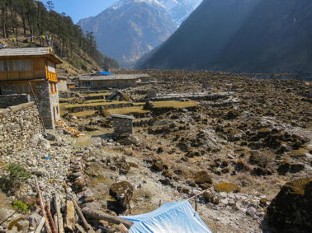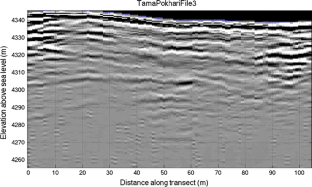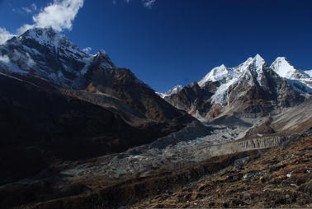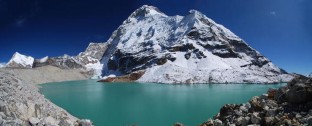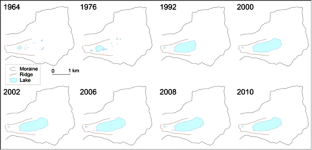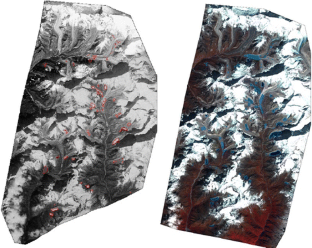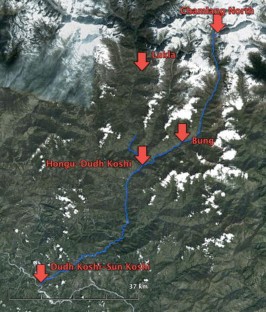 References
Alho P, Aaltonen P (2008) Comparing a 1D hydraulic model with a 2D hydraulic model for the simulation of extreme glacial outburst floods. Hydrol Process 22(10):1537–1547

Alho P, Roberts MJ, Kayhko J (2007) Estimating the inundation area of a massive, hypothetical jokulhlaup from northwest Vatnajokull, Iceland. Nat Hazards 41(1):21–42

Armstrong RL (2010) The glaciers of the Hindu Kush-Himalayan region: A summary of the science regarding glacier melt/retreat in the Himalayan, Hindu Kush, Karakoram, Pamir, and Tien Shan mountain ranges. International Centre for Integrated Mountain Development (ICIMOD), Kathmandu

Bajracharya SR, Mool PK, Shrestha BR (2007) Impact of climate change on Himalayan glaciers and glacial lakes case studies on GLOF and Associated Hazards in Nepal and Bhutan, International Centre for Integrated Mountain Development (ICIMOD), Kathmandu

Bell WW, Donich T, Groves KL, Sytsma D (2000) Tsho Rolpa GLOF warning system project. In: Proceedings 28th IAHR congress, Graz

Bohorquez P, Darby SE (2008) The use of one- and two-dimensional hydraulic modelling to reconstruct a glacial outburst flood in a steep Alpine valley. J Hydrology 361(3–4):240–261

Bolch T, Buchroithner MF, Peters J, Baessler M, Bajracharya SR (2008) Identification of glacier motion and potentially dangerous glacier lakes at Mt. Everest area/Nepal using spaceborne imagery. Nat Hazards Earth Syst Sci 8:1329–1340

Bradley RS, Keimig FT, Diaz HF (2004) Projected temperature changes along the American cordillera and the planned GCOS network. Geophys Res Lett 31:L16210. doi:10.1029/2004GL020229

Byers AC (2007) An assessment of contemporary glacier fluctuations in Nepal's Khumbu Himal using repeat photography. Himal J Sci 4(6):21–26

Byers AC (2013) Contemporary human impacts on alpine ecosystems of the Hinku valley, Makalu-Barun National Park and Buffer Zone, Nepal. Himal J Assoc Nepal Himal Stud 33 (Forthcoming)

Carey M (2005) Living and dying with glaciers: people's historical vulnerability to avalanches and outburst floods in Peru. Global Planet Change 47:122–134

Carey M (2010) In the shadow of melting glaciers: climate change and Andean society. Oxford Univ Press, New York

Carrivick JL, Manville V, Cronin SJ (2009) A fluid dynamics approach to modelling the 18th March 2007 lahar at Mt. Ruapehu, New Zealand. Bull Volcanol 71(2):153–169

Cenderelli DA, Wohl EE (2001) Peak discharge estimates of glacial-lake outburst floods and "normal" climatic floods in the Mount Everest region. Geomorphology 40:57–90

Cenderelli DA, Wohl EE (2003) Flow hydraulics and geomorphic effects of glacial-lake outburst floods in the Mount Everest Region, Nepal. Earth Surf Process Landforms 28:385–407

Chen CJ, Wang TF, Zhang Z, Liu ZQ (1999) Glacial lake outburst floods in upper Nainchu River basin. Tibet J Cold Regions Eng 13(4):199–212

Clark JA, Befus KM, Hooyer TS, Stewart PW, Shipman TD, Gregory CT, Zylstra DJ (2008) Numerical simulation of the paleohydrology of glacial Lake Oshkosh, eastern Wisconsin, USA. Quatern Res 69(1):117–129

Clayton JA, Knox JC (2008) Catastrophic flooding from glacial lake Wisconsin. Geomorphology 93(3–4):384–397

Cox JH (1999) An assessment of habitats and human interaction in the Hinkhu, Hongu, Kasuwa and Barun Kholas of Makalu-Barun National Park and conservation area. Makalu Barun Conservation Project, The Mountain Institute, Kathmandu

Denlinger RP, O'Connell DRH (2008) Computing nonhydrostatic shallow-water flow over steep Terrain. J Hydraul Eng 134(11):1590–1602

Dunsmore JR (1988) Mountain environmental management in the Arun river basin of Nepal. Occasional Paper No. 9. International Centre for Integrated Mountain Development, Kathmandu

Dwivedi SK, Acharya MD, Simard R (2000) The Tam Pokhari Glacier Lake outburst flood of 3 September 1998. J Nepal Geol Soc 22:539–546

Eliasson J, Kiaran SP, Holm SL, Gudmundsson MT, Larsen G (2007) Large hazardous floods as translatory waves. Environ Model Softw 22(10):1392–1399

Fujita K, Sakai A, Takenaka S, Nuimura T, Surazakov AB, Sawagaki T, Yamanokuchi T (2013) Potential flood volume of Himalayan glacial lakes. Nat Hazards Earth Syst Sci Discuss 1 (Supplementary Materials):15–37

Government of Nepal (1996) Sagarmatha. Sheet No. 278604. Survey Department

Hambrey M, Alean J (2004) Glaciers, 2nd edn. Cambridge University Press, New York

Huggel C, Kääb A, Haeberli W, Teysseire P, Paul F (2002) Remote sensing based assessment of hazards from glacier lake outbursts: a case study in the Swiss Alps. Can Geotech J 39:316–330

ICIMOD (2011) Glacial lakes and glacial lake outburst floods in Nepal. ICIMOD, Kathmandu

Ives J (1986) Jokulhlaup disasters in the Himalaya and their identification. ICIMOD Occasional Paper. International Centre for Integrated Mountain Development (ICIMOD), Kathmandu

Ives JD, Shrestha RB, Mool PK (2010) Formation of glacial lakes in the Hindu Kush-Himalayas and GLOF risk assessment. International Centre for Integrated Mountain Development (ICIMOD), Kathmandu, Nepal

Kargel JS, Cogley JG, Leonarda GL, Haritashyac U, Byers AC (2011) Himalayan glaciers: the big picture is a montage. Proc Natl Acad Sci USA. doi:10.1073/pnas.1111663108

Lamsal D (2011) Studies on glacier lake development in the eastern Nepal Himalaya from 1964 to 2010. PhD thesis, Hokkaido University

Lamsal D, Sawagaki T, Watanabe T (2011) Digital terrain modelling using Corona and ALOS PRISM data to investigate the distal part of Imja Glacier, Khumbu Himal, Nepal. J Mt Sci 8:390–402

Nepal-Kartenwerk der Arbeitsgemeinschaft für vergleichende Hochgebirgsforschung Nr.2 1965. Khumbu Himal 1:50,000. Vienna: Kartographische Anstalt Freytag-Berndt und Artaria, 2nd edn 1999

Nepal-Kartenwerk der Arbeitsgemeinschaft für vergleichende Hochgebirgsforschung Nr.5 1974. Shorong/Hinku 1:50,000. Vienna: Kartographische Anstalt Freytag-Berndt und Artaria. 2nd edn 1987

Osti R, Egashira S (2009) Hydrodynamic characteristics of the Tama Pokhari Glacial Lake outburst flood in the Mt. Everest region, Nepal. Nepal Hydrol Process 23:2943–2955

Racoviteanu AE, Williams BM (2008) Optical remote sensing of glacial characteristics: a review with focus on the Himalayas. SENSORS 8:3355–3383

Rai D (2009) Expedition Sirdar (N. leader), The Mountain Institute/Hokaido University Hongu Valley glacial lake expedition. October–November 2009

Sawagaki T, Lamsal D, Byers AC, Watanabe T (2012) Changes in surface morphology and glacial lake development of Chamlang South Glacier, eastern Nepal Himalaya, since 1964. Tokyo. Global Environ Res 16:83–94

Sherpa SH (2008) Owner, Sonam's Friendship Lodge, Dingboche, Nepa. Pers. comm. October 2008 regarding the 1985 Langmoche flash flood, Sagarmatha (Everest) National Park, Nepal

Sherpa Maps (2004) Mera peak climbing route. Sherpa Maps, Kathmandu

Shrestha TBS (1989) Development ecology of the Arun River Basin. International Centre for Integrated Mountain Development (ICIMOD), Kathmandu

Somos-Valenzuela M, McKinney DC, Byers AC, Moss J, Voss K, McKinney JC (2012) Ground penetrating radar survey for risk reduction at Imja Lake, Nepal. Nat Hazards (in review)

Stainton JDA (1972) Forests of Nepal. John Murray and Company, London

Tachikawa T, Hato M, Kaku M, Iwasaki A (2011) The characteristics of ASTER GDEM version 2, IGARSS, July

Taylor-Ide D, Byers A, Campbell JG (1992) Mountains, nations, parks and conservation: a case study of the Mt. Everest area. GeoJournal 27(1):105–112

US Army Corps of Engineers Hydrological Engineering Center (USACE) (2009) HEC-GeoRAS (version 4.2) GIS tools for support of HEC-RAS using ArcGIS® User's Manual. Davis, Ca, USA

US Army Corps of Engineers Hydrological Engineering Center (USACE) (2010) HEC-RAS river analysis system hydraulic users manual (Version 4.1). Davis, CA, USA

Vuichard D, Zimmerman M (1986) The Langmoche flash-flood, Khumbu Himal, Nepal. Mt Res Dev 6(1):90–94

Walder JS, Costa JE (1996) Outburst floods from glacier-dammed lakes: the effect of mode of lake drainage on flood magnitude. Earth Surf Proc Land 21(8):701–723

Wang X, Liu SY, Guo WQ, Xu JL (2008) Assessment and Simulation of Glacier Lake Outburst Floods for Longbasaba and Pida Lakes, China. Mt Res Dev 28(3–4):310–317

Watanabe T, Lamsal D, Ives DJ (2009) Evaluating the growth characteristics of a glacial lake and its degree of danger of outburst flooding: Imja Glacier, Khumbu Himal, Nepal. Nor Geogr Tidsskr 63:255–267

Xu J, Shrestha A, Vaidya R, Eriksson M, Hewitt K (2007) The melting Himalayas: regional challenges and local impacts of climate change on mountain ecosystems and livelihoods. Technical Paper. International Centre for Integrated Mountain Development (ICIMOD), Kathmandu, p 15
Acknowledgments
The authors acknowledge the National Geographic Society Waitt Grants Program and National Geographic Society Blackstone Challenge Grants Program for support of Byers; the USAID Climate Change Resilient Development (CCRD) project for support of McKinney, Somos, and Byers; and the Fullbright Foundation for the support of Somos. Jefferson Moss, James McKiney, and Katalyn Voss are acknowledged for their help with the GPR surveys.
About this article
Cite this article
Byers, A.C., McKinney, D.C., Somos-Valenzuela, M. et al. Glacial lakes of the Hinku and Hongu valleys, Makalu Barun National Park and Buffer Zone, Nepal. Nat Hazards 69, 115–139 (2013). https://doi.org/10.1007/s11069-013-0689-8
Received:

Accepted:

Published:

Issue Date:

DOI: https://doi.org/10.1007/s11069-013-0689-8
Keywords
GLOF

Glaciers

Nepal

Hinku valley

Hongu valley

Chamlang North Pokhari