Abstract
Investigation into possible space weather hazards on cardiovascular system has been performed. A group of 14 healthy volunteers was examined in the spring of 2009 and 2 healthy persons performed electrocardiograph records for a period of 1 year everyday in the morning and in the evening. Results revealed that heart rate variability (HRV) parameters of the group varied strongly from the day before till 3 days after the registered weak storms during the time of investigation. Blood pressure and subjective psychophysiological complaints increased statistically significantly from 0 day till +2nd day. Heart rate (HR) of the group showed a trend for decrease. It was established that morning measurements were more sensitive to space weather variations in comparison with evening measurements. Both persons with prolonged registrations for a period of year did not reveal graded response to geomagnetic storms with different intensities. Both of them decreased HR during moderate storms, but they increased HR during major storms and on the days before and after these storms. HRV parameters varied significantly on these days.
Access options
Buy single article
Instant access to the full article PDF.
USD 39.95
Price includes VAT (USA)
Tax calculation will be finalised during checkout.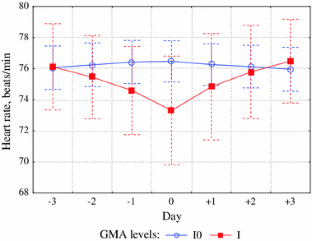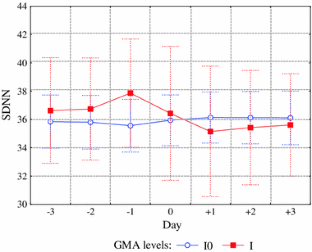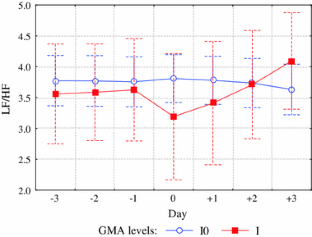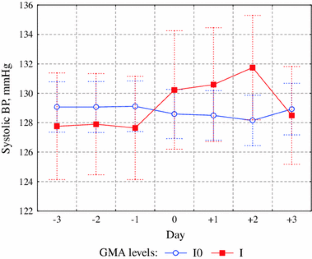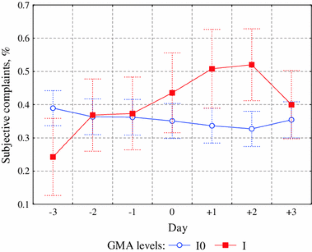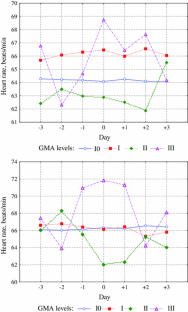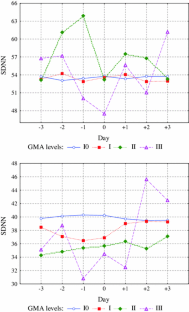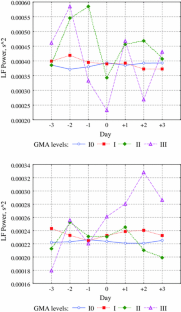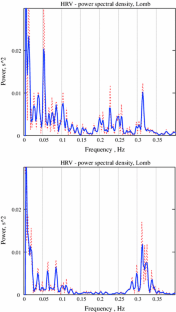 References
Angelov I, Dimitrova S (2009) Device and method for assessing possible effects of 900 MHz EMF and geomagnetic activity on heart rate variability. Proceedings of the third international scientific conference FMNS-2009: 135–142

Baevsky RM, Petrov VM, Chemikova AG (1998) Regulation of autonomic nervous system in space and magnetic storms. Adv Space Res 22(2):227–234

Clifford GD, Azuaje F, McSharry PE (2006) Advanced methods and tools for ECG analysis. Artech House Publishing, London

Cornelissen G, Halberg F, Breus T, Syutkina E, Baevsky R, Weydahl A, Watanabe Y, Otsuka K, Siegelova J, Fiser B, Bakken E (2002) Non-photic solar associations of heart rate variability and myocardial infarction. JASTP 64:707–720

Dimitrova S, Stoilova I, Cholakov I (2004) Influence of local geomagnetic storms on arterial blood pressure. Bioelectromagnetics 25(6):408–414

Dimitrova S, Mustafa FR, Stoilova I, Babayev ES, Kazimov EA (2009a) Possible influence of solar extreme events and related geomagnetic disturbances on human cardio-vascular state: results of collaborative Bulgarian–Azerbaijani studies. Adv Space Res 43:641–648

Dimitrova S, Babayev ES, Mustafa FR, Stoilova I, Taseva T, Georgieva K (2009b) Geomagnetic storms and acute myocardial infarctions morbidity in middle latitudes. Sun Geosphere 4(2):72–78

Dmitrieva LV, Obridko VN, Ragulskaya MV, Reznikov AE, Khabarova OV (2001) Response of the human body to factors related to solar activity variations. Biophysics 46(5):905–910

Force Task (1996) Heart rate variability: standards of measurement, physiological interpretation and clinical use. Task force of the European society of cardiology and the North American society of pacing and electrophysiology. Eur Heart J 17:354–381

Khabarova OV, Dimitrova S (2009) On the nature of people's reaction to space weather and meteorological weather changes. Sun Geosphere 4(2):60–71

Lomb NR (1976) Least-squares frequency analysis of unequally spaced data. Astrophys Space Sci 39:447–462

Malliani A, Pagani M, Lombardi F, Cerutti S (1991) Cardiovascular neural regulation explored in the frequency domain. Circulation 84:482–493

Oinuma S, Kubo Y, Otsuka K, Yamanakata T, Murakami S, Matsuoka O, Ohkawa S, Cornelissen G, Weydahl A, Holmeslet B, Hall C, Halberg F (2002) Graded response of heart rate variability, associated with an alteration of geomagnetic activity in a subarctic area. J Biomed Pharmacother 56(2):284–288

Ori Z, Monir O, Weiss J, Sayhouni X, Singer DH (1992) Heart rate variability, frequency domain analysis. Cardiol Clin 10:499–537

Otsuka K, Cornelissen G, Weydahl A, Holmeslet B, Hansen TL, Shinagawa M, Kubo Y, Nishimura Y, Omori K, Yano S, Halberg F (2001) Geomagnetic disturbance associated with decrease in heart rate variability in a subarctic area. J Biomed Pharmacother 55:51–56

Papailiou M, Mavromichalaki H, Kudela K, Stetiarova J, Dimitrova S (2011) Effect of geomagnetic disturbances on physiological parameters: an investigation on aviators. Adv Space Res 48(9):1545–1550

Papailiou M, Mavromichalaki H, Kudela K, Stetiarova J, Dimitrova S (2012) Cosmic radiation influence on the physiological state of aviators. Nat Hazards 61:719–727
Acknowledgments
We thankfully acknowledge the contribution of all volunteers who took part in the examinations.
About this article
Cite this article
Dimitrova, S., Angelov, I. & Petrova, E. Solar and geomagnetic activity effects on heart rate variability. Nat Hazards 69, 25–37 (2013). https://doi.org/10.1007/s11069-013-0686-y
Received:

Accepted:

Published:

Issue Date:
Keywords
Space weather

Cardiovascular system

Blood pressure

Heart rate