Abstract
Land desertification has been a worldwide environmental problem. Desertification monitoring and evaluation are very important content in desertification context. Scientific and accurate evaluation of desertification can provide scientific basis for decision making in mitigating desertification. Because of the advantage of large amount of information, short cycle and broad scope of data, less restrictions on the human and material resources and so on, remote sensing has become an important technology to monitor land desertification in the past 30 years. Desertification is the most typical and serious form of desertification in China, especially in the oasis zone distributed along inland rivers or in the lower reaches of inland rivers in northwestern China. Quantitative evaluation of the current desertification remote sensing methods used is mostly obtained through the vegetation index and vegetation cover, to gain information on the extent of desertification. As the arid and semiarid sparse vegetation cover, soil and soil moisture on the most common vegetation index have a greater effect. First, based on the spectral mixture analysis model, three kinds of endmember consisting of vegetation, water and bare soil were selected. The image dimensionality was reduced by the minimum noise fraction (MNF). The pixel purity index transformation was used to narrow the range of the endmember. On the scatter plot of MNF, three kinds of endmember were selected, and relative abundance distribution of each component was obtained by using linear spectral mixture model. Second, a spectral feature space composed of vegetation component and land surface albedo retrieved from Landsat TM Imagery was constructed to evaluate desertification present condition and degree quantificationally. Last, an empirical study was carried out taking the middle reaches of Heihe River as an example. Results indicated that this method makes full use of multi-dimensional remote sensing information, reflecting the desertification land cover, water, thermal environment and its changes, with a clear biophysical significance, and the index is simple, easy to obtain, high precision, and is conducive to quantitative analysis, monitoring and desertification assessment of desertification. It was rather ideal to assess desertification on the basis of Albedo-Vegetation feature space: correct prediction proportion of testing samples reached 90.3 %. This method was beneficial to the desertification quantitative analysis and monitoring with the characteristics of simple index, easy accessibility and high accuracy.
Access options
Buy single article
Instant access to the full article PDF.
USD 39.95
Price excludes VAT (USA)
Tax calculation will be finalised during checkout.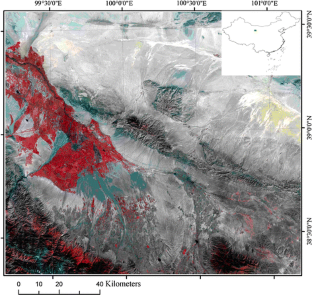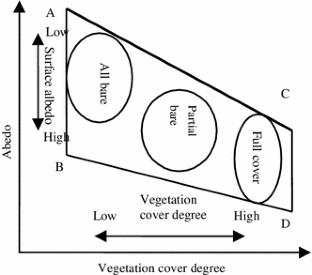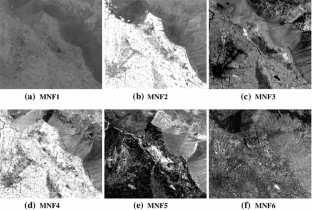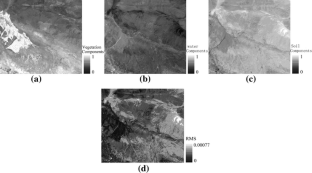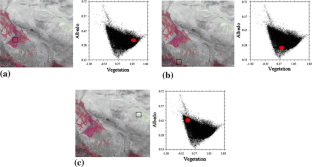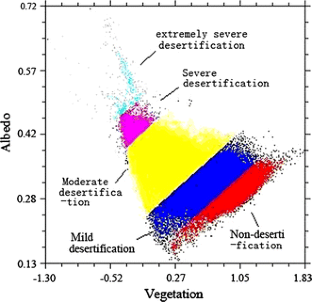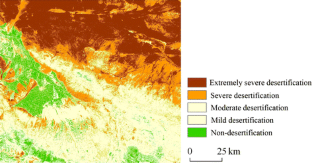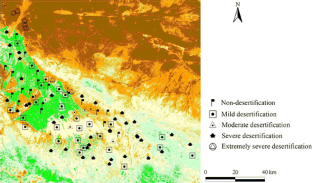 References
Alfredo DC, Emilio C, Camarasaw A (2002) Satellite remote sensing analysis to monitor desertification processes in the crop-range-land boundary of Argentina. J Arid Environ 52:121–133

Asis AJ, Omasa K (2007) Estimation of vegetation parameter for modeling soil erosion using linear Spectral Mixture Analysis of Landsat ETM data. ISPRS J Photogramm Remote Sens 62:309–324

Becker F, Choudhury BJ (1988) Relative sensitivity of normalized difference vegetation Index (NDVI) and microwave polarization difference index (MPDI) for vegetation and desertification monitoring. Remote Sens Environ 24:297–311

Boardman JW, Kruse FA (1994) Automated spectral analysis: a geological example using AVIRIS data, north Grapevine Mountains, NEVADA. In: Proceedings of ERIM Tenth Thematic Conference on Geologic Remote Sensing, San Antonio, 407–418

Chen Z, Elvidge CD, Groenveld DP (1998) Monitoring of seasonal dynamics of arid land vegetation using AVIRIS data. Remote Sens Environ 65:25–266

Chopping M, Su LH, Rango A, Martonchik JV, Peters DPC, Laliberte A (2008) Remote sensing of woody shrub cover in desert grasslands using MISR with a geometric-optical canopy reflectance model. Remote Sens Environ 112:19–34

Civco DL (1989) Topographic normalization of Landsat thematic mapper digital imagery. Photogramm Eng Remote Sens 55:1303–1309

Diouf A, Lambin EF (2001) Monitoring land-cover changes in semi-arid regions: remote sensing data and field observations in the Ferlo, Senegal. Arid Environ 48:129–148

George FJ (1967) The data model concept in statistical mapping. Int Yearb Cartogr 7:186–190

Gillies RR, Carlson TN, Cui J, Kustas WP, Humes KS (1997) A verification of the 'triangle' method for obtaining surface soil water content and energy fluxes from remote measurements of the normalized difference vegetation index (NDVI) and surface radiant temperature. Int J Remote Sens 18:3145–3166

Hanafi A, Jauffret S (2008) Are long-term vegetation dynamics useful in monitoring and assessing desertification processes in the arid steppe, southern Tunisia. J Arid Environ 72:557–572

Hellden U (1991) Desertification. Time for an assessment. Ambio 20:372–383

Hill J, Stellmes M, Udelhoven T, Sommer ARS (2008) Mediterranean desertification and land degradation: mapping related land use change syndromes based on satellite observations. Glob Planet Change 64:146–157

Hosterta P, Roderb A, Hill J (2003) Coupling spectral unmixing and trend analysis for monitoring of long-term vegetation dynamics in Mediterranean rangelands. Remote Sens Environ 87:183–197

Huang S, Siegert F (2006) Land cover classification optimized to detect areas at risk of desertification in North China based on SPOT VEGETATION imagery. J Arid Environ 67:308–327

Ibrahim FN (1978) Anthropogenic causes of desertification in Western Sudan. Geogr J 2:243–254

Kremer RG, Running SW (1993) Community type differentiation using NOAA/AVHRR data within a sagebrush-steppe ecosystem. Remote Sens Environ 46:311–318

Li BL, Zhou CH (2001) Sandy desertification in west of Northeast China plain in the past 10 years. Acta Geogr Sin 56:307–315 (In Chinese)

Li JT, Pu LT, Ji L (2003) The inspection of environmental desertification using GIS based on MODIS. Bimon Xinjiang Meteorol 26:20–23 (In Chinese)

Li SG, Eugster W, Asanuma J, Kotani A, Davaa G, Oyunbaatar D, Sugita M (2006) Energy partitioning and its biophysical controls above a grazing steppe in central Mongolia. Agric For Meteorol 137:89–106

Li ZF, Li XB, Wei DD, Xu X, Wang H (2010) An assessment of correlation on MODIS-NDVI and EVI with natural vegetation coverage in Northern Hebei Province, China. Procedia Environ Sci 2:964–969

Liang S (2000) Narrowband to broadband conversions of land surface albedo: I. Algorithms. Remote Sens Environ 76:213–238

Malo AR, Nicholson SE (1990) A study of rainfall and vegetation dynamics in the African Sahel using normalised difference vegetation index. J Arid Environ 19:1–24

Nicholson SE, Tucker CJ, Ba MB (1998) Desertification, drought and surface vegetation: an example from the West African Sahel. Bull Am Meteorol Soc 79:815–829

Paisley ECI, Lancaster N, Gaddis LR, Greelye R (1991) Discrimination of active and inactive sand from remote sensing: Kelso Dunes, Mojave Desert, California. Remote Sens Environ 37:153–166

Pu RL, Gong P, Michishita R, Sasagawa T (2008) Spectral mixture analysis for mapping abundance of urban surface components from the Terra/ASTER data. Remote Sens Environ 87:939–954

Ridd MK (1995) Exploring a V-I-S(vegetation-impervious surface-soil) model for urban ecosystem analysis through remote sensing: comparative anatomy for cities. Int J Remote Sens 16:2165–2185

Santini M, Caccamo G, Laurenti A, Noce S, Valentini R (2010) A multi-component GIS framework for desertification risk assessment by an integrated index. Appl Geogr 30:394–415

Small C (2001) Estimation of urban vegetation abundance by spectral mixture analysis. Int J Remote Sens 22:1305–1334

Smith MO, Ustin SL, Adams JB, Gillespie AR (1990) Vegetation in deserts: I. A regional measure of abundance from multispectral images. Remote Sens Environ 31:1–26

Sonnenschein R, Kuemmerle T, Udelhoven T, Stellmes M, Hostert P (2011) Differences in Landsat-based trend analyses in drylands due to the choice of vegetation estimate. Remote Sens Environ 115(6):1408–1420

Tripathy GK, Ghosh TK, Shah SD (1996) Monitoring of desertification process in Karnataka state of India using multi-temporal remote sensing and ancillary information using GIS. Int J Remote Sens 17:2243–2257

Verstraete M, Pinty B (1996) Designing optimal spectral indexes for remote sensing applications. Remote Sens Environ 34:1254–1265

Wessels KJ, Prince SD, Frost PE, Zyl DV (2004) Assessing the effects of human-induced land degradation in the former homelands of northern South Africa with a 1 km AVHRR NDVI time-series. Remote Sens Environ 91:47–67

Wu J, Peng DL (2009) Progress on remote sensing-based desertification assessment. World For Res 22:34–39 (In Chinese)

Wu JD, Wang D, Bauer ME (2007) Assessing broadband vegetation indices and QuickBird data in estimating leaf area index of corn and potato canopies. Field Crop Res 102:33–42

Xu DY, Kang XW, Zhuang DF, Pan JJ (2010) Multi-scale quantitative assessment of the relative roles of climate change and human activities in desertification—a case study of the Ordos Plateau, China. J Arid Environ 74:498–507

Xue X, Guo J, Han BS, Sun QW, Liu LC (2009) The effect of climate warming and permafrost thaw on desertification in the Qinghai–Tibetan Plateau. Geomorphology 108:182–190

Yan CZ, Song X, Zhou YM, Duan HC, Li S (2009) Assessment of aeolian desertification trends from 1975's to 2005's in the watershed of the Longyangxia Reservoir in the upper reaches of China's Yellow River. Geomorphology 112:205–211

Yuan F, Marvin E (2007) Comparison of impervious surface area and normalized difference vegetation index as indicators of surface urban heat island effects in Landsat imagery. Remote Sens Environ 206:375–386

Zeng YN, Feng ZD, Xiang NP (2005) The remote sensing synthetic index model for desertification detection. Remote Sens Land Resour 16:40–44 (In Chinese)

Zeng YN, Xiang NP, Feng ZD (2006) Albedo-NDVI space and remote sensing synthesis index models for desertification monitoring. Sci Geogr Sin 26:75–81 (In Chinese)
Acknowledgments
This work was supported by the National Nature Science Foundation of China (No. 41061017).
About this article
Cite this article
Pan, J., Li, T. Extracting desertification from Landsat TM imagery based on spectral mixture analysis and Albedo-Vegetation feature space. Nat Hazards 68, 915–927 (2013). https://doi.org/10.1007/s11069-013-0665-3
Received:

Accepted:

Published:

Issue Date:

DOI: https://doi.org/10.1007/s11069-013-0665-3
Keywords