Abstract
During disasters, many researchers highlight the efficiency of the various information techniques that are used for emergency response. However, only a few information systems consider on-site and off-site information requirements synchronously. The results achieved by the emergency responders will not be as effective as they should be, since the emergency responders cannot access necessary information. Therefore, this study proposed an approach for dealing with three problems associated with emergency situations, i.e., inadequate escape guidelines for people, incomplete geographical information for relief workers, and insufficient on-site information for disaster managers. In a simulated scenario, when serious debris flows occurred, this study tested the approach. The test results showed that the people rapidly finished self-evacuation, the relief workers effectively completed their on-site relief work, and the disaster managers successfully managed the on-site activities regarding the people and relief workers. Overall, the recommended approach improved information access for emergency response and provided a useful reference for similar applications in disaster management.
Access options
Buy single article
Instant access to the full article PDF.
USD 39.95
Price excludes VAT (USA)
Tax calculation will be finalised during checkout.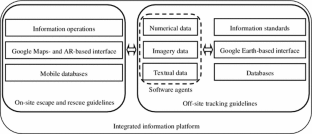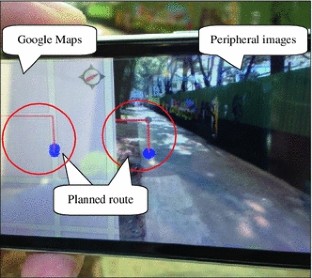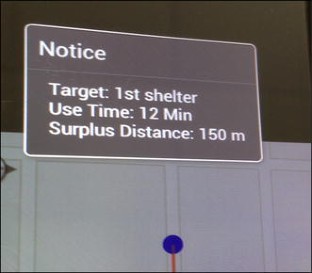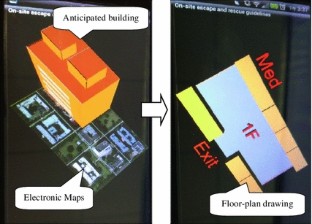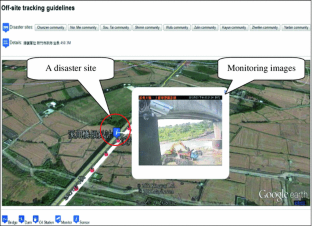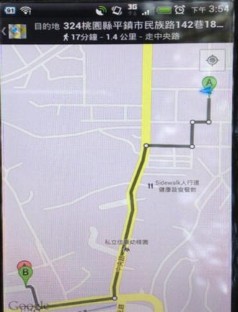 References
Abeid J, Allouche E, Arditi D, Hayman M (2003) PHOTO-NET II: a computer-based monitoring system applied to project management. Autom Constr 12(5):603–616

Balducelli C, D'Esposito C (2000) Genetic agents in an EDSS system to optimize resources management and risk object evacuation. Saf Sci 35:59–73

Bird D, Roberts MJ, Dominey-Howes D (2008) Usage of an early warning and information system Web-site for real-time seismicity in Iceland. Nat Hazards 47(1):75–94

Comfort LK, Ko K, Zagorecki A (2004) Coordination in rapidly evolving disaster response systems. Am Behav Sci 48(3):295–313

Enders A, Brandt Z (2007) Using geographic information system technology to improve emergency management and disaster response for people with disabilities. J Disabil Policy Stud 17(4):223–229

Fajardo JTB, Oppus CM (2010) A mobile disaster management system using the android technology. WSEAS Trans Commun 9(6):343–353

Frassl M (2010) Developing a system for information management in disaster relief—methodology and requirements. In: Proceedings of the 7th international ISCRAM conference, Seattle, WA

Gundogdu IB (2010) Applying linear analysis methods to GIS-supported procedures for preventing traffic accidents: case study of Konya. Saf Sci 48:763–769

Holz KP, Hildebrandt G, Weber L (2006) Concept for a web-based information system for flood management. Nat Hazards 38(1–2):121–140

Horner MW, Widener MJ (2011) The effects of transportation network failure on people's accessibility to hurricane disaster relief goods: a modeling approach and application to a Florida case study. Nat Hazards 59(3):1619–1634

Jaber A, Guarnieri F, Wybo JL (2001) Intelligent software agents for forest fire prevention and fighting. Saf Sci 39:3–17

Jiang S, Skibniewski MJ, Yuan Y, Sun C, Lu Y (2011) Ultra-wide band applications in industry: a critical review. J Civil Eng Manag 17(3):437–444

Kamat VR, El-Tawil S (2007) Evaluation of augmented reality for rapid assessment of earthquake-induced building damage. J Comput Civil Eng 21(5):303–310

Karunasena G, Amaratunga D, Haigh R (2012) Post-disaster construction and demolition debris management: a Sri Lanka case study. J Civil Eng Manag 18(4):457–468

Khronos (2012) OpenGL ES—the standard for embedded accelerated 3D graphics. Available from http://www.khronos.org/opengles. Accessed 15 October 2012

Kim S, George B, Shekhar S (2007) Evacuation route planning: scalable heuristics. In: ACMGIS'07, Seattle, WA

Kottapalli VA, Kiremidjian AS, Lynch JP, Carryer ED, Kenny TW, Law KH, Lei Y (2003) Two-tiered wireless sensor network architecture for structural health monitoring. In: Proceedings of the international symposium on smart structures and materials, pp 8–19

Lachner J, Hellwagner H (2008) Information and communication systems for mobile emergency response. Inf Syst e-Bus Technol 5:213–224

Le Roux W (2010) The use of augmented reality in command and control situation awareness. South Afr J Military Stud 38(1):115–133

Lee YW, Cheon CM (2007) Simulation to find a shortest escaping route with 3D-GIS using a GRID testbed in an ubiquitous system. In: Proceedings of the 9th WSEAS international conference on automatic control, modeling and simulation, Turkey

Meissner A, Luckenbach T, Risse T, Kirste T, Kirchner H (2002) Design challenges for an integrated disaster management communication and information system. In: The first IEEE workshop on disaster recovery networks, NY

Milosavljević A, Dimitrijević A, Rančić D (2010) GIS-augmented video surveillance. Int J Geogr Inf Sci 24(9):1415–1433

Montoya L (2003) Geo-data acquisition through mobile GIS and digital video: an urban disaster management perspective. Environ Modell Softw 18:869–876

Muhren WJ, Van de Walle B (2009) Sensemaking and information management in humanitarian disaster response: observations from the TRIPLEX exercise. In: Proceedings of the 6th international ISCRAM conference, Sweden

Ntotsios E, Papadimitriou C, Panetsos P, Karaiskos G, Perros K, Perdikaris PC (2009) Bridge health monitoring system based on vibration measurements. Bull Earthq Eng 7:469–483

Open Geospatial Consortium (2012) OGC® standards and supporting documents. Available from http://www.opengeospatial.org/standards. Accessed 15 October 2012

Ponce-Medellín R, Gonzalez-Serna G, Vargas R, Ruiz L (2009) Technology integration around the geographic information: a state of the art. Int J Comput Sci Issues 5:17–26

Rindahl G, Mark NKF, Meyer G (2006) Virtual reality in decommissioning projects: experiences, lessons learned and future plans. Available from http://www.iaea.org/inis/collection/NCLCollectionStore/_Public/38/009/38009285.pdf. Accessed 15 October 2012

Rokach A, Pinkert M, Nemet D, Goldberg A, Bar-Dayan Y (2008) Standards in collaborative international disaster drills: a case study of two international search-and-rescue drills. Prehospital Disaster Med 23(1):60–62

Schall G, Schöning J, Paelke V, Gartner G (2011) A survey on augmented maps and environments: approaches, interactions and applications. In: Veenendaal B (ed) Advances in web-based GIS, mapping services and applications. Taylor & Francis Group, UK

Sharma A, Gupta M, Bajaj R, Shaw R (2003) From disaster to sustainable community recovery. Reg Dev Dialogue 24(1):53–61

Thomas BH, Quirchmayr G, Piekarski W (2003) Through-walls communication for medical emergency services. Int J Human Comput Interact 16(3):477–496

Tsai MK, Lee YC, Lu CH, Chen MH, Chou TY, Yau NJ (2012) Integrating geographical information and augmented reality techniques for mobile escape guidelines on nuclear accident sites. J Environ Radioact 109:36–44

Tserng HP, You JY, Chang CY, Hsiung KH (2011) The hot area evacuation model application in large scale gymnasiums. J Civil Eng Manag 17(2):217–226

Tufekci S (1995) An integrated emergency management decision support system for hurricane emergencies. Saf Sci 20:39–48

Van de Walle B, Turoff M (2007) Emergency response information systems: emerging trends and technologies. Commun ACM 50(3):29–31
About this article
Cite this article
Tsai, MK., Yau, NJ. Improving information access for emergency response in disasters. Nat Hazards 66, 343–354 (2013). https://doi.org/10.1007/s11069-012-0485-x
Received:

Accepted:

Published:

Issue Date:

DOI: https://doi.org/10.1007/s11069-012-0485-x
Keywords
Disaster management

Emergency response

Information management

Information system

Information technology