Abstract
On 18 January 2003, fires had a devastating impact on Australia's capital, Canberra. A series of reviews and scientific studies have examined the events of that day and indicate that the worst impacts were due to a series of violent pyro-convective events and resultant pyro-cumulonmibi. These coupled fire–atmosphere events are much more energetic than normal fires. In one instance, an intense pyro-convective cell developed a tornado. We demonstrate that this was indeed a tornado, the first confirmed pyro-tornadogenesis in Australia, and not a fire whirl. Here, we discuss aspects of the formation, evolution and decay of the tornado, which was estimated to have been of at least F2 intensity, highlighting a process that can significantly increase the damage of a wildfire event.
Access options
Buy single article
Instant access to the full article PDF.
USD 39.95
Price excludes VAT (USA)
Tax calculation will be finalised during checkout.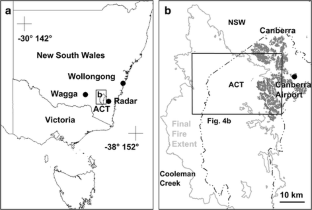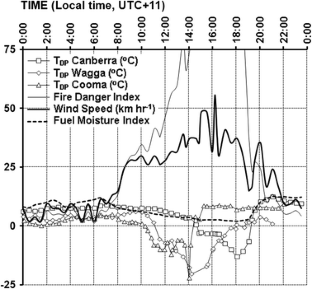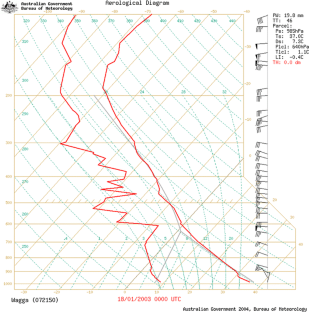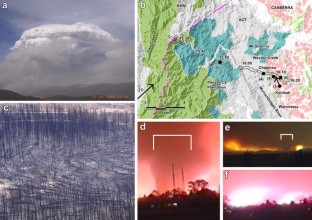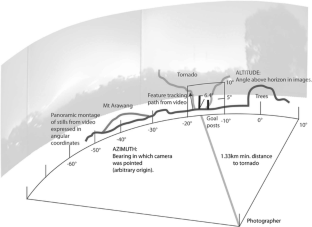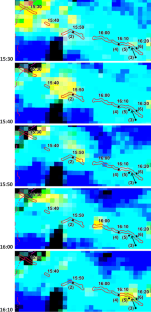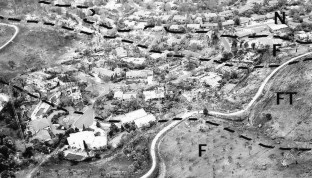 Notes
See page 2–3 of the transcript, Doogan 2006.
References
Agee E, Jones E (2009) Proposed conceptual taxonomy for proper identification and classification of tornado events. Weather Forecast 24(2):609–617

Arnold RK, Buck CC (1954) Blow up fires—silviculture or weather problems. J Forest 52:408–411

Beer T (1991) The interaction of wind and fire. Boundary Layer Meteorol 54:287–308. doi:10.1007/BF00183958

Cook R, Walker A, Wilkes S (2009) Airborne fire intelligence. In: Jones S, Reinke K (eds) Innovations in remote sensing and photogrammetry. Springer, Heidelberg, pp 239–254

Countryman CM (1971) Fire Whirls ··· why, when and where. USDA Forest Service, Pacific Southwest Forest and Range Experiment Station, California

Cunningham P, Reeder MJ (2009) Severe convective storms initiated by intense wildfires: numerical simulations of pyro-convection and pyro-tornadogenesis. Geophys Res Lett 36:L12812

Dold J, Weber R, Gill M, Ellis P, McRae R, Cooper N (2005) Unusual phenomena in an extreme bushfire. 5th Asia-Pacific Conference on Combustion, The University of Adelaide

Doogan M (2006). Inquests and Inquiry into Four Deaths and Four Fires between 8 and 18 January 2003. ACT Coroners Court. See also the transcript at: http://www.courts.act.gov.au/magistrates/page/view/596. Accessed 13th July 2012

Edwards J (2010) National Implications of the 2009 Victorian bushfire royal Commission. Fire Aust Spring 2010:16–18

Fromm M, Tupper A, Rosenfeld D, Servranckx R, McRae R (2006) Violent pyro-convective storm devastates Australia's capital and pollutes the stratosphere. Geophys Res Lett 33:L05815

Fromm M, Lindsey DT, Servranckx R, Yue G, Trickl T, Sica R, Doucet P, Godin-Beekmann S (2010) The Untold Story of Pyrocumulonimbus. Bull Am Meteorol Soc 91:1193–1209

Glickman TS (2000) Glossary of Meteorology. 2nd ed. American Meteorological Society, pp 855

Hissong JE (1926) Whirlwinds at oil-tank fire, San Luis Obispo. Calif Mon Weather Rev 54:161–163

Kuwana K, Sekimoto K, Saito K, Williams FA, Hayashi Y, Masuda H (2006) Can we predict the occurrence of extreme fire whirls? Am Inst Aeronaut Astronaut J 45:16–19

Lambert K (2010a) Fire penetration deep into urban areas. Fire Aust Spring 2010:54–55

Lambert K (2010b) Extreme bushfire/firestorm impact and the bush/urban interface, Black Saturday 7th February 2009. Submission to the 2009 Victorian Bushfires Royal Commission. Available online: http://www.royalcommission.vic.gov.au/Submissions/SubmissionDocuments/SUBM-002-059-0366_01_R.pdf. Accessed 13th July 2012

McLeod R (2003) Inquiry into the Operational Response to the January 2003 Bushfires in the ACT. Publication No 03/0537, ACT Government, Canberra. http://www.cmd.act.gov.au/functions/publications/archived/mcleod_inquiry. Accessed 13th July 2012

McRae R (2004). Breath of the dragon—observations of the January 2003 ACT Bushfires. Proceedings Bushfire 2004 Conference, Adelaide

Mills GA (2005) On the sub-synoptic scale meteorology of two extreme fire weather days during the Eastern Australian fires of January 2003. Aust Meteorol Mag 54:265–290

Mills GA, McCaw L (2010). Atmospheric Stability Environments and Fire Weather in Australia—extending the Haines Index. CAWCR Technical Report 20. www.cawcr.gov.au/publications/technicalreports/CTR_020.pdf. Accessed 13th July 2012

NOAA (2011) Fujita tornado damage scale. Online resource. http://www.spc.noaa.gov/faq/tornado/f-scale.html. Accessed 13th July 2012

Noble IR, Bary GAV, Gill AM (1980) McArthur's fire-danger meters expressed as equations. Aust J Ecol 5:201–203

Potter BE (2005) The role of released moisture in the atmosphericdynamics associated with wildland fires, International Journal of Wildland Fire, 14, 77–84

Schmidlin TW, Hammer BO, King PS, Miller LS (undated) Wind speeds required to upset vehicles. Am Meteorol Soc http://ams.confex.com/ams/pdfpapers/50675.pdf. Accessed 13th July 2012

Raupach MR (1990) Similarity analysis of the interaction of bushfire plumes with ambient winds. Mathe Comput Model 13:113–121

Sharples JJ, McRae RHD, Weber RO, Gill AM (2009) A simple index for assessing fuel moisture content. Environ Model Softw 24:637–646

Sharples JJ, McRae RHD, Weber RO, Wilkes SR (2012) Wind-terrain effects on the propagation of wildfires in rugged terrain: fire channelling. Int J Wildland Fire 21:282–296. doi:10.1071/WF10055

Standards Australia (2011) Structural design actions. Part 2: Wind Actions. AS/NZS 1170.2:2011

Taylor J, Webb R (2005) Meteorological aspects of the January 2003 south-eastern Australian bushfire outbreak. Aust Forest 68:94–103

Umschied ME, Monteverdi JP, Davies JM (2006) Photographs and Analysis of an Unusually Large and Long-Lived Firewhirl. Electron J Sever Storms Meteorol 1

Webb R, Davis CJ, Lellyett S (2004) Meteorological Aspects of the ACT Bushfires of January 2003. Proceedings of Bushfire 2004 Conference, Adelaide

Wind & Science Engineering Centre (2006) A recommendation for an Enhanced Fujita Scale. Submission to the National Weather Service by Wind & Science Engineering Centre, Texas Tech University, Lubbock, Texas. http://www.depts.ttu.edu/weweb/Pubs/fscale/EFScale.pdf. Accessed 13 July 2012
Acknowledgments
The authors would like to thank Air Target Services Pty Ltd, Nowra, New South Wales; Clem Davis, Bureau of Meteorology (retired); Peter Deck of the ACT Ambulance Service; Christine Goonrey; NSW Rural Fire Service; Jim Venn; Tom Bates. The authors also acknowledge the two anonymous reviewers whose comments prompted significant improvements to the manuscript.
About this article
Cite this article
McRae, R.H.D., Sharples, J.J., Wilkes, S.R. et al. An Australian pyro-tornadogenesis event. Nat Hazards 65, 1801–1811 (2013). https://doi.org/10.1007/s11069-012-0443-7
Received:

Accepted:

Published:

Issue Date:

DOI: https://doi.org/10.1007/s11069-012-0443-7
Keywords
Pyro-tornadogenesis

Pyro-cumulonimbus

Tornado

Wildfire