Abstract
Efforts to characterize population exposure to near-field tsunami threats typically focus on quantifying the number and type of people in tsunami-hazard zones. To develop and prioritize effective risk-reduction strategies, emergency managers also need information on the potential for successful evacuations and how this evacuation potential varies among communities. To improve efforts to properly characterize and differentiate near-field tsunami threats among multiple communities, we assess community variations in population exposure to tsunamis as a function of pedestrian travel time to safety. We focus our efforts on the multiple coastal communities in Grays Harbor and Pacific Counties (State of Washington, USA), where a substantial resident and visitor population is threatened by near-field tsunamis related to a potential Cascadia subduction zone earthquake. Anisotropic, path distance modeling is conducted to estimate travel times to safety, and results are merged with various population data, including residents, employees, public venues, and dependent-care facilities. Results suggest that there is substantial variability among communities in the number of people that may have insufficient time to evacuate. Successful evacuations may be possible in some communities assuming slow walking speeds, are plausible in others if travel speeds are increased, and are unlikely in another set of communities given the large distances and short time horizon. Emergency managers can use these results to prioritize the location and determine the most appropriate type of tsunami risk-reduction strategies, such as education and training in areas where evacuations are plausible and vertical-evacuation structures in areas where they are not.
Access options
Buy single article
Instant access to the full article PDF.
US$ 39.95
Tax calculation will be finalised during checkout.
Subscribe to journal
Immediate online access to all issues from 2019. Subscription will auto renew annually.
US$ 119
Tax calculation will be finalised during checkout.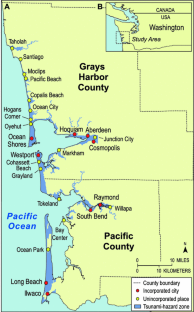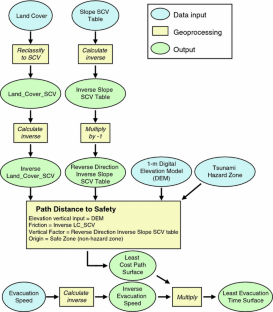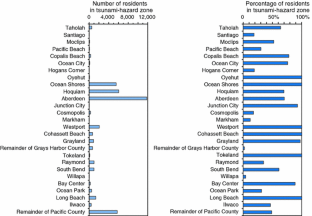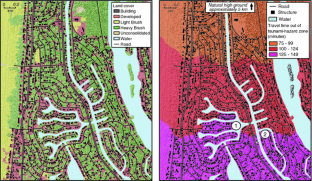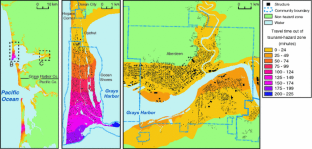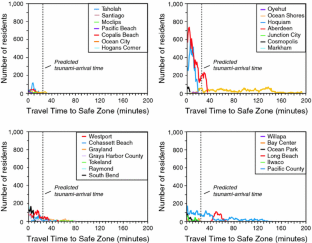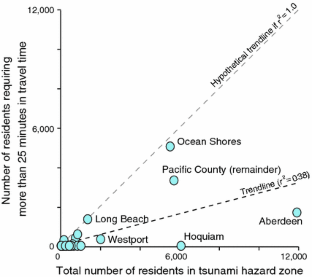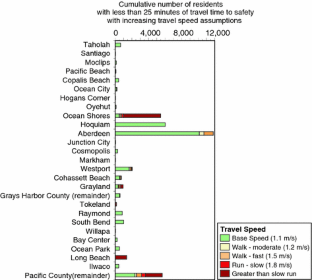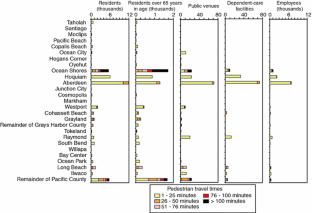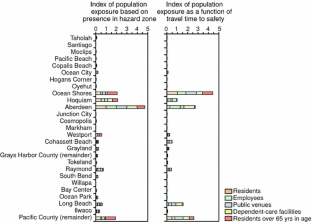 References
Averill J, Mileti D, Peacock R, Kuligowski E, Groner N, Proulx G, Reneke P, Nelson H (2005) Occupant behavior, egress, and emergency communications—federal building and fire safety investigation of the world trade center disaster. National Institute of Standards and Technology National Construction Safety Team Act Report 1–7

Brooks N (2003) Vulnerability, risk and adaptation—a conceptual framework. Tyndall Centre for Climate Change Research Working Paper 38. Available at tyndall.ac.uk/sites/default/files/wp38.pdf. Accessed 10 August 2012

Cascadia Region Earthquake Workgroup (2005) Cascadia subduction zone earthquakes—a magnitude 9.0 earthquake scenario. Oregon Department of Geology and Mineral Industries, Portland

CloudMade (2011) Washington.shapefiles.zip. Available at http://downloads.cloudmade.com/americas/northern_america/united_states/washington#downloads_breadcrumbs. Accessed 12 Oct 2011

Cutter S (2003) The vulnerability of science and the science of vulnerability. Ann As Am Geogr 93(1):1–12

Cutter S, Boruff B, Shirley W (2003) Social vulnerability to environmental hazards. Social Sci Q 84(2):242–261

Dall'Osso F, Cavalletti A, Polo P (2006) Risk assessment and evaluation ArcGIS Toolbox user's manual, CRATER Coastal Risk Analysis of Tsunamis and Environmental Remediation. Italian Ministry for the Environment and Territory, Rome, Italy and Asian Disaster Preparedness Center, Pathumthani

Engstfeld A, Killebrew K, Scott C, Wiser J, Freitag B, El-Anwar O (2010) Tsunami safe haven project—report for Long Beach. Department of Urban Design and Planning, College of Built Environments, University of Washington, Washington

Franzese O, Sorenson D (2004) Fast deployable system for consequence management—the emergency evacuation component. Proceedings of the ITS Safety and Security conference, Orlando, FL, 13 p

Goldfinger C, Nelson C, Morey A, Johnson J, Patton J, Karabanov E, Gutiérrez-Pastor J, Eriksson A, Gràcia E, Dunhill G, Enkin R, Dallimore A, Vallier T (2012) Turbidite event history—methods and implications for Holocene paleoseismicity of the Cascadia subduction zone. U.S. Geological Survey Professional Paper 1661–F

Graehl N (2009) Using a GIS to model pedestrian evacuation times for Newport, OR. Unpublished research, Humbolt State University, California

Grays Harbor County (2011) GIS data download. Available at http://www.ghc-gis.org/info/GIS/download.html. Accessed 12 Feb 2012

Hewitt K (1997) Regions of risk–a geographical introduction to disasters. Addison Wesley Longman, Essex

InfoUSA (2011) Employer database. Available via http://www.infousagov.com/employer.asp. Accessed 1 Oct 2011

Jonkmann S, Vrijling J, Vrouwenvelder A (2008) Methods for the estimation of loss of life due to floods: a literature review and a proposal for a new method. Nat Hazards 46:353–389

Knoblauch R, Pietrucha M, Nitzburg M (1995) Field studies of pedestrian walking speed and start-up time. In: Transportation research record, no. 1538, TRB, National Research Council, Washington, DC, pp 27–38

Lander J, Lockridge P (1989) United States tsunamis (including United States possessions) 1690–1988. U.S. Department of Commerce, National Geophysical Data Center, Boulder, Colorado, Publication 41–2

Langlois J, Keyl P, Guralnik J, Foley D, Marottoli R, Wallace R (1997) Characteristics of older pedestrians who have difficulty crossing the street. Am J Pub Health 87:393–397

MarathonGuide.com (2011) Boston marathon race results 2010, Available at http://www.marathonguide.com/results/browse.cfm?MIDD=15100419. Accessed 8 March 2011

Marrero J, Garcia A, Llinares A, Rodrıguez-Losada J, Ortiz R (2010) The variable scale evacuation model (VSEM)—a new tool for simulating massive evacuation processes during volcanic crises. Nat Hazards Earth Syst Sci 10:747–760

Mileti D (1999) Disasters by design–a reassessment of natural hazards in the United States: Washington. Joseph Henry Press, DC

Mileti D, Sorenson D (1990) Communication of emergency public warnings–a social science perspective and state-of-the-art assessment. Oak Ridge National Laboratory, Oak Ridge

Miller M, Paton D, Johnston D (1999) Community vulnerability to volcanic hazard consequences. Disaster Prev Manag 8(4):255–260

Morgan J (1984) A tsunami avoidable susceptibility index. Sci Tsunami Hazards 2(1):3–12

Morrow B (1999) Identifying and mapping community vulnerability. Disasters 23(1):1–18

National Research Council (1996) Understanding risk—informing decisions in a democratic society. Committee on risk characterization, commission on behavioral and social sciences and education. The National Academies Press, Washington, DC

National Research Council (2007) Tools and Methods for Estimating Populations at Risk from Natural Disasters and ComplexHumanitarian Crises. The National Academies Press, Washington, DC

National Research Council (2011) Tsunami warning and preparedness: an assessment of the US Tsunami Program and the Nation's preparedness efforts, Committee on the review of the tsunami warning and forecast system and overview of the nation's tsunami preparedness. The National Academies Press, Washington, DC

National Tsunami Hazard Mitigation Program (2012) About the national tsunami hazard mitigation program. Available at http://nthmp.tsunami.gov/about_program.html, Accessed 17 Sep 2012

NOAA National Geophysical Data Center/World Data Center (2012) Global historical tsunami database. Available at http://www.ngdc.noaa.gov/hazard/tsu_db.shtml. Accessed 28 Jan 2012

Ohno R, Isagawa T (2012) How do coastal residents behave after a big earthquake—a questionnaire survey after the Great East Japan earthquake at Onjuku, Chiba Prefecture. In: Joint conference proceedings of the 9th international conference on urban earthquake engineering and the 4th Asia conference on earthquake engineering, Tokyo, Japan

Pacific County Department of Public Works (2011) Spatial data. Available at http://www.co.pacific.wa.us/gis/DesktopGIS/WEB/index.html. Accessed 1 Nov 2011

Papathoma M, Dominey-Howes D, Zong Y, Smith D (2003) Assessing tsunami vulnerability, an example from Herakleio, Crete. Nat Hazards Earth Syst Sci 3(5):377–389

Paton D, Houghton B, Gregg C, Gill D, Ritchie L, McIvor D, Larin P, Meinhold S, Horan J, Johnston D (2008) Managing tsunami risk in coastal communities—identifying predictors of preparedness. Austr J Emerg Manag 23(1):4–9

Polsky C, Neff R, Yarnal B (2007) Building comparable global change vulnerability assessments–the vulnerability scoping diagram. Glob Environ Change 17:472–485

Post J, Wegscheider S, Muck M, Zosseder K, Kiefl R, Steinmetz T, Strunz G (2009) Assessment of human immediate response capability related to tsunami threats in Indonesia at a sub-national scale. Nat Hazards Earth Syst Sci 9:1075–1086

Priest G, Myers III E, Baptista A, Fleuck P, Wang K, Kamphaus R, Peterson C (1997) Cascadia subduction zone tsunamis—hazard mapping at Yaquina Bay, Oregon. Oregon Department of Geology and Mineral Industries Open-File Report O-97-34, 144 p

Slovic P (2002) The perception of risk. Earthscan Publications, Ltd, London

Smit B, Wandel J (2006) Adaptation, adaptive capacity and vulnerability. Glob Environ Change 16:282–292

Soule R, Goldman R (1972) Terrain coefficients for energy cost prediction. J Appl Physiol 32:706–708

Sumaryono S, Strunz G, Post J, Zosseder K, Ludwig R (2008) Spatial measuring urban vulnerability to tsunami hazards using integrative remote sensing and GIS approaches. In: Proceedings of the international conference on tsunami warning, 12–14 Nov 2008, Bali, Indonesia

Taubenbock H, Post J, Kiefl R, Roth A, Ismail F, Strunz G, Dech S (2008) Risk and vulnerability assessment to tsunami hazard using very high resolution satellite data. In: Carsten J (ed) Remote sensing—new challenges of high resolution

Tierney K, Lindell M, Perry R (2001) Facing the unexpected. Joseph Henry Press, London

Tobler W (1993) Three presentations on geographical analysis and modeling—non-isotropic geographic modeling. Speculations on the geometry of geography; and global spatial analysis. UCSB. National Center for Geographic Information and Analysis Technical Report 93-1. Available at http://www.ncgia.ucsb.edu/Publications/Tech_Reports/93/93-1.PDF. Accessed 19 July 2010

Turner B, Kasperson R, Matson P, McCarthy J, Corell R, Christensen L, Eckley N, Kasperson J, Luers A, Martello M, Polsky C, Pulsipher A, Schiller A (2003) A framework for vulnerability analysis in sustainability science. Proc Nat Acad Sci 100(14):8074–8079

United States Census Bureau (2011) American FactFinder. Available at http://factfinder2.census.gov/faces/nav/jsf/pages/index.xhtml. Accessed 1 May 2011

United States Department of Agriculture (2009) Geospatial data gateway. Available at http://datagateway.nrcs.usda.gov/. Accessed 1 Feb 2011

United States Department of Transportation (2009) Manual on uniform traffic control devices for streets and highways. Federal Highway Administration

Walsh T, Caruthers C, Heinitz A, Myers III E, Baptista A, Erdakos G, Kamphaus R (2000) Tsunami hazard map of the southern Washington coast—modeled tsunami inundation from a Cascadia subduction zone earthquake. Washington Department of Natural Resources Division of Geology and Earth Resources Geologic Map GM-49

Washington Division of Geology and Earth Resources (2008) Tsunami inundation zones in Washington State, Version 1.0. Available at http://www.dnr.wa.gov/ResearchScience/Pages/PubData.aspx/. Accessed 16 Aug 2010

Washington Military Department Emergency Management Division (2012) Tsunamis. Available at http://www.emd.wa.gov/hazards/haz_tsunami.shtml. Accessed 17 Sep 2012

Washington Office of Financial Management (2012) Census geographic files. Available at http://www.ofm.wa.gov/pop/geographic/tiger.asp. Accessed 12 Feb 2012

WatershedSciences (2010) LIDAR remote sensing data collection. Available at http://pugetsoundlidar.ess.washington.edu/lidardata/restricted/nonpslc/swwash2009/swwash2009.html. Accessed 7 Aug 2011

Wisner B, Blaikie P, Cannon T, Davis I (2004) At risk–natural hazards, people's vulnerability and disasters, 2nd edn. Routledge, New York

Wood N (2011) Understanding risk and resilience to natural hazards. U.S. Geological Survey Fact Sheet 2011-3008

Wood N, Good J (2004) Vulnerability of a port and harbor community to earthquake and tsunami hazards: the use of GIS in community hazard planning. Coast Manag 32(3):243–269

Wood N, Schmidtlein M (2012) Anisotropic path modeling to assess pedestrian-evacuation potential from Cascadia-related tsunamis in the U.S. Pacific Northwest. Nat Hazards 62(2):275–300

Wood N, Soulard C (2008) Variations in community exposure to tsunami hazards on the open-ocean and strait of Juan de Fuca coasts of Washington. USGS Scientific Investigations Report 2008-5004

Wood N, Burton C, Cutter S (2010) Community variations in social vulnerability to Cascadia-related tsunamis in the U.S. Pacific Northwest. Nat Hazards 52(2):369–389

Wood M, Mileti D, Kano M, Kelly M, Regan R, Bourque L (2011) Communicating actionable risk for terrorism and other hazards. Risk Anal 32(4):601–615

Yeh H, Fiez T, Karon J (2009) A comprehensive tsunami simulator for long beach peninsula phase-1—framework development final report. State of Washington Military Department Emergency Management Division
Acknowledgments
This study was supported by the US Geological Survey (USGS) Geographic Analysis and Monitoring Program. We thank Susan Benjamin, Ronald Kirby, and Mara Tongue of the USGS, John Schelling of the State of Washington Military Department Emergency Management Division, and two anonymous reviewers for their insightful reviews of earlier versions of the article. Any use of trade, product, or firm names is for descriptive purposes only and does not imply endorsement by the US Government.
About this article
Cite this article
Wood, N.J., Schmidtlein, M.C. Community variations in population exposure to near-field tsunami hazards as a function of pedestrian travel time to safety. Nat Hazards 65, 1603–1628 (2013). https://doi.org/10.1007/s11069-012-0434-8
Received:

Accepted:

Published:

Issue Date:
Keywords
Tsunami

Evacuation

Path distance

Modeling

Pedestrian

Cascadia