Abstract
The changing number and nature of weather- and climate-related natural hazards is causing more communities to need to assess their vulnerabilities. Vulnerability assessments, however, often require considerable expertise and resources that are not available or too expensive for many communities. To meet the need for an easy-to-use, cost-effective vulnerability assessment tool for communities, a prototype online vulnerability assessment support system was built and tested. This prototype tool guides users through a stakeholder-based vulnerability assessment that breaks the process into four easy-to-implement steps. Data sources are integrated in the online environment so that perceived risks—defined and prioritized qualitatively by users—can be compared and discussed against the impacts that past events have had on the community. The support system is limited in scope, and the locations of the case studies do not provide a sufficiently broad range of sample cases. The addition of more publically available hazard databases combined with future improvements in the support system architecture and software will expand opportunities for testing and fully implementing the support system.
Access options
Buy single article
Instant access to the full article PDF.
USD 39.95
Price excludes VAT (USA)
Tax calculation will be finalised during checkout.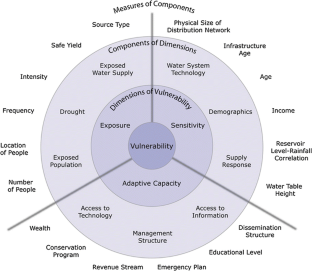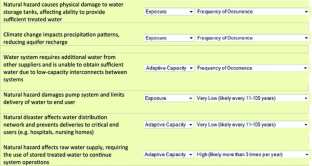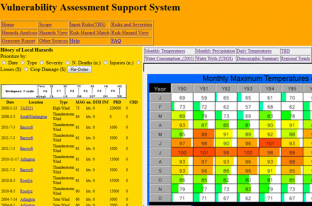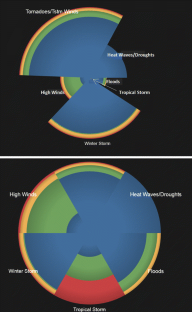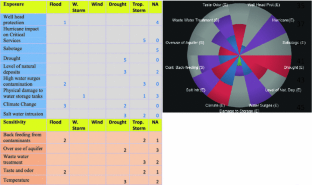 References
ACIS (2012) Applied climate information system. Available from http://www.rcc-acis.org/. Accessed 27 May 2012

DOE (2002) Vulnerability assessment methodology: electric power infrastructure. Department of Energy. Available at www.hsdl.org/?view&did=439919. Accessed 4 June 2012

Environment America (2012) In the path of the storm: global warming, extreme weather, and the impacts of weather-related disasters in the United States. Available from http://wwwenvironmentamericaorg/sites/environment/files/reports/In%20the%20Path%20of%20the%20Storm%202pdf. Accessed 26 May 2012

EPA (2012) Climate change impacts and adapting to change http://www.epa.gov/climatechange/impacts-adaptation. Accessed 19 July 2012

Flax LK, Jackson RW, Stein DN (2002) Community vulnerability assessment tool methodology. Nat Hazards Rev 3:163–176

Grothmann T, Patt A (2005) Adaptive capacity and human cognition: the process of individual adaptation to climate change. Global Env Change Part A 15:199–213

Howe PD (2011) Hurricane preparedness as anticipatory adaptation: a case study of community businesses. Global Env Change 21:711–720

Howe PD, Yarnal B, Coletti A, Wood NJ (in press) The participatory vulnerability scoping diagram: deliberative risk ranking in community water systems. Ann As Am Geogr

López-Marrero T, Yarnal B (2009) Putting adaptive capacity into the context of people's lives: a case study of two flood-prone communities in Puerto Rico. Nat Hazards 52:277–297

Marx SM, Weber EU, Orlove BS, Leiserowitz A, Krantz DH, Roncoli C, Phillips J (2007) Communication and mental processes: experiential and analytic processing of uncertain climate information. Global Env Change 17:47–58

McDaniels TL, Gregory RS, Fields D (1999) Democratizing risk management: successful public involvement in local water management decisions. Risk Anal 19:497–510

Moreno A, Becken S (2009) A climate change vulnerability assessment methodology for coastal tourism. J Sustain Tour 17:473–488

NOAA (2012a) Extreme weather 2011: a year for the record books Available from http://www.noaa.gov/extreme2011. Accessed 26 May 2012

NOAA (2012b) Weather-ready nation. Available from http://www.nws.noaa.gov/com/weatherreadynation/. Accessed 26 May 2012

NOAA Coastal Services Center (2012) Roadmap for adapting to coastal risk. Available from http://www.csc.noaa.gov/digitalcoast/training/roadmap. Accessed 22 June 2012

NOAA-NCDC (2012) Storm events database. http://www.ncdc.noaa.gov/stormevents/. Accessed 19 July 2012

Peacock WG, Brody SD, Highfield W (2005) Hurricane risk perceptions among Florida's single family homeowners. Lands Urban Plan 73:120–135

Polsky C, Neff R, Yarnal B (2007) Building comparable change vulnerability assessments: the vulnerability scoping diagram. Global Env Change 17:472–485

Schröter D, Polsky C, Patt AG (2005) Assessing vulnerabilities to the effects of global change: an eight step approach. Mitig Adapt Strateg Global Change 10:573–595

Smith K, Barrett CB, Box PW (2000) Participatory risk mapping for targeting research and assistance: with an example from East African pastoralists. World Dev 28:1945–1959

Tschakert P (2007) Views from the vulnerable: understanding climatic and other stressors in the Sahel. Global Env Change 17:381–396

USGS (2012) Water data discovery. http://water.usgs.gov/data/. Accessed 19 July 2012
Acknowledgments
This work was developed under National Oceanographic Atmospheric Administration, Climate Program Office, grant NA09OAR4310144. The lead author is particularly grateful to Michael Brewer, Art DeGaetano, and Chad McNutt for their encouragement and helpful discussions. Discussions with Harold Brooks at the National Severe Storms Laboratory, and with personnel at the Maryland Department of Natural Resources, were particularly important for correctly framing the role of severe natural hazards and climate variation on the local scales into the VASS.
About this article
Cite this article
Coletti, A., Howe, P.D., Yarnal, B. et al. A support system for assessing local vulnerability to weather and climate. Nat Hazards 65, 999–1008 (2013). https://doi.org/10.1007/s11069-012-0366-3
Received:

Accepted:

Published:

Issue Date:

DOI: https://doi.org/10.1007/s11069-012-0366-3
Keywords