Abstract
It is shown in the short comment that the sea levels are oscillating about a longer-term trend and that the sea level rise (SLR) computed with time windows of 20, 30 or 60 years also oscillates, with the amplitude of these latter oscillations reducing as the time window increases. The use of only two values of the SLR distribution is misleading to infer conclusions about the accelerating behaviour. In particular, the comparison of the 30-year SLR 1950–1979 with the 30-year SLR 1980–2009 for the tide gauges along the Atlantic coast of North America north of Cape Hatteras to infer an accelerating behaviour is particularly wrong because the 30-year time window is a too short interval to appreciate the longer-term sea level trend cleared of the multi-decadal oscillations, and the two values from the SLR distribution are computed, respectively, at the times of a valley and a peak for the 60-year Atlantic Ocean multi-decadal oscillation. By using a 60-year time window or all the data since opening when more than 60 years of recording are available and by analysing the SLR time history, the only conclusion that can be inferred from the analysis of the tide gauges along the North American Atlantic coast is that the sea levels are oscillating without too much of a positive acceleration along their longer-term trend.
Access options
Buy single article
Instant access to the full article PDF.
USD 39.95
Price excludes VAT (USA)
Tax calculation will be finalised during checkout.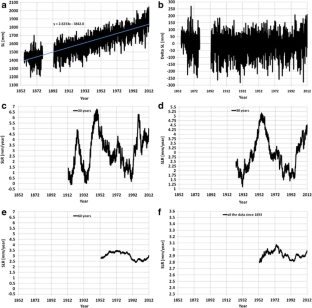 About this article
Cite this article
Parker, A. Oscillations of sea level rise along the Atlantic coast of North America north of Cape Hatteras. Nat Hazards 65, 991–997 (2013). https://doi.org/10.1007/s11069-012-0354-7
Received:

Accepted:

Published:

Issue Date:

DOI: https://doi.org/10.1007/s11069-012-0354-7
Keywords