Abstract
The Sistan area is located in the east of Iran, enclosure to Afghanistan border. It is a densely populated enclave in the scarcely populated arid area of the eastern part of Iran, where the life strongly depends on the shallow water of Hamoun Lake and wetlands in the delta of the Helmand River flows from the Hindukush Mountains in western Afghanistan. As the water resources are scarce in this arid region, the availability of freshwater in Hamoun Lake has caused many socioeconomic and environmental effects in study area during several years. Various categories of socioeconomic criteria have been defined that are influenced by the Hamoun wetland, namely employment, economic value of fish catch, reeds harvest and birds hunt, food supplying and its influence on the microclimate of the region and the severity of the sandstorms, health and finally provision of recreational opportunities in the region. On the other hand, the high evaporation rates in a very dry region and climatic fluctuations make very vulnerable ecosystem, causing several environmental challenges into human activities. Prolonged droughts due to decrease in annual rainfall in the Hirmand watershed based on climate change in the last decade have been recorded in this environmental hazardous area. Drying up of Hamoun Lake and dead reed system in the wetlands was monitored in the present study using the time series of satellite imagery. The lifelessness of Hamoun Lake has caused several environmental effects such as sandstorm and dust hazard, destroying vegetation, vanishing crop production, damage to fish and bird habitat, extensively decreasing reeds harvesting, reducing livestock and increasing wildlife death rates, increasing air pollution and consequently health problems, salty soil movement over the agriculture fields, etc., which have been identified as the outcome of this research.
Access options
Buy single article
Instant access to the full article PDF.
US$ 39.95
Tax calculation will be finalised during checkout.
Subscribe to journal
Immediate online access to all issues from 2019. Subscription will auto renew annually.
US$ 119
Tax calculation will be finalised during checkout.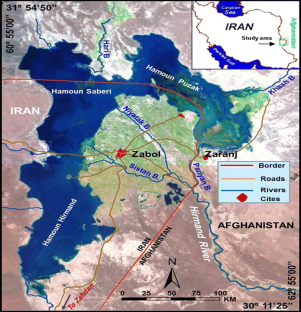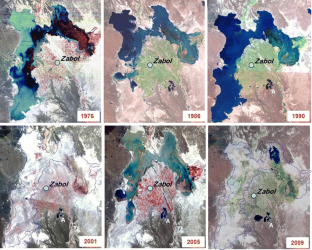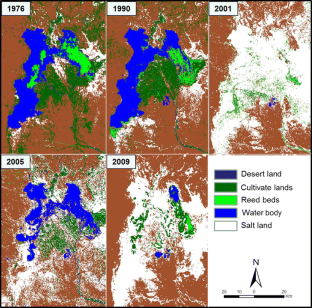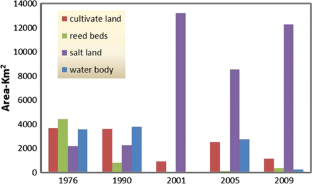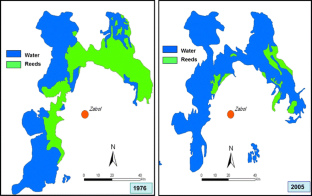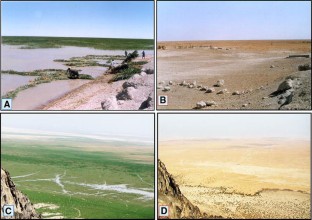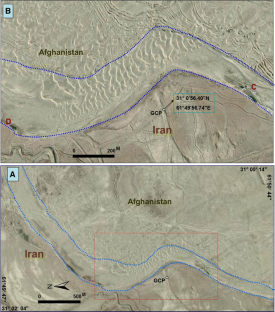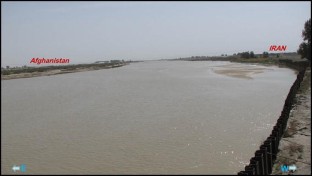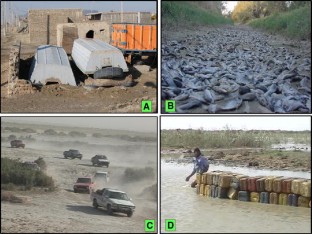 References
Afshar I (1987) Hamoun Lake, the Greatest Fresh-Water Lake in Iranian Plateau. Roshd Geography-Education Magazine, 5th year, 17:17–24 (in Persian)

Alley WM (1984) The Palmer drought severity index: limitations and assumptions. J Climate Appl Meteorol 23:1100–1109

Barimani F (2001) The Bottlenecks of Rural Development in Sistan. PhD thesis, Shahid Beheshti University, Tehran (in Persian)

BCES (Benton County Emergency Service) (2009) Benton County hazard mitigation plan. http://www.bces.wa.gov/Drought.pdf. Assessed 12 Feb 2010

Dahmardeh M, Dahmardeh M, Yazdani S, Piri E (2009) The socio-economic effects of Hamoon Lake in Sistan region of Iran. J Food Agric Environ 7(2):799–802

Dietz A, Ruben R, Verhagen A (2004) The impact of climate change on dry land. Kluwer Academic Publisher, Netherlands

Esmaeili A, Omrani M (2007) Efficiency analysis of Fishery in Hamoun Lake: using DEA approach. J Appl Sci 7(19):2856–2860

Gleick PH (1993) Water in crisis: a guide to the world's fresh water resources. Oxford University Press, New York

ISDR (International Strategy for Disaster Reducing) (2009) Drought, Living with risk. An Integrated Approach to Reducing Societal Vulnerability to Drought, ISDR Ad Hoc Discussion Group on Drought—United Nation

Jamalizadeh MR, Moghaddamnia A, Piri J, Arbabi V, Homayounifar M, Shahryari A (2008) Dust storm prediction using ANNs technique—a case study: Zabol city. World Acad Sci Eng Technol 43:512–521

Jean FC, Rene L, Stephane C (2009) Investigations on Aral Sea regressions from mirabilite. Aquat Geochem 15:277–291. doi:10.1007/s10498-008-9051-2

John CP (2009) Natural hazards analysis, reducing the impact of disasters. Taylor & Francis, USA

Kalbassi MA, Hosseini SV, Tahergorabi R (2008) Karyotype Analysis in Schizothorax zarudnyi from Hamoon Lake, Iran. Turk J Fish Aquat Sci 8:335–340

Lothar E, Peter E, Faina I, Shulpan K, Elmira U, Volkoer M, Thomas G (2004) The Aral Sea disaster—human biomonitoring of Hg, As, HCB, DDE, and PCBs in children living in Aralsk and Akchi, Kazakhstan. Int J Hyg Environ Health 207(6):541–547. doi:10.1078/1438-4639-00325

Majnounian H and Mansouri Z (1985) The Hamoun Pond. The Publishing House of Iranian Environment Organization, Tehran (in Persian)

Mansoori J (1994) The Hamoun wildlife refuge. Max Kasparek Verlag, Heidelberg. ISBN 3-925064-15-X

Meijer K (2006) Integrated Water Resources Management for the Sistan Closed Inland Delta, Iran. Project report, by ITC, The Netherlands and IWRM (Integrated Water Resources Management) Iran, version 1.2, April 2006

Michael M (1973) The multiple dirhems of medieval Afghanistan. Hawkins Publications, London

Michael JP (2002) Fundamental of physical geography. Electronic edition, with glossary and weblinks http://www.physicalgeography.net/fundamentals/preface.html. Assessed 28 Jan 2010

Michael JC and Karen HH (2006) Hazard, The future of the Salton Sea with a report of the Pacific Institute. www.pacinst.org/reports/saltonsea/report.pdf. Accessed 10 Nov 2010

Michael JH, Wilhelmi OV, Knutson CL (2004) Reducing drought risk: bridging theory and practice. Nat Hazards Rev 5(2):106–113

Miri G (1983) The Soci–economical effects of Hamoun Lake in Sistan regional development. M.Sec. Theses, Iranian Islamic Azad University, Iran (in Persian)

Miri A, Ahmadi H, Ghanbari A, Moghaddamnia A (2007) Dust storms impacts on air pollution and public health under hot and dry climate. Int J Energy Environ 2(1):101–105

Mojtahedzadeh P (2004) Small players of the great game. Rutledge/Curzon, London

NDMC (National Drought Mitigation Center) (2009) Effect of drought. http://library.thinkquest.org/16132/html/droughtinfo/effects1.html. Assessed 10 Feb 2010

Raskin P, Hansen E, Zhu Z, Iwra M (1992) Simulation of water supply and demand in the Aral Sea Region. Water Int 17:55–67

Rezvani Gilkolaei S (2007) Aquaculture development in Sistan-Baluchistan. Project financed by Italian Cooperation, Italian Ministry of Foreign Affairs, 1–17

Safinejad J (1989) Traditional agricultural systems in Iran. Amir Kabir Publishing House, Tehran (in Persian)

Sharifikia M (2010) Monitoring water level change detection of Hamoun Lake based on time series of satellite images. J Reg Plan 14(4):155–176 (in Persian)

Smith K (2004) Environmental hazard, assessing risk and reducing disaster. Taylor & Francis, London

UNEP (United Nations Environment Programme) (2006) History of Environmental Change in the Sistan Basin, Nairobi Kenya

Wilhite DA (1993) Drought assessment, management, and planning: theory and case studies. Natural resource management and policy series. Kluwer Publishers, Boston

Wilhite DA (2000) Drought as a natural hazard: concepts and definitions, natural hazards and disasters services. Rutledge Publishers, London. Chapter 1:3–18

Wilhite DA, Glantz MH (1985) Understanding the drought phenomenon: the role of definitions. Water Int 10(3):111–120

Yazadani S, Maghsheno M (2008) Drought monitoring and recommend solution on how to deal with drought. Am-Eur J Agric Environ Sci 2:64–68
Acknowledgments
The author is truly and deeply indebted to Dr. Mahmud Reaz Mollaienia (Assistant professor and Dean of Engineering Faculty-Zabol University) for his constructive discussions and other valuable assistant.
About this article
Cite this article
Sharifikia, M. Environmental challenges and drought hazard assessment of Hamoun Desert Lake in Sistan region, Iran, based on the time series of satellite imagery. Nat Hazards 65, 201–217 (2013). https://doi.org/10.1007/s11069-012-0353-8
Received:

Accepted:

Published:

Issue Date:
Keywords
Drought hazard

Environmental challenge

Hamoun Lake

Remote sensing data