Abstract
In December 2007, the Mila region of northeastern Algeria experienced thousands of microearthquakes (0.8 ≤ Md ≤ 3.9) recorded by eight temporary stations, in addition to permanent stations. Most of the events were too small to be located precisely, but a set of 122 precisely located events shows an alignment of epicenters, extending mainly in a horizontal band at about 1–2 km depth in a NNW–SSE direction and concentrated in a small area, 3 km southeast of Jebel Akhal, a small rocky hill between the Beni Haroun dam/reservoir and the Oued Athmania reservoir. The reservoirs are connected by pipelines, and a pumping station ensures water can be transferred between them at transient pressures of up to 80 bars. During the pumping in 2007, only 45 % of the transferred water (~600,000 m3 per day) was recovered at the Oued Athmania reservoir, and a large amount of the slightly pressurized water leaked through defective joints in a tunnel that passes through the Jebel. This water penetrated deeply into the soil with the assistance of preexisting fractures, faults, and karsts. Nine days after the first pumping started, a local increase in pore fluid pressures at shallow depths triggered seismicity southeast of Jebel Akhal, where the faults were probably close to failure. The focal mechanisms show a near vertical N–S strike-slip fault plane under regional NW–SE tectonic compression. One of the fault plane solutions is consistent with the NNW–SSE direction along which the seismic events are aligned. Furthermore, a long-term comparison of the seismic activity in the region versus water levels behind the dam and the pumping of water shows that the earthquake swarm was a one-off event related to the pumping operation.
Access options
Buy single article
Instant access to the full article PDF.
USD 39.95
Price excludes VAT (USA)
Tax calculation will be finalised during checkout.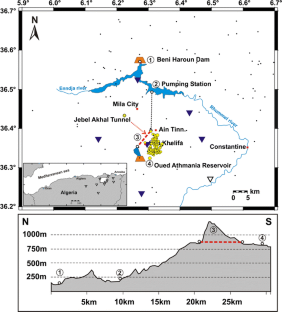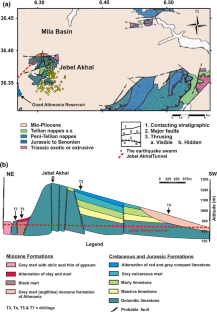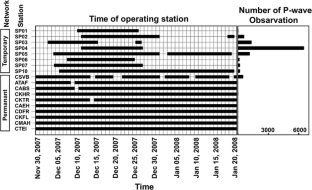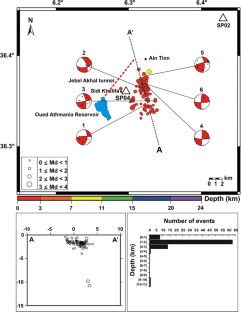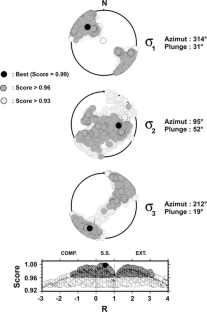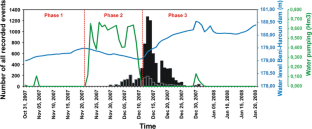 References
Abacha I (2009) Surveillance sismique de la région de Constantine par réseau sismologique et GPS. Master Dissertation, University of Sétif (in French)

Beldjoudi H, Guemache MA, Kherroubi A, Semmane F, Yelles-Chaouche AK, Djellit H, Amrani A, Haned A (2009) The Laâlam (Béjaïa, North-East Algeria) moderate earthquake (Mw = 5.2) on March 20th, 2006. Pure Appl Geophys 166((4):623–640

Beldjoudi H, Delouis B, Heddar A, Nouar OB, Yelles–Chaouche AK, Heddar A (2011) The Tadjena earthquake (Mw = 5.0) of December 16, 2006 in the Cheliff region (Northern Algeria): waveform modelling, regional stresses, and relation with the Boukadir Fault. Pure Appl Geophys 169(4):677–691

Bell ML, Nur A (1978) Strength changes due to reservoir induced pore pressure and stresses and application to Lake Oroville. J Geophys Res 83(B9):4469–4483

Carder D (1945) Seismic investigations in the boulder dam area, 1940–44 and the influence of reservoir loading on local earthquake activity. Bull Seismol Soc Am 35(4):175–192

Carder D (1970) Reservoir loading and local earthquakes. Eng Geol Case Hist 8:51–61

Delouis B, Deverchère J, Menlikova V, Radziminovitch N, Loncke L, Larroque C, Ritz JF, San'kov V (2002) A reappraisal of the 1950 (Mw 6.9) Mondy earthquake, Siberia, and its relationship to strain pattern at the south-western end of the Baikal rift zone. Terra Nova 14:491–500

Doser DI, Keller GR, Harder S, Miller KC, Dial PJ (1997) Development of a lithospheric model and geophysical data base for North Africa. Final rept. Texas Univ El Paso Dept of Geol Sci

Gupta H (1983) Induced seismicity hazard mitigation through water level manipulation: a suggestion. Bull Seismol Soc Am 73:679–682

Gupta H (1985) The present status of RIS investigations with special emphasis on Koyna earthquakes. Tectonophysics 118:257–279

Gupta HK (2011) Artificial water reservoir triggered earthquakes. Encycl Solid Earth Geophys. doi:10.1007/978-90-481-8702-7

Hainzl S, Kraft T, Wassermann J, Igel H, Schmedes E (2006) Evidence for rainfall-triggered earthquake activity Geophys Res Lett 33(L19303). doi:10.1029/2006GL027642

Husen S, Bachmann C, Giardini D (2007) Locally triggered seismicity in the central Swiss Alps following the large rainfall event of August 2005. Geophys J Int 171:1126–1134

Jiménez MJ, Garcia–Fernandez M (2000) Occurrence of shallow earthquakes following periods of intense rainfall in Tenerife, Canary Islands. J Volcanol Geotherm Res 103(1–4):463–468

Kissling E, Ellsworth WL, Eberhart–Phillips D, Kradolfer U (1994) Initial reference model in local earthquake tomography. J Geophys Res 99:19635–19646

Klein F (2002) User's guide to HYPOINVERSE-2000, a Fortran program to solve for earthquake locations and magnitudes, USGS Open-File Report 02–171, vers. 1, p 123

Kraft T, Wassermann J, Schmedes E, Igel H (2006) Meteorological triggering of earthquake swarms at Mt. Hochstaufen, SE-Germany. Tectonophysics 424(3–4):245–258

Legrand D, Baby P, Bondoux F, Dorbath C, Bès de Berc S, Rivadeneira M (2005) The 1999–2000 seismic experiment of Macas swarm (Ecuador) in relation with rift inversion in subandean Foothills. Tectonophysics 395:67–80

Lin CH (2005) Seismicity increase after the construction of the world's tallest building: an active blind fault beneath the Taipei 101. Geophys Res Lett 32(L22313). doi:10.1029/2005GL024223

McGarr A (1991) On a possible connection between three major earthquakes in California and oil production. Bull Seismol Soc Am 81(3):948–970

McGarr A, Simpson D (1997) Keynote lecture: a broad look at induced and triggered seismicity. In: Gibowicz S, Lasocki (eds) Rockbursts and seismicity in mines. Balkema, Rotterdam, pp 385–396

Nur A, Booker JR (1972) Aftershocks caused by pore fluid flow? Science 175:885–887

Ohtake M (1974) Seismic activity induced by water injection at Matsushiro, Japan. J Phys Earth 22:163–167

Rastogi BK, Mandal P, Kumar N (1997) Seismicity around Dhamni Dam, Maharashtra, India. Pure Appl Geophys 150(3–4):493–509

Research Group for Lithospheric Structure in Tunisia (1992) The EGT'85 seismic experiment in Tunisia: a reconnaissance of the deep structures. Tectonophysics 207(1–2):245–267

Rivera L, Cisternas A (1991) Stress tensor and fault plane solutions for a population of earthquakes. Bull Seismol Soc Am 80:600–614

Roth P, Pavoni N, Deichmann N (1992) Seismotectonics of the Eastern Swiss Alps and evidence for precipitation-induced variations of seismic activity. Tectonophysics 207(1–2):183–197

Saar MO, Manga M (2003) Seismicity induced by seasonal groundwater recharge at Mt. Hood. Oregon Earth Planet Sci Lett 214:605–618

Shapiro SA, Kummerow J, Dinske C, Asch G, Rothert E, Erzinger J, Kumpel HJ, Kind R (2006) Fluid induced seismicity guided by a continental fault: injection experiment of 2004/2005 at the German Deep Drilling Site (KTB). Geophys Res Lett 33(L01309). doi:10.1029/2005GL024659

Simpson DW (1976) Seismicity changes associated with reservoir impounding. Eng Geol 10:371–385

Tadokoro K, Ando M, Nishigami K (2000) Induced earthquakes accompanying the water injection experiment at the Nojima fault zone, Japan: seismicity and its migration. Geophys Res Lett 105:6089–6104

Talwani P (1997) On the nature of reservoir-induced seismicity. Pure Appl Geophys 150:473–492

Torcal F, Serrano I, Havskov J, Utrillas JL, Valero J (2005) Induced seismicity around the Tous New Dam (Spain). Geophys J Int 160(1):144–160

Valoroso L, Improta L, Chiaraluce L, Di Stefano R, Ferranti L, Govoni A, Chiarabba C (2009) Active faults and induced seismicity in the Val d'Agri area (Southern Apennines, Italy). Geophys J Int 178(1):488–502

Vila JM (1977) Carte géologique de l'Algérie au1/50 000, feuille n 74, EL ARIA avec notice explicative détaillée (levés de Guellal S et Vila JM). Serv. Carte géol, Algérie/SONATRACH

Vila JM (1980) La chaîne alpine d'Algérie orientale et des confins algéro–tunisiens. Ph.D dissertation. Université Paris-VI (in French)

Waldhauser F, Ellsworth WL (2000) A double-difference earthquake location algorithm: method and application to the northern Hayward fault. Bull Seismol Soc Am 90:1353–1368

Yelles AK, Boudiaf A, Djellit H, Bracène R (2006) La tectonique active de la région nord-algérienne. Comptes Rendus Géosci 338:126–139

Yelles AK et al (2010) Le Projet SPIRAL: Etude de la structure profonde de la Marge Algérienne, résumé étendu, GEOMAG: first congress on the Maghreb Geology, November 10–12. Tlemcen, Algeria

Zhong YZ, Gao C, Yun B (1997) Induced seismicity in Liaoning province, China. Pure Appl Geophys 150:461–472

Zoback MD, Harjes HP (1997) Injection-induced earthquakes and crustal stress at 9-km depth at the KTB deep drilling site, Germany. J Geophys Res 102:18477–18491
Acknowledgments
This work was realized with the collaboration of the Algerian Ministry of Water Resources. We thank the ANBT (National Agency of Dams and Transfers) for the technical documents provided. The authors gratefully acknowledge the support of the Beni Haroun dam and Oued Athmania reservoir engineers. We also thank all those people who participated in the installation and maintenance of the portable station. Thanks, also, to our colleagues, in particular Azzeddine Boudiaf, for discussions and suggestions that improved the manuscript. Our special thanks to the Editor-In-Chief, Professor Thomas Glade, for his help and comments in improving the contents of this paper. We would also like to thank two anonymous reviewers for their useful comments and suggestions.
About this article
Cite this article
Semmane, F., Abacha, I., Yelles-Chaouche, A.K. et al. The earthquake swarm of December 2007 in the Mila region of northeastern Algeria. Nat Hazards 64, 1855–1871 (2012). https://doi.org/10.1007/s11069-012-0338-7
Received:

Accepted:

Published:

Issue Date:

DOI: https://doi.org/10.1007/s11069-012-0338-7
Keywords
Triggered seismicity

Earthquake swarm

Water transfer

Beni Haroun dam

Mila, northeastern Algeria

Pore fluid pressures