Abstract
This study presents the results of the first probabilistic seismic hazard assessment (PSHA) in the framework of logic tree for Oman. The earthquake catalogue was homogenized, declustered, and used to define seismotectonic source model that characterizes the seismicity of Oman. Two seismic source models were used in the current study; the first consists of 26 seismic source zones, while the second is expressing the alternative view that seismicity is uniform along the entire Makran and Zagros zones. The recurrence parameters for all the seismogenic zones were determined using the doubly bounded exponential distribution except the zones of Makran, which were modelled using the characteristic distribution. Maximum earthquakes were determined and the horizontal ground accelerations in terms of geometric mean were calculated using ground-motion prediction relationships developed based upon seismic data obtained from active tectonic environments similar to those surrounding Oman. The alternative seismotectonic source models, maximum magnitude, and ground-motion prediction relationships were weighted and used to account for the epistemic uncertainty. Hazard maps at rock sites were produced for 5 % damped spectral acceleration (SA) values at 0.1, 0.2, 0.3, 1.0 and 2.0 s spectral periods as well as peak ground acceleration (PGA) for return periods of 475 and 2,475 years. The highest hazard is found in Khasab City with maximum SA at 0.2 s spectral period reaching 243 and 397 cm/s2 for return periods 475 and 2,475 years, respectively. The sensitivity analysis reveals that the choice of seismic source model and the ground-motion prediction equation influences the results most.
Access options
Buy single article
Instant access to the full article PDF.
USD 39.95
Price excludes VAT (USA)
Tax calculation will be finalised during checkout.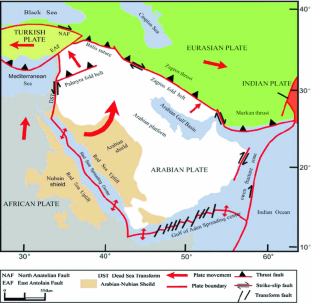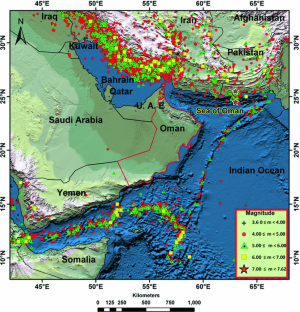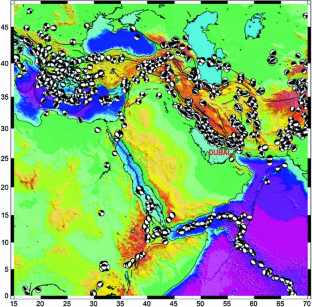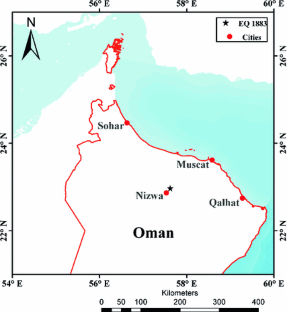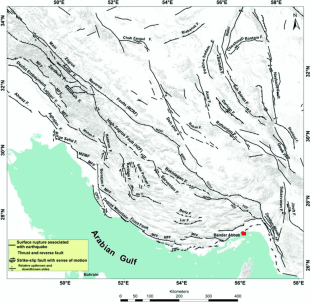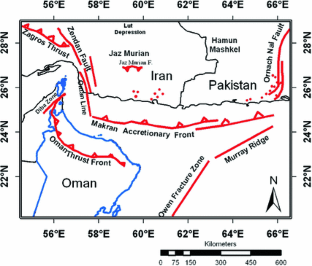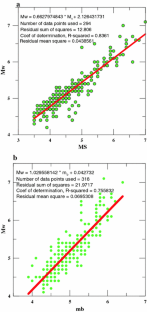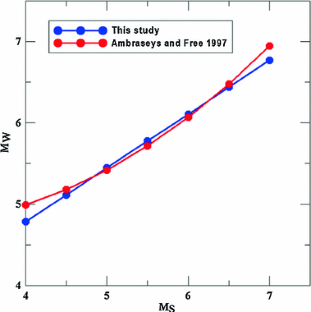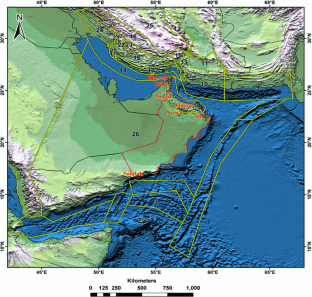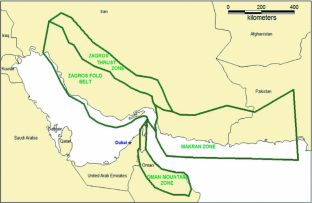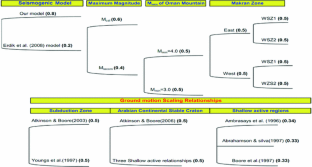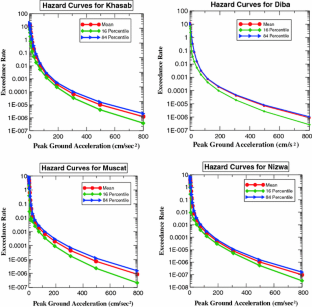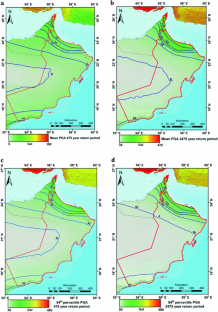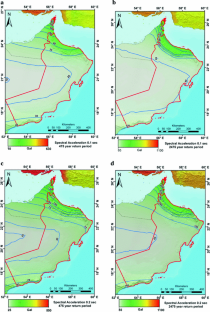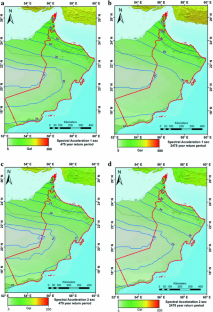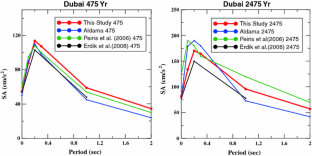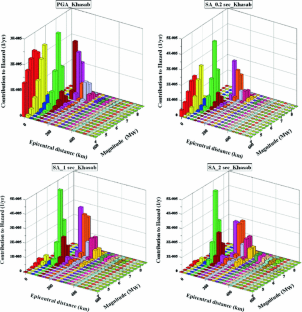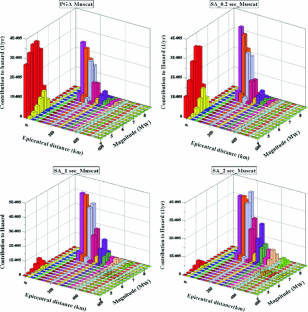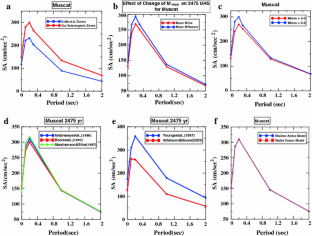 References
Abrahamson NA, Bommer JJ (2005) Probability and uncertainty in seismic hazard analysis. Earthq Spectra 21:603–607

Abrahamson NA, Silva WJ (1997) Empirical response spectra attenuation relations for shallow crustal earthquakes. Seismol Res Lett 68:94–127

Al Marzooqi A, Abou Elenean KM, Megahed AS, El-Hussain I, Rodgers AJ, Al Khatibi E (2008) Source parameters of March 10 and September 13, 2007, United Arab Emirates earthquakes. Tectonophys. 460:237–247

Aldama BG, Bommer JJ, Fenton CH, Staford PJ (2009) Probabilistic seismic hazard analysis for rock sites in the cities of Abu Dhbi, Dubai and Ra's Al Khymah, United Arab Emirates. Georisk 3:1–29

Allen CR (1975) Geological criteria for evaluating seismicity. Geol Soc Am Bull 86:1041–1075

Allen M, Jackson JA, Walker R (2004) Late Cenozoic reorganization of the Arabia-Eurasia collision and the comparison of short-term and long-term deformation rates. Tectonics 23, TC2008

Alsinawi SA (1983) Dhamar Earthquake of 13/12/82. A report Submitted to the Yemeni Government, (Arabic text)

Alsinawi SA, Al-Salim MA (1985) The Dhamar Earthquake of 13 December 1982. Proceedings, Second Geol. Congress on the Middle East (Geocome-li) 13:1–139, Baghdad

Ambraseys NN, Bilham R (2003) Earthquakes in Afghanistan. Seismol Res Lett 74:107–123

Ambraseys NN, Free MW (1997) Surface-wave magnitude calibration for European region earthquakes. J Earthq Eng 1:1–22

Ambraseys NN, Melville CP (1982) A history of Persian earthquakes. Cambridge Univ Press, Cambridge

Ambraseys NN, Melville CP, Adams RD (1994) The seismicity of Egypt, Arabia and Red Sea. Cambridge Univ Press, Cambridge

Ambraseys NN, Simpson KA, Bommer JJ (1996) The prediction of horizontal reponse spectra in Europe. Earthq Eng Struct Dyn 25:371–400

ASC (2003) 1945 – Off the Makran Coast (Balochistan), Pakistan, Mw 8.0: Amateur Seismic Center. http://asc-india.org/gq/mekran.htm

Atkinson GM, Boore DM (2003) Empirical ground-motion relations for subduction-zone earthquakes and their application to Cascadia and other regions. Bull Seismol Soc Am 93:1703–1729

Atkinson GM, Boore DM (2006) Earthquake ground-motion prediction equations for Eastern North America. Bull Seismol Soc Am 96:2181–2205

Aubin J (1973) Le Royaume d'Ormuz au de′but du XVIe Sie`cle. Mare Luso-Indicum 4:77–179

Baker C, Jackson J, Priestley K (1993) Earthquakes on the Kazerun line in the Zagros mountains of Iran: strike-slip faulting within a fold-and-thrust belt. Geophys J Int 115:41–61

Bayer R, Chery J, Tatar M, Vernant Ph, Abbassi M, Masson F, Nilforousshan F, Doerflinger E, Regard V, Bellier O (2006) Active deformation in Zagros-Makran transition zone inferred from GPS measurements. Geophys J Int 165:373–381

Bender BK, Perkins DM (1987) SEISRISK III: a computer program for seismic hazard estimation. USGS Open File, Report, pp 82–293

Berberian M (1973) The seismicity of Iran, preliminary map of epicenters and focal depths, 1:2500000 Map Geol. Surv. Seismotectonic Group, Iran

Berberian M (1995) Master 'blind' thrust faults hidden under the Zagros folds, active basement tectonics and surface morphotectonics. Tectonophys 241:193–224

Berberian M, Yeates RS (1999) Patterns of historical earthquake rupture in the Iranian Plateau. Bull Seismol Soc Am 89:120–139

Berberian M, Jackson J, Fielding E, Parsons B, Priestley K, Qorashi M, Talebian M, Walker R, Wright T, Baker C (2001) The 1998 March 14, Fandoqa earthquake (Mw 6.6) in Kerman province, southeast Iran: re-rupture of the 1981 Sirch earthquake fault, triggering of slip on adjacent thrusts and the active tectonics of the Gowk fault zone. Geophys J Int 146:371–398

Beyer K, Bommer JJ (2006) Relationships between median values and between aleatory variablilities for different definitions of the horizontal component of motion. Bull Seismol Soc Am 96:1512–1522, Erratum (2007) 97:1769

Bommer JJ, Scherbaum F, Bungum H, Cotton F, Sabetta F, Abrahamson NA (2005) On the use of logic trees for ground-motion prediction equations in seismic hazard analysis. Bull Seismol Soc Am 95:377–389

Bonilla MG, Mark RK, Lienkaemper JJ (1984) Statistical relations among earthquake magnitude, surface rupture length, surface rupture displacement. Bull Seismol Soc Am 74:2379–2411

Boore DM, Joyner WB, Fumal TE (1997) Equations for estimating horizontal response spectra and peak acceleration from Western North American earthquakes: a summary of recent work. Seismol Res Lett 68:128–153

Bosworth W, Huchon P, McClay K (2005) The red sea and the Gulf of Aden basins. J Af Earth Sci 43:334–378

Byrne DE, Sykes LR, Davis DM (1992) Great thrust earthquakes and aseismic slip along the plate boundary of the makran subduction Zone. J Geophys Res 97:449–478

Carbon D (1996) Tectonique post-obduction des montagnes d'Oman dans le cadre de la convergence Arabie-Iran. Ph.D. Thesis, University of Montpellier 2, Montpellier, France

Chase CG (1978) Plate kinematics: the American, East Africa, and the rest of the world. Earth Planet Sci Lett 37:355–368

Coppersmith KJ, Youngs RR (1986) Capturing uncertainty in probabilistic seismic hazard assessments within intraplate tectonic environments. In: Proceedings of the Third US national conference on earthquake engineering 1:301–312

Cornell CA (1968) Engineering seismic risk analysis. Bull Seismol Soc Am 18:1583–1606

Cornell CA, Vanmarcke EH (1969) The major influences on seismic risk. In: Proceedings of the fourth world conference of earthquake engineering, 1, Santiago, Chile 69–83

Cramer H (1961) Mathematical methods of statistics, 2nd edn. Princeton University Press, Princeton

Deif A, Abou Elenean K, El-Hadidy M, Tealeb A, Mohamed A (2009) Probabilistic seismic hazard maps for Sinai Peninsula. Egypt J Geophys Eng 6:288–297

DeMets C (2008) Arabia's slow dance with India. Nat Geosci 1:10–11

Dunbar PK, Lockridge PA, Whiteside LS (2002) Catalog of Significant Earthquakes (2150 B.C.–1991 A.D.). National Oceanic and Atmospheric Administration Report SE-49

El-Hussain I, Deif A, Al-Jabry K, Al-Hashmi S, Al-Toubi K, Al-Shijby Y, Al-Saify M (2010) Probabilistic and deterministic seismic hazard assessment for Sultanate of Oman (Phase I). Project #22409017, submitted to Sultan Qaboos Univeristy, Oman

Engdahl ER, Van Der Hilst R, Buland R (1998) Global teleseismic earthquake relocation with improved travel times and procedures for depth determination. Bull Seismol Soc Am 88:722–743

Erdik M, Demircioglu B, Sesetyan K, Durukal E (2008) Probabilistic seismic hazard assessment for Dubai. Boğaziçi University, Kandilli Observatory and Earthquake Research Institute Department of Earthquake Engineering

Farhoudi G, Karig DE (1977) Makran of Iran and Pakistan as an active arc system. Geol. 5:664–668

Fenton CH, Adams J, Halchuk S (2006) Seismic hazards assessment for radioactive waste disposal sites in regions of low seismic activity. Geotech Geol Eng 24:579–592

Fournier M, Chamot-Rooke N, Petit C, Fabbri O, Huchon P, Maillot B, Lepvrier C (2008) In situ evidence for dextral active motion at the Arabia-India plate boundary. Nat Geosci 1:54–58

Frankel A (1995) Mapping seismic hazard in the central and eastern United States. Seismol Res Lett 66:8–21

Frankel A, Mueller C, Barnhard T (1997) Seismic hazard maps for California. Nevada and western Arizona/Utah. United States Geological Survey, Open-File Report, pp 97–130

Gardner JK, Knopoff L (1974) Is the sequence of earthquakes in Southern California, with aftershocks removed, Poissonian? Bull Seismol Soc Am 64:1363–1367

Gholamzadeh A, Yamini-Fard F, Hessami K, Tatar M (2009) The February 28, 2006 Tiab earthquake, Mw 6.0: implications for tectonics of the transition between the Zagros continental collision and the Makran subduction zone. J Geodyn 47:280–287

Giardini D, Grünthal G, Shedlock KM, Zhang PZ (1999) The GSHAP global seismic hazard map. Ann Geofis 42:1225–1230

Gillard D, Wyss M (1995) Comparison of strain and stress tensor orientation: application to Iran and southern California. J Geophys Res 100:22197–22213

Grunthal G, Wahlstrom R (2003) An Mw based earthquake catalogue for central, northern and northwestern Europe using a hierarchy of magnitude conversions. J. Seismol. 7:507–531

Gutenberg B, Richter CF (1944) Frequency of earthquakes in California. Bull Seismol Soc Am 34:185–188

Hanks TC, Bakun WH (2002) A bilinear source-scaling model for M-log (A) observations of continental earthquakes. Bull Seismol Soc Am 92:1841–1846

Hatzfeld D, Authemayou C, Van der Beek P, Bellier O, Lave J, Oveisi B, Tatar M, Tavakoli F, Walpersdorf A, YaminikFard F (2010) The kinematics of the Zagros Mountains (Iran). In: Tectonic and Stratigraphic Evolution of Zagros and Makran During the MesozoickCenozoic, edited by P. Leturmy and C. Robin, Geol. Soc. Spec. Publ. 330:19–42

Hessami K, Koyi H, Talbot C (2001) The significance of the strike-slip faulting in the basement of the Zagros fold and thrust belt. J Petrol Geol 24:5–28

Hessami K, Jamali F, Tabassi H (2003) Major active faults in Iran. Ministry of Science, Research and Technology, International Institute of Earthquake Engineering and Seismol. (IIEES), 1:250000 scale map

Hessami K, Nilforoushan F, Talbot C (2006) Active deformation within the Zagros Mountains deduced from GPS measurements. J Geol Soc 163:143–148

Jackson JA, Fitch T (1981) Basement faulting and the focal depths of the larger earthquakes in the Zagros Mountains (Iran). Geophys J R Astron Soc 64:561–586

Jackson JA, McKenzie D (1984) Active tectonics of the Alpine-Himalayan Belt between western Turkey and Pakistan. Geophys J R Astron Soc 77:185–264

Johnson PR (1998) Tectonic map of Saudi Arabia and adjacent areas. Deputy Ministry for Mineral Resources, USGS TR-98-3, Saudi Arabia

Johnson AC, Coppersmith KJ, Kanter LR, Cornell CA (1994) The earthquakes of stable continental regions. In: Schneider JF (ed) Assessment of large earthquake potential, 1. Electric Power Research Institute, Palo Alto

Kijko A (2004) Estimation of the maximum earthquake magnitude. Mmax Pure Appl Geophys 161:1655–1681

Kopp C, Fruehn J, Flueh ER, Reichert C, Kukowski N, Bialas J, Klaeschen D (2000) Structure of the Makran subduction zone from wide angle and reflection seismic data. Tectonophys 329:171–191

Kukowski N, Schillhorn T, Flueh ER, Huhn K (2000) Newly identified strike-slip plate boundary in the northeastern Arabian Sea. Geol 28:355–358

Kusky T, Robinson C, El-Baz F (2005) Tertiary-Quaternary faulting and uplift in the northern Oman Hajar Mountains. J Geol Soc 162:871–888

Langer CJ, Bollinger GA, Merghelani HM (1987) Aftershocks of the 13 December 1982 North Yemen earthquakes: conjugate Normal Faulting in an extensional setting. Bull Seismol Soc Am 77:2038–2055

Maggi A, Priestley K, Jackson J (2002) Focal depths of moderate and large size earthquakes in Iran. J Seismol Earthq Eng 4:1–10

McGuire RK (1976) FORTRAN computer programs for seismic risk analysis. US Geol. Survey Open-File Report No 76-67

McGuire RK (1978) FRISK: Computer program for seismic risk analysis using faults as earthquake sources. US Geological Survey Open-File Rep. pp 78–107

McKenzie DP, Sclater JG (1971) The evolution of the Indian ocean since the Late Cretaceous. Geophys J R Astron Soc 24:437–528

Minster JB, Jordan TH (1978) Present-day plate-motion. J Geophys Res 83:5331–5354

Minster JB, Jordan TH, Molnar P, Haines E (1974) Numerical modeling of instantaneous plate tectonic. Geophys J R Astron Soc 36:541–576

Musson RMW (2009) Subduction in the Western Makran: the historian's contribution. J Geol Soc Lond 166:387–391

Ni J, Barzangi M (1986) Seismotectonics of the Zagros continental collision zone and a comparison with the Himalayas. J Geophys Res 9:8205–8218

Nowroozi N (1972) Focal mechanism of earthquakes in Iran, Turkey, West Pakistan and Afghanistan and plate tectonics of the Middle East. Bull Seismol Soc Am 62:823–850

Ordaz M, Aguilar A, Arboleda J (2007) CRISIS 2007. Institute of Engineering, UNAM, Mexico-City, Mexico

Pararas-Carayannis G (2004) Seismo-dynamics of compressional tectonic collision-potential for tsunami genesis along boundaries of the Indian, Eurasian and Arabian plates. Abstract submitted to the International Conference HAZARDS 2004, Hyderabad, India 2–4 Dec 2004

Peiris N, Free M, Lubkowski Z, Hussein AT (2006) Seismic hazard and seismic design requirements for the Arabian Gulf region. First European Conference on Earthquake Engineering and Seismology, Geneva, Switzerland

Peyret DY, Hessami K, Regard V, Bellier P, Vernant P, Daigni`eres M, Nankali H, Van Gorp S, Goudarzi M, Ch′ery J, Bayer R, Rigoulay M (2009) Present-day strain distribution across the Minab-Zendan-Palami fault system from dense GPS transects. Geophys J Int 179:751–762

Plafker G, Agar R, Asker AH, Hanif M (1987) Surface effect and tectonic setting of the 13 December 1982 North Yemen earthquake. Bull Seismol Soc Am 77:2018–2037

Platt JP, Leggett JK, Alam S (1988) Slip vectors and fault mechanics in the Makran accretionary wedge, southwest Pakistan. J Geophys Res 93:7955–7973

Quittmeyer RC (1979) Seismicity variations in the Makran region of Pakistan and Iran: relation to great earthquakes. Pure Appl Geophys 117:1212–1228

Quittmeyer RC, Kafka AL (1984) Constraints on plate motions in southern Pakistan and the northern Arabian Sea from the focal mechanisms of small earthquakes. J Geophys Res 89:2444–2458

Reilinger R, McClusky S, Vernant P, Lawrence S, Ergentav S, Cakmak R, Ozener H, Kadirov F, Guliev I, Stepanyan R, Nadariya M, Hahubia G, Mahmoud S, Sakr K, ArRajehi A, Paradissis D, Al-Aydrus A, Prilepin M, Guseva T, Evren E, Dmitrotsa A, Filikov SV, Gomez F, Al-Ghazzi R, Karam G (2006) GPS constraints on continental deformation in the Africa-Arabia-Eurasia continental collision zone and implications for the dynamics of plate interactions. J Geophys Res 111:B05411

Reiter L (1990) Earthquake hazard analysis. Columbia University Press, Columbia

Rodgers A, Fowler A, Al-Amri A, Al-Enezi A (2006) The March 11, 2002 Masafi United Arab Emirates earthquake: insights into the seismotectonics of the northern Oman Mountains. Teconophys. 415:57–64

Schluter HU, Prexl A, Gaedicke C, Roeser H, Reichert C, Meyer H, Von Daniels C (2002) The Makran accretionary wedge: sediment thicknesses and ages and the origin of mud volcanoes. Mar Geol 185:219–227

Shearman DJ (1977) The geological evolution of Southern Iran, the report of the Iranian Makran expedition. Geography J 142:393–410

Slemmon DB (1977) State of the art for assessing earthquake hazard in the United States. Report 6; faults and earthquake magnitude: US Army corps of engineers, waterways experiment station, Vicksburg, Mississippi, Miscellaneous Paper S-73-1, 129

Slemmon DB (1982) Determination of design earthquake magnitude for microzonation. Third International Earthquake Microzonation Conference proceedings 1:119–130

Stafford PJ, Strasser FO, Bommer JJ (2008) An evaluation of the applicability of the NGA models to ground-motion prediction in the Euro Mediterranean region. Bull Earthq Eng 6:149–177

Stepp JC (1972) Analysis of the completeness of the earthquake sample in the Puget Sound area and its effect on statistical estimates of earthquake hazard. Proceedings of the International Conference on Microzonation for Safer Construction: Research and Application, Seattle, USA 2:897–909

Stoneley R (1974) Evolution of the continental margins bounding a former Tethys. In: Burk CA, Drake CL (eds) The geology of continental margins. Springer, New York, pp 889–903

Sykes LR, Landisman N (1964) The seismicity of East Africa, the Gulf of Aden and the Arabian and the Red Seas. Bull Seismol Soc Am 54:1927–1940

Talebian M, Jackson J (2004) A reappraisal of earthquake focal mechanisms and active shortening in the Zagros mountains of Iran. Geophys J Int 156:506–526

Vernant Ph, Nilforoushan F, Hatzfeld D, Abassi MR, Vigny C, Masson F, Nankali H, Martinod J, Ashtiani A, Bayer R, Tavakoli F, Chery J (2004) Present-day crustal deformation and plate kinematics in Middle East constrained by GPS measurements in Iran and northern Oman. Geophys J Int 157:381–398

Vita-Finzi C (2001) Neotectonics at the Arabian plate margins. J Struct Geol 23:521–530

Walker RT, Andalibi MJ, Gheitanchi MR, Jackson JA, Karegar S, Prietley K (2005) Seismological and field observationsfrom the 1990 November 6 Furg, Hormozgan, earthquake, a rare case of surface rupture in the Zagros Mountains of Iran. Geophys J Int 163:567–579

Weichert DH (1980) Estimation of the earthquakes recurrence parameters for unequal observation periods for different magnitudes. Bull Seismol Soc Am 70:1337–1346

Wells DL, Coppersmith KJ (1994) New empirical relationships among magnitude, rupture length, rupture width, rupture area, and surface displacement. Bull Seismol Soc Am 84:974–1002

Wiemer S, Giardini D, Fah D, Deichmann N, Sellami S (2008) Probabilistic seismic hazard assessment of Switzerland: best estimates and uncertainties. J Seismol 13:449–478

Yamini-Fard F, Hatzfeld D, Farahbod AM, Paul A, Mokhtari M (2007) The diffuse transition between the Zagros continental collision and the Makran oceanic subduction (Iran): microearthquake seismicity and crustal structure. Geophys J Int 170:182–194

Youngs RR, Coppersmith KJ (1985) Implications of fault slip rates and earthquake recurrence models to probabilistic seismic hazard estimates. Bull Seismol Soc Am 75:939–964

Youngs RR, Chiou SJ, Silva WJ, Humphrey JR (1997) Strong ground motion attenuation relationships for subduction zone earthquakes. Seismol Res Lett 68:58–73
Acknowledgments
We would like to express our appreciation to the Oman Ministerial Cabinet for funding this project under project number 22409017. Our sincere thanks are also due to Sultan Qaboos University, for the strong support, and encouragement. We would like to express our sincere thanks to Seismic Hazard committee members for their continuous interest and its assistance to complete this work.
About this article
Cite this article
El-Hussain, I., Deif, A., Al-Jabri, K. et al. Probabilistic seismic hazard maps for the sultanate of Oman. Nat Hazards 64, 173–210 (2012). https://doi.org/10.1007/s11069-012-0232-3
Received:

Accepted:

Published:

Issue Date:

DOI: https://doi.org/10.1007/s11069-012-0232-3
Keywords