Abstract
The low risk awareness of the residents living in flood-prone areas is usually considered among the main causes of their low preparedness, which in turns generates inadequate response to natural disasters. In this paper, we challenge this assumption by reporting on the results of a sociological research in four communities exposed to flood risk in the Eastern Italian Alps. The research design included semi-structured interviews and focus groups with key local stakeholders and a standardized questionnaire submitted to 400 residents. Results revealed that residents felt both slightly worried about flood risk and slightly prepared to face an event. Considerable differences were found between the evaluations of individual subjects as opposed to overall communities. There was also a clear discrepancy between the actual adoption of household preparatory measures and the willingness to take self-protection actions. Overall, the risk awareness was significantly higher among those residents who had been personally affected by a flood in the past, were living in isolated (vs. urban) communities, in the most risky areas or had a lower level of trust in local authorities. The improvement of residents' knowledge about their environment and the residual risk seemed to be crucial to increase risk awareness, and the same was true for the strengthening of local support networks to foster preparedness. The link between risk awareness and preparedness was not at all straightforward. Results revealed instead the complexity of residents' perspectives, attitudes, behaviours and decisions about risk-related issues.
Access options
Buy single article
Instant access to the full article PDF.
US$ 39.95
Tax calculation will be finalised during checkout.
Subscribe to journal
Immediate online access to all issues from 2019. Subscription will auto renew annually.
US$ 119
Tax calculation will be finalised during checkout.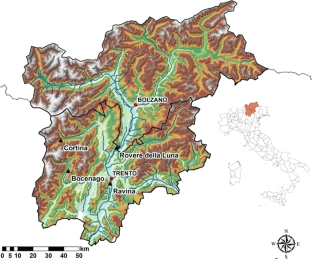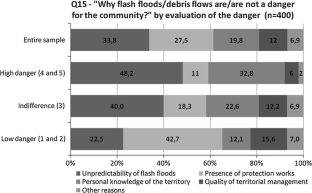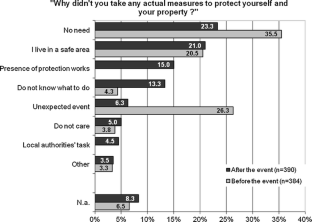 References
Ajzen I, Fishbein M (1980) Understanding attitudes and predicting social behavior. Blackwell, London

Baan P, Klijn F (2004) Flood risk perception and implications for flood risk management in the Netherlands. Int J River Basin Manag 2:113–122

Beck U (1992) Risk society: toward a new modernity. Sage, London

Benessia A, Funtowicz S, Bradshaw S, Ferri F, Ra′ez-Luna EF, Medina CP (2012 forthcoming) Hybridizing sustainability: towards a new praxis for the present human predicament. Sustain Sci. doi:10.1007/s11625-011-0150-4

Borga M, Anagnostou EN, Blöschl G, Creutin JD (2010) Flash Floods: observations and analysis of hydrometeorological controls. J Hydrol 394(1–2):1–3. doi:10.1016/j.jhydrol.2010.07.048

Borga M, Anagnostou EN, Blöschl G, Creutin JD (2011) Flash flood forecasting, warning and risk management: the HYDRATE project. Environ Sci Policy 14:834–844

Burby R, French S (1981) Coping with floods: the land use management paradox. J Am Plan As 47:289–300

Burningham K, Fielding J, Thrush J (2008) It'll never happen to me: understanding public awareness of local flood risk. Disasters 31:216–238

Bye P, Horner M, Easter 1998 floods (1998) Report by the independent review team to the board of environment agency. Environment Agency 1, London

Carolan M (2007) The precautionary principle and traditional risk assessment: rethinking how we assess and mitigate environmental threats. Organ Environ 20:5–24

Cave B, Cragg L, Gray J, Parker D, Pygott K, Tapsell S (2009) Understanding of and response to severe flash flooding. UK Environment Agency, DEFRA, Bristol

Cialdini RB (2001) Influence: science and practice. Harper-Collins, New York

Creutin, JD, Borga M, Lutoff C, Scolobig A, Ruin I, Creton-Cazanave C (2009) Catchment dynamics and social response during flash floods: the potential of radar rainfall monitoring for warning procedures. Meteorol Appl 16:115–125. doi:10.1002/met.128; http://dx.doi.org/10.1002/met.128

De Marchi B, Scolobig A, Delli Zotti G, Del Zotto M (2007) Risk construction and social vulnerability in an Italian Alpine Region. Report T11-07-12 of FLOODsite Integrated Project, available at http://www.floodsite.net/html/publications2.asp?ALLdocs=on&Submit=View (last access: 09 August 2009)

Deeming H (2008) Increasing resilience to storm surge flooding: risks, social networks and local champions. In: Samuels P, Huntington S, Allsop W, Harrop J (eds) Flood risk management: research and practice. CRC Press, Taylor and Francis Group, London (Proceedings of the European Conference on Flood Risk Management. Research into Practice, Oxford, UK 30 Sept–2 Oct 2008), Also in CD-Rom. Leiden: CRC Press/Balkema: 945–955

Douglas M (1985) Risk acceptability according to social sciences. Routledge, London

Douglas M, Wildavsky A (1982) Risk and culture. University of California Press, Berkeley

Dynes R (1974) Organised behaviour in disasters. Ohio State University Press, Columbus

Eagly A, Chaiken S (1993) The psychology of attitudes. HBJ, London

Enserink B (2004) Thinking the unthinkable- the end of the Dutch river dike system? Exploring a new safety concept for the river management. J Risk Res 7:745–757

Fazio R, Williams C (1986) Attitude accessibility as a moderator of the attitude-perception and attitude-behaviour relations: an investigation of the 1984 presidential election. J Pers 51:505–514

Fink A, Ulbrich U, Engel H (1996) Aspects of the January 1995 flood in Germany. Weather 51:34–39

Fischhoff B, Bostrom A, Quadrel M (1993) Risk perception and communication. Annu Rev Public Health 14:183–203

Fischhoff B, Slovic P, Lichtenstein S (1979) Which risks are acceptable? Environment 21:17–38

Floyd D, Prentice-Dunn S, Rogers RW (2000) A meta-analysis of research on protection motivation theory. J Appl Soc Psychol 30:407–429

Fordham M (1992) Choice and constraint in flood hazard mitigation: the environmental attitudes of floodplain residents and engineers, PhD Dissertation, Middlesex University

Giddens A (1990) The consequences of modernity. Polity Press, Cambridge

Green C, Tunstall S, Fordham M (1991) The risks from flooding: which risks and whose perception? Disasters 15:227–236

Grothmann T, Reusswig F (2006) People at risk of flooding. Why some residents take precautionary action while others do not. Nat Hazards 38:101–120

Gruntfest E (1987) Warning dissemination and response with short lead times. In: Handmer J (ed) British and international perspectives. GEO Books, Norwich, UK, pp 191–206

Handmer J (2000) Improving flood warning in Europe: a research and policy agenda. Environ Hazard 3:19–28

Harries T (2008) Feeling secure or being secure? Why it can seem better not to protect yourself against a natural hazard. Health Risk Soc 10:479–490

Hoekstra A (1998) Appreciation of water: four perspectives. Water Policy 1:605–622

Höppner C, et al (2010) Risk communication and natural hazards, research report, Del. 5.1., CapHaz-Net social capacity building for natural hazards—toward more resilient societies, European Commission 6th framework programme http://caphaz-net.org/outcomes-results/CapHaz-Net_WP5_Risk_Communication.pdf

ISTAT (Istituto Nazionale di Statistica) (2001) 14° Censimento Generale della Popolazione e delle Abitazioni'. ISTAT, Roma

Jasanoff S (1998) The political science of risk perception. Reliab Eng Syst Saf 59:91–99

Johnson B, Covello V (1987) The social and cultural construction of risk. Reidel, Dordrecht

Kundzewicz Z, Mendel L (2003) Flood risk and vulnerability in the changing world, international conference: towards natural flood reduction strategies, Warsaw

La Piere R (1934) Attitudes versus action. Soc Forces 13:230–237

Lindell M, Whitney D (2000) Correlates of household seismic hazard adjustment adoption. Risk Anal 20:13–25

Llasat M, Siccardi F (2010) A reflection about the social and technological aspects in flood risk management—the case of the Italian Civil Protection, Nat. Hazards Earth Syst. Science 10:109–119, www.nat-hazards-earth-syst-sci.net/10/109/2010/

Marchi L, Borga M, Preciso E, Gaume E (2010) Characterisation of selected extreme flash floods in Europe and implications for flood risk management. J Hydrol 394:118–133. doi:10.1016/j.jhydrol.2010.07.017

Marradi A (2007) Metodologia delle scienze sociali. Il Mulino, Bologna

Marsh K, Wallace H (2005) The influence of attitudes on beliefs: formation and change. In: Albarracin D, Johnson B, Zanna MP (eds) The handbook of attitudes. Lawrence Erlbaum, Mahwah, New York, pp 369–397

McCarthy S, Penning-Rowsell E, Tunstall S (2008) Public attitudes to 'community based' small scale flood risk reduction measures in England: a case study in the Lower Thames catchment. In: Bosher LS (ed) Hazards and the built environment: attaining built-in resilience. Taylor & Francis, London

Miceli R, Sotigiu I, Settanni M (2008) Disaster preparedness and perception of flood risk: a study in an alpine valley in Italy. J Environ Psychol 28:164–173

Mileti D, Brien P (1992) Warnings during disaster: normalizing communicated risk. Soc Probl 39:40–57

Misztal B (1996) Trust in modern societies. Polity Press, Cambridge

Morris-Oswald O, Sinclair T (2005) Values and floodplain management: case studies from the Red River Basin, Canada. Environ Hazards 6:9–22

Mucchi Faina G (1996) L'influenza sociale. Il Mulino, Bologna

Neuwirth K, Dunwoody S, Griffin R (2000) Protection motivation and risk communication. Risk Anal 20:721–734

Norbiato D, Borga M, Degli Esposti S, Gaume E, Anquetin S (2008) Flash flood warning based on rainfall depth-duration thresholds and soil moisture conditions: an assessment for gauged and ungauged basins. J Hydrol 362:274–290. doi:10.1016/j.jhydrol.2008.08.023

Parker D, Priest S, McCarthy S (2011) Exploring surface water flood warning requirements and potential in England and Wales. Appl Geogr 31:891–900

Paton D, Smith L, Johnston D (2000) Volcanic hazards: risk perception and preparedness. N Z J Psychol 29:84–88

Peek L, Mileti D (2002) The history and future of disaster research. In: Betchell A, Churchmann S (eds) Handbook of environmental psychology. Wiley, New York, pp 511–524

Petty R, Krosnick J (1995) Attitude strength: antecedents and consequences. Lawrence Erlbaum, Mahwah, New York

Plapp T (2001) Perception and evaluation of natural risks. Institute for Insurance of the University of Karlsruhe, Karlsruhe

Plapp T, Werner U (2006) Understanding risk perception from natural hazards: examples from Germany. Risk 21:101–108

Renn O (2008) Risk governance. Coping with uncertainty in a complex world. Earthscan, London

Renn O, Rohrmann B (2000) Cross-cultural risk perception research: state and challenges. In: Renn O, Rohrmann B (eds) Cross-cultural risk perception: a survey of empirical studies. Kluwer, Dordrecht

Rosenberg M (1968) Mathematical models of social behavior. In: Lindzey G, Aronson A (eds) The handbook of social psychology, vol 1. Addison-Wesley, Massachusetts

Ross M, Mcfarland C, Fletcher G (1981) The effect of attitude on the recall of personal histories. J Pers Soc Psychol 40:627–634

Ruin I, Creutin J-D, Anquetin S, Lutoff C (2008) Human exposure to flash-floods—relation between flood parameters and human vulnerability during a storm of September 2002 in Southern France. J Hydrol. doi:10.1016/j.jhydrol.2008.07.044

Scolobig A (2008) Le dinamiche sociali del rischio e della vulnerabilità. L'esperienza di Malborghetto-Valbruna [The social dynamics of risk and vulnerability. The Malborghetto-Valbruna case-study], PhD Dissertation, Udine University

Scolobig A, Castan-Broto V, Zabala A (2008) Integrating multiple perspectives in social multicriteria evaluation of flood mitigation alternatives. The case of Malborghetto-Valbruna. Environ Plan C Gov Policy 26:1143–1161

Siegrist M, Gutscher H (2008) Natural hazards and motivation for mitigation behavior: people cannot predict the affect evoked by a severe flood. Risk Anal 28:771–778

Skiple Ibreek A, Krasovkaia I, Gottschalk L, Berg H (2005) Perception and communication of flood risk—preliminary results from the flows project. International Conference on Innovation Advances and Implementation of Flood Forecasting Technology, Norway

Slovic P (1987) Perception of risk. Science 236:280–285

Slovic P (2000) The perception of risk. Earthscan, London

Starr C (1969) Social benefit versus technological risk: what is our society willing to pay for safety? Science 165:1232–1238

Stefanovic D (2003) The contribution of philosophy to hazard assessment and decision making. Nat Hazards 28:229–247

Steinführer A, De Marchi B, Kuhlicke C, Scolobig A, Tapsell S, Tunstall S (2009) Vulnerability, resilience and social constructions of flood risk in exposed communities. A cross-country comparison of case studies in Germany, Italy and the UK, Report T11-07-12 of FLOODsite Integrated Project, Helmholtz Centre for Environmental Research—UFZ, Leipzig

Steinführer A, Kuhlicke C (2007) Social vulnerability and the 2002 flood. Country report Germany (Mulde river). Report T11-07-08 of FLOODsite Integrated Project, http://www.floodsite.net/html/publications2.asp?ALLdocs=on&Submit=View

Steinführer A, Kuhlicke C, De Marchi B, Scolobig A, Tapsell S, Tunstall S (2009), Local communities at risk from flooding: social vulnerability, resilience and recommendations for flood risk management in Europe. Helmholtz Centre for Environmental Research—UFZ, Leipzig http://www.ufz.de/data/Task11_Broschuere_7-0911060.pdf

Strydom P (2002) Risk, environment and society. Open University Press, Buckingham

Tapsell SM, Tunstall SM (2008) I wish I'd never heard of Banbury': the relationship between 'place' and the health impacts of flooding. Health Place 14:133–154

Tapsell SM, Penning-Rowsell EC, Tunstall SM, Wilson TL (2002) Vulnerability to flooding: health and social dimensions. Philos Trans R Soc A: Math Phys Eng Sci 360(1796):1511–1525

Terpstra T, Lindell M, Gutteling J (2009) Does communicating (flood) risk affect (flood) risk perceptions? Results of a quasi-experimental study. Risk Anal 29:1141–1155

Thompson M, Ellis R, Wildavsky A (1990) Cultural theory. Boulder, Co., Westview Press

Thrush D, Burningham K, Fielding J (2005) Exploring flood-related vulnerability: a qualitative study. Environment Agency R and D Report W5C-018/3 Bristol: Environment Agency ISBN 1 844324206

Tierney K, Lindell M, Perry L (2001) Facing the unexpected. Disaster preparedness and response in the United States. Joseph Henry Press, Washington

Wachinger G, Renn O, Bianchizza C, Coates T, De Marchi B, Domènech L, Jakobson I, Kuhlicke C, Lemkow L, Pellizzoni L, Piriz A, Saurí D, Scolobig A, Steinführer A, Supramaniam M, Whittle R (2010), Risk perception and natural hazards, Research Report, Del. 5.1., CapHaz-Net Social capacity building for natural hazards—toward more resilient societies, European Commission 7th Framework Programme http://caphaz-net.org/outcomes-results/CapHaz-Net_WP3_Risk_Perception.pdf, 111 pp

Weinstein N, Lyon J, Rothman A, Cuite C (2000) Preoccupation and affect as predictors of protective action following natural disaster. Br J Health Psychol 5:351–363
Acknowledgments
The research was funded by the EC Sixth Framework Programme funded project FLOODsite (http://www.floodsite.net) Contract GOCE-CT-2004-505420. ISIG and the University of Padova were partners of the project. At the time of the research, Bruna De Marchi and Anna Scolobig were both associated with ISIG. We wish to thank all the colleagues who provided us with professional advice and collaboration, the key informants in the provinces of Trento and Bolzano/Bozen, who devoted their time to our interviews and focus groups, the interviewers who conducted the surveys in Bocenago, Romagnao, Roveré della Luna and Vermiglio-Rio Cortina, and, last but not least, the survey respondents.
About this article
Cite this article
Scolobig, A., De Marchi, B. & Borga, M. The missing link between flood risk awareness and preparedness: findings from case studies in an Alpine Region. Nat Hazards 63, 499–520 (2012). https://doi.org/10.1007/s11069-012-0161-1
Received:

Accepted:

Published:

Issue Date:
Keywords
Flood risk awareness

Preparedness

Attitude-behaviour link

Communication strategies