Abstract
Temporal variation of PM10 using 2-year data (January, 2007–December, 2008) of Delhi is presented. PM10 varied from 42 to 200 μg m−3 over January to December, with an average 114.1 ± 81.1 μg m−3. They are comparable with the data collected by Central Pollution Control Board (National Agency which monitors data over the entire country in India) and are lower than National Ambient Air Quality (NAAQ) standard during monsoon, close to NAAQ during summer but higher in winter. Among CO, NO2, SO2, rainfall, temperature, and wind speed, PM10 shows good correlation with CO. Also, PM10, PM2.5, and PM1 levels on Deepawali days when fireworks were displayed are presented. In these festive days, PM10, PM2.5, and PM1 levels were 723, 588, and 536 μg m−3 in 2007 and 501, 389, and 346 μg m−3 in 2008. PM10, PM2.5, and PM1 levels in 2008 were 1.5 times lower than those in 2007 probably due to higher mixing height (446 m), temperature (23.8°C), and winds (0.36 ms−1).
Access options
Buy single article
Instant access to the full article PDF.
USD 39.95
Price includes VAT (USA)
Tax calculation will be finalised during checkout.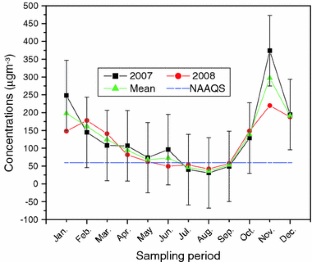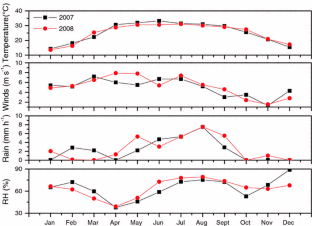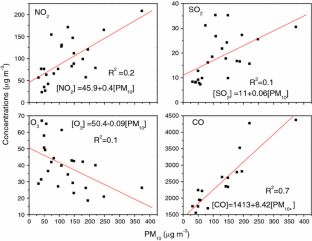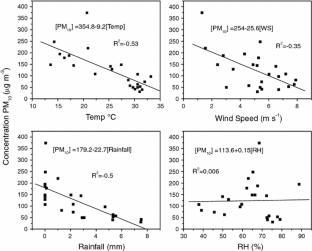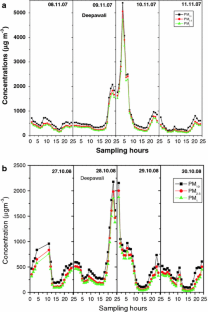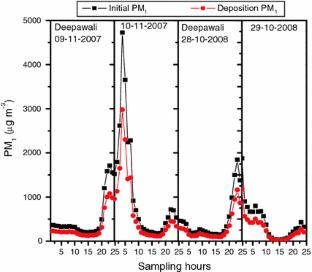 References
Agarwal R, Jayaraman G, Anand S, Mairimuthu P (2006) Assessing respiratory m morbidity through pollution status and meteorological conditions for Delhi. Environ Monitor Assess 114:489–504

Ali K, Beig G, Chate DM, Momin GA, Sahu SK, Safai PD (2009) Sink mechanism for significantly low level of ozone over the Arabian Sea during monsoon. J Geophys Res 114:D17306. doi:10.1029/2008JD011256

Attri AK, Kumar U, Jain VK (2001) Formation of ozone by fireworks. Nature 411:1015

Babu S, Moorthy KK (2001) Anthropogenic impact on aerosol black carbon mass concentration at a tropical coastal station: a case study. Curr Sci 81:1208–1214

Bach W, Daniels A, Dickinson L, Hertlein F, Morrow J, Margolis S (1975) Fireworks pollution and health. Int J Environ Stud 7:183–192

Barman SC, Singh R, Negi MPS, Bhargava SK (2008) Ambient air quality of Lucknow City (India) during use of fireworks on Diwali Festival. Environ Monit Assess 137:495–504

Chate DM (2011) Below-thunderstorm rain scavenging of urban aerosols in the health hazardous Modes. Nat Hazards 56:81–91. doi:10.1007/s11069-010-9550-5

CPCB (2001) National ambient air quality statistics of India, central pollution control board. Parivesh Bhavan, Delhi

Faiz A, Weaver C, Sinha K, Walsh M, Carbajo J (1992) Air pollution from motor vehicles: Issues and options for developing countries (pp. 280). The World Bank, Washington

Hind WC (1999) Aerosol technology: properties, behavior, and measurement of airborne particles. Wiley, New York, pp 111–170

Hirai K, Yamazaki Y, Okada K, Furuta S, Kubo K (2000) Acute eosinophilic pneumonia associated with smoke from fire works. Int Med (Japan) 39:401–403

IPCC: Climate Change (2007) The physical science basis. Working group I contribution to the fourth assessment report of the IPCC. Cambridge University Press, Cambridge

Ivan B, Kesimir S, Anica S, Zvjezdana BK (2005) PM10, CO and NOx concentrations in the Tuhobic road tunnel, Croatia. Int J Environ Pollut 25:251–262

Jain Suresh, Khare Mukesh (2008) Urban air quality in mega cities: a case study of Delhi City using vulnerability analysis. Environ Monit Assess 136:257–265

Kakoli K, Gupta AK (2007) Source apportionment of PM10 at residential and industrial sites of an urban region of Kolkata, India. Atmos Res 84:30–41

Khillare PS, Agarwal T, Shridhar V (2008) Impact of CNG implementation on PAHs concentration in the ambient air of Delhi: a comparative assessment of pre- and post-CNG scenario. Environ Monit Assess 147:223–233

Kulshrestha UC, Rao TN, Azhaguvel S, Kulshrestha MJ (2004) Emissions and accumulation of metals in the atmosphere due to crackers and sparkles during Diwali festival in India. Atmos Environ 38:4421–4425

Liu D-Y, Rutherford D, Kinsey M, Prather KA (1997) Real-time monitoring of pyrotechnically derived aerosol particles in the troposphere. Anal Chem 69:1808–1814

Madronich S (2006) Chemical evolution of gaseous air pollutants downwind of tropical megacities: Mexico City case study. Atmos Environ 40:6012–6018

Maynard AD, Kuempel DK (2005) Airborne nanostructured particles and occupational health. J Nanoparticle Res 7:587–614

Mclain JH (1980) Pyrotechnics from the viewpoint of solid state chemistry. The Franklin Institute Press, pp 155–157

Morawska I, Jayaratne ER, Mengersen K, Jamriska M, Thomas S (2002) Differences in airborne particle and gaseous concentration in urban air between weekdays and weekends. Atmos Environ 36:4375–4383

Peters A, Von Klot S, Heier M, Trentinaglia I, Horman A, Wichmann E (2004) Exposure to traffic and the onset of myocardial infarction New England. J Medi 351:1721–1730

Pope CA, Dockery DW (2006) Health effects of fine particulate air pollution: lines that connect. J Air Waste Managmt 56:709–742

Pope CA, Thyb MJ, Namboodiri MM (1995) Particulate air pollution as a predictor of mortality in a prospective study of US adults. Amer J Respi and Crit Care Medi 151:669–674

Ravindra K, Mittal AK, Grieken RV (2001) Health risk assessment of urban suspended particulate matter with special reference to polycyclic aromatic hydrocarbons: a review. Rev Environ Health 16(3):169–189

Ravindra K, Mor S, Kaushik CP (2003) Short-term variation in air quality associated with firework events: a cases study. J Environ Monit 5:260–264

Singh RP, Dey S, Holben B (2003) Aerosol behavior in Kanpur during Diwali festival. Curr Sci 84:1302–1303

Singh T, Khillare PS, Shridhar V, Agarwal T (2008) Visibility impairing aerosols in the urban atmosphere of Delhi. Environ Monit Assess 141:67–77

Vander Wal JT, Janssen LHJM (2000) Analysis of spatial and temporal variations of PM10 concentrations in The Netherland using Kalman filtering. Atmos Environ 34:3675–3687

Wang Y, Zhuang G, Xu C, An Z (2007) The air pollution caused by the burning of fireworks during the lantern festival in Beijing. Atmos Environ 41:417–431

Watson JG (2002) Visibility: science and regulation. J Air Waste Manage 52(6):628–713

Wehner B, Wiedensohler A, Heintzenberg J (2000) Submicrometer aerosol size distributions and mass concentration of the millenium fireworks 2000 in Leipzig, Germany. J Aerosol Sci 31:1489–1493
Acknowledgments
Authors express sincere gratitude to Prof. B. N. Goswami, Director IITM, Pune and Dr. P. C. S. Devara, Head, PM&A for encouragement. Thanks are also to CPCB and IMD, India for providing data of gaseous pollutants and PM10 and meteorological variables.
About this article
Cite this article
Tiwari, S., Chate, D.M., Srivastava, M.K. et al. Statistical evaluation of PM10 and distribution of PM1, PM2.5, and PM10 in ambient air due to extreme fireworks episodes (Deepawali festivals) in megacity Delhi. Nat Hazards 61, 521–531 (2012). https://doi.org/10.1007/s11069-011-9931-4
Received:

Accepted:

Published:

Issue Date:
Keywords
Hazardous particles

Fireworks

Mixing height

Air quality

Vehicular pollution