Abstract
Jakarta is the capital city of Indonesia with a population of about 9.6 million people, inhabiting an area of about 660 square-km. In the last three decades, urban development of Jakarta has grown very rapidly in the sectors of industry, trade, transportation, real estate, and many others. This exponentially increased urban development introduces several environmental problems. Land subsidence is one of them. The resulted land subsidence will also then affect the urban development plan and process. It has been reported for many years that several places in Jakarta are subsiding at different rates. The leveling surveys, GPS survey methods, and InSAR measurements have been used to study land subsidence in Jakarta, over the period of 1982–2010. In general, it was found that the land subsidence exhibits spatial and temporal variations, with the rates of about 1–15 cm/year. A few locations can have the subsidence rates up to about 20–28 cm/year. There are four different types of land subsidence that can be expected to occur in the Jakarta basin, namely: subsidence due to groundwater extraction, subsidence induced by the load of constructions (i.e., settlement of high compressibility soil), subsidence caused by natural consolidation of alluvial soil, and tectonic subsidence. It was found that the spatial and temporal variations of land subsidence depend on the corresponding variations of groundwater extraction, coupled with the characteristics of sedimentary layers and building loads above it. In general, there is strong relation between land subsidence and urban development activities in Jakarta.
Access options
Buy single article
Instant access to the full article PDF.
US$ 39.95
Tax calculation will be finalised during checkout.
Subscribe to journal
Immediate online access to all issues from 2019. Subscription will auto renew annually.
US$ 119
Tax calculation will be finalised during checkout.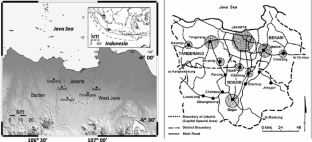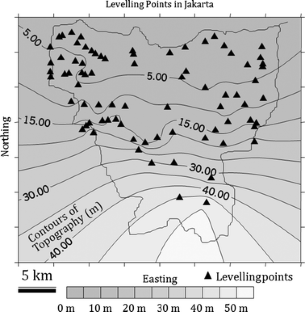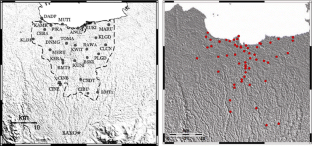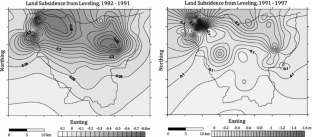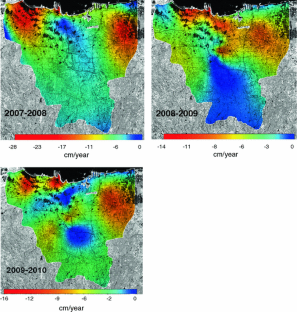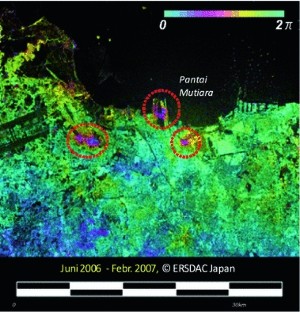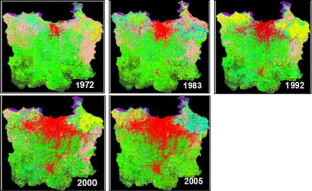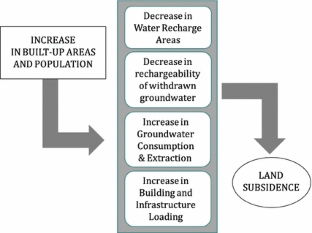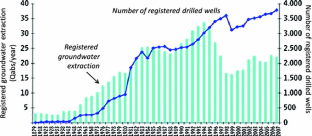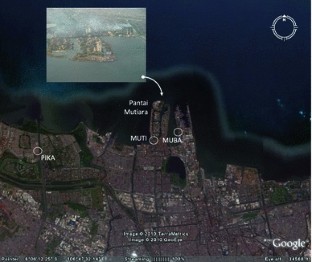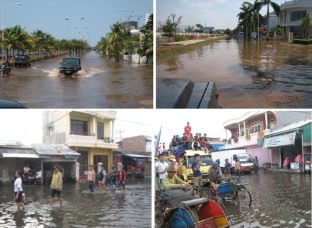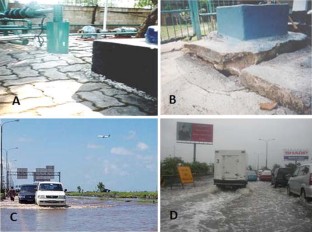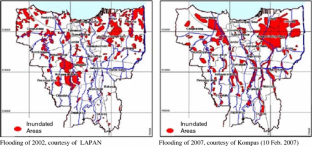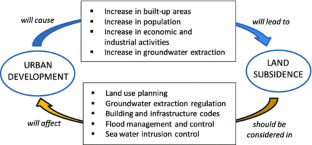 References
Abidin HZ (2005) Suitability of levelling, GPS and INSAR for monitoring land subsidence in urban areas of Indonesia. GIM Int 19(7):12–15

Abidin HZ, Djaja R, Darmawan D, Hadi S, Akbar A, Rajiyowiryono H, Sudibyo Y, Meilano I, Kusuma MA, Kahar MA, Subarya C (2001) Land subsidence of Jakarta (Indonesia) and its geodetic-based monitoring system. Natural Hazards. J Int Soc Prev Mitig Nat Hazards 23(2/3):365–387

Abidin HZ, Djaja R, Andreas H, Gamal M, Hirose K, Indonesia, Maruyama Y (2004) Capabilities and constraints of geodetic techniques for monitoring land subsidence in the urban areas of Indonesia. Geomat Res Aust 81:45–58

Abidin HZ, Andreas H, Gamal M, Wirakusumah AD, Darmawan D, Deguchi T, Maruyama Y (2008a) Land subsidence characteristics of the bandung basin, Indonesia, as estimated from GPS and InSAR. J Appl Geodesy 2(3):167–177. doi:10.1515/JAG.2008.019

Abidin HZ, Andreas H, Djaja R, Darmawan D, Gamal M (2008b) Land subsidence characteristics of Jakarta between 1997 and 2005, as estimated using GPS surveys. GPS Solut 2(1):23–32

Abidin HZ, Andreas H, Gamal M, Gumilar I, Napitupulu M, Fukuda Y, Deguchi T, Maruyama Y, Riawan E (2010a) Land subsidence characteristics of the Jakarta basin (Indonesia) and its Relation with groundwater extraction and sea level rise. In: Taniguchi M, Holman IP (eds) Groundwater response to changing climate, IAH selected papers on hydrogeology no 16, CRC Press, London, ISBN: 978-0-415-54493-1, chapter 10, pp 113–130

Abidin HZ, Andreas H, Gumilar I, Sidiq TP, Gamal M, Murdohardono D Supriyadi Fukuda Y (2010b) Studying land subsidence in semarang (Indonesia) using geodetic methods. In: Proceedings of the FIG congress 2010, FS 4D—Landslide and subsidence monitoring II, Sydney, Australia, pp 11–16 April 2010

Ali F (2011) Personal communication. Technical board member of Jakarta Water Supply Regulatory Body, Tuesday, 22 Feb

Beutler G, Bock H, Brockmann E, Dach R, Fridez P, Gurtner W, Hugentobler U, Ineichen D, Johnson J, Meindl M, Mervant L, Rothacher M, Schaer S, Springer T, Weber R (2001) Bernese GPS software version 4.2. In: Hugentobler U, Schaer S, Fridez P (eds) Astronomical Institute, University of Berne, p 515

Beutler G, Bock H, Dach R, Fridez P, Gade A, Hugentobler U, Jaggi A, Meindl M, Mervant L, Prange L, Schaer S, Springer T, Urschl C, Walser P (2007) Bernese GPS Software version 5.0. In: Dach R, Hugentobler U, Fridez P, Meindl M (eds.) Astronomical Institute, University of Berne, p 612

BPS (2011). Website of the Indonesian Central Agency for Statistics (Badan Pusat Statistik). Address: http://www.bps.go.id/, Accessed: 27 Jan 2011

Colbran N (2009) Will Jakarta be the next atlantis? excessive groundwater use resulting from a failing piped water network Law, Environment and Development Journal, 5/1, p 18, available at http://www.lead-journal.org/content/09018.pdf

Deguchi T (2005) Automatic InSAR processing and introduction of its application studies. In: Proceedings the 26th Asian conference on remote sensing, Hanoi, Vietnam

Deguchi T, Kato M, Akcin H, Kutoglu HS (2006) Automatic processing of Interferometric SAR and accuracy of surface deformation measurement. SPIE Europe Remote Sensing, Sweden

Djakapermana RD (2008) Kebijakan Penataan Ruang Jabodetabekjur, Paper dipresentasikan pada Seminar Sehari Memperingati Hari Air Sedunia, Kelompok Keahlian Teknologi Pengelolaan Lingkungan, FTSL ITB, Bandung, 31 Maret 2008

Firman T (1999) From global city to city of crisis: jakarta metropolitan region under economic turmoil. Habitat Int 23(4):447–466

Firman T (2004) New town development in Jakarta Metropolitan Region: a perspective of spatial segregation. Habitat Int 28:349–368

Firman T (2009) The continuity and change inmega-urbanization in Indonesia: A survey of Jakarta–Bandung Region (JBR) development. Habitat Int 33:327–339

Firman T, Dharmapatni IAI (1994) The challenges to sustainable development in Jakarta metropolitan region. Habitat Int 18(3):79–94

Hadipurwo S (1999) Groundwater. In: COASTPLAN JAKARTA BAY PROJECT, Coastal Environmental Geology of the Jakarta Reclamation Project and Adjacent Areas, CCOP COASTPLAN case study Report No. 2, Jakarta/Bangkok, pp 39–49

Harsolumakso AH (2001) Struktur geologi dan daerah genangan. Buletin Geol 33(1):29–45

Hutasoit LM (2001) Kemungkinan hubungan antara kompaksi alamiah dengan daerah genangan air di DKI Jakarta. Buletin Geol 33(1):21–28

Kompas (2010) Article in the Indonesian national newspaper of kompas, internet address: http://megapolitan.kompas.com/read/2010/10/02/17434474/DKI.Kurangi.Pengambilan.Air.Tanah

Leick A (2003) GPS satellite surveying, 3rd edn. Wiley, New York, ISBN 0471059307, p 435

Lo Fu-chen, Yue-man Yeung [Eds] (1995) Emerging world cities in pacific Asia. United Nations University Press, Tokyo, ISBN 92-808-0907-5, http://www.unu.edu/unupress/unupbooks/uu11ee/uu11ee15.htm

Lubis RF, Sakura Y, Delinom R (2008) Groundwater recharge and discharge processes in the Jakarta groundwater basin, Indonesia. Hydrogeol J doi: 10.1007/s10040-008-0278-1

Marfai MA, King L (2007) Monitoring land subsidence in Semarang, Indonesia. Environ Geol 53:651–659

Massonnet D, Feigl KL (1998) Radar Interferometry and its Application to Changes in the Earth's Surface. Rev Geophys 36(4):441–500

Murdohardono D, Tirtomihardjo H (1993) Penurunan tananh di Jakarta dan rencana pemantauannya. In: Proceedings of the 22nd annual convention of the indonesian association of geologists, Bandung, 6–9 December, pp 346–354

Murdohardono D, Sudarsono U (1998) Land subsidence monitoring system in Jakarta. In: Proceedings of symposium on Japan-Indonesia IDNDR Project : Volcanology, tectonics, flood and sediment hazards, Bandung, 21–23 September, pp 243–256

NGS (2011) Website of the national geodetic survey geodetic leveling, Address: http://www.ngs.noaa.gov/heightmod/Leveling/leveling_index.html, Accessed: 7 Feb 2011

Nurmaulia SL, Fenoglio-Marc L, Becker M (2010) Long term sea level change from satellite altimetry and tide gauges in the indonesian region, paper presented at the EGU General Assembly 2010, 2–7 May. Vienna, Austria

Purnomo H, Murdohardono D, Pindratno H (1999) Land Subsidence Study in Jakarta. In: Proceedings of indonesian association of geologists, vol IV : Development in engineering, environment, and numerical geology, Jakarta, 30 Nov.-1 Dec., pp 53–72

Rajiyowiryono H (1999) Groundwater and Landsubsidence Monitoring along the North Coastal Plain of Java Island. CCOP Newsl 24(3):19 July-September

Rimbaman, Suparan P (1999) Geomorphology. In: Proceeding of COASTPLAN JAKARTA BAY PROJECT, coastal environmental geology of the Jakarta reclamation project and adjacent areas, CCOP COASTPLAN case study Report No. 2, Jakarta/Bangkok, pp 21–25

Rismianto D, Mak W (1993) Environmental aspects of groundwater extraction in DKI Jakarta: Changing views. In: Proceedings of the 22nd annual convention of the indonesian association of geologists, bandung, 6–9 December, pp 327–345

Rukmana D (2008) Decreasing green areas in Jakarta, The Jakarta Post, March 17, 2008, http://www.thejakartapost.com/news/2008/03/16/decreasing-green-areas-jakarta.html

Sampurno (2001) Geomorfologi dan Daerah Genangan DKI Jakarta. Buletin Geol 33(1):1–12

Schreier G (Ed.) (1993) SAR geocoding: data and systems. Wichmaann Verlag, Karlsruhe, ISBN 3-87907-247-7, p 435

Soetrisno S, Satrio H, Haryadi T (1997) To anticipate impacts of reclamation of jakarta bay, a groundwater conservation's perspective. Paper presented at workshop on coastal and nearshore geological/oceanographical assessment of Jakarta bay : A Basis for Coastal Zone Management and Development, Jakarta, pp 25–28 June

Steinberg F (2007) Jakarta: environmental problems and sustainability. Habitat Int 31:354–365

Texier P (2008) Floods in Jakarta: when the extreme reveals daily structural constraints and mismanagement. Disaster Prev Manag 17(3):358–372

Wirakusumah AD (2008) Pemanfaatan Air Tanah di Perkotaan Paper dipresentasikan pada Seminar Sehari Memperingati Hari Air Sedunia, Kelompok Keahlian Teknologi Pengelolaan Lingkungan, FTSL ITB, Bandung, 31 Maret 2008

Yong RN, Turcott E, Maathuis H (1995) Groundwater extraction-induced land subsidence prediction: bangkok and jakarta case studies. In: Proceedings of the Fifth international symposium on land subsidence, IAHS Publication no. 234, October, pp 89–97
About this article
Cite this article
Abidin, H.Z., Andreas, H., Gumilar, I. et al. Land subsidence of Jakarta (Indonesia) and its relation with urban development. Nat Hazards 59, 1753 (2011). https://doi.org/10.1007/s11069-011-9866-9
Received:

Accepted:

Published:
Keywords
Jakarta

Land subsidence

Urban development

Leveling

GPS

InSAR