Abstract
The city of Auckland (population 1.3 million) is built on and around a potentially active basaltic intraplate volcanic system, the Auckland volcanic field. This monogenetic field of around 50 small volcanoes covers an area of 360 km2 and may have been active for ca. 250 ka. Volcano monitoring can be difficult in small distributed volcanic fields such as the AVF as the next vent location is not known, and traditional techniques such as geochemical and ground deformation monitoring may therefore not be feasible as there is no obvious target for measurements. In such cases, seismic monitoring may be the only technique suitable. High levels of background (cultural) seismic noise and extremely low levels of historical seismicity make volcano monitoring particularly challenging in the AVF. Here, we report on recent attempts to improve monitoring capability in the AVF, which include the installation of downhole seismometers and a seismic refraction study to refine the velocity model used to locate earthquakes. We conclude that downhole instrumentation in a volcano-monitoring network allows better detection of local earthquakes, but note that several downhole sensors would be required for a network to realise the full benefits of downhole instrumentation. Our refinement of the general velocity model for Auckland has some effect on calculated earthquake locations and depths, and we suggest that further work on refining the velocity model and then its incorporation into the GeoNet earthquake location system could help us be better prepared for a future AVF eruption.
Access options
Buy single article
Instant access to the full article PDF.
US$ 39.95
Tax calculation will be finalised during checkout.
Subscribe to journal
Immediate online access to all issues from 2019. Subscription will auto renew annually.
US$ 119
Tax calculation will be finalised during checkout.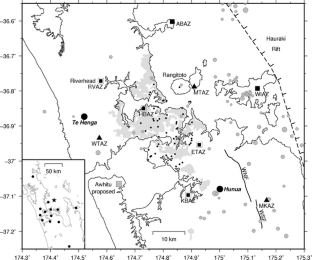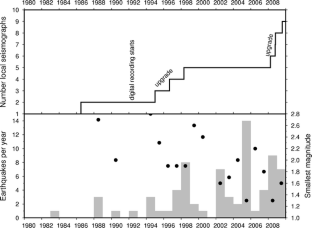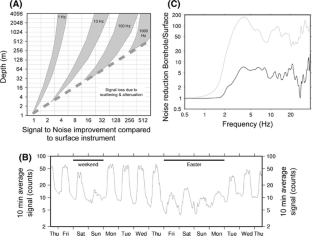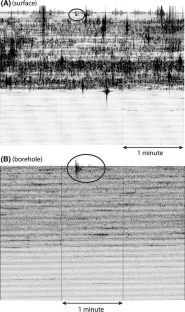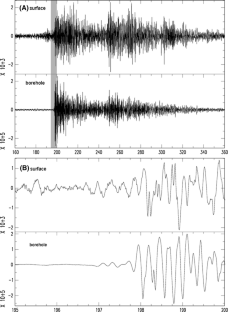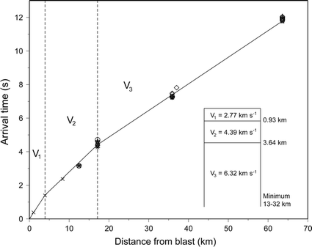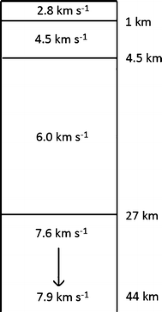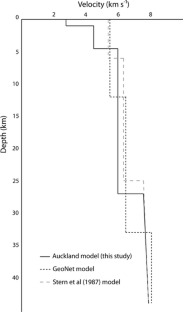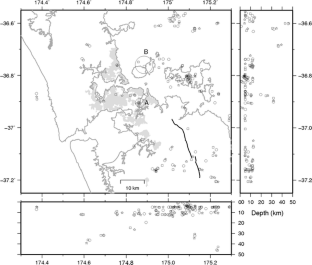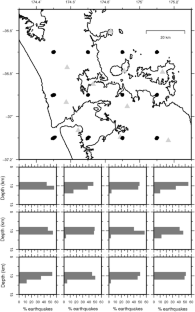 References
Allen SR, Smith IEM (1994) Eruption styles and volcanic hazard in the Auckland volcanic field, New Zealand. Geosci Rep Shizuoka Univ 20:5–14. doi:10.1016/S0012-821X(97)00064-2

Ashenden CL (2009) A velocity model of the Auckland volcanic field: using seismic and complementary methods. MSc thesis, University of Auckland

Battig E, Hearn S (2001) Numerical modelling of seismic reflection in basalt terrains. Explor Geophys 32(4):323–326. doi:10.1071/EG01323

Blake S, Wilson CJN, Smith IEM, Leonard GS (2006) Lead times and precursors of eruptions in the Auckland volcanic field, New Zealand: indications from historical analogues and theoretical modelling. GNS Sci Rep 2006/34 22

Brocher TM (2005) Compressional and shear wave velocity versus depth in the San Francisco BayArea, California: rules for USGS Bay area velocity model 05.0.0 USGS Open-File Rep 2005-1317

Carter JA, Barstow N, Pomeroy PW, Chael EP, Leahy PJ (1991) High-frequency seismic noise as a function of depth. Bull Seismol Soc Am 81:1101–1114

Cassata WS, Singer BS, Cassidy J (2008) Laschamp and Mono Lake geomagnetic excursions recorded in New Zealand. Earth Planet Sci Lett 268(1–2):76–88. doi:10.1016/j.epsl.2008.01.009

Cassidy J (2006) Geomagnetic excursion captured by multiple volcanoes in a monogenetic field. Geophys Res Lett 33:L21310. doi:10.1029/2006GL027284

Cassidy J, France SJ, Locke CA (2007) Gravity and magnetic investigation of maar volcanoes, Auckland volcanic field, New Zealand. J Volcanol Geotherm Res 159:153–163. doi:10.1016/j.jvolgeores.2006.06.007

Davy B (2008) Marine seismic reflection profiles from the Waitemata-Whangaparoa region, Auckland. NZ J Geol Geophys 51:161–173

Edbrooke SW comp (2001) Geology of the Auckland area. Institute of Geological and Nuclear Sciences 1:250 000 Geological Map 3. 1 sheet + 74 p. Lower Hutt, New Zealand, Institute of Geological and Nuclear Sciences Limited

Edbrooke SW, Crouch EM, Morgans HEG, Sykes R (1998) Late Eocene-Oligocene Te Kuiti group at Mount Roskill, Auckland, New Zealand. NZ J Geol Geophys 41:85–93

Edbrooke SW, Mazengarb C, Stephenson W (2003) Geology and geological hazards of the Auckland urban area, New Zealand. Quat Int 103:3–21. doi:10.1016/S1040-6182(02)00129-5

Gardner GH, Gardner FLW, Gregory AR (1974) Formation velocity and density–the diagnostic basics for stratigraphic traps. Geophysics 39:770–780. doi:10.1190/1.1440465

Gutenberg B, Richter CF (1954) Seismicity of the earth and associated phenomena, 2nd edn. Princeton University Press, Princeton

Haines AJ (1979) Seismic wave velocities in the uppermost mantle beneath New Zealand. NZ J Geol Geophys 22:245–257

Horspool N, Savage M, Bannister S (2006) Implications for intraplate volcanism and back-arc deformation in northwestern New Zealand, from joint inversion of receiver functions and surface waves. Geophys J Int 166:1466–1483. doi:10.1111/j.1365-246X.2006.03016.x

Kermode LO (1992) Geology of the Auckland urban area. Scale 1:50 000. Institute of Geological & Nuclear Sciences geological map 2. 1 sheet + 63 p. Lower Hutt, Inst Geol Nucl Sci

Lindsay J, Leonard G (2009) Age of the Auckland volcanic field. IESE Tech Rep 1-2009.02

Mattioli GS, Voight B, Linde AT, Sacks IS, Watts P, Hidayat D, Young SR, Widiwijayanti C, Shalev E, Malin PE, Elsworth D, Williams P, van Boskirk E, Thompson G, Syers T, Sparks RS, Schleigh B, Norton G, Neuberg J, Miller V, McWhorter N, Johnston W, Dunkley P, Clarke AB, Bass V (2005) The CALIPSO borehole project at soufriere Hills Volcano, Montserrat, BWI; status and scientific overview of prodigious dome collapse of July 2003. Eos Trans AGU 86(18): Abstract V34A-05

Maunder DE (ed) (2001) New Zealand seismological report 1999. Seismol Obs Bull E-182, Institute of Geological & Nuclear Science. Science Report 2001/7

Miller C, Hurst AW, Beavan RJ (2001) GPS strategies for detecting signs of a new eruption site within a volcanic field. In: Stewart C (ed) Cities on volcanoes 2. Auckland, New Zealand, 12–16 February 2001: abstracts. Inst Geol Nucl Sci Inf Ser 49:98

Molloy C, Shane P, Augustinus P (2009) Eruption recurrence rates in a basaltic volcanic field based on tephra layers in maar sediments: implications for hazards in the Auckland volcanic field. Geol Soc Am Bull (in press). doi:10.1130/B26447.1

Nur A, Simmons G (1969) The effect of saturation on velocity in low porosity rocks. Earth Planet Sci Lett 7:183–193

Sandiford A, Alloway B, Shane P (2001) A 28 000–6600 cal year record of local and distal volcanism preserved in a paleolake, Auckland, New Zealand. NZ J Geol Geophys 44:323–336

Scherwath M, Stern T, Davey F, Okaya D, Holbrook WS, Davies R, Kleffmann S (2003) Lithospheric structure in New Zealand from wide-angle P wave modelling. J Geophys Res 108(B12):2556. doi:10.1029/2002JB002286

Shane P, Hoverd J (2002) Distal record of multi-sourced tephra in Onepoto Basin, Auckland, New Zealand: implications for volcanic chronology, frequency and hazards. Bull Volcanol 64:441–454. doi:10.1007/s00445-002-0217-2

Shane P, Sandiford A (2003) Paleovegetation of marine isotope stages 4 and 3 in northern New Zealand and the age of the widespread Rotoehu Tephra. Quat Res 59:420–429. doi:10.1016/S0033-5894(03)00044-9

Sherburn S, White RS (2005) Crustal seismicity in Taranaki, New Zealand using accurate hypocentres from a dense network. Geophys J Int 162:494–506. doi:10.1111/j.1365-246X.2005.02667.x

Sherburn S, Scott B, Olsen J, Miller C (2007) Monitoring seismic precursors to an eruption from the Auckland volcanic field, New Zealand. NZ J Geol Geophys 50:1–11

Smith IEM, Blake S, Wilson CJN, Houghton BF (2008) Deep-seated fractionation during the rise of a small-volume basalt magma batch: Crater Hill, Auckland, New Zealand. Contrib Mineral Petrol 155:511–527. doi:10.1007/s00410-007-0255-z

Stehly L, Fry B, Campillo M, Shapiro NM, Guilbert J, Boschi L, Giardini D (2009) Tomography of the Alpine region from observations of seismic ambient noise. Geophys J Int 178(1):338–350. doi:10.1111/j.1365-246X.2009.04132.x

Stern T, Smith EGC, Davey FJ (1987) Crustal and upper mantle structure of the northwestern North Island, New Zealand, from seismic refraction data. Geophys J R Astron Soc 91:913–936. doi:10.1111/j.1365-246X.1987.tb01674.x

Stevens NF, Miller CA, Williams CA (2004) InSAR as a volcano monitoring tool for Auckland City, New Zealand. Eos Trans AGU 85, Fall Meet Suppl GS1A-0061

Withers MM, Aster RC, Young CJ, Chael EP (1996) High-frequency analysis of seismic background noise as a function of wind speed and shallow depth. Bull Seism Soc Am 86:1507–1515

Yokoyama I, de la Cruz-Reyna S (1990) Precursory earthquakes of the 1943 eruption of Paricutin volcano, Michoacan, Mexico. J Volcanol Geotherm Res 44:265–281
Acknowledgments
We gratefully acknowledge the New Zealand Earthquake Commission (EQC) and the GeoNet Project for supporting this research. We also thank Perry Aggregates and Winstone Aggregates for allowing us access to their quarries and blast schedules. We thank our two anonymous reviewers, whose comments greatly improved the quality of the manuscript.
About this article
Cite this article
Ashenden, C.L., Lindsay, J.M., Sherburn, S. et al. Some challenges of monitoring a potentially active volcanic field in a large urban area: Auckland volcanic field, New Zealand. Nat Hazards 59, 507–528 (2011). https://doi.org/10.1007/s11069-011-9773-0
Received:

Accepted:

Published:

Issue Date:
Keywords
Auckland volcanic field

Downhole seismometer

Velocity model

Monitoring network