Abstract
In this paper, we present an approach to modelling multicriteria flood vulnerability which integrates the economic, social and ecological dimension of risk and coping capacity. We start with an existing multicriteria risk mapping approach. The term risk is used here in a way that could be called a starting point view, looking at vulnerability without considering coping capacities. We extend this approach by a multicriteria modelling of coping capacities towards an end point view of vulnerability. In doing so, we explore a way to differentiate coping capacity from flood risk in each of the dimensions of vulnerability. The approach is tested in an urban case study, the city of Leipzig, Germany. Our results show that it is possible to map multicriteria risks as well as coping capacities and relate them in a simple way. However, a detailed calculation of end point vulnerability would require more detailed knowledge on the causal relationships between risk and coping capacity criteria and their relative importance.
Access options
Buy single article
Instant access to the full article PDF.
US$ 39.95
Tax calculation will be finalised during checkout.
Subscribe to journal
Immediate online access to all issues from 2019. Subscription will auto renew annually.
US$ 119
Tax calculation will be finalised during checkout.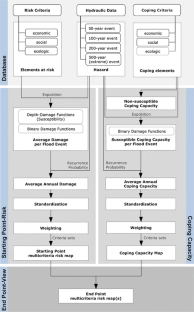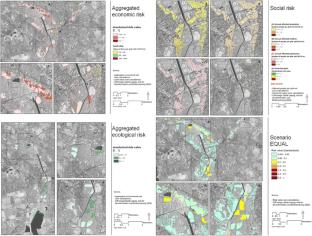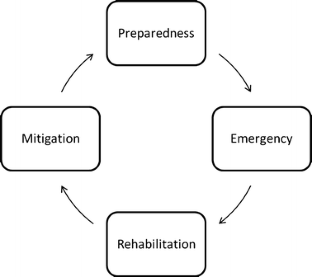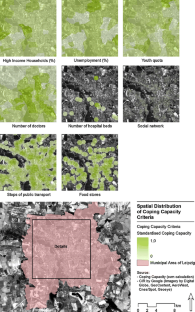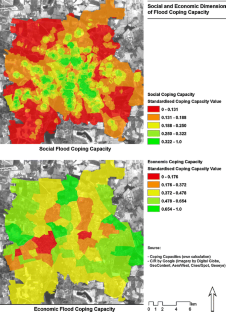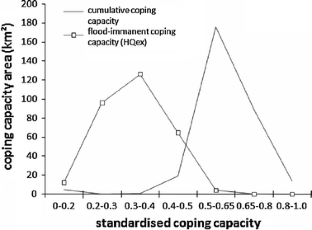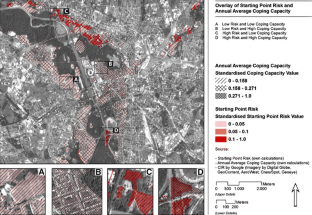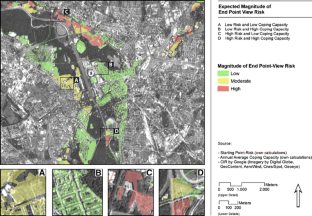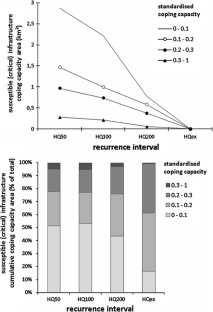 References
Adger V (2006) Vulnerability. Glob Environ Change 16:268–281

Akter T, Simonovic SP (2005) Aggregation of fuzzy views of a large number of stakeholders for multi-objective flood management decision-making. J Environ Manage 77(2):133–143

Bana E, Costa CA, Da Silva PA, Nunes Correia F (2004) Multicriteria evaluation of flood control measures: the case of Ribeira do Livramento. Water Resour Manage 18(21):263–283

Brouwer R, van Ek R (2004) Integrated ecological, economic and social impact assessment of alternative flood control policies in the Netherlands. Ecol Econ 50(1–2):1–21

Cutter SL (1996) Vulnerability to environmental hazards. Prog Human Geogr 20:529–539

Cutter SL, Mitchell JT, Scott MS (2000) Revealing the vulnerability of people and places: a case study of Geogetown County, South Carolina. Ann As Am Geogr 90:713–737

Deutscher Verband für Wasserwirtschaft und Kulturbau [DVWK] (1985) Ökonomische Methoden von Hochwasserschutzwirkungen. Arbeitsmaterialien zum methodischen Vorgehen. In: DVWK-Mitteilungen

Fekete A (2009) Validation of a social vulnerability index in context to river-floods in Germany. Nat Hazards Earth Syst Sci 9:393–403

FLOODsite Consortium (2005) Language of risk—project definitions. FLOODsite project report T32-04-01

Fuchs S (2009) Susceptibility versus resilience to mountain hazards in Austria—paradigms of vulnerability revisited. Nat Hazards Earth Syst Sci 9:337–352

Green C (2004) The evaluation of vulnerability to flooding. Disaster Prevent Manage 13:323–329

HOWAS—the web-based flood information system of Germany, Helmholtz-Zentrum Potsdam, Deutsches GeoForschungsZentrum GFZ. Available at http://nadine-ws.gfz-potsdam.de:8080/howasPortal/client/start. Last access 20 Nov 2009

International Strategy for Disaster Reduction (ISDR) (2004) Terminology: basic terms of disaster risk reduction. http://www.unisdr.org/. Accessed 30 Nov 2009

Kaplan M, Renaud FG, Lüchters G (2009) Vulnerability assessment and protective effects of coastal vegetation during the 2004 Tsunami in Sri Lanka. Nat Hazards Earth Syst Sci 9:1479–1494

Kelly PM, Adger WN (2000) Theory and practice in assessing vulnerability to climate change and facilitating adaptation. Clim Change 47:325–352

Kienberger S, Land S, Zeil P (2009) Spatial vulnerability units—expert-based spatial modelling of socio-economic vulnerability in the Salzach catchment, Austria. Nat Hazards Earth Syt Sci 9:767–778

King D (2001) Uses and limitations of socioeconomic indicators of community vulnerability to natural hazards: data and disasters in Northern Australia. Nat Haz 24:147–156

Knight FH (1921) Risk, uncertainty and profit. Hart, Schaffner & Marx, Boston

Kubal T, Haase D, Meyer V, Scheuer S (2009) Integrated urban flood risk assessment—transplanting a multicriteria approach developed for a river basin to a city. Nat Hazards Earth Syst Sci 9:1881–1895

Lebel L, Nikitina E, Kotov V, Manuta J (2006) Reducing the risks of flood disasters: assessing institutionalised capacities and practices. In: Birkmann J (ed) Measuring vulnerability and coping capacity to hazards of natural origin: concepts and methods. United Nations University, Tokyo

McCarthy JJ, Canziani OF, Leary NA, Dokken DJ, White KS (eds) (2001) Climate change 2001: impacts, adaptation, and vulnerability. Cambridge University Press, Cambridge

Merz B (2006) Hochwasserrisiken—Grenzen und Möglichkeiten der Risikoabschätzung. E. Schweizerbart'sche Verlagsbuchhandlung Stuttgart

Merz B, Thieken AH (2004) Flood risk analysis: concepts and challenges. Österreichische Wasser- und Abfallwirtschaft 56:27–34

Messner F, Meyer V (2006) Flood damage, vulnerability and risk perception—challenges for flood damage research. In: Schanze J, Zeman E, Marsalek J (eds) Flood risk management—hazards, vulnerability and mitigation measures. Springer, pp 149–167

Meyer V, Scheuer S, Haase D (2009) A multicriteria approach for flood risk mapping exemplified at the Mulde river, Germany. Nat Hazards 48:17–39

Moel H, Alphen J, Aerts J (2009) Flood maps in Europe—methods, availability and use. Nat Hazards Earth Syst Sci 9:289–301

Munda G (2006) Social multi-criteria evaluation for urban sustainability policies. Land Use Policy 23(1):86–94

O′Brian K, Eriksen S, Nygaard LP, Schjolden A (2007) Why different interpretations of vulnerability matter in climate change discourses. Clim Policy 7:73–88

Proctor W, Drechsler M (2006) Deliberative multicriteria evaluation. Environ Plann C Gov Policy 24(2):169–190

RPA (2004) Evaluating a multi-criteria analysis methodology for application to flood management and coastal defence appraisals. R&D technical report. DEFRA

Samuels P, Gouldby B, Klijn F, Messner F, van Os A, Sayers P, Schanze J, Udale-Clarke H (2009) Language of risk—project definitions. Floodsite project report T32-04-01, second edition. www.floodsite.net/html/partner_area/project_docs/T32_04_01_FLOODsite_Language_of_Risk_D32_2_v5_2_P1.pdf

Sarewitz D, Pielke R, Keykah M (2003) Vulnerability and risk; some thoughts from a political and policy perspective risk analysis. Risk Anal 23(4):805–810

Schanze J (2006) Flood risk management—a basic framework. In: Schanze J, Zeman E, Marsalek J (eds) Flood risk management—hazards, vulnerability and mitigation measures. Springer, Germany, pp 149–167

Simonovic SP, Nirupama N (2005) A spatial multi-objective decision-making under uncertainty for water resources management. J Hydroinf 7(2):117–133

Steinführer A, Kuhlicke C, De Marchi B, Scolobig A, Tapsell S, Tunstall S (2009) Local communities at risk from flooding. Leipzig

Thinh NX, Vogel R (2006) GIS-based multiple criteria analysis for land-use suitability assessment in the context of flood risk management. InterCarto—InterGIS 12, Berlin

Tkach RJ, Simonovic SP (1997) A new approach to multi-criteria decision making in water resources. J Geogr Inf Decision Anal 1(1):25–43

Villagrán de León J C (2006) Vulnerability—a conceptual and methodological review. Studies of the university: research, counsel, education, publication series of UNU-EHS 4/2006. Bonn
Acknowledgments
We would like to thank the anonymous reviewers for their comments on the manuscript.
Additional information
Contribution to the Special Issue "Vulnerability to natural hazards" in Natural Hazards.
About this article
Cite this article
Scheuer, S., Haase, D. & Meyer, V. Exploring multicriteria flood vulnerability by integrating economic, social and ecological dimensions of flood risk and coping capacity: from a starting point view towards an end point view of vulnerability. Nat Hazards 58, 731–751 (2011). https://doi.org/10.1007/s11069-010-9666-7
Received:

Accepted:

Published:

Issue Date:
Keywords
Flood vulnerability

Risk

Coping capacity

Multicriteria analysis