Abstract
Despite the regularity of disasters, social science has only begun to generate replicable knowledge about the factors which facilitate post-crisis recovery. Building on the broad variation in recovery rates within disaster-affected cities, I investigate the ability of Kobe's nine wards to repopulate after the 1995 Kobe earthquake in Japan. This article uses case studies of neighborhoods in Kobe alongside new time-series, cross-sectional data set to test five variables thought to influence recovery along with the relatively untested factor of social capital. Controlling for damage, population density, economic conditions, inequality and other variables thought important in past research, social capital proves to be the strongest and most robust predictor of population recovery after catastrophe. This has important implications both for public policies focused on reconstruction and for social science more generally.
Access options
Buy single article
Instant access to the full article PDF.
USD 39.95
Price excludes VAT (USA)
Tax calculation will be finalised during checkout.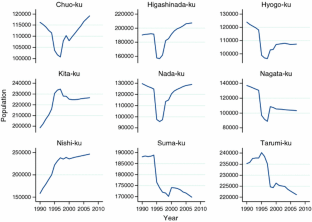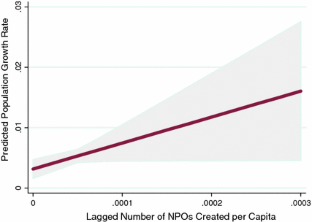 Notes
The data used in this study are available for replication on the author's DataVerse Network homepage.

The term NPO includes groups classified by the Japanese government as nonprofit public-interest entities (kōeki hōjin) along with school, religious, medical, and social welfare organizations. Pekkanen points out that in Japan, the borrowed term "NGO" typically refers to organizations involved in international work, while "NPO" involves domestically active groups (2000: 116 fn 12).

Tierney and Goltz (1997: 6) suggested that the lack of an official request from the governor, devastation of communications networks, logistical problems, the size of the event, and ambivalent attitudes toward the role of military in society were responsible for the SDF's sluggish reaction (see also Yasui 2007: 97).

According to Tsuji (2001: 218, Figures 9–1 and 9–2) the Nagata district had 35% of its population in emergency housing after the earthquake, and it took a full year for them to return to permanent housing. In a similar-sized district of Fukushima, 70% of its population moved into emergency shelters but all had moved out within 100 days.

As autoregressive distributed lag models often create high levels of multicollinearity, I tested the data for multicollinearity using the Variance Inflation Factor (VIF) approach, and found relatively low levels of interaction among the variables (with a VIF of less than 7 for all models) (Rabe-Hesketh and Everitt 2007: 69). A second concern for ADLs is that variables within them remain strictly stationary. A multivariate augmented Dickey-Fuller test indicated that we can reject the null hypothesis that the processes for 1, 2, and 3 period lags are nonstationary (that is, lack equilibrium). Further, the Hausman specification test determines whether a fixed or random effects model is most appropriate when using time-series data, and it indicated in this case that a fixed effects model fit more closely (Chi square value of 0.0001).
References
Ahern J, Galea S (2006) Social context and depression after a disaster: the role of income inequality. J Epidemiol Community Health 60(9):766–770

Albala-Bertrand JM (1993) Political economy of large natural disasters: with special reference to developing countries. Oxford, Clarendon Press

Aldrich DP (2008) Site fights: divisive facilities and civil society in Japan and the west. Cornell University Press, Ithaca and London

Aldrich DP (2010) Fixing recovery: social capital in post-crisis resilience. J Homel Secur 7 (July)

Aldrich DP, Crook K (2008) Strong civil society as a double-edged sword: siting trailers in post-katrina New Orleans. Polit Res Q 61(3):378–389

Beck N, Katz J (2004) Time-series cross-section issues: dynamics 2004. Working paper

Beck N, Katz J (2009) Modeling dynamics in time-series cross-section political economy data. Working paper

Beggs J, Haines V, Hurlbert J (1996) Situational contingencies surrounding the receipt of informal support. Soc Forces 75(1):201–222

Birkland T (2006) Lessons of disaster: policy change after catastrophic events. Georgetown University Press, Washington DC

Birner R, Wittmer H (2003) Using social capital to create political capital: how do local communities gain political influence? A theoretical approach and empirical evidence from Thailand. In: Dolsak N, Ostrom E (eds) The Commons in the New Millenium: challenges and adaptations. MIT Press, Cambridge, pp 291–334

Buckland J, Rahman M (1999) Community based disaster management during the 1997 Red River Flood in Canada. Disasters 23(2):174–191

Kobe City NPO Database http://www.kobenpomap.com/photo/hojin/120080129130902.xls

Cutter S, Emrich C (2006) Moral Hazard, Social catastrophe: the changing face of vulnerability along the hurricane coasts. Annal Am Acad Polit Soc Sci 604:102–112

Cutter S, Finch C (2008) Temporal and spatial changes in social vulnerability to natural hazards. Proc Nat Acad Sci 105(7):2301–2306

Dacy D, Kunreuther H (1969) The economics of natural disasters: implications for federal policy. The Free Press, New York

Davis DR, Weinstein DE (2002) Bones, bombs, and break points: the geography of economic activity. Am Econ Rev 92(5):1269–1289

Dynes R (2005) Community social capital as the primary basis of resilience. University of Delaware Disaster Research Center Preliminary Paper #344

Evans N (2001) Community planning in Japan: the case of Mano, and its experience in the Hanshin earthquake. Unpublished Ph.D. dissertation for School of East Asian Studies, University of Sheffield

Haas P (2004) When does power listen to truth? A constructivist approach to the policy process. J Eur Public Policy 11(4):569–592

Haas J, Eugene K, Robert W, Bowden MJ (eds) (1977) Reconstruction following disaster. MIT University Press, Cambridge

Hagiwara T, Jinushi T (2005) Hanshin Awaji Daishinsai no Higai to Fukkō–Chiikiteki Bunseki–[Damage and reconstruction of the Hanshin–Awaji earthquake: a spatial analysis]. Paper prepared for the 10th anniversary of Hanshin-Awaji earthquake memorial academic symposium, Kobe University

Haque CE (2003) Perspectives of natural disasters in East and South Asia, and the Pacific States. Nat Hazards 49:465–483

Hattori K (2003) Reconstruction of disaster and recreation of local heritage. From international symposium on Asian heritage, 22 August to 10 September, Malaysia

Hirschman A (1970) Exit, voice, and loyalty: responses to decline in firms, organizations, and states. Harvard University Press, Cambridge

Horne J (2005) Carving a better city. New Orleans Times-Picayune, 13 Nov

Horwich G (2000) Economic lessons of the Kobe earthquake. Econ Dev Cult Change 48(3):521–542

Hoyois P, Below R, Scheuren J-M, Guha-Sapir D (2007) Annual disaster review: numbers and trends. Centre for Research on the Epidemiology of Disasters

Ikeda H (2004) Comparative study of housing recovery measures taken after the 1999 Kocaeli earthquake and the 1995 Hanshin-Awaji earthquakes. In: Nakabayshi I (ed) A comparative study of urban reconstruction processes after earthquakes in Turkey, Taiwan, and Japan. Graduate School of Urban Science, Tokyo Metropolitan University, Tokyo, pp 33–38

Inui K (1998) Sanka ni okeru Goui/kettei to wa nanika [What is an agreement/decision in participation?], in Hanshin-Awaji Daishinsai Fukkō ni kansuru Tokubetu Chōsa Kenkyū Purojekuto (The Great Hanshin-Awaji Earthquake Reconstruction Reseach Project) (ed) Hanshin-Awaji Daishinsai Sōgo Kenkyū Ronbunshu [the Great Hanshin-Awaji Earthquake Comprehensive Study Report]. Kyoto, Japan, Ritsumeikan University, pp 243–249

Kamel N, Loukaitou-Sideris A (2004) Residential assistance and recovery following the Northridge earthquake. Urban Stud 41(3):533–562

Keele L, Kelly N (2005) Dynamic models for dynamic theories: the ins and outs of lagged dependent variables. Polit Anal 14(2):186–205

Kōbe shi Sōmukyoku Tōkeika [Kobe City General Affairs Bureau, Statistics Department] (various years). Kōbe shi Tōkeisho 1990–2005 [Kobe City Statistics]. Kobe, Kobe shi

Kōbe shi Senkyo Kanri Iinkai [Kobe City Election Committee]. Kakushu Senkyo no Tōhyō Ritsu: Kekka Nado [The Rates and Results of Various Elections]. Available online at http://www.city.kobe.jp/cityoffice/60/06.html

Krishna A (2007) How does social capital grow? A seven-year study of villages in India. J Polit 69(4):941–956

Lin N (2008) A network theory of social capital. In: Castiglione D, Van Deth JW, Wolleb G (eds) The handbook of social capital. Oxford University Press, New York, pp 50–69

Liu A, Fellowes M, Mabanta M (2006) A one-year review of key indicators of recovery in post-storm New Orleans. Brookings Institution

Murosaki Y (2007) The great Hanshin earthquake and fire. J Disaster Res 2(4):298–302

Nakabayashi I, Ichiko T (2004) A comparative study of built up reconstruction measures and strategy among earthquake disasters of Hanshin Awaji, East Marmar, and 921 Chi-chi. In: Itsuki N (ed) A comparative study of urban reconstruction processes after earthquakes in Turkey, Taiwan, and Japan. Graduate School of Urban Science, Tokyo Metropolitan University, Tokyo, pp 5–14

Nakagawa Y, Shaw R (2004) Social capital: a missing link to disaster recovery. Int J Mass Emerg Disasters 22(1):5–34

Nossiter A, Eaton L (2007) Violent protest over housing in New Orleans, New York Times 21 Dec

Olshansky R (Forthcoming) Reconstruction after the Kobe earthquake. In Olshansky, Johnson, Topping (eds) Reconstruction in comparative perspective. University of Illinois

Olson M (1965) The logic of collective action; public goods and the theory of groups. Harvard University Press, Cambridge

Pais J, Elliott JR (2008) Places as recovery machines: vulnerability and neighborhood change after major hurricanes. Soc Forces 86(4):1415–1453

Pekkanen R (2000) Japan's new politics: The case of the NPO law. J Japanese Stud 26(1):111–146

Putnam R (2000) Bowling alone: the collapse and revival of American community. Simon & Schuster, New York

Rabe-Hesketh S, Everitt B (2007) A handbook of statistical analyses using stata, 4th edn. Chapman and Hall, New York

Rovai E (1994) The social geography of disaster recovery: differential community responses to the north coast earthquakes. Assoc Pac Coast Geogr Yearbook 56:49–74

Sawada Y, Shimizutani S (2008) How do people cope with natural disasters? Evidence from the Great Hanshin-Awaji (Kobe) earthquake in 1995. J Money Credit Bank 40(2–3):463–488

Sekikawa C, Sakurai M, Song M (2006) Kōreisha Shūgō Jutaku ni kansuru Kenkyū–Korekuteibu Haujingu no jirei wo Tōshite [Collective Housing for Seniors: An analysis of examples of such housing]. Kyōto Kyōiku Daigaku Kiyō [Bulletin of Kyoto University of Education], no. 109, pp 85–98

Shaw R, Goda K (2004) From disaster to sustainable civil society: the Kobe experience. Disasters 28(1):16–40

Sinclair B, Hall T, Alvarez RM (2008) Flooding the vote: Hurricane Katrina and voter participation in New Orleans. Voting technology project of caltech working paper #70

Sorensen A (2007) Changing governance of shared spaces: Machizukuri as institutional innovation. In: Sorensen A, Funck C (eds) Living cities in Japan: citizens' movements, Machizukuri and local environments. Routledge, London, pp 56–90

Stallings R, Quarantelli EL (1985) Emergent citizen groups and emergency management. Public Adm Rev 45:93–100

Suga M (2007) Atarashii komyuniti no keisei to tenkai [Forming and developing a new community] in Masaki Urano, Jun Oyane, and Tadahiro Yoshikawa eds., Fukkō komyuniti ron Nyūmon [Introduction to Theories on the Reconstruction of Communities]. Kōbundō Publishers, Tokyo, pp 98–100

Tajika E (2000) Public support for livelihood rebuilding. In: Committee for global assessment of earthquake countermeasures, Hyogo Prefectural Government (ed) Assessment reports of the global assessment of earthquake countermeasures, vol 4, Support of disaster victims. Hyogo Prefecture, Hyogo Prefectural Government, pp 119–168

Tandon R, Mohanty R (2000) Civil society and governance: a research study in India. Society for Participatory Research in Asia, New Delhi

Tatsuki S (2008) The role of civil society for long-term life recovery from a Megadisaster. Paper prepared for the 2008 annual meeting of the American political science association, 28–31 Aug

Tatsuki S, Hayashi H (2002) Seven critical element model of life recovery: general linear model analyses of the 2001 Kobe Panel Survey Data. Paper prepared for the proceedings of 2nd workshop for comparative study on urban earthquake disaster management, 14–15 Feb

Tierney K, Goltz J (1997) Emergency response: lessons learned from the Kobe earthquake. University of Delaware Disaster Research Center Preliminary Paper #260

Tobin G, Montz B (1997) Natural hazards: explanation and integration. The Guilford Press, New York

Tsuji K (2001) Saigai Katei to Saisei Katei: Hanshin-Awaji Daishinsai no Shōjojishi [the course of disaster and recovery: a short epic about the Hanshin Awaji earthquake]. Kōyō Shobō Publishers, Kyoto

United States Small Business Administration [US SBA] (2006) Entrepreneurship: the foundation for economic renewal in the Gulf coast region. In: Proceedings of the 11 April conference, New Orleans, LA

Van Deth JW (2008) Measuring social capital. In: Castiglione D, Jan van Deth W, Guglielmo W (eds) The handbook of social capital. Oxford University Press, New York, pp 150–176

Warner C (2006) Census tallies Katrina changes, nut the changing New Orleans area is a moving target. Times-Picayune Wednesday, 7 June

West M (2005) Law in everyday Japan: sex, sumo, suicide, and statutes. University of Chicago Press, Chicago

Yasui E (2007) Community vulnerability and capacity in post disaster recover: the cases of Mano and Mikura neighborhoods in the Wake of the 1995 Kobe earthquake. Unpublished Ph.D. dissertation for the University of British Columbia
Acknowledgments
The author wishes to acknowledge Takahiro Yamamoto for his excellent research assistance. The archival and theoretic work for this paper was carried out while the author was on an Abe Fellowship sponsored by the Center for Global Partnership and administered by the Social Science Research Council. Pat Boling, Erik Cleven, Paul Danyi, Jay McCann, Leigh Raymond, Mark Tilton, and Laurel Weldon provided helpful feedback.
About this article
Cite this article
Aldrich, D.P. The power of people: social capital's role in recovery from the 1995 Kobe earthquake. Nat Hazards 56, 595–611 (2011). https://doi.org/10.1007/s11069-010-9577-7
Received:

Accepted:

Published:

Issue Date:

DOI: https://doi.org/10.1007/s11069-010-9577-7
Keywords
Kobe earthquake

Population recovery

Social capital

Disaster

Resilience