Abstract
Our analysis of new bathymetric data reveals six submarine landslides at the eastern Sunda margin between central Java and Sumba Island, Indonesia. Their volumes range between 1 km³ in the Java fore-arc basin up to 20 km³ at the trench off Sumba and Sumbawa. We estimate the potential hazard of each event by modeling the corresponding tsunami and its run-up on nearby coasts. Four slides are situated remarkably close to the epicenter of the 1977 tsunamigenic Sumba M w  = 8.3 earthquake. However, comparison of documented tsunami run-up heights and arrival times with our modeling results neither allows us to confirm nor can we falsify the hypothesis that the earthquake triggered these submarine landslides.
Access options
Buy single article
Instant access to the full article PDF.
US$ 39.95
Tax calculation will be finalised during checkout.
Subscribe to journal
Immediate online access to all issues from 2019. Subscription will auto renew annually.
US$ 119
Tax calculation will be finalised during checkout.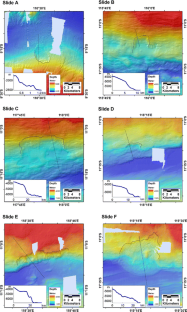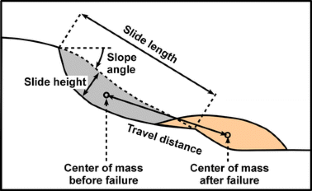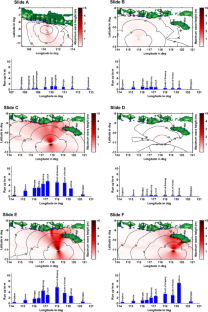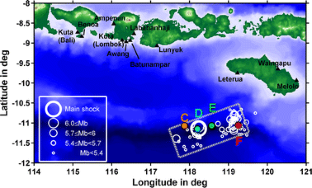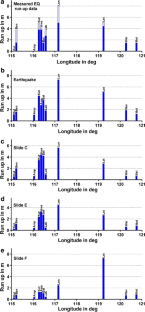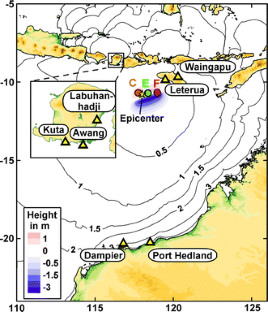 References
Bondevik S, Løvholt F, Harbitz C, Mangerud J, Dawson A, Svendsen JI (2005) The storegga slide tsunami—comparing field observations with numerical simulations. Mar Pet Geol 22:195–208

Borrero JC, Synolakis CE, Fritz H (2006) Northern sumatra field survey after the December 2004 great sumatra earthquake and Indian Ocean tsunami, great sumatra earthquakes and indian ocean tsunamis of December 26, 2004 and March 28, 2005. Earthq Spectra 22:93–104

Brune S, Babeyko AY, Gaedicke C, Ladage S (2009) Hazard assessment of underwater landslide-generated tsunamis: a case study in the Padang region, Indonesia. Nat Hazards. doi:10.1007/s11069-009-9424-x

Eva C, Cattaneo M, Merlanti F (1988) Seismotectonics of the central segment of the Indonesian Arc. Tectonophys 146:241–259

Fine IV, Rabinovich AB, Bornhold BD, Thomson RE, Kulikov EA (2005) The grand banks landslide-generated tsunami of November 18, 1929: preliminary analysis and numerical modeling. Mar Geol 215:45–57

Fritz H, Kongko W, Moore A, McAdoo B, Goff J, Harbitz C, Uslu B, Kaligeris N, Titov V, Synolakis CE (2007) Extreme run-up from the 17 July 2006 Java tsunami. Geophys Res Abstr 9:10765

Geist EL, Parsons T (2006) Probabilistic analysis of tsunami hazards. Nat Hazards 37:277–314

Grilli ST, Watts P (2005) Tsunami generation by submarine mass failure Part I: modeling, experimental validation, and sensitivity analyses. J Waterway Port Coast Ocean Eng 131(6):283–297

Gusman AR, Tanioka Y, Matsumoto H, Iwasaki SI (2009) Analysis of the tsunami generated by the great 1977 Sumba earthquake that occurred in Indonesia. Bull Seism Soc Am 99(4):2169–2179. doi:10.1785/0120080324

Hall R (1997) Cenozoic plate tectonic reconstructions of SE Asia. Geol Soc Spec Publ 126:11–23

Hamzah L, Puspito NT, Imamura F (2000) Tsunami catalog and zones in Indonesia. J Nat Disaster Sci 22(1):25–43

Harbitz CB (1992) Model simulations of tsunamis generated by the Storegga slides. Mar Geol 105:1–21

Hébert H, Piatanesi A, Heinrich P, Schindelé F (2002) Numerical modeling of the September 13, 1999 landslide and tsunami on Fatu Hiva Island (French Polynesia). Geophys Res Lett 29(10):1484

Heine C, Müller RD, Gaina C (2004) Reconstructing the lost Thethys Ocean basin: convergence history of the SE Asian margin and marine gateways. In: Clift P, Wang P, Kuhnt W, Hayes D (eds) Geophysical monograph series vol 149: continent-ocean interactions within East Asian marginal seas. AGU, Washington DC, pp 37–54

Imamura F, Shuto N, Goto C, Ogawa Y (1997) IUGG/IOC Time Project IOC Manuals and Guides No. 35, (UNESCO)

IOC, IHO, BODC (2003) Centenary edition of the GEBCO digital atlas. British Oceanographic Data Centre, Liverpool

ITDB/WLD (2007) Integrated tsunami database for the world ocean, version 6.51 of February 20, 2007. CD-ROM, Tsunami Laboratory, ICMMG SD RAS, Novosibirsk, Russia

ITIC (International Tsunami Information Center) (1977) Tsunami reports No. 1977-12

Kato K, Tsuji Y (1995) Tsunami of the Sumba earthquake of August 19, 1977. J Nat Disaster Sci 17(2):87–100

Kopp H, Kukowski N (2003) Backstop geometry and accretionary mechanics of the Sunda margin. Tectonics 22(6):1072

Kopp H, Flueh ER, Petersen CJ, Weinrebe W, Wittwer A, Meramex Scientists (2006) The Java margin revisited: evidence for subduction erosion off Java. Earth Planet Sci Lett 242:130–142

Krüger F, Ohrnberger M (2005) Tracking the rupture of the Mw=9.3 Sumatra earthquake over 1,150 km at teleseismic distance. Nature 435. doi:10.1038/nature03696

Kukowski N, Hampel A, Hoth S, Bialas J (2008) Morphotectonic and morphometric analysis of the Nazca plate and the adjacent offshore Peruvian continental slope—Implications for submarine landscape evolution. Mar Geol 254:107–120

Lavigne F, Gomez C, Giffo M, Wassmer P, Hoebreck C, Mardiatno D, Prioyono J, Paris R (2007) Field observations of the 17 July 2006 tsunami in Java. Nat Hazards Earth Syst Sci 7:177–183

Lynett P, Liu PLF (2002) A numerical study of submarine-landslide-generated waves and run-up. Proc R Soc A 458:2885

Lynett PJ, Borerro JC, Liu PLF, Synolakis CE (2003) Field survey and numerical simulations: a review of the 1998 papua new guinea tsunami. Pure Appl Geophys 160:2119–2146

Lynnes CS, Lay T (1988) Source process of the great 1977 Sumba earthquake. J Geophys Res 93(Bll):13,407–13420

Masson DG, Parson LM, Milsom J, Nichols G, Sikumbang N, Dwiyanto B, Kallagher H (1990) Subduction of seamounts at the Java trench: a view with long-range sidescan sonar. Tectonophys 185:51–65

Masson DG, Harbitz CB, Wynn RB, Pedersen G, Løvholt F (2006) Submarine landslides: processes, triggers and hazard prediction. Phil Trans R Soc A 364:2009–2039

Matsumoto T (2007) An underwater landslide or slump on an active submarine fault—A possible source of a devastating tsunami? Eos Trans AGU 88(52), Fall Meet Suppl, Abstract S53A–1018

McAdoo B, Simpson G (2005) Morphometric dating of submarine landslide scarps. Geophys Res Abstr 7, Abstr 00629

Moran K, Tappin D (2006) SEATOS 2005 Cruise Report: sumatra earthquake and tsunami off shore survey (SEATOS). 92 pp. (Online) available at http://ocean.oce.uri.edu/seatos

Müller C, Kopp H, Djajadihardja YS, Barckhausen U, Ehrhardt A, Engels M, Flueh ER, Gaedicke C, Keppler H, Lutz R, Lüschen E, Neben S, Seeber L, Dzulkarnaen DPS (2008) From subduction to collision; The Sunda-Banda Arc transition. Eos, Trans, Am Geophys Union 89:49–50

Okada Y (1985) Surface deformation due to shear and tensile faults in a half-space. Bull Seism Soc Am 75(4):1135–1154

Pelinovsky E, Kurkin A, Zaytsev A, Yalciner A, Imamura F (2006) AVI-NAMI Version 1.2

Rynn J (2002) A preliminary assessment of tsunami hazard and risk in the Indonesian region. Sci Tsunami Hazard 20(4):193

Satake K (1988) Effects of bathymetry on tsunami propagation: application of ray tracing to tsunamis. Pure Appl Geophys 126(1):27–36

Schlueter HU, Gaedicke C, Roeser HA, Schreckenberger B, Meyer H, Reichert C, Djajadihardja Y, Prexl A (2002) Tectonic features of the southern sumatra-western Java forearc of Indonesia. Tectonics 21(5):15

Simons WJF, Socquet A, Vigny C, Ambrosius BAC, Haji Abu S, Promthong C, Subarya C, Sarsito DA, Matheussen S, Morgan P, Spakman W (2007) A decade of GPS in Southeast Asia: resolving sundaland motion and boundaries. J Geophys Res 112:B06420. doi:10.1029/2005JB003868

Spence W (1986) The 1977 Sumba earthquake series: evidence for slab pull force acting at a subduction zone. J Geophys Res 91:7225–7239

Sweet S, Silver EA (2003) Tectonics and slumping in the source region of the 1998 papua new guinea tsunami from seismic reflection images. Pure Appl Geophys 160:1945–1968

Synolakis CE, Bardet JP, Borrero JC, Davies HL, Okal EA, Silver EA, Sweet S, Tappin DR (2002) The slump origin of the 1998 papua new Guinea tsunami. Proc R Soc Lond A 458:763–789

Tappin DR, Matsumoto T, Watts P, Satake K, McMurtry GM, Matsuyama M, Lafoy Y, Tsuji Y (1999) Sediment slump likely caused 1998 papua new Guinea tsunami. Eos Trans AGU 80(30):329

Tappin DR, McNeil LC, Henstock T, Mosher D (2007) Mass wasting processes—offshore Sumatra. In: Lykousis V, Sakellariou D, Locat J (eds) Advances in natural and technological hazards research vol 27: submarine mass movements and their consequences. Springer, Dordrecht, pp 327–336

Titov VV, Synolakis CE (1997) Extreme inundation flows during the Hokkaido-Nansei-Oki tsunami. Geophys Res Lett 24(11):1315–1318

Tsuji Y, Imamura F, Matsutomi H, Synolakis CE (1995a) Field survey of the east java earthquake and tsunami of June 3, 1994. Pure Appl Geophys 144(3/4):839

Tsuji Y, Matsutomi H, Imamura F, Takeo M (1995b) Damage to coastal villages due to the 1992 flores island earthquake tsunami. Pure Appl Geophys 144(3/4):481

Tsuji Y, Namegaya Y, Matsumoto H, Iwasaki SI, Kanbua W, Sriwichai M, Meesuk V (2006) The 2004 Indian tsunami in Thailand: surveyed runup heights and tide gauge records. Earth Planet Space 58:223–232

van der Werff W (1995) Structure and morphotectonics of the accretionary prism along the Eastern Sunda-Western Banda Arc. J Southeast Asian Earth Sci 11:309–322

Ward SN, Asphaug E (2003) Asteroid impact tsunami of 16 March, 2880. Geophys J Int 153:F6–F10

Watts P, Grilli ST, Kirby JT, Fryer GJ, Tappin DR (2003) Landslide tsunami case studies using a Boussinesq model and a fully nonlinear tsunami generation model. Nat Hazards Earth Syst Sci 3:391–402

Watts P, Grilli ST, Tappin DR, Fryer GJ (2005) Tsunami generation by submarine mass failure. II: predictive equations and case studies. J Waterway Port Coast Ocean Eng 131:283

Wells DL, Coppersmith KJ (1994) New empirical relationships among magnitude, rupture length, rupture width, rupture area, and surface displacement. Bull Seism Soc Am 84(4):974–1002
Acknowledgments
This is publication 25 of the GITEWS project (German Indonesian Tsunami Early Warning System). The project is carried out through a large group of scientists and engineers from GeoForschungsZentrum Potsdam (GFZ) and its partners from DLR, AWI, GKSS, IFM-GEOMAR, UNU, BGR, GTZ, as well as from Indonesian and other international partner institutions. Funding is provided by the German Federal Ministry for Education and Research (BMBF), grants 03TSU01 (GITEWS) and 03G0190 (SINDBAD). We would like to thank two anonymous reviewers for their careful and detailed comments.
Electronic supplementary material
Below is the link to the electronic supplementary material.
About this article
Cite this article
Brune, S., Ladage, S., Babeyko, A.Y. et al. Submarine landslides at the eastern Sunda margin: observations and tsunami impact assessment. Nat Hazards 54, 547–562 (2010). https://doi.org/10.1007/s11069-009-9487-8
Received:

Accepted:

Published:

Issue Date:
Keywords
Submarine landslide

Tsunami

Numerical modeling

Indonesia

Padang

Hazard assessment