Abstract
This study analyzes fatalities caused by rip currents in the conterminous United States for the period 1994–2007. Results include the frequency of fatalities from rip currents, their cause, and their unique spatial distributions. An analysis of historical hazard event data illustrate that, on average, 35 people reportedly die from rip currents each year in the United States. Also, similar to other hazard events where unique differences in gender vulnerability have been found, men are over six times more likely to fall victim to a deadly rip current than females. Rip current fatalities are most common in the southeastern United States, with a nonuniform spatial distribution along other Atlantic, Pacific, and Great Lakes coastlines. Physical vulnerabilities are suggested as the primary cause for the unique fatality distribution found. Temporally, summer season weekends are shown to have the more fatalities than any other time of the year. A classification scheme was developed to categorize synoptic-scale weather conditions present during deadly rip current events. More than 70% of all rip current fatalities are associated with onshore winds. Specifically, a rip current fatality is most likely when a surface high pressure system creates these onshore winds. The quality of the fatality reporting database available for researchers is also assessed.
Access options
Buy single article
Instant access to the full article PDF.
USD 39.95
Price excludes VAT (USA)
Tax calculation will be finalised during checkout.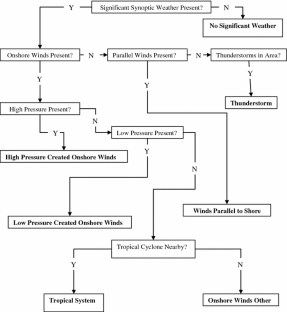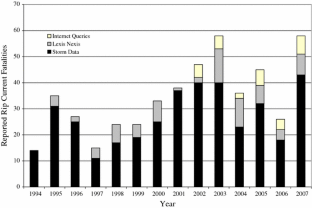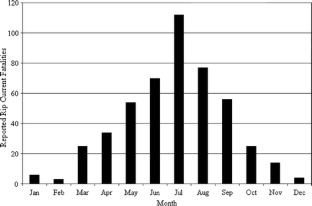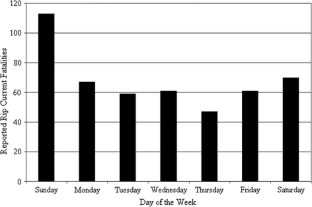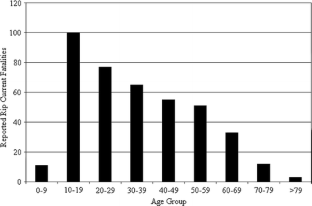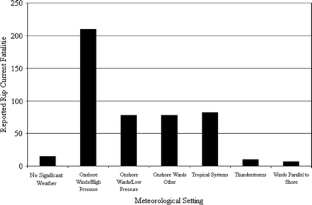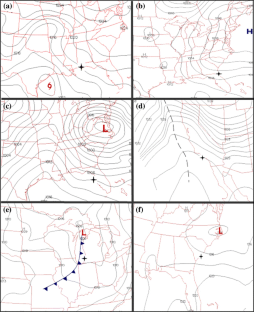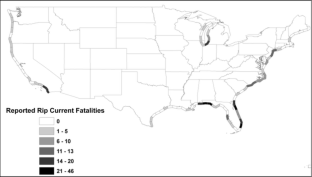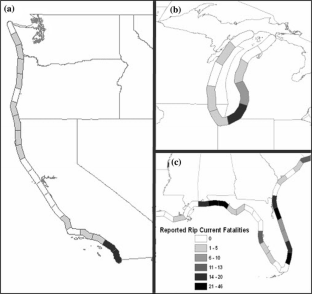 References
Ashley ST, Ashley WS (2008a) Flood fatalities in the United States. J Appl Meteorol Climatol 47:805–818

Ashley ST, Ashley WS (2008b) The storm morphology of deadly flooding events in the United States. Int J Climatol 28:493–503

Ashley WS, Gilson C (2009) A reassessment of lightning fatalities in the US. Bull Am Meteorol Soc (in press)

Ashley WS, Mote TL (2005) Derecho hazards in the United States. Bull Am Meteorol Soc 86:1577–1592

Center for Disease Control and Prevention (2009) Web-based injury statistics query and reporting system (WISQARS). Available online at http://www.cdc.gov/injury/wisqars/index.html. Accessed 30 April 2009

Changnon SA, Changnon D (1999) Record high losses from weather disasters in the United States during the 1990s: how excessive and why? Nat Hazards 13:287–300

CRS report for Congress (2006) US International borders: brief facts. Available online at http://www.fas.org/sgp/crs/misc/RS21729.pdf. Accessed 18 August 2009

Curran EB, Holle RL, Lopez RE (2000) Lightning casualties and damages in the United States from 1959 to 1994. J Clim 13:3448–3464

Doswell CA III, Burgess DW (1988) On some issues of United States tornado climatology. Mon Weather Rev 116:495–501

Doswell CA III, Brooks HE, Maddox RA (1996) Flash flood forecasting: an ingredients-based methodology. Weather Forecast 11:560–581

Florida Department of Environmental Protection (2008) Florida geological survey. Available online at http://www.dep.state.fl.us/geology/programs/coastal/coastal.htm. Accessed 28 April 2009

Gall M, Borden KA, Cutter SL (2009) When do losses count? Six fallacies of natural hazards loss data. Bull Am Meteorol Soc 90:799–809

Howland J, Hingson R, Mangione TW, Bell N, Bak S (1996) Why are most drowning victims men? Sex differences in aquatic skills and behaviors. Am J Public Health 86:93–96

Kent TH (2008) Analysis of meteorological and oceanic conditions during rip current events along the outer banks of North Carolina during the 2006 and 2007 summer seasons. Thesis, North Carolina State University

Lascody LL (1998) East central Florida rip current program. Nat Weather Dig 22:2

Lushine JB (1991a) A study of rip current drownings and weather related factors. Nat Weather Dig 16:13–19

Lushine JB (1991b) Rip currents: human impact and forecastability. In: Proceedings Coastal Zone ASCE, New York, pp 3558–3569

Lushine JB (2005) A blueprint for reducing rip current deaths in the United States. ASCE Conf. Proc. 176:26

Michigan Department of Environmental Quality (2009) Shorelines of the Great Lakes. http://www.michigan.gov/deq/0,1607,7-135-3313_3677-15959–,00.html. Accessed 18 August 2009

National Oceanic and Atmospheric Administration (2008): Interagency Oceans and Human Health Annual Report. Available online at [http://www.eol.ucar.edu/projects/ohhi/documents/jsost_iohh0908.pdf.] Accessed 28 April 2009

Sonu CJ (1972) Field observations of nearshore circulation and meandering currents. J Geophys Res 77:3232–3247

Ulrickson BL, Mass CF (1990) Numerical investigation of mesoscale circulations over the Los Angeles basin. Part II: synoptic influences and pollutant transport. Mon Weather Rev 118:2162–2184

United States Census Bureau (2009) American Factfinder. Available online at [http://factfinder.census.gov/home/saff/main.html?_lang_en.] Accessed 28 April 2009
Acknowledgments
The authors would like to thank the input from two anonymous reviewers that helped revise the initial form of this manuscript. The authors would also like to extend a special thanks to Mr. Dave Guenther (National Weather Service, Marquette, MI) for his Great Lakes rip current database and comments on an initial draft of this paper.
About this article
Cite this article
Gensini, V.A., Ashley, W.S. An examination of rip current fatalities in the United States. Nat Hazards 54, 159–175 (2010). https://doi.org/10.1007/s11069-009-9458-0
Received:

Accepted:

Published:

Issue Date:

DOI: https://doi.org/10.1007/s11069-009-9458-0
Keywords
Rip currents

Coastal hazards

Fatality distributions

Drownings