Abstract
Fatalities from tornadoes have declined dramatically over the last century in the United States. Despite the overall reduction in tornado lethality, fatalities from mobile homes remain high. In fact, research suggests that the likelihood of a fatality in a mobile home is ten times or more than that in a permanent home. This study examines possible explanations of the mobile home tornado problem, including the potential for concentration of these homes in tornado prone states, the relation to Fujita Scale rating, and incidence during the day. We find that mobile home fatalities are concentrated in the Southeastern US, significantly more likely in weaker tornadoes, and occur disproportionately at night.
Access options
Buy single article
Instant access to the full article PDF.
US$ 39.95
Tax calculation will be finalised during checkout.
Subscribe to journal
Immediate online access to all issues from 2019. Subscription will auto renew annually.
US$ 119
Tax calculation will be finalised during checkout.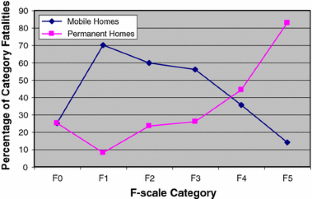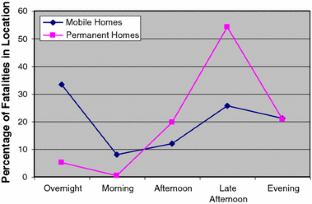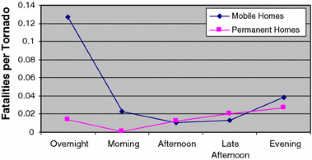 Notes
1.

The term manufactured home refers to factory as opposed to site built homes, and the older term mobile homes refer to homes capable of being moved. In tornado research the terms are used interchangeably. We will use the more popular term mobile home instead of the industry's preferred term of manufactured home.

2.

De Alessi (1996) criticizes the unconvincing evidence of economic benefits from HUD's 1994 wind load provisions. Given the lower income of mobile home household, regulations that add costs without corresponding benefits impose a particularly heavy burden on relatively low income households, similar to a regressive tax.

3.

The Fujita scale rates tornado damage on a scale from F0 (weakest) to F5 (strongest). An F0 is a minimal tornado that causes light damage, while and F5 tornado causes "incredible" damage including well built homes swept off their foundations and cars thrown more than 100 m. A description on the Fujita scale and the Enhanced Fujita scale can be found at http://www.spc.noaa.gov/faq/tornado/f-scale.html.

4.

5.

Except for the lowest fatality rate states, because eight states had no fatalities over the period, and all eight are included in our least vulnerable states.

6.

The states with the percentage of parks surveyed reporting shelters and underground shelters, respectively were Alabama (15% shelters, 7% underground), Arkansas (35%, 15%), Florida (27%,0%), Georgia (12%, 5%), Illinois (22%, 8%), Indiana (22%, 10%), Kansas (80%, 60%), Mississippi (15%, 10%), Missouri (40%, 25%), and Oklahoma (76%, 66%).

7.

The data set is constructed based on the Storm Prediction Center tornado archive, which includes one entry for each state struck by a tornado. Thus tornadoes which struck more than one state have multiple entries, and thus the total of 15,056 tornadoes refers to the tornado segments within each state.

8.

Census annual population estimates and Small Area Income Estimates are used to construct population density and income variables for tornadoes since 2000. The proportion of mobile homes for tornadoes since 2000 is from the 2000 Census. The Consumer Price Index for all urban consumers (CPI-U) from the Bureau of Labor Statistics is used to adjust for inflation.

9.

Hammer and Schmidlin (2002) documented that many people fled the path of the May 3, 1999 Oklahoma City F5 tornado in their vehicles. Conceivably mobile home residents might be less likely to leave in cars at night due to an inability to see and thus move away from an approaching tornado.
References
American Meteorological Society (1997) Policy statement: mobile homes and severe windstorms. Bull Am Meteorol Soc 78:850–851

Ashley WS (2007) Spatial and temporal analysis of tornado fatalities in the United States, 1880–2005. Weather Forecast 22:1214–1228

Ashley WS, Krmenec AJ, Schwantes R (2008) Vulnerability due to nocturnal tornadoes. Weather Forecast 23:795–807

Beamish JG, Goss RC, Aitles JH, Kim Y (2001) Not a trailer anymore: perceptions of manufactured housing. Hous Policy Debate 12:373–392

Boruff BJ, Easoz JA, Jones SD, Landry HR, Mitchem JD, Cutter SL (2003) Tornado hazards in the United States. Clim Res 2410:3–117

Brooks HE, Doswell CAIII (2002) Deaths in the 3 May 1999 Oklahoma City tornado from a historical perspective. Weather Forecast 17:354–361

Camerer CF, Kunreuther H (1989) Decision processes for low probability events: policy implications. J Policy Anal Manag 8:565–592

De Alessi L (1996) Error and bias in benefit-cost analysis: HUD's case for the wind rule. Cato J 16:129–147

Doswell CAIII, Moeller AR, Brooks HE (1999) Storm spotting and public awareness since the first tornado forecasts of 1948. Weather Forecast 14:544–557

Golden JH, Adams CR (2000) The tornado problem: forecast, warning, and response. Nat Hazards Rev 1:07–118

Golden JH, Snow JT (1991) Mitigation against extreme windstorms. Rev Geophys 29:477–504

Hammer B, Schmidlin TW (2002) Response to warnings during the 3 May 1999 Oklahoma City tornado: reasons and relative injury rates. Weather Forecast 17:577–581

Manufactured Housing Institute (2006) Understanding today's manufactured housing. Available at http://www.manufacturedhousing.org/understanding_today2006/index.htm. Accessed 8 May 2009

Marshall MI, Marsh TL (2007) Consumer and investment demand for manufactured housing units. J Hous Econ 165:9–71

Meyer RJ (2006) Why we under-prepare for hazards? In: Daniels RJ, Kettl DF, Kunreuther H (eds) On risk and disaster: lessons from hurricane Katrina. University of Pennsylvania Press, Philadelphia, pp 153–173

Schmidlin TW, Hammer B, Knabe J (2001) Tornado shelters in mobile home parks in the United States. J Am Soc Prof Emerg Plan 8:1–15

Schmidlin TW, Hammer BO, Ono Y, King PS (2009) Tornado shelter-seeking behavior and tornado shelter options among mobile home residents in the United States. Nat Hazards 48:191–201

Simmons KM, Sutter D (2005) Protection from nature's fury: an analysis of fatalities and injuries from F5 tornadoes. Nat Hazards Rev 6:82–87

Simmons KM, Sutter D (2006) Direct estimation of the cost effectiveness of tornado shelters. Risk Anal 26:945–954

Simmons KM, Sutter D (2008a) Tornado warnings, lead times and tornado casualties: an empirical investigation. Weather Forecast 23:246–258

Simmons KM, Sutter D (2008b) Manufactured home building regulations and the February 2, 2007 Florida tornadoes. Nat Hazards 46:415–425

Sutter D, Poitras M (2009) Mobile homes and tornado risk. Working paper, Department of Economics and Finance, University of Texas - Pan American
Acknowledgments
We thank Brent McAloney of NOAA for supplying us with tornado fatality location records and two referees for comments which have improved the paper.
About this article
Cite this article
Sutter, D., Simmons, K.M. Tornado fatalities and mobile homes in the United States. Nat Hazards 53, 125–137 (2010). https://doi.org/10.1007/s11069-009-9416-x
Received:

Accepted:

Published:

Issue Date:
Keywords
Tornadoes

Mobile homes

Fatalities

Injuries