Abstract
Avalanches pose a serious threat to recreational backcountry travelers in mountainous terrain. This study explores how the three main amateur user groups of avalanche terrain in western Canada (backcountry skiers, out-of-bound skiers, and snowmobile riders) balance recreational goals with safety concerns when choosing backcountry destinations under varying avalanche conditions. Using a discrete choice experiment (DCE), a stated preference technique, the study first examines the strengths and weaknesses in the decision process of the three amateur groups by comparing their responses with the choice patterns of professional mountain guides. The results show that the decision-making strategies employed by the respective amateur groups vary considerably in their level of complexity and the degree to which avalanche safety considerations are incorporated. Second, we examine the effects of a decision aid that preprocesses the most crucial pieces of avalanche hazard information on the decision preferences of the amateur groups in the DCE. The results show that a relatively simple decision aid can influence the decision-making process considerably and steer users towards more avalanche hazard sensitive behaviour.
Access options
Buy single article
Instant access to the full article PDF.
US$ 39.95
Tax calculation will be finalised during checkout.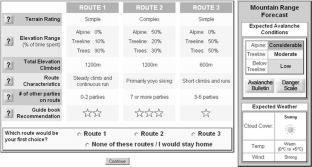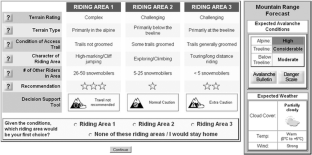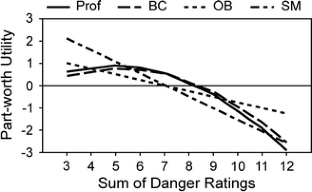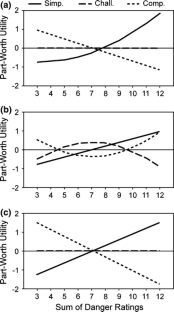 Notes
1.

In this study, the term backcountry refers to mountainous terrain where avalanche hazard is not actively controlled by professional avalanche technicians before recreationists enter the area.

2.

Backcountry skiing refers to a type of downhill skiing or snowboarding that is practiced on ungroomed and uncontrolled slopes away from ski areas. Possible means of access to these slopes are climbing skins, snowshoes, snowmobiles or helicopters. Out-of-bounds skiing, on the other hand, describes skiing or snowboarding on ungroomed and uncontrolled slopes outside, but close to ski areas primarily using ski lifts and possibly short hikes to reach the top of the mountain. Snowmobile riders use a small motorized vehicle that is propelled by a rubber track and uses ski-like runners for steering to explore vast areas of mountainous terrain.

3.

Since each survey participant only complete two decision scenarios with and two without the decision aid, it was not possible to use a latent class approach to further examine skill heterogeneity within the various user groups.
References
Adamowicz W, Boxall PC, Williams M, Louviere JJ (1998) Stated preference approaches for measuring passive use values: choice experiments and contingent valuation. Am J Agric Econ 80(1):64–75. doi:10.2307/3180269

Adams L (2005) A systems approach to human factors and expert decision-making within the Canadian avalanche phenomena. MALT Thesis. Royal Roads University, Victoria, BC, 284 pp

Ajzen I, Brown TC, Rosenthal LH (1996) Information bias in contingent valuation: effects of personal relevance, quality of information, and motivational orientation. J Environ Econ Manag 30:43–57. doi:10.1006/jeem.1996.0004

Arentze T, Borgers A, Timmermans H, DelMistro R (2003) Transport stated choice responses: effects of task complexity, presentation format and literacy. Transp Res Part E-Logist Transp Rev 39(3):229–244. doi:10.1016/S1366-5545(02)00047-9

Arnberger A, Haider W (2007) Would you displace? It depends! A multivariate visual approach to intended displacement from an urban forest trail. J Leis Res 39(2):245–265

Atkins D (2000) Human factors in avalanche accidents. In: International snow science workshop, Big Sky, MT, pp 46–51

Atkins D, McCammon I (2004) Differences between avalanche experts and novices. In: International snow science workshop, Jackson Hole, WY Sept, pp 19–24

Ben-Akiva ME, Lerman SR (1985) Discrete choice analysis: theory and application to travel demand. MIT Press, Cambridge MA, p 390

Bergstrom JC, Stoll JR (1990) An analysis of information overload with implications for survey design research. Leis Sci 12(3):265–280

Bolognesi R (2000) NivoTest: a pocket tool for avalanche risk assessing. In: International snow science workshop, Big Sky, MT, pp 554–557

Boxall PC, Adamowicz WL (2002) Understanding heterogeneous preferences in random utility models: a latent class approach. Environ Resour Econ 23(4):421–446. doi:10.1023/A:1021351721619

Bhudak Consultants Ltd (2003) Public avalanche safety program review—prepared for British Columbia Ministry of Public Safety and Solicitor General

Campbell C, Bakermans L, Jamieson B, Stethem C (2007) Current and future snow avalanche threats and mitigation measures in Canada. Canadian Avalanche Centre, Revelstoke, BC

Canadian Avalanche Association (CAA) (2002) Observation guidelines and recording standards for weather, snowpack, and avalanches. Canadian Avalanche Centre, Revelstoke BC, Canada

Corso PS, Hammitt JK, Graham JD (2001) Valuing mortality-risk reduction: using visual aids to improve the validity of contingent valuation. J Risk Uncertain 23(2):165–184. doi:10.1023/A:1011184119153

Czerlinski J, Gigerenzer G, Goldstein DG (1999) How good are simple heuristics? In: Gigerenzer G, Todd PM, Group AR (eds) Simple heuristics that make us smart. Oxford University Press, New York, NY, pp 97–118

Dash N, Gladwin H (2007) Evacuation decision making and behavioral responses: individual and household. Nat Hazards Rev 8(3):69–77. doi:10.1061/(ASCE)1527-6988(2007)8:3(69)

de Palma A, Myers GM, Papageorgiou YY (1994) Rational choice under an imperfect ability to choose. Am Econ Rev 84(3):419–440

DeShazo JR, Fermo G (2002) Designing choice sets for stated preference methods: the effects of complexity on choice consistency. J Environ Econ Manag 44(1):123–143. doi:10.1006/jeem.2001.1199

Engler M, Mersch J (2000) SnowCard: Lawinen—Risiko—Check. Verlag Martin Engler, Sulzberg, Germany, p 32

Gigerenzer G, Todd PM, ABC Research Group (1999) Simple heuristics that make us smart. Oxford University Press, New York, NY

Gladwin CH, Gladwin H, Peacock WG (2001) Modeling hurricane evacuation decisions with ethnographic methods. Int J Mass Emerg Disasters 19(1):117–143

Grijalva TC, Berrens RP, Bohara AK, Shaw WD (2002) Testing the validity of contingent behavior trip responses. Am J Agric Econ 84(2):401–414. doi:10.1111/1467-8276.00306

Haener MK, Boxall PC, Adamowicz WL (2001) Modeling recreation site choice: do hypothetical choices reflect actual behavior? Am J Agric Econ 83(3):629–642. doi:10.1111/0002-9092.00183

Haque E, Etkin D (2007) People and community as constituent parts of hazards: the significance of societal dimensions in hazards analysis. Nat Hazards 41(2):271–282. doi:10.1007/s11069-006-9035-8

Heiner RA (1983) The origin of predictable behavior. Am Econ Rev 73(4):560–595

Hensher DA (2006) How do respondents process stated choice experiments? Attribute consideration under varying information load. J Appl Econ 21(6):861–878. doi:10.1002/jae.877

Hensher DA, Rose JM, Greene WH (2005) Applied choice analysis—a primer. Cambridge University Press, New York, NY

Hoehn JP, Randall A (2002) The effect of resource quality information on resource injury perceptions and contingent values. Resour Energy Econ 24(1–2):13–31. doi:10.1016/S0928-7655(01)00051-3

Jamieson JB, Stethem CJ (2002) Snow avalanche hazards and management in Canada: challenges and progress. Nat Hazards 26(1):35–53. doi:10.1023/A:1015212626232

Jamieson B, Campbell C, Jones A (2008) Spatial and temporal scale effects in Canadian avalanche bulletins. Cold Reg Sci Technol 51(2–3):204–213. doi:10.1016/j.coldregions.2007.03.012

Klein G (1998) Sources of power: how people make decisions. MIT Press, Cambridge, MA

Klein G (2002) The fiction of optimization. In: Gigerenzer G, Selten R (eds) Bounded rationality—the adaptive toolbox. MIT Press, Cambridge, MA, pp 103–122

Larcher M (1999) Stop or go: Entscheidungsstrategie für Tourengeher. Berg Steigen 99(4):18–23

Lindell MK, Lu J-C, Prater CS (2005) Household decision making an evacuation in response to hurricane Lili. Nat Hazards Rev 6(4):171–179. doi:10.1061/(ASCE)1527-6988(2005)6:4(171)

List JA, Gallet CA (2001) What experimental protocol influence disparities between actual and hypothetical stated values? Environ Resour Econ 20(3):241–254. doi:10.1023/A:1012791822804

Loomis JB (1993) An investigation into the reliability of intended visitation behavior. Environ Resour Econ 3(2):183–191. doi:10.1007/BF00338784

Louviere JJ, Hensher DA, Swait JD (2000) Stated choice methods: analysis and application. Cambridge University Press, New York, NY

Mazzotta MJ, Opaluch JJ (1995) Decision making when choices are complex: a test of Heiner's hypothesis. Land Econ 71(4):500–515. doi:10.2307/3146714

McCammon I (2000) The role of training in recreational avalanche accidents in the United States. In: International snow science workshop, Big Sky, MT, 2–6 Oct, pp 37–45

McCammon I (2001) Decision making for wilderness leaders: strategies, traps and teaching methods. In: Wilderness risk manager's conference, Lake Geneva, WI, pp 16–29

McCammon I (2002) Evidence of heuristic traps in recreational avalanche accidents. In: International snow science workshop, Penticton, BC, 30 Sept –4 Oct

McCammon I, Haegeli P (2007) An evaluation of rule-based decision tools for travel in avalanche terrain. Cold Reg Sci Technol 47(1–2):193–206. doi:10.1016/j.coldregions.2006.08.007

McClung DM (2002a) The elements of applied avalanche forecasting—Part I: the human issues. Nat Hazards 25:111–129. doi:10.1023/A:1015665432221

McClung DM (2002b) The elements of applied avalanche forecasting—Part II: the physical issues and rules of applied avalanche forecasting. Nat Hazards 25:131–146. doi:10.1023/A:1015604600361

McClung DM, Schaerer PA (2006) The Avalanche handbook. The Mountaineers, Seattle, WA, p 347

McFadden D (1974) Conditional logit analysis of qualitative choice behaviour. In: Zarembka P (ed) Frontiers in econometrics. Academic Press, New York, NY, pp 105–142

Mozumder P, Raheem N, Talberth J, Berrens RP (2008) Investigating intended evacuation from wildfires in the wildland–urban interface: application of a bivariate probit model. For Policy Econ 10:415–423

Munter W (1997) 3 × 3 Lawinen: Entscheiden in kritischen Situationen. Agentur Pohl & Schellhammer, Garmisch Partenkirchen, Germany, p 220

Payne JW, Bettman JR, Johnson EJ (1988) Adaptive strategy selection in decision-making. J Exp Psychol Learn Mem Cogn 14(3):534–552. doi:10.1037/0278-7393.14.3.534

Pfeiffer N, Foley JM (2006) Skill and knowledge mastery of students in level I avalanche courses. In: International snow science workshop, Telluride, CO, 1–6 October

Rasid H, Haider W, Hunt LM (2000) Post-flood assessment of emergency evacuation policies in the Red River basin, Southern Manitoba. Can Geogr 44(4):369–387

Semeniuk CA, Haider W, Beardmore B, Rothley KD (2009) A multi-attribute trade-off approach for advancing the management of marine wildlife tourism: a quantitative assessment of heterogeneous visitor preferences. Aquat Conserv: Mar Freshw Ecosyst 19(2):194–208. doi:10.1002/aqc.990

Simon HA (1955) Behavioral model of rational choice. Q J Econ 69(1):99–118. doi:10.2307/1884852

Slovic P (2000) The perception of risk. Earthscan, London, p 473

Spash CL (2002) Informing and forming preferences in environmental valuation: coral reef biodiversity. J Econ Psychol 23:665–687. doi:10.1016/S0167-4870(02)00123-X

Statham G, McMahon B, Tomm I (2006) The avalanche terrain exposure scale. International Snow Science Workshop, Telluride, CO, 1–6 October, pp 491–497

Train K (2003) Discrete choice methods with simulation. Cambridge University Press, Cambridge, MA

Tsuge T, Kishimoto A, Takeuchi K (2005) A choice experiment approach to the valuation of mortality. J Risk Uncertain 31(1):73–95. doi:10.1007/s11166-005-2931-6

Weber EU, Milliman RE (1997) Perceived risk attitudes: relating risk perception to risky choice. Manag Sci 43(2):123–144. doi:10.1287/mnsc.43.2.123

Weber EU, Blais AR, Betz NE (2002) A domain-specific risk-attitude scale: measuring risk perceptions and risk behaviors. J Behav Decis Making 15(4):263–290. doi:10.1002/bdm.414

Whitehead JC (2005) Environmental risk and averting behavior: predictive validity of jointly estimated revealed and stated behavior data. Environ Resour Econ 32(4):301–316. doi:10.1007/s10640-005-4679-5

Whitehead JC, Edwards B, Van Willigen M, Maiolo JR, Kenneth W, Smith KT (2000) Heading for higher ground: factors affecting real and hypothetical hurricane evacuation behavior. Environ Hazards 2(3):133–142. doi:10.1016/S1464-2867(01)00013-4
Acknowledgments
The initial study on amateur decision preferences was supported by the ADFAR project of the Canadian Avalanche Association, which was funded by the Government of Canada through the Search and Rescue New Initiative Fund (SAR-NIF). The subsequent survey on professional decision-making was financed jointly by HeliCat Canada, the Canadian Avalanche Association and the Backcountry Lodges of British Columbia Association. Additional in-kind support was provided by Kicking Horse Mountain Resort, Zacs Tracs and Glacier National Park. The first author of this paper was supported by a postdoctoral fellowship from the Social Science and Humanities Research Council of Canada for part of this research. The authors would also like to express their thanks to Don Anderson for his advice on the statistical design of the discrete choice experiment and Paulus Mau, Grant Statham, Wayne Tucker, Matt Gunn, Lisa Ochowycz and Shannon Dixon for their contributions to this research. We also thank the two anonymous reviewers for their constructive comments.
About this article
Cite this article
Haegeli, P., Haider, W., Longland, M. et al. Amateur decision-making in avalanche terrain with and without a decision aid: a stated choice survey. Nat Hazards 52, 185 (2010). https://doi.org/10.1007/s11069-009-9365-4
Received:

Accepted:

Published:
Keywords
Decision-making

Avalanche safety

Decision aid

Discrete choice experiment

Choice complexity

Backcountry skiing

Out-of-bounds skiing

Snowmobile riding