Abstract
This study addresses the long-term trends in heat-related mortality across 29 US metropolitan areas from 1975 to 2004 to discern the spatial patterns and temporal trends in heat vulnerability. Mortality data have been standardized to account for population trends, and seasonal and interannual variability. On days when a city experienced an "oppressive" air mass, mean anomalous mortality was calculated, along with the likelihood that oppressive days led to a mortality response at least one standard deviation above the baseline value. Results show a general decline in heat-related mortality from the 1970s to 1990s, after which the decline seems to have abated. The likelihood of oppressive days leading to significant increases in mortality has shown less of a decline. The number of oppressive days has stayed the same or increased at most metropolitan areas. With US homes near saturation in terms of air-conditioning availability, an aging population is still significantly vulnerable to heat events.
Access options
Buy single article
Instant access to the full article PDF.
US$ 39.95
Tax calculation will be finalised during checkout.
Subscribe to journal
Immediate online access to all issues from 2019. Subscription will auto renew annually.
US$ 119
Tax calculation will be finalised during checkout.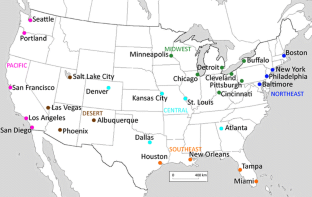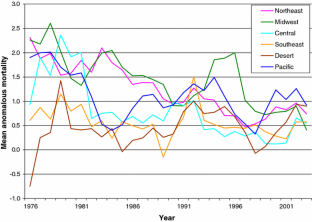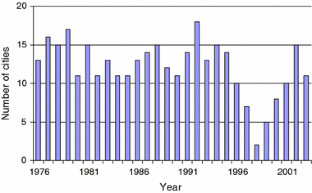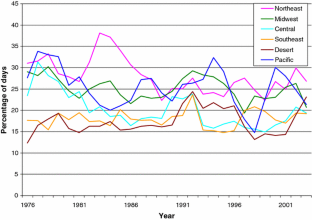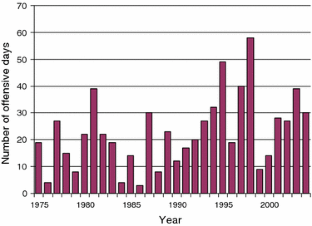 References
Anderson RN, Rosenberg HM (1998) Age standardization of death rates: implementation of the year 2000 standard. Technical report 47. National Vital Statistics Reports, Hyattsville, MD

Basu R, Samet JM (2002) Relation between elevated ambient temperature and mortality: a review of the epidemiologic evidence. Epidemiol Rev 24:190–202. doi:10.1093/epirev/mxf007

Borrell C, Mari-Dell'Olmo M, Rodriguez-Sanz M, Garcia-Olalla P, Caylà JA, Benach J, Muntaner C (2006) Socioeconomic position and excess mortality during the heat wave of 2003 in Barcelona. Eur J Epidemiol 21:633–640. doi:10.1007/s10654-006-9047-4

Bouchama A, Dehbi M, Mohamed G, Matthies F, Shoukri M, Menne B (2007) Prognostic factors in heat wave-related deaths. Arch Intern Med 167:E1–E7. doi:10.1001/archinte.167.20.ira70009

Carson C, Hajat S, Armstrong B, Wilkinson P (2006) Declining vulnerability to temperature-related mortality in London over the 20th century. Am J Epidemiol 164:77–84. doi:10.1093/aje/kwj147

Confalonieri U, Menne B, Akhtar R, Ebi KL, Hauengue M, Kovats RS, Revich B, Woodward A (2007) Human health. In: Parry ML, Canziani OF, Palutikof JP, van der Linden PJ, Hanson CE (eds) Climate change 2007: impacts adaptation and vulnerability. Contribution of working group II to the fourth assessment report of the intergovernmental panel on climate change. Cambridge University Press, Cambridge, UK, pp 391–431

Curriero FC, Heiner KS, Samet JM, Zeger SL, Strug L, Patz JA (2002) Temperature and mortality in 11 cities of the eastern United States. Am J Epidemiol 1555:80–87. doi:10.1093/aje/155.1.80

Davis RE, Knappenberger PC, Novicoff WM, Michaels PJ (2003) Decadal changes in summer mortality in U.S. cities. Int J Biometeorol 47:166–175

Davis RE, Knappenberger PC, Michaels PJ, Novicoff WM (2004) Seasonality of climate-human mortality relationships in US cities and impacts of climate change. Clim Res 26:61–76. doi:10.3354/cr026061

Dixon PG, Brommer DM, Hedquist C, Kalkstein AJ, Goodrich GB, Walter JC, Dickerson CCIV, Penny SJ, Cerveny RS (2005) Heat mortality versus cold mortality: a study of conflicting databases in the United States. Bull Am Meteorol Soc 86:937–943. doi:10.1175/BAMS-86-7-937

Donaldson GC, Keatinge WR, Nayha S (2003) Changes in summer temperature and heat-related mortality since 1971 in North Carolina, South Finland, and Southeast England. Environ Res 91:1–7. doi:10.1016/S0013-9351(02)00002-6

Ebi KL, Teisberg TJ, Kalkstein LS, Robinson L, Weiher RF (2004) Heat watch/warning systems save lives: estimated costs and benefits for Philadelphia 1995–1998. Bull Am Meteorol Soc 85:1067–1074. doi:10.1175/BAMS-85-8-1067

Gosling SN, McGregor GR, Páldy A (2007) Climate change and heat-related mortality in six cities. Part 1: model construction and validation. Int J Biometeorol 51:525–540. doi:10.1007/s00484-007-0092-9

Hajat S, Armstrong BG, Gouveia N, Wilkinson P (2005) Mortality displacement of heat-related deaths. Epidemiology 16:613–620. doi:10.1097/01.ede.0000164559.41092.2a

Harlan SL, Brazel AJ, Prashad L, Stefanov WL, Larsen L (2006) Neighborhood microclimates and vulnerability to heat stress. Soc Sci Med 63:2847–2863. doi:10.1016/j.socscimed.2006.07.030

Kalkstein LS (1998) Climate and human mortality: relationships and mitigating measures. In: Auliciems A (ed) Advances in bioclimatology, vol 5. Springer, New York, pp 161–177

Kalkstein AJ, Sheridan SC (2007) The social impacts of the heat-health watch/warning system in Phoenix, Arizona: assessing the perceived risk and response of the public. Int J Biometeorol 52:43–55. doi:10.1007/s00484-006-0073-4

Kalkstein LS, Greene JS, Mills DM, Perrin AD, Samenow JP, Cohen J-C (2008) Analog European heat waves for U.S. cities to analyze impacts on heat-related mortality. Bull Am Meteorol Soc 88:75–85. doi:10.1175/BAMS-89-1-75

Klinenberg E (2002) Heat wave: a social autopsy of disaster. University of Chicago Press, Chicago

Kovats RS, Ebi KL (2006) Heatwaves and public health in Europe. Eur J Public Health 16:592–599. doi:10.1093/eurpub/ckl049

Kovats RS, Hajat S (2008) Heat stress and public health: a critical review. Annu Rev Public Health 29:41–55. doi:10.1146/annurev.publhealth.29.020907.090843

Medina-Ramon M, Schwartz J (2007) Temperature, temperature extremes, and mortality: a study of acclimatization and effect modification of 50 US cities. Occup Environ Med 64:827–833

Meehl GA, Tebaldi C (2004) More intense, more frequent, and longer lasting heat waves in the 21st century. Science 305:994–997. doi:10.1126/science.1098704

Meehl GA, Stocker TF, Collins WD, Friedlingstein P, Gaye AT, Gregory JM, Kitoh A, Knutti R, Murphy JM, Noda A, Raper SCB, Watterson IG, Weaver AJ, Zhao Z-C (2007) Global climate projections. In: Solomon S, Qin D, Manning M, Chen Z, Marquis M, Averyt KB, Tignor M, Miller HL (eds) Climate change 2007: the physical science basis. Contribution of working group I to the fourth assessment report of the intergovernmental panel on climate change. Cambridge University Press, Cambridge, UK

Palecki MA, Changnon SA, Kunkel KE (2001) The nature and impacts of the July 1999 heat wave in the midwestern United States: learning from the lessons of 1995. Bull Am Meteorol Soc 82:1353–1367. doi:10.1175/1520-0477(2001)082<1353:TNAIOT>2.3.CO;2

Pascal M, Laiidi K, Ledrans M, Baffert E, Caserio-Schönemann C, Le Tertre A et al (2006) France's heat health watch warning system. Int J Biometeorol 50:144–153. doi:10.1007/s00484-005-0003-x

Pirard P, Vandentorren S, Pascal M, Laiidi K, Le Tertre A, Cassadou S, Ledrans M (2005) Summary of the mortality impact assessment of the 2003 heat wave in France. Eurosurveillance 10:153–156

Schär C, Vidale PL, Lüthi D, Frei C, Häberli C, Liniger MA, Appenzeller C (2004) Variability in European summer heat waves. Nature 427:332–336. doi:10.1038/nature02300

Sheridan SC (2002) The redevelopment of a weather-type classification scheme for North America. Int J Climatol 22:51–68. doi:10.1002/joc.709

Sheridan SC (2007) A survey of public perception and response to heat warnings across four North American cities: an evaluation of municipal effectiveness. Int J Biometeorol 52:3–15. doi:10.1007/s00484-006-0052-9

Sheridan SC, Kalkstein LS (2004) Progress in heat watch-warning system technology. Bull Am Meteorol Soc 85:1931–1941. doi:10.1175/BAMS-85-12-1931

Smoyer KE (1998) A comparative analysis of heat waves and associated mortality in St. Louis, Missouri-1980 and 1995. Int J Biometeorol 42:44–50. doi:10.1007/s004840050082

US Census (2008) American Housing Survey. Available: http://www.census.gov/hhes/www/housing/ahs/ahs.html. Accessed 26 Aug 2008

Whitman S, Good G, Donoghue ER, Benbow N, Shou W, Mou S (1997) Mortality in Chicago attributed to the July 1995 heat wave. Am J Public Health 87:1515–1518
Acknoweldgments
The authors wish to express their appreciation to the US National Weather Service and Environmental Protection Agency for their continued financial support of our heat/health research; and to the two anonymous reviewers for their prompt and thorough reviews.
About this article
Cite this article
Sheridan, S.C., Kalkstein, A.J. & Kalkstein, L.S. Trends in heat-related mortality in the United States, 1975–2004. Nat Hazards 50, 145–160 (2009). https://doi.org/10.1007/s11069-008-9327-2
Received:

Accepted:

Published:

Issue Date:
Keywords
Heat watch-warning system

Atmospheric hazards

Heat-related mortality

Trends

Heat vulnerability