Abstract
With rapid population growth and increasing demand for urban mobility, metropolitan areas such as Singapore, Tokyo, and Shanghai are increasingly dependent on public transport systems. Various strategies are proposed to improve the service quality and capacity of bus and subway systems. Express trains—i.e., trains that skip certain stations—are commonly used because they can travel at higher speeds, potentially reduce travel time, and serve more passengers. In this paper, we study cyclic express subway service (CESS), in which express trains provide routine transport service with cyclic (periodic) station-skip patterns that can be used in daily service. We propose an exact Mixed Integer Programming (MIP) model to optimize cyclic station-skip patterns for express trains operating in a single-track subway system. The objective is to reduce passengers' total travel time—i.e., the sum of waiting time and riding time—while considering demand intensity and distribution and train headway, frequency, and capacity. We implement the model in a set of numerical experiments using real data from Singapore. To solve the optimization problem more efficiently, we also propose a heuristic to solve large-scale problems. We observe that the exact MIP model for CESS provides optimal cyclic express service patterns within a reasonable computational time, and the heuristic method can significantly reduce the computational time and provide a good solution. The case study demonstrates that passengers' average travel time could be significantly reduced compared to local train service. We also discuss the potential transfer of passengers between express trains and evaluate its effects using numerical experiments.
Access options
Buy single article
Instant access to the full article PDF.
US$ 39.95
Tax calculation will be finalised during checkout.
Subscribe to journal
Immediate online access to all issues from 2019. Subscription will auto renew annually.
US$ 79
Tax calculation will be finalised during checkout.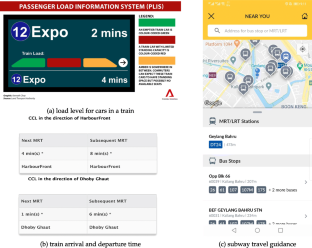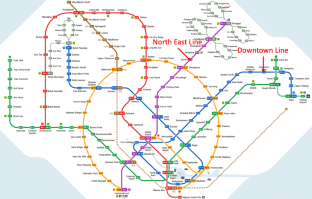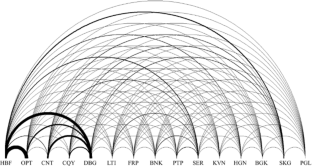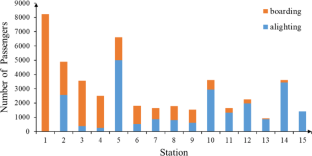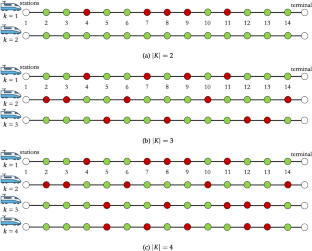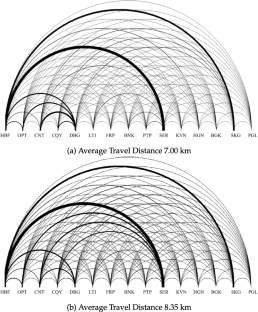 References
Cao Z, Ceder AA (2019) Autonomous shuttle bus service timetabling and vehicle scheduling using skip-stop tactic. Transp Res Part C Emerg Technol 102:370–395

Ceder A, Wilson NHM (1986) Bus network design. Transport Res B-Meth 20(4):331–344

Chen J, et al. (2015) Design of limited-stop bus service with capacity constraint and stochastic travel time. Transp Res E Logist Transp Rev 83:1–15

Chiraphadhanakul V, Barnhart C (2013) Incremental bus service design: combining limited-stop and local bus services. Public Transport 5 (1–2):53–78

Dong X, et al. (2020) Integrated optimization of train stop planning and timetabling for commuter railways with an extended adaptive large neighborhood search metaheuristic approach. Transp Res Part C Emerg Technol 117:102681

Farahani RZ, et al. (2013) A review of urban transportation network design problems. European J Oper Res 229(2):281–302

Freyss M, Giesen R, Muñoz JC (2013) Continuous approximation for skip-stop operation in rail transit. Procedia Soc Behav Sci 80:186–210

Furth PG, Rahbee AB (2000) Optimal bus stop spacing through dynamic programming and geographic modeling. Transp Res Rec 1731(1):15–22

Gao Y, Yang L, Gao Z (2018) Energy consumption and travel time analysis for metro lines with express/local mode. Transp Res D Transp Environ 60:7–27

Gao Y, et al. (2016) Rescheduling a metro line in an over-crowded situation after disruptions. Transport Res B-Meth 93:425–449

Guihaire V, Hao J-K (2008) Transit network design and scheduling: A global review. Transp Res Part A Policy Pract 42(10):1251–1273

Jamili A, Aghaee MP (2015) Robust stop-skipping patterns in urban railway operations under traffic alteration situation. Transp Res Part C Emerg Technol 61:63–74

Kaspi M, Raviv T (2013) Service-oriented line planning and timetabling for passenger trains. Transp Sci 47(3):295–311

Larrain H, Giesen R, Muñoz JC (2010) Choosing the right express services for bus corridor with capacity restrictions. Transp Res Rec 2197(1):63–70

Larrain H, Muñoz JC, Giesen R (2015) Generation and design heuristics for zonal express services. Transp Res E Logist Transp Rev 79:201–212

Leiva C, et al. (2010) Design of limited-stop services for an urban bus corridor with capacity constraints. Transport Res B-Meth 44(10):1186–1201

Liebchen C (2008) The first optimized railway timetable in practice. Transp Sci 42(4):420–435

Melkote S, Daskin MS (2001) An integrated model of facility location and transportation network design. Transp Res Part A Policy Pract 35 (6):515–538

Niu H, Zhou X, Gao R (2015) Train scheduling for minimizing passenger waiting time with time-dependent demand and skip-stop patterns: Nonlinear integer programming models with linear constraints. Transport Res B-Meth 76:117–135

Parbo J, Nielsen OA, Prato CG (2018) Reducing passengers' travel time by optimising stopping patterns in a large-scale network: A case-study in the Copenhagen Region. Transp Res Part A Policy Pract 113:197–212

Stewart C, El-Geneidy A (2016) Don't stop just yet! A simple, effective, and socially responsible approach to bus-stop consolidation. Public Transport 8(1):1–23

Suh W, Chon K-S, Rhee S-M (2002) Effect of skip-stop policy on a Korean subway system. Transp Res Rec 1793(1):33–39

Sun L, et al. (2014) Demand-driven timetable design for metro services. Transp Res Part C Emerg Technol 46:284–299

Ulusoy YY, Chien SI-J, Wei C-H (2010) Optimal all-stop, short-turn, and express transit services under heterogeneous demand. Transp Res Rec 2197(1):8–18

Yang H, Bell MGH (1998) Models and algorithms for road network design: a review and some new developments. Transp Rev 18(3):257–278

Yin Y, Madanat SM, Lu X-Y (2009) Robust improvement schemes for road networks under demand uncertainty. European J Oper Res 198 (2):470–479
Acknowledgements
This work is sponsored by National Natural Science Foundation of China (Grant No. 72061127003, 71771149). The second author (Hai Wang) gratefully acknowledges the support from Lee Kong Chian Fellowship awarded by Singapore Management University.
Additional information
Publisher's Note
Springer Nature remains neutral with regard to jurisdictional claims in published maps and institutional affiliations.
About this article
Cite this article
Yang, J., Wang, H. & Jin, J. Optimization of Station-Skip in a Cyclic Express Subway Service. Netw Spat Econ (2021). https://doi.org/10.1007/s11067-021-09543-8
Keywords
Subway

Express service

Station-skip

Single-track

Mixed integer programming