Abstract
A new approach for the estimation of bid-rent functions for residential location choice is proposed. The method is based on the bid-auction approach and considers that the expected maximum bid of the auction is a latent variable that can be related to observed price indicators through a measurement equation. The method has the advantage of allowing for the estimation of the parameters of the bid function that explain the heterogeneous preferences of households for location while simultaneously adjusting the expected maximum bid to reproduce realistic values. The model is applied and validated for a case study on the city of Brussels. Results show that the proposed model outperforms other methods for bid-rent estimation, both in terms of real estate prices and spatial distribution of agents, especially when detailed data describing the real estate goods and their prices is not available.
Access options
Buy single article
Instant access to the full article PDF.
USD 39.95
Price excludes VAT (USA)
Tax calculation will be finalised during checkout.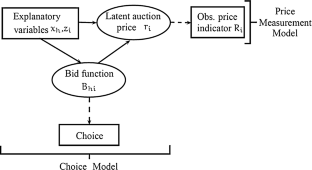 References
Alonso W (1964) Location and land use. Harvard University Press, Cambridge

Anas A (1982) Residential location markets and urban transportation: economic theory, econometrics, and policy analysis with discrete choice models. Academic Press, London

Bayer P, Ferreira F, McMillan R (2007) A unified framework for measuring preferences for schools and neighborhoods. J Polit Econ 115(4):588–638

Bayer P, Timmins C (2005) On the equilibrium properties of locational sorting models. J Urban Econ 57(3):462–477

Ben-Akiva ME, Lerman SR (1985) Discrete choice analysis: theory and application to travel demand. MIT Press, Cambridge

Bhat CR, Guo JY (2007) A comprehensive analysis of built environment characteristics on household residential choice and auto ownership levels. Transp Res B Methodol 41(5):506–526

Bierlaire M (2003) Biogeme: a free package for the estimation of discrete choice models. In: Proceedings of the Swiss transport research conference. Ascona, Switzerland

Bierlaire M, Fetiarison M (2009) Estimation of discrete choice models: extending biogeme. In: Proceedings of the 9th swiss transport research conference. Ascona, Switzerland

Chattopadhyay S (1998) An empirical investigation into the performance of Ellickson's random bidding model, with an application to air quality valuation. J Urban Econ 43(2):292–314

Clark WAV, Deurloo MC, Dieleman FM (1997) Entry to home-ownership in Germany: some comparisons with the United States. Urban Stud 34(1):7–19

Clark WAV, Deurloo MC, Dieleman FM (2006) Residential mobility and neighborhood outcomes. Hous Stud 21(3):323–342

Clark WAV, Onaka JL (1983) Life cycle and housing adjustment as explanations of residential mobility. Urban Stud 20:47–57

Cropper ML, Deck LB, McConnell KE (1988) On the choice of funtional form for hedonic price functions. Rev Econ Stat 70(4):668–675

DiPasquale D, Wheaton W (1996) Urban economics and real-estate markets. Prentice Hall, Englewood Cliffs, New Jersey

Dubin JA, McFadden DL (1984) An econometric analysis of residential electric appliance holdings and consumption. Econometrica 52(2):345–362

Ellickson B (1981) An alternative test of the hedonic theory of housing markets. J Urban Econ 9(1):56–79

Epple D (1987) Hedonic prices and implicit markets: estimating demand and supply functions for differentiated products. J Polit Econ 95(1):59–80

Fujita M (1989) Urban economic theory: land use and city size. Cambridge University Press, Cambridge

Fujita M, Krugman P, Venables A (1999) The spatial economy: cities, regions and international trade. MIT Press, Cambridge

Gabriel S, Rosenthal S (1989) Household location and race: estimates of a multinomial logit model. Rev Econ Stat 71(2):240–249

Gin A, Sonstelie J (1992) The streetcar and residential location in nineteenth century philadelphia. J Urban Econ 32(1):92–107

Glaeser EL (2008) Cities, agglomeration, and spatial equilibrium. Oxford University Press, Oxford

Gross DJ (1988) Estimating willingness to pay for housing characteristics: an application of the Ellickson bid-rent model. J Urban Econ 24(1):95–112

Gross DJ, Sirmans C, Benjamin JD (1990) An empirical evaluation of the probabilistic bid-rent model: The case of homogenous households. Reg Sci Urban Econ 20(1):103–110

Guevara CA, Ben-Akiva M (2006) Endogeneity in residential location choice models. Transp Res Rec J Transp Res Board 1977:60–66

Horner MW (2004) Spatial dimensions of urban commuting: a review of major issues and their implications for future geographic research. Prof Geogr 56:170–173

Jara-Díaz SR, Martínez FJ (1999) On the specification of indirect utility and willingness to pay for discrete residential location models. J Reg Sci 39(4):675–688

Lee L-F (1982) Some approaches to the correction of selectivity bias. Rev Econ Stud 49(3):355–372

Lerman SR, Kern CR (1983) Hedonic theory, bid rents, and willingness-to-pay: some extensions of Ellickson's results. J Urban Econ 13(3):358–363

Levy JP (2003) Population patterns and household trajectories in the residential milieu: the example of the Seine-Saint-Denis. Population-E 58(3):323–358

Lo AY, Jim CY (2010) Willingness of residents to pay and motives for conservation of urban green spaces in the compact city of Hong Kong. Urban For Urban Green 9(2):113–120

Martínez F (1996) Mussa: land use model for Santiago city. Transp Res Rec J Transp Res Board 1552(1):126–134

Martinez FJ (1995) Access: the transport - land use economic link. Transp Res B Methodo l29:457–470

McFadden D (1978) Modeling the choice of residential location. In: Karlqvist A (ed)Spatial interaction theory and residential location.North-Holland, Amsterdam, pp 75–96

McMillen DP (1997) Multiple regime bid-rent function estimation. J Urban Econ 41(2):301–319

Miyamoto A, Kitazume K (1989) A land-use model based on random utility/rent-bidding analysis (rurban). Transport policy management and technology - towards 2001 selected proceedings of the fifth world conference on transport research, Yokohama

Muto S (2006) Estimation of the bid rent function with the usage decision model. J Urban Econ 60(1):33–49

Rieser M, Nagel K, Beuck U, Balmer M, RÃŒmenapp J (2007) Agent-oriented coupling of activity-based demand generation with multiagent traffic simulation. Transp Res Rec 2021:10–17

Rosen S (1974) Hedonic prices and implicit markets: product differentiation in pure competition. J Polit Econ 82(1):34–55

Salvini P, Miller EJ (2005) Ilute: an operational prototype of a comprehensive microsimulation model of urban systems. Netw Spatial Econ 5:217–234

Tiebout CM (1956) A pure theory of local expenditures. J Polit Econ 64(5):416–424

Waddell P (1993) Exogenous workplace choice in residential location models: is the assumption valid? Geogr Anal 25:65–82

Waddell P, Borning A, Noth M, Freier N, Becke M, Ulfarsson G (2003) Microsimulation of urban development and location choices: design and implementation of urbansim. Netw Spatial Econ 3(1):43–67

Walker J, Ben-Akiva M (2002) Generalized random utility model. Math Soc Sci 43(3):303–343

Walker JL, Li J (2007) Latent lifestyle preferences and household location decisions. J Geogr Syst 9:77–101

Wegener M (2008) The irpud model: overview, Technical report, Spiekermann & Wegener,Urban Reg Res. http://irpud.raumplanung.unidortmund.de/irpud/pro/mod/mod.htm
Acknowledgments
Research in this article has been funded by the European Commission's Seventh Framework Programme and the Complex Engineering Systems Institute (ICM: P-05-004-F, CONICYT: FBO16). The authors would like to thank the SustainCity team ( www.sustaincity.org) for their contribution with data collection and processing.
About this article
Cite this article
Hurtubia, R., Bierlaire, M. Estimation of Bid Functions for Location Choice and Price Modeling with a Latent Variable Approach. Netw Spat Econ 14, 47–65 (2014). https://doi.org/10.1007/s11067-013-9200-z
Published:

Issue Date:

DOI: https://doi.org/10.1007/s11067-013-9200-z
Keywords
Location choice

Bid function

Auction

Real estate

Rent