Abstract
Sustainability has three dimensions, including social, economic, and environmental dimensions. However, existing road network design studies only focus on one or at most two dimensions, which do not allow decision makers to consider social, economic, and environmental impacts on human simultaneously. This paper proposes a multi-objective bilevel optimization model to consider all three dimensions in road network design. To examine the effect of road network design on landowner inequity and intergeneration inequity, land-use transportation interaction over time is also captured in the model. The variance of discounted landowner profit and the variance of discounted generalized user cost over time are proposed as sustainability indicators of landowner inequity and intergeneration inequity respectively. Artificial bee colony algorithm (ABC) is proposed to search the network design solutions of the upper level problem, while the method of successive averages (MSA) and the Frank-Wolfe algorithm are adopted to solve the lower-level time-dependent land-use transportation problem. Numerical studies are set up to illustrate the tradeoff between the three dimensions of sustainability objectives, the performance of the proposed algorithm, and the existence of landowner inequity and spatial inequity of residents.
Access options
Buy single article
Instant access to the full article PDF.
USD 39.95
Price excludes VAT (USA)
Tax calculation will be finalised during checkout.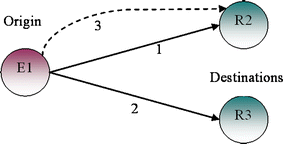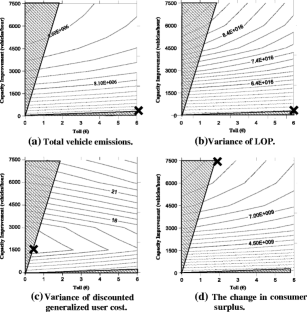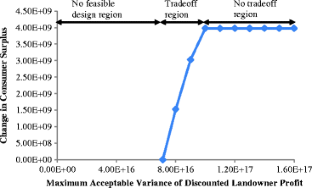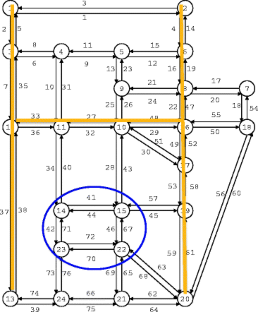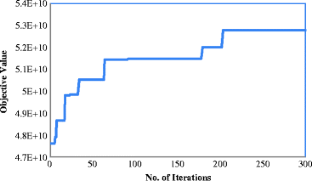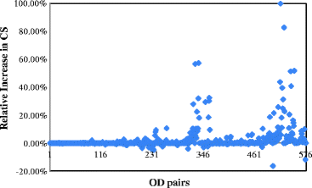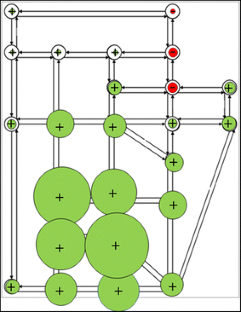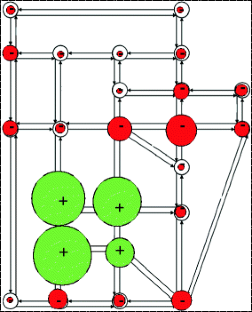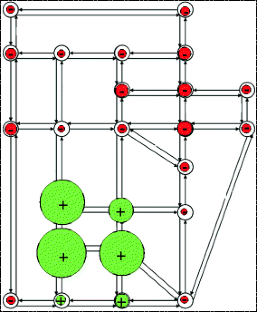 References
Ban JX, Liu HX, Ferris MC, Ran B (2006) A general MPCC model and its solution algorithm for continuous network design problem. Math Comput Model 43:493–505

Boyce DE, Janson BN (1980) A discrete transportation network design problem with combined trip distribution and assignment. Transp Res B 14(1):147–154

Bureau of Transport Economics (1998) Working paper 39: urban transport models: a review. Department of Transport and Regional Services, Canberra

Chen MY, Alfa AS (1991) A network design algorithm using a stochastic incremental traffic assignment approach. Transp Sci 25(3):215–224

Chen A, Yang C (2004) Stochastic transportation network design problem with spatial equity constraint. Transp Res Rec 1882:97–104

Chen A, Subprasom K, Ji Z (2006) A simulation-based multi-objective genetic algorithm (SMOGA) for build–operate–transfer network design problem. Optim Eng J 7(3):225–247

Chen A, Kim J, Zhou Z, Chootinan P (2007) Alpha reliable network design problem. Transp Res Rec 2029:49–57

Chen A, Kim J, Lee S, Kim Y (2010a) Stochastic multi-objective models for network design problem. Expert Syst Appl 37(2):1608–1619

Chen A, Pravinvongvuth S, Chootinan P (2010b) Scenario-based multi-objective AVI reader location models under different travel demand patterns. Transportmetrica 6(1):53–78

Chiou SW (2009) A subgradient optimization model for continuous road network design problem. Appl Math Model 33(3):1386–1396

Chung BD, Yao T, Xie C, Thorsen A (2011) Robust optimization model for a dynamic network design problem under demand uncertainty. Netw Spat Econ 11(2):371–389

Davis GA (1994) Exact local solution of the continuous network design problem via stochastic user equilibrium assignment. Transp Res B 28(1):61–75

Farvaresh H, Sepehri MM (2013) A branch and bound algorithm for bi-level discrete network design problem. Netw Spat Econ 13(1):67–106

Feng CM, Lin JJ (1999) A land use-network design model to generate alternative sketch maps for urban planning. J East Asia Soc Transp Stud 3(4):71–86

Ferguson EM, Duthie J, Waller ST (2010) Network methods for project selection based on optimizing environmental impact. Research Report SWUTC/10/161026-1. University of Texas at Austin, Austin

Friesz TL, Anandalingam G, Mehta NJ, Nam K, Shah SJ, Tobin RL (1993) The multiobjective equilibrium network design problem revisited: a simulated annealing approach. Eur J Oper Res 65(1):44–57

Huang K, Zhang J, He M, Liao W (2010) An optimal model and solution algorithm of urban traffic network considering exhaust emission control. In: Proceedings of the 2010 International Conference of Logistics Engineering and Management 528–534

Karaboga D, Basturk B (2008) On the performance of artificial bee colony (ABC) algorithm. Appl Soft Comput 8(1):687–697

Kim BJ, Kim WK, Song BH (2008) Sequencing and scheduling highway network expansion using a discrete network design model. Ann Reg Sci 42(3):621–642

LeBlanc LJ (1975) An algorithm for discrete network design problem. Transp Sci 9(3):183–199

Lee DH, Wu L, Meng Q (2006) Equity based land-use and transportation problem. J Adv Transp 40(1):75–93

Li ZC, Lam WHK, Wong SC, Sumalee A (2012) Environmentally sustainable toll design for congested road networks with uncertain demand. Int J Sust Transp 6(3):127–155

Lin DY, Xie C (2011) The Pareto-optimal solution set of the equilibrium network design problem with multiple commensurate objectives. Netw Spat Econ 11(4):727–751

Lin DY, Karoonsoontawong A, Waller ST (2011) A Dantzig-Wolfe decomposition based heuristic scheme for bi-level dynamic network design problem. Netw Spat Econ 11(1):101–126

Litman T (2008) Well Measured: Developing Indicators for Comprehensive and Sustainable Transport Planning. Victoria Transport Policy Institute (www.vtpi.org). www.vtpi.org/wellmeas.pdf

Lo HK, Szeto WY (2004) Modeling advanced transportation information systems: static versus dynamic Paradigms. Transp Res B 38(6):495–515

Lo HK, Szeto WY (2009) Time-dependent transport network design under cost-recovery. Transp Res B 43(1):142–158

Long JC, Gao ZY, Zhang HZ, Szeto WY (2010) A turning restriction design problem in urban road networks. Eur J Oper Res 206(3):569–578

Los M (1979) A discrete-convex programming approach to the simultaneous optimization of land use and transportation. Transp Res B 13(1):33–48

Lowry 1S (1964) A Model of Metropohs. Rand Corporation, Santa Monica, California

Marcotte P (1986) Network design problem with congestion effects: a case of bilevel programming. Math Program 34(2):142–162

Meng Q, Yang H, Wong SC (2000) A combined land-use and transportation model for work trips. Environ Plan B 27(1):93–103

Meng Q, Yang H, Bell MGH (2001) An equivalent continuously differentiable model and a locally convergent algorithm for the continuous network design problem. Transp Res B 35(1):83–105

Miandoabchi E, Zanjirani Farahani R, Dullaert W, Szeto WY (2012a) Hybrid evolutionary metaheuristics for concurrent multi-objective design of urban road and public transit networks. Netw Spat Econ 12(3):441–480

Miandoabchi E, Zanjirani Farahani R, Szeto WY (2012b) Bi-objective bimodal urban road network design using hybrid metaheuristics. CEJOR 20(4):583–621

Miandoabchi E, Daneshzand F, Szeto WY, Zanjirani Farahani R (2013) Multi-objective discrete urban road network design. Comput Oper Res 40(10):2429–2449

NgM, Lo HK (2013) Regional air quality conformity in transportation networks with stochastic dependencies: a theoretical copula-based model. Netw Spat Econ. doi:10.1007/s11067-013-9185-7

Patil GR, Ukkusuri SV (2007) System-optimal stochastic transportation network design. Transp Res Rec 2029:80–86

Qiu Y, Chen S (2007) Bi-level programming for continuous network design of comprehensive transportation system based on external optimization. Proceedings of 2007 IEEE International Conference on Grey Systems and Intelligent Services, November 18–20, China

Sharma S, Mathew TV (2011) Multi-objective network design for emission and travel time tradeoff for sustainable large urban transportation network. Environ Plan B 38(3):520–538

Smith JM, Liebman JS (1978) A zero-one integer-programming formulation of the problem of land-use assignment and transportation-network design. Environ Plan B 5(1):101–115

Szeto WY, Jiang Y (2012) A hybrid artificial bee colony for transit network design problem. Transp Res Rec 2284:47–56

Szeto WY, Lo HK (2005) Strategies for road network design over time: robustness under uncertainty. Transportmetrica 1(1):47–63

Szeto WY, Lo HK (2006) Transportation network improvement and tolling strategies: the issue of intergeneration equity. Transp Res A 40(3):227–243

Szeto WY, Lo HK (2008) Time-dependent transport network improvement and tolling strategies. Transp Res A 42(2):376–391

Szeto WY, Jaber XQ, O'Mahony M (2010) Time-dependent discrete network design frameworks considering land use. Comput Aided Civ Infrastruct Eng 25(6):411–426

Szeto WY, Jaber XQ, Wong SC (2012) Road network equilibrium approaches to environmental sustainability. Transp Rev 32(4):491–518

Szeto WY, Wang Y, Wong SC (2013) The chemical reaction optimization approach to solving the environmentally sustainable network design problem. Comput Aided Civil Infrastruct Eng. doi:10.1111/mice.12033

Transportation Research Board (1997) Toward a Sustainable Future. Special Report 251, Washington, D. C.

Ukkusuri SV, Patil G (2009) Multi-period transportation network design under demand uncertainty. Transp Res B 43(6):625–642

Ukkusuri SV, Waller ST (2008) Linear programming models for the user and system optimal dynamic network design problem: formulations, comparisons and extensions. Netw Spat Econ 8(4):383–406

Ukkusuri SV, Mathew TV, Waller ST (2007) Robust transportation network design under demand uncertainty. Comput Aided Civ Infrastruct Eng 22(1):6–18

Unnikrishnan A, Valsaraj V, Damnjanovic I, Waller ST (2009) Design and management strategies for mixed public private transportation networks: a meta-heuristic approach. Comput Aided Civ Infrastruct Eng 24(4):266–279

Williams H (1976) Travel demand models, duality relations and user benefit analysis. J Reg Sci 16(2):147–166

Williams H (1977) On the formation of travel demand models and economic evaluation measures of user benefit. Environ Plan A 9(3):285–344

Wilson AG (1970) Entropy in urban and regional modelling. Pion, London

Wong CK, Tong CO, Wong SC (1999) The development and calibration of a Lowry model with multiple market segments. Environ Plan A 31(11):1905–1918

Yang H, Xu W, He B, Meng Q (2010) Road pricing for congestion control with unknown demand and cost functions. Transp Res C 18(2):157–175

Yim KKW, Wong SC, Chen A, Wong CK, Lam WHK (2011) A reliability-based land use and transportation optimization model. Transp Res C 19(2):351–362

Yin Y, Lawphongpanich S (2006) Internalizing emission externality on road networks. Transp Res D 11(4):292–301

Yin Y, Lu H (1999) Traffic equilibrium problems with environmental concerns. J East Asia Soc Transp Stud 3(6):195–206

Zanjirani Farahani R, Miandoabchi E, Szeto WY, Rashidi H (2013) A review of urban transportation network design problems. Eur J Oper Res 229(2):281–302

Zhong RX, Sumalee A, Maruyama T (2012) Dynamic marginal cost, access control, and pollution charge: a comparison of bottleneck and whole link models. J Adv Transp 46(3):191–221

Zhou S, Yan X, Wu C (2008) Optimization model for traffic signal control with environmental objectives. In: Proceedings of the 4th International Conference on Natural Computation (pp 530–534), Jinan, China, October 18–20
Acknowledgments
The research was jointly supported by a grant (200902172003) from the Hui Oi Chow Trust Fund, grants (201011159026 and 201211159009) from the University Research Committee and Faculty of Engineering Top-up Grant of the University of Hong Kong, and a grant from National Natural Science Foundation of China (71271183). The authors are grateful for the constructive comments of the two reviewers.
About this article
Cite this article
Szeto, W.Y., Jiang, Y., Wang, D.Z.W. et al. A Sustainable Road Network Design Problem with Land Use Transportation Interaction over Time. Netw Spat Econ 15, 791–822 (2015). https://doi.org/10.1007/s11067-013-9191-9
Published:

Issue Date:

DOI: https://doi.org/10.1007/s11067-013-9191-9
Keywords
Sustainability

Time-dependent road network design

Land use transportation interaction

Spatial inequity

Artificial bee colony