Abstract
This paper attempts to link the concepts of accessibility and the firm's conduct in the regional retail market in Spain. We use a database that includes sale price, service station location, level of traffic and type of road. We show that accessibility has two main effects on final prices. The accessibility of own-brand gas stations increased their prices while the accessibility of rival gas stations causes price reductions. If we include the value of time, then no rational consumer should travel further than his nearest petrol station in search of lower prices. Finally, our paper shows that service stations can establish a dominant position if consumers do not have access to other retailers within a 17-min radius.
Access options
Buy single article
Instant access to the full article PDF.
US$ 39.95
Tax calculation will be finalised during checkout.
Subscribe to journal
Immediate online access to all issues from 2019. Subscription will auto renew annually.
US$ 79
Tax calculation will be finalised during checkout.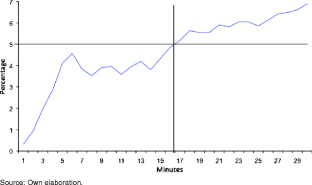 Notes
1.

Handy (2002) explicitly states that in most U.S. transport plans There are constant references to the accessibility issue and its improvement defined as a major objective.

2.

3.

For example, how the access facility generates opportunities for individuals in terms of improving their employment prospects (see van Wee et al. 2001; Srour et al. 2002; Franklin and Waddell 2003). For price variation of goods such as housing, see El-Geneidy and Levinson (2006); and for the possibilities when locating new sales outlets, see Ritsema van Eck and de Jong (1999).

4.

Nevertheless, we do not estimate the number of consumers who will be excluded if monopolization occurs, and similar. Due that, it is only a motivation, not an issue of the paper.

5.

The negative relationship between the proximity of competitors and the price level is not unique to the gasoline market. A good example is provided by the article by Mazzeo (2002) on the market for road motels in the United States.

6.

7.

All the following data excluding prices were supplied by Catalist (www.catalist.com), which is a company dedicated to the sale of information on the petrol sector. Annex I gives a more in-depth explanation of some of the variables. The subsequent analysis was carried out by the programming of computer codes, using the Matlab statistical program and the SAS package; these permitted us to manage a broad database.

8.

It should be borne in mind that service stations in Spain are obliged to display their prices on panels at their entrances; they must also make their prices available to the Ministry of Industry, Trade and Tourism, which publish them daily on its webpage.

9.

As we indicate in the introductory paragraph of this Section 3, we are assuming that most people live near their jobs. This assumption induces us not to take into account commuters, i.e., people who live far away from their jobs. In this case, the transport cost would be reduced and the analysis in Eq. (3) would not be effective.

10.

For a more detailed explanation of the components that make up the price of petrol, see Miras (2007).
References
Atkinson B, Eckert A, West DS (2009) Price matching and the domino effect in a retail gasoline market. Econ Inq 47(3):568–588

Baradaran S, Ramjerdi F (2001) Performance of accessibility measures in Europe. J Transp Stat 4(2/3):31–48

Barron JM, Taylor BA, Umbeck JR (2004) Number of sellers, average prices, and price dispersion. Int J Ind Organ 22:1041–1066

Berry S (1994) Estimating discrete-choice models of product differentiation. Rand J Econ 25(2):242–262

Berry S, Levinshon J, Pakes A (1995) Automobile prices in market equilibrium. Econometrica 63(4):841–890

Borenstein S (1991) Selling costs and switching costs: explaining retail gasoline margins. Rand J Econ 22(3):354–369

Borrell JR, Perdiguero J (2007) La Competència en la distribució de gasolina a Catalunya. Tribunal Català de Defensa de la Competència (TCDC), Barcelona

Bromiley P, Papenhausen C, Borchert P (2002) Why do gas prices vary, or towards understanding the micro-structure of competition. Manage Decis Econ 23:171–186

Caixa L (2007) Anuario Económico de España 2007. Servicio de Estudios de La Caixa, Barcelona

Campos J, de Rus G (2002) Dotación de infraestructuras y política europea de transporte. Papeles de Economía Española 91:169–181

Comisión Nacional de Competencia (2009) Informe sobre la competencia en el sector de carburantes de automoción. Comisión Nacional de Competencia, Madrid

El-Geneidy AM, Levinson DM (2006) Access to destinations: development of accessibility measures, Report 2006-16, Minnesota Department of Transportation

Franklin J, Waddell P (2003) A hedonic regression of home prices in King County, Washington using activity-specific accessibility measures. Paper presented at the Transportation Research Board 82nd Annual Meeting, Washington DC

Handy SL (2002) Accessibility—vs mobility—enhancing strategies for addressing automobile dependence in the US. Paper presented at the Transportation Research Board 82nd Annual Meeting, Washington DC

Handy SL, Niemeier DA (1997) Measuring accessibility: an exploration of issues and alternatives. Environ Plann A 29(7):1175–1194

HEATCO, Developing Harmonised European Approaches for Transport Costing and Project Assessment (2006): Deliverable 5: Proposal for Harmonised Guidelines. European Commission

Hotelling H (1929) Stability in competition. Econ J 39:41–57

Ivaldi M, Verboven F (2005) Quantifying the effects from horizontal mergers in European competition policy. Int J Ind Organ 23(9–10):669–691

Kaufman PR, MacDonald JM, Lutz SM, Smallwood DM (1997) Do the poor pay more for food? Item selection and price differences affect low-income household food costs. Agric Econ Rep Number 759. Economic Research Service, United States Department of Agriculture

MacDonald J, Nelson PE (1991) Do the poor still pay more? Food price variations in large metropolitan areas. J Urban Econ 30:344–359

Mazzeo MJ (2002) Competitive outcomes in product-differentiated oligopoly. Rev Econ Stat 84:716–728

Miras P (2007) Los mercados de productos petrolíferos: Una panorámica. Econ Ind 365:69–78

Pakes A, Berry S, Levinshon J (1993) Applications and limitations of some recent advances in empirical industrial organization: price indexes and the analysis of environmental change. Am Econ Rev 83(2):241–246

Perdiguero J, Borrell JR (2007) La difícil conducción de la competencia por el sector de las gasolinas en España. Econ Ind 365:113–125

Perdiguero J, Jiménez JL (2009) ¿Competencia o colusión en el mercado de gasolina?: una aproximación a través del parámetro de conducta. Rev de Econ Apl XVII(50):27–45

Pinske J, Slade ME, Brett C (2002) Spatial price competition: a semiparametric approach. Econometrica 70(3):1111–1153

Ritsema van Eck JR, de Jong T (1999) Accessibility analysis and spatial competition effects in the context of GIS-supported service location planning. Comput Environ Urban Syst 23:75–89

Salop S (1979) Monopolistic competition with outside goods. Bell J Econ 10:141–156

Spiller PT, Huang CF (1986) On the extent of the market: wholesale gasoline in the northeastern United States. J Ind Econ XXXV:131–145

Srour I, Kockelman K, Dunn T (2002) Accessibility indices: connection to residential land prices and location choices. Transp Res Rec 1805:25–34

Staiger D, Stock JH (1997) Instrumental variables regression with weak instruments. Econometrica 65(3):557–586

Stewart H, Davis D (2005) Price dispersion and accessibility: a case study of fast food. South Econ J 4(71):784–799

Stigler G (1961) The economics of information. J Polit Econ 69:213–225

van Wee B, Hagoort M, Annema JA (2001) Accessibility measures with competition. J Transp Geogr 9:199–208

Vickerman RW (1974) Accessibility, attraction and potential: a review of some concepts and their use in determining mobility. Environ Plann A 6:675–691

Wachs M, Kumagai T (1973) Physical accessibility as a social indicator. Socio-econ Plann Sci 7:327–456
Acknowledgements
This paper has benefited from helpful comments and suggestions by Juan Carlos Martín, Javier Campos and two anonymous referees. We are also grateful for the database assistance by Héctor Rodríguez and Adrià Botey. This research has received financial help from the Spanish Ministry of Science and Technology (ECO 2009-06946/ECON). A previous version of this paper has been published as Working Paper no. 456 in the Fundación de las Cajas de Ahorros (FUNCAS) collection. The usual disclaimer applies.
Appendices
Annex I
Definition of variables (from Catalist)
Primary traffic
This is an estimate of the 24-h average two-way traffic flow on the primary street to the nearest thousand. Guidelines for the various definitions used are:
Poor: Traffic levels are less than 5,000 vehicles per day.

Medium: Traffic levels are between 5,000 and 15,000 vehicles per day.

Good: Traffic levels are between 15,000 and 25,000 vehicles per day.

Very good: Traffic levels are in excess of 25,000 vehicles per day.
Site location
Rural: Countryside background or low-density residential and industrial use, as well as locations on long-distance commuter routes that experience consistent traffic flows, e.g. a site on a quiet stretch of trunk road.
Industry/office: Low residential back-up and much evidence of commercial units e.g. industrial/office/retail. Applicable to business infrastructures such as port areas, manufacturing, distribution centres, shopping centres etc.
Residential: Tends to be located away from the commercial and industrial areas and surrounded by much private housing.
Urban transient: Characterized by high traffic volumes spread evenly throughout the day. Bypasses and ring roads are included in this class.
Motorway.
Annex II
Note: White points are petrol stations with high probability (more than 0.5). Low grey are those petrol stations with medium probability. Medium grey are those with low probability. The black ones are petrol stations with a probability equal to 0.
About this article
Cite this article
Jiménez, J.L., Perdiguero, J. Does Accessibility Affect Retail Prices and Competition? An Empirical Application. Netw Spat Econ 11, 677–699 (2011). https://doi.org/10.1007/s11067-010-9144-5
Keywords
Accessibility

Location

Petrol stations

Oligopoly
JEL Classification