Access options
Buy single article
Instant access to the full article PDF.
US$ 39.95
Tax calculation will be finalised during checkout.
Subscribe to journal
Immediate online access to all issues from 2019. Subscription will auto renew annually.
US$ 119
Tax calculation will be finalised during checkout.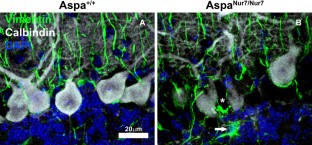 References
1.

Matalon R, Michals K, Sebesta D, Deanching M, Gashkoff P, Casanova J (1988) Aspartoacylase deficiency and N-acetylaspartic aciduria in patients with Canavan disease. Am J Med Genet 29:463–471

2.

Mendes MI, Smith DE, Pop A et al (2017) Clinically distinct phenotypes of Canavan disease correlate with residual aspartoacylase enzyme activity. Hum Mutat 38:524–531

3.

Hoshino H, Kubota M (2014) Canavan disease: clinical features and recent advances in research. Pediatr Int 56:477–485

4.

Madhavarao CM, Moffett JR, Moore RA, Viola RE, Namboodiri MA, Jacobowitz DM (2004) Immunohistochemical localization of aspartoacylase in the rate central nervous system. J Comp Neurol 472:318–329

5.

Feigenbaum A, Moore R, Clarke J, Hewson S, Chitayat D, Ray PN, Stockley TL (2004) Canavan disease: carrier-frequency determination in the Ashkenazi Jewish population and development of a novel molecular diagnostic assay. Am J Med Genet 124A:142–147

6.

Rivas MA, Avila BE, Koskela J et al (2018) Insights into the genetic epidemiology of Crohn's and rare diseases in the Ashkenazi Jewish population. PLoS Genet 14:e1007229

7.

Jellinger K, Seitelberger F (1969) Juvenile form of spongy degeneration of the CNS. Acta Neuropath (Berl) 13:276–281

8.

Janson CG, Kolodny EH, Zeng B-J et al (2006) Mild-onset presentation of Canavan's disease associated with novel G212A point mutation in aspartoacylase gene. Ann Neurol 59:428–431

9.

Leone P, Shera D, McPhee SW et al (2012) Long-term follow-up after gene therapy for Canavan disase. Science Trans Med 4:165ra163

10.

Janson CG, McPhee SWJ, Francis J et al (2006) Natural history of Canavan disease revealed by proton magnetic resonance spectroscopy (1J-MRS) and diffusion-weighted MRI. Neuropediatrics 37:209–221

11.

Gambetti P, Mellman WJ, Gonatoas NK (1969) Familial spongy degeneration of the central nervous system (van Bogaert–Bertrand disease). an ultrastructural study. Acta Neuropathol 12:103–115

12.

Adachi M, Schneck L, Cara J, Volk BW (1973) Spongy degeneration of the central nervous system (van Bogaert and Bertrand type; Canavan disease). A review. Hum Pathol 4:331–347

13.

Mirimanoff P (1976) La dystrophie spongieuse hereditaire des enfants (Canavan van Bogaert–Bertrand). J Neurol Sci 28:159–185

14.

Traka M, Wollmann RI, Cerda SR, Dugas J, Barres BA, Popko B (2008) Nur7 is a nonsense mutation in the mouse aspartoacylase gene that causes spongy degeneration of the CNS. J Neurosci 28:11537–11549

15.

Guo F, Bannerman P, Mills Ko E, Miers L, Xu J, Burns T, Li S, Freeman E, McDonough JA, Pleasure D (2015) Ablating N-acetylaspartate prevents leukodystrophy in a Canavan disease model. Ann Neurol 77:884–888

16.

Maier H, Wang-Eckhardt L, Hartmann D, Gieselmann V, Eckhardt M (2015) N-acetylaspartate synthase deficiency corrects the myelin phenotype in a Canavan disease mouse model but does not affect survival time. J Neurosci 35:14501–14516

17.

Sohn J, Bannerman P, Guo F, Burns T, Miers L, Croteau C, Singhal NK, McDonough JA, Pleasure D (2017) Suppressing N-acetyl-L-aspartate synthesis prevents loss of neurons in amurine model of Canavan leukodystrophy. J Neurosci 37:413–421

18.

Bannerman P, Guo F, Chechneva O, Burns T, Zhu X, Wang Y, Kim B, Singhal NK, McDonough JA, Pleasure D (2018) Brain Nat8l knockdown suppresses spongiform leukodystrophy in an aspartoacylase-deficient Canavan disease mouse model. Mol Ther 26:793–800

19.

Madhavarao CN, Arun P, Moffett JR, Szacs S, Surendram S, Matalon R, Garbern J, Hristova D, Johnson A, Jiang W, Namboodiri MA (2005) Defective N-acetylaspartate catabolism reduces brain acetate levels and myelin lipid synthesis in Canavan's disease. Proc Natl Acad Sci USA 102:5221–5226

20.

Francis JS, Wojtas L, Markov V, Gray SJ, McCown TJ, Samulski RJ, Bilaniuk LT, Wang DJ, DeVivo DC, Janson CG, Leone P (2016) N-acetylaspartate supports the energetic demands of developmental myelination via oligodendroglia aspartoacylase. Neurobiol Dis 96:323–334

21.

Baslow MH, Guilfoyle DN (2013) Canavan disease, a rare early-onset human spongiform leukodystrophy: insights into its genesis and possible clinical interventions. Biochimie 95:946–956

22.

Burri R, Steffen C, Herschkowitz N (1991) N-acetyl-L-aspartate is a major source of acetyl groups for lipid synthesis during rat brain development. Dev Neurosci 13:403–411

23.

Wiami E, Tyteca D, Pierrot N et al (2009) Molecular identification of aspartate N-acetyltransferase and its mutation in hypacetylaspartia. Biochem J 425:127–136

24.

Ariyannur PS, Moffett JR, Manickam P, Pattabiraman N, Arun P, Nitta A, Nabeshima T, Madhavarao CN, Namboodiri AM (2010) Methamphetamine-induced neuronal protein NAT8L is the NAA biosynthetic enzyme: implications for specialized acetyl coenzyme A metabolism in the CNS. Brain Res 1335:1–13

25.

Singhal NK, Huang H, Li S, Clements R, Gadd J, Daniels A, Kooijman EE, Bannerman P, Burns T, Guo F, Pleasure D, Freeman E, Shriver L, McDonough J (2017) The neuronal metabolite NAA regulates histone H3 methylation in oligodendrocytes and myelin lipid composition. Exp Brain Res 235:279–292

26.

Sumi K, Uno K, Noike H, Tomohiro T, Hatanaka Y, Furukawa-Hibi Y, Nabeshima T, Miyamoto Y, Nitta A (2017) Behavioral impairment in SHATI/NAT8L knockout mice via dysfunction of myelination development. Sci Rep 7:16872

27.

Neale JH, Olsczewski RT, Zuo D, Jancrura KJ, Profaci CP, Lavin KM, Madore JC, Bzdega T (2011) Advances in understanding the peptide neurotransmitter NAAG and appearance of a new member of the NAAG neuropeptide family. J Neurochem 118:490–496

28.

Kolodziejczyk K, Hamilton NB, Wade A, Karadottir R, Attwell D (2009) The effect of N-acetyl-aspartyl-glutamate and N-acetyl-aspartate on white matter oligodendrocytes. Brain 132:1496–1508

29.

Appu AP, Moffett JR, Arun P, Moran S, Nambiar V, Krishnan JKS, Puthillathu N, Namboodiri AMA (2017) Increasing N-acetylaspartate in the brain during postnatal myelination does not cause the CNS pathologies of Canavan disease. Front Mol Neurosci Jun 2:10:161

30.

Von Jonquieres G, Spencer ZHT, Rowlands BD et al (2018) Uncoupling N-acetylaspartate from brain pathology: implications for Canavan disease gene therapy. Acta Neuropathol 135:95–113

31.

Fujita T, Katsukawa H, Yodoya E, Wada M, Shimada A, Okada N, Yamamoto A, Ganapathy V (2005) Transport characteristics of N-acetyl-L-aspartate in rat astrocytes: involvement of sodium-coupledhigh-affinity carboxylate transporter NaC3/NaDC3-mediated transport system. J Neurochem 93:706–714

32.

Shannon RJ, van der Heide S, Carter EL, Jalloh I, Menon DK, Hutchinson PJ, Carpenter KLH (2016) Extracellular N-acetylaspartate in human traumatic brain injury. J Neurotrauma 33:319–329

33.

Tress O, Maglione M, May D et al (2012) Panglial gap junctional communication is essential for maintenance of myelin in the CNS. J Neurosci 32:7499–7518

34.

Tress O, Maglione M, Zlomuzica A, May D, Dicke N, Degen J, Dere E, Kettenmann H, Hartmann D, Willecke K (2011) Pathologic and phenotypic alterations in a mouse expressing a Connexin47 missense mutation that causes Pelizaeus-Merzbacher-like disease in humans. PLoS Genet 7:e1002146

35.

Lopez-Hernandez T, Sirisi S, Capdevila-Nortes X et al (2011) Molecular mechanisms of MLC1 and GLIALCAM mutations in megalencephalic leukodystrophy with subcortical cysts. Hum Mol Genet 23:5069–5086

36.

Ahmed SS, Li H, Cao C et al (2013) A single intravenous rAAV injection as late as P20 achieves efficacious and sustained CNS gene therapy in Canavan mice. Mol Ther 21:2136–2147

37.

Gessler DJ, Li D, Xu H, Su Q, Sanmiguel J, Tuncer S, Moore C, King J, Matalon R, Gao G (2017) Redirecting N-acetylaspartate metabolism in the central nervous system normalizes myelination and rescues Canavan disease. JCI Insight 2:e90807

38.

Sommer A, Sass JO (2012) Expression of aspartoacylase (ASPA) and Canavan disease. Gene 505:206–210

39.

Gautier EL, Ivanov S, Williams JW et al (2014) Gata6 regulates aspartoacylase expression in resident peritoneal macrophages and controls their survival. J Exp Med 211:1525–1531

40.

Ahmed SS, Schattgen SA, Frakes AE et al (2016) rAAV gene therapy in a Canavan's disease mouse model reveals immune impairments and an extended pathology beyond the central nervous system. Mol Ther 24:1030–1041

41.

Assad M, Janson C, Wang DJ, Suri N, Bilaniuk L, Leone P (2010) Lithium citrate reduces excessive intra-cerebral N-acetyl aspartate in Canavan disease. Eur J Paediatr Neruol 14:354–359

42.

Thangavelu B, Mutthamsetty V, Wang Q, Viola RE (2017) Design and optimization of aspartate N-acetyltransferase inhibitors for the potential treatment of Canavan disease. Bioorg Med Chem 25:870–885
Acknowledgements
This study was supported by Shriners Hospitals Grant 439043; NIH 1R21NS096004-01; and the Dana Foundation.
Additional information
Special issue: In honor of Vittorio Gallo.
About this article
Cite this article
Pleasure, D., Guo, F., Chechneva, O. et al. Pathophysiology and Treatment of Canavan Disease. Neurochem Res 45, 561–565 (2020). https://doi.org/10.1007/s11064-018-2693-6
Received:

Revised:

Accepted:

Published:

Issue Date:
Keywords
Canavan disease

Aspartoacylase (encoded by ASPA)

N-acetyltransferase 8-like (encoded by Nat8l)

NaDC3 (encoded by Slc13a3)

Vacuolar ("spongiform") leukodystrophy

N-acetyl-

l

-aspartate (NAA)

Gene therapy