Abstract
Increasing evidence suggests that capsaicin may play a role in modulating neuronal function and controlling motor behavior. However, the underlying mechanism is still unclear and the activation of transient receptor potential vanilloid 1 (TRPV1) might be involved in. This study investigated the potential neuroprotective role of capsaicin in a rat model of 6-hydroxydopamine (6-OHDA)-induced Parkinson's disease (PD). Capsaicin was treated intraperitoneally for the 6-OHDA induced PD rats and the locomotor activity and abnormal involuntary movements were found alleviated. Besides, brain oxidative stress (lipid peroxidation, superoxide dismutase and catalase) was also assessed, and oxidative insults were investigated relieved. Both the expression of tyrosine hydroxylase and TRPV1 were increased in the striatal and substantia nigra areas of 6-OHDA induced rats after the treatment of capsaicin by the semi-quantitative analysis of Western Blot. And the immunostaining of substantia nigra further suggested that capsaicin might protect against dopaminergic neuronal loss. Our results showed that TRPV1 might be a novel therapeutic target for PD.
This is a preview of subscription content, log in to check access.
Access options
Buy single article
Instant access to the full article PDF.
US$ 39.95
Price includes VAT for USA
Subscribe to journal
Immediate online access to all issues from 2019. Subscription will auto renew annually.
US$ 199
This is the net price. Taxes to be calculated in checkout.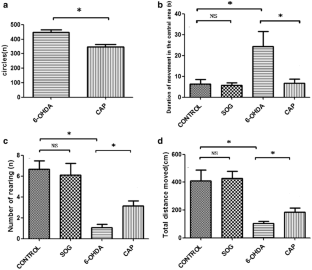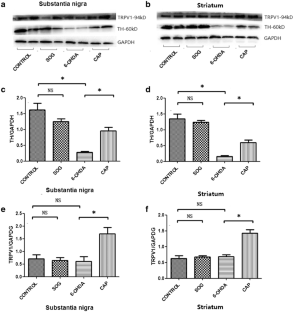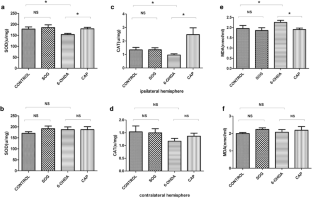 References
1.

Braak H, Del Tredici K, Rub U, de Vos RA, Jansen Steur EN, Braak E (2003) Staging of brain pathology related to sporadic Parkinson's disease. Neurobiol Aging 24:197–211

2.

Kalia LV, Lang AE (2015) Parkinson's disease. Lancet 386:896–912

3.

Athauda D, Foltynie T (2015) The ongoing pursuit of neuroprotective therapies in Parkinson disease. Nat Rev Neurol 11:25–40

4.

Lindholm D, Makela J, Di Liberto V, Mudo G, Belluardo N, Eriksson O, Saarma M (2016) Current disease modifying approaches to treat Parkinson's disease. Cell Mol Life Sci 73:1365–1379

5.

Schapira AH (2008) Mitochondria in the aetiology and pathogenesis of Parkinson's disease. Lancet Neurol 7:97–109

6.

Subramaniam SR, Chesselet MF (2013) Mitochondrial dysfunction and oxidative stress in Parkinson's disease. Prog Neurobiol 106–107:17–32

7.

Bove J, Prou D, Perier C, Przedborski S (2005) Toxin-induced models of Parkinson's disease. NeuroRx 2:484–494

8.

Wachter B, Schurger S, Rolinger J, von Ameln-Mayerhofer A, Berg D, Wagner HJ, Kueppers E (2010) Effect of 6-hydroxydopamine (6-OHDA) on proliferation of glial cells in the rat cortex and striatum: evidence for de-differentiation of resident astrocytes. Cell Tissue Res 342:147–160

9.

Lim JL, Wilhelmus MM, de Vries HE, Drukarch B, Hoozemans JJ, van Horssen J (2014) Antioxidative defense mechanisms controlled by Nrf2: state-of-the-art and clinical perspectives in neurodegenerative diseases. Arch Toxicol 88:1773–1786

10.

Ozsoy O, Yildirim FB, Ogut E, Kaya Y, Tanriover G, Parlak H, Agar A, Aslan M (2015) Melatonin is protective against 6-hydroxydopamine-induced oxidative stress in a hemiparkinsonian rat model. Free Radic Res 49:1004–1014

11.

Baker K, Raemdonck K, Dekkak B, Snelgrove RJ, Ford J, Shala F, Belvisi MG, Birrell MA (2016) Role of the ion channel, transient receptor potential cation channel subfamily V member 1 (TRPV1), in allergic asthma. Respir Res 17:67

12.

Grace MS, Baxter M, Dubuis E, Birrell MA, Belvisi MG (2014) Transient receptor potential (TRP) channels in the airway: role in airway disease. Br J Pharmacol 171:2593–2607

13.

Caterina MJ, Schumacher MA, Tominaga M, Rosen TA, Levine JD, Julius D (1997) The capsaicin receptor: a heat-activated ion channel in the pain pathway. Nature 389:816–824

14.

Reyes-Escogido Mde L, Gonzalez-Mondragon EG, Vazquez-Tzompantzi E (2011) Chemical and pharmacological aspects of capsaicin. Molecules 16:1253–1270

15.

Immke DC, Gavva NR (2006) The TRPV1 receptor and nociception. Semin Cell Dev Biol 17:582–591

16.

Gunthorpe MJ, Szallasi A (2008) Peripheral TRPV1 receptors as targets for drug development: new molecules and mechanisms. Curr Pharm Des 14:32–41

17.

Maiese K (2014) "Tripping out" with the TRP superfamily and TRPV1 for novel neuroprotection. Curr Neurovasc Res 11:91–93

18.

Veldhuis WB, van der Stelt M, Wadman MW, van Zadelhoff G, Maccarrone M, Fezza F, Veldink GA, Vliegenthart JF, Bar PR, Nicolay K, Di Marzo V (2003) Neuroprotection by the endogenous cannabinoid anandamide and arvanil against in vivo excitotoxicity in the rat: role of vanilloid receptors and lipoxygenases. J Neurosci 23:4127–4133

19.

Razavinasab M, Shamsizadeh A, Shabani M, Nazeri M, Allahtavakoli M, Asadi-Shekaari M, Esmaeli-Mahani S, Sheibani V (2013) Pharmacological blockade of TRPV1 receptors modulates the effects of 6-OHDA on motor and cognitive functions in a rat model of Parkinson's disease. Fundam Clin Pharmacol 27:632–640

20.

Starowicz K, Cristino L, Di Marzo V (2008) TRPV1 receptors in the central nervous system: potential for previously unforeseen therapeutic applications. Curr Pharm Des 14:42–54

21.

Carvalho MM, Campos FL, Coimbra B, Pego JM, Rodrigues C, Lima R, Rodrigues AJ, Sousa N, Salgado AJ (2013) Behavioral characterization of the 6-hydroxidopamine model of Parkinson's disease and pharmacological rescuing of non-motor deficits. Molecular Neurodegener 8:14

22.

Qin X, Han W, Yu Z (2012) Neuronal-like differentiation of bone marrow-derived mesenchymal stem cells induced by striatal extracts from a rat model of Parkinson's disease. Neural Regen Res 7:2673–2680

23.

Zhang YM, Zhang L, Wang Y, Sun YN, Guo Y, Du CX, Zhang J, Yao L, Yu SQ, Liu J (2016) Activation and blockade of prelimbic 5-HT6 receptors produce different effects on depressive-like behaviors in unilateral 6-hydroxydopamine-induced Parkinson's rats. Neuropharmacology 110:25–36

24.

Choi SH, Joe EH, Kim SU, Jin BK (2003) Thrombin-induced microglial activation produces degeneration of nigral dopaminergic neurons in vivo. J Neurosci 23:5877–5886

25.

Park ES, Kim SR, Jin BK (2012) Transient receptor potential vanilloid subtype 1 contributes to mesencephalic dopaminergic neuronal survival by inhibiting microglia-originated oxidative stress. Brain Res Bull 89:92–96

26.

Morgese MG, Cassano T, Cuomo V, Giuffrida A (2007) Anti-dyskinetic effects of cannabinoids in a rat model of Parkinson's disease: role of CB(1) and TRPV1 receptors. Exp Neurol 208:110–119

27.

Gonzalez-Aparicio R, Moratalla R (2014) Oleoylethanolamide reduces L-DOPA-induced dyskinesia via TRPV1 receptor in a mouse model of Parkinson's disease. Neurobiol Dis 62:416–425

28.

Kim SR, Lee DY, Chung ES, Oh UT, Kim SU, Jin BK (2005) Transient receptor potential vanilloid subtype 1 mediates cell death of mesencephalic dopaminergic neurons in vivo and in vitro. J Neurosci 25:662–671

29.

Di Marzo V, Bisogno T, De Petrocellis L (2001) Anandamide: some like it hot. Trends Pharmacol Sci 22:346–349

30.

Shin CY, Shin J, Kim BM, Wang MH, Jang JH, Surh YJ, Oh U (2003) Essential role of mitochondrial permeability transition in vanilloid receptor 1-dependent cell death of sensory neurons. Mol Cell Neurosci 24:57–68

31.

Lee JG, Yon JM, Lin C, Jung AY, Jung KY, Nam SY (2012) Combined treatment with capsaicin and resveratrol enhances neuroprotection against glutamate-induced toxicity in mouse cerebral cortical neurons. Food Chem Toxicol 50:3877–3885
Acknowledgements
This work was supported by the National Natural Science Foundation of China (30970990) and Science and Technology Planning Project of Shandong Province (2014GSF118024).
Ethics declarations
Conflict of interest
The authors declare that they have no conflicts of interest.
About this article
Cite this article
Zhao, Z., Wang, J., Wang, L. et al. Capsaicin Protects Against Oxidative Insults and Alleviates Behavioral Deficits in Rats with 6-OHDA-Induced Parkinson's Disease via Activation of TRPV1. Neurochem Res 42, 3431–3438 (2017). https://doi.org/10.1007/s11064-017-2388-4
Received:

Revised:

Accepted:

Published:

Issue Date:
Keywords
Capsaicin

TRPV1

Parkinson's disease

Neuroprotection