Abstract
Cannabidiol (CBD) is a cannabinoid component of marijuana that has no significant activity at cannabinoid receptors or psychoactive effects. There is considerable interest in CBD as a therapy for epilepsy. Almost a third of epilepsy patients are not adequately controlled by clinically available anti-seizure drugs (ASDs). Initial studies appear to demonstrate that CBD preparations may be a useful treatment for pharmacoresistant epilepsy. The National Institute of Neurological Disorders and Stroke (NINDS) funded Epilepsy Therapy Screening Program (ETSP) investigated CBD in a battery of seizure models using a refocused screening protocol aimed at identifying pharmacotherapies to address the unmet need in pharmacoresistant epilepsy. Applying this new screening workflow, CBD was investigated in mouse 6 Hz 44 mA, maximal electroshock (MES), corneal kindling models and rat MES and lamotrigine-resistant amygdala kindling models. Following intraperitoneal (i.p.) pretreatment, CBD produced dose-dependent protection in the acute seizure models; mouse 6 Hz 44 mA (ED50 164 mg/kg), mouse MES (ED50 83.5 mg/kg) and rat MES (ED50 88.9 mg/kg). In chronic models, CBD produced dose-dependent protection in the corneal kindled mouse (ED50 119 mg/kg) but CBD (up to 300 mg/kg) was not protective in the lamotrigine-resistant amygdala kindled rat. Motor impairment assessed in conjunction with the acute seizure models showed that CBD exerted seizure protection at non-impairing doses. The ETSP investigation demonstrates that CBD exhibits anti-seizure properties in acute seizure models and the corneal kindled mouse. However, further preclinical and clinical studies are needed to determine the potential for CBD to address the unmet needs in pharmacoresistant epilepsy.
Access options
Buy single article
Instant access to the full article PDF.
US$ 39.95
Tax calculation will be finalised during checkout.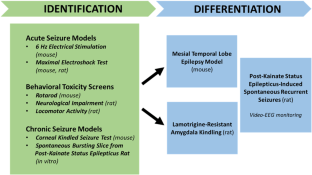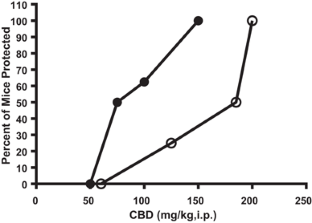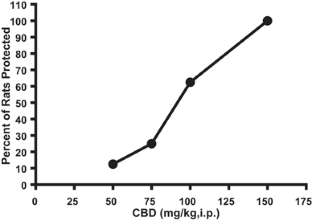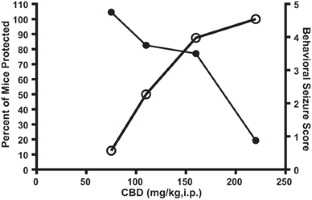 References
1.

Babalonis S, Haney M, Malcolm RJ, Lofwall MR, Votaw VR, Sparenborg S, Walsh SL (2016) Oral cannabidiol does not produce a signal for abuse liability in frequent marijuana smokers. Drug Alcohol Depend 172:9–13. doi:10.1016/j.drugalcdep.2016.11.030

2.

Reddy DS (2017) The utility of cannabidiol in the treatment of refractory epilepsy. Clin Pharmacol Ther 101(2):182–184. doi:10.1002/cpt.441

3.

Hess EJ, Moody KA, Geffrey AL, Pollack SF, Skirvin LA, Bruno PL, Paolini JL, Thiele EA (2016) Cannabidiol as a new treatment for drug-resistant epilepsy in tuberous sclerosis complex. Epilepsia 57(10):1617–1624. doi:10.1111/epi.13499

4.

Hussain SA, Zhou R, Jacobson C, Weng J, Cheng E, Lay J, Hung P, Lerner JT, Sankar R (2015) Perceived efficacy of cannabidiol-enriched cannabis extracts for treatment of pediatric epilepsy: a potential role for infantile spasms and Lennox-Gastaut syndrome. Epilepsy Behav 47:138–141. doi:10.1016/j.yebeh.2015.04.009

5.

Swinyard EA, Woodhead JH, White HS, Franklin MR (1989) General principles: experimental selection, quantification, and evaluation of anticonvulsants. In: Levy RH, Mattson RH, Melrum B, Penry JK, Dreifuss FE (eds) Antiepileptic drugs (3rd edn). Raven Press, New York, pp 85–102

6.

White HS, Woodhead JH, Franklin MR (1995) General principles: experimental selection, quantification, and evaluation of antiepileptic drugs. In: Levy RH, Mattson RH, Meldrum BS (eds) Antiepileptic drugs (4th edn). Raven Press, New York, pp 99–110

7.

White HS, Johnson M, Wolf HH, Kupferberg HJ (1995) The early identification of anticonvulsant activity: role of the maximal electroshock and subcutaneous pentylenetetrazol seizure models. Ital J Neurol Sci 16(1–2):73–77

8.

Barton ME, Klein BD, Wolf HH, White HS (2001) Pharmacological characterization of the 6 Hz psychomotor seizure model of partial epilepsy. Epilepsy Res 47(3):217–227

9.

Racine RJ (1972) Modification of seizure activity by electrical stimulation: II. Motor seizure. Electroenceph Clin Neurophysiol 32:281–294

10.

Postma T, Krupp E, Li XL, Post RM, Weiss SR (2000) Lamotrigine treatment during amygdala-kindled seizure development fails to inhibit seizures and diminishes subsequent anticonvulsant eficacy. Epilepsia 41:1514–1521

11.

Dunham MS, Miya TA (1957) A note on a simple apparatus for detecting neurological deficit in rats and mice. J Am Pharm Assoc Sci Ed 46:208–209

12.

Finney DJ (1952) Probit analysis. A statistical treatment of the sigmoid response curve. University Press, Cambridge

13.

Wallace MJ, Wiley JL, Martin BR, DeLorenzo RJ (2001) Assessment of the role of CB1 receptors in cannabinoid anticonvulsant effects. Eur J Pharmacol 428(1):51–57

14.

Deiana S, Watanabe A, Yamasaki Y, Amada N, Arthur M, Fleming S, Woodcock H, Dorward P, Pigliacampo B, Close S, Platt B, Riedel G (2012) Plasma and brain pharmacokinetic profile of cannabidiol (CBD), cannabidivarine (CBDV), Delta(9)-tetrahydrocannabivarin (THCV) and cannabigerol (CBG) in rats and mice following oral and intraperitoneal administration and CBD action on obsessive-compulsive behaviour. Psychopharmacology (Berl) 219(3):859–873. doi:10.1007/s00213-011-2415-0

15.

Smith M, Wilcox KS, White HS (2007) Discovery of antiepileptic drugs. Neurotherapeutics 4(1):12–17. doi:10.1016/j.nurt.2006.11.009

16.

Brown WC, Schiffman DO, Swinyard EA, Goodman LS (1953) Comparative assay of an antiepileptic drugs by psychomotor seizure test and minimal electroshock threshold test. J Pharmacol Exp Ther 107(3):273–283

17.

Leclercq K, Matagne A, Kaminski RM (2014) Low potency and limited efficacy of antiepileptic drugs in the mouse 6 Hz corneal kindling model. Epilepsy Res 108(4):675–683. doi:10.1016/j.eplepsyres.2014.02.013

18.

Loscher W, Klitgaard H, Twyman RE, Schmidt D (2013) New avenues for anti-epileptic drug discovery and development. Nat Rev Drug Discov 12(10):757–776. doi:10.1038/nrd4126

19.

Loewen JL, Barker-Haliski ML, Dahle EJ, White HS, Wilcox KS (2016) Neuronal injury, gliosis, and glial proliferation in two models of temporal lobe epilepsy. J Neuropathol Exp Neurol 75(4):366–378. doi:10.1093/jnen/nlw008

20.

Rowley NM, White HS (2010) Comparative anticonvulsant efficacy in the corneal kindled mouse model of partial epilepsy: correlation with other seizure and epilepsy models. Epilepsy Res 92(2–3):163–169. doi:10.1016/j.eplepsyres.2010.09.002

21.

Matagne A, Klitgaard H (1998) Validation of corneally kindled mice: a sensitive screening model for partial epilepsy in man. Epilepsy Res 31(1):59–71

22.

Srivastava AK, Alex AB, Wilcox KS, White HS (2013) Rapid loss of efficacy to the antiseizure drugs lamotrigine and carbamazepine: a novel experimental model of pharmacoresistant epilepsy. Epilepsia 54(7):1186–1194. doi:10.1111/epi.12234

23.

Srivastava AK, White HS (2013) Carbamazepine, but not valproate, displays pharmacoresistance in lamotrigine-resistant amygdala kindled rats. Epilepsy Res 104(1–2):26–34. doi:10.1016/j.eplepsyres.2012.10.003

24.

Riban V, Bouilleret V, Pham-Le BT, Fritschy JM, Marescaux C, Depaulis A (2002) Evolution of hippocampal epileptic activity during the development of hippocampal sclerosis in a mouse model of temporal lobe epilepsy. Neuroscience 112(1):101–111

25.

Duveau V, Pouyatos B, Bressand K, Bouyssieres C, Chabrol T, Roche Y, Depaulis A, Roucard C (2016) Differential effects of antiepileptic drugs on focal seizures in the intrahippocampal kainate mouse model of mesial temporal lobe epilepsy. CNS Neurosci Ther 22 (6):497–506. doi:10.1111/cns.12523

26.

Langlois M, Polack PO, Bernard H, David O, Charpier S, Depaulis A, Deransart C (2010) Involvement of the thalamic parafascicular nucleus in mesial temporal lobe epilepsy. J Neurosci 30(49):16523–16535. doi:10.1523/jneurosci.1109-10.2010

27.

Thomson KE, Modi AC, Glauser TA, Rausch JR, Steve White H (2017) The impact of nonadherence to antiseizure drugs on seizure outcomes in an animal model of epilepsy. Epilepsia. doi:10.1111/epi.13742

28.

Lippiello P, Balestrini S, Leo A, Coppola A, Citraro R, Elia M, Russo E, De Sarro G (2016) From cannabis to cannabidiol to treat epilepsy, where are we? Curr Pharm Des. doi:10.2174/1381612822666160831122722

29.

Szaflarski JP, Bebin EM (2014) Cannabis, cannabidiol, and epilepsy: from receptors to clinical response. Epilepsy Behav 41:277–282. doi:10.1016/j.yebeh.2014.08.135

30.

Mao K, You C, Lei D, Zhang H (2015) High dosage of cannabidiol (CBD) alleviates pentylenetetrazole-induced epilepsy in rats by exerting an anticonvulsive effect. Int J Clin Exp Med 8(6):8820–8827

31.

Pertwee RG, Howlett AC, Abood ME, Alexander SP, Di Marzo V, Elphick MR, Greasley PJ, Hansen HS, Kunos G, Mackie K, Mechoulam R, Ross RA (2010) International union of basic and clinical pharmacology. LXXIX. Cannabinoid receptors and their ligands: beyond CB(1) and CB(2). Pharmacol Rev 62(4):588–631. doi:10.1124/pr.110.003004

32.

Laprairie RB, Bagher AM, Kelly ME, Denovan-Wright EM (2015) Cannabidiol is a negative allosteric modulator of the cannabinoid CB1 receptor. Br J Pharmacol 172(20):4790–4805. doi:10.1111/bph.13250

33.

White HS, Smith MD, Wilcox KS (2007) Mechanisms of action of antiepileptic drugs. Int Rev Neurobiol 81:85–110. doi:10.1016/s0074-7742(06)81006-8

34.

Rogawski MA, Loscher W (2004) The neurobiology of antiepileptic drugs. Nat Rev Neurosci 5(7):553–564. doi:10.1038/nrn1430

35.

Patel RR, Barbosa C, Brustovetsky T, Brustovetsky N, Cummins TR (2016) Aberrant epilepsy-associated mutant Nav1.6 sodium channel activity can be targeted with cannabidiol. Brain 139(Pt 8):2164–2181. doi:10.1093/brain/aww129

36.

Hill AJ, Jones NA, Smith I, Hill CL, Williams CM, Stephens GJ, Whalley BJ (2014) Voltage-gated sodium (NaV) channel blockade by plant cannabinoids does not confer anticonvulsant effects per se. Neurosci Lett 566:269–274. doi:10.1016/j.neulet.2014.03.013

37.

Iannotti FA, Hill CL, Leo A, Alhusaini A, Soubrane C, Mazzarella E, Russo E, Whalley BJ, Di Marzo V, Stephens GJ (2014) Nonpsychotropic plant cannabinoids, cannabidivarin (CBDV) and cannabidiol (CBD), activate and desensitize transient receptor potential vanilloid 1 (TRPV1) channels in vitro: potential for the treatment of neuronal hyperexcitability. ACS Chem Neurosci 5(11):1131–1141. doi:10.1021/cn5000524

38.

Ibeas Bih C, Chen T, Nunn AV, Bazelot M, Dallas M, Whalley BJ (2015) Molecular targets of cannabidiol in neurological disorders. Neurotherapeutics 12(4):699–730. doi:10.1007/s13311-015-0377-3

39.

Fogaca MV, Reis FM, Campos AC, Guimaraes FS (2014) Effects of intra-prelimbic prefrontal cortex injection of cannabidiol on anxiety-like behavior: involvement of 5HT1A receptors and previous stressful experience. Eur Neuropsychopharmacol 24(3):410–419. doi:10.1016/j.euroneuro.2013.10.012

40.

Theodore WH, Wiggs EA, Martinez AR, Dustin IH, Khan OI, Appel S, Reeves-Tyer P, Sato S (2012) Serotonin 1 A receptors, depression, and memory in temporal lobe epilepsy. Epilepsia 53(1):129–133. doi:10.1111/j.1528-1167.2011.03309.x

41.

Gloss D, Vickrey B (2014) Cannabinoids for epilepsy. Cochrane Database Syst Rev. doi:10.1002/14651858.CD009270.pub3

42.

Bialer M, Johannessen SI, Levy RH, Perucca E, Tomson T, White HS (2017) Progress report on new antiepileptic drugs: a summary of the thirteenth eilat conference on new antiepileptic drugs and devices (EILAT XIII). Epilepsia. doi:10.1111/epi.13634

43.

Devinsky O, Marsh E, Friedman D, Thiele E, Laux L, Sullivan J, Miller I, Flamini R, Wilfong A, Filloux F, Wong M, Tilton N, Bruno P, Bluvstein J, Hedlund J, Kamens R, Maclean J, Nangia S, Singhal NS, Wilson CA, Patel A, Cilio MR (2016) Cannabidiol in patients with treatment-resistant epilepsy: an open-label interventional trial. Lancet Neurol 15(3):270–278. doi:10.1016/S1474-4422(15)00379-8

44.

Geffrey AL, Pollack SF, Bruno PL, Thiele EA (2015) Drug-drug interaction between clobazam and cannabidiol in children with refractory epilepsy. Epilepsia 56(8):1246–1251. doi:10.1111/epi.13060

45.

Manini AF, Yiannoulos G, Bergamaschi MM, Hernandez S, Olmedo R, Barnes AJ, Winkel G, Sinha R, Jutras-Aswad D, Huestis MA, Hurd YL (2015) Safety and pharmacokinetics of oral cannabidiol when administered concomitantly with intravenous fentanyl in humans. J Addict Med 9(3):204–210. doi:10.1097/adm.0000000000000118

46.

Stewart KA, Wilcox KS, Fujinami RS, White HS (2010) Development of postinfection epilepsy after Theiler's virus infection of C57BL/6 mice. J Neuropathol Exp Neurol 69(12):1210–1219. doi:10.1097/NEN.0b013e3181ffc420

47.

Smith M, Patel D, Wallis G, Zhu J, West P, Metcalf C, Wilcox K (2016) Antiseizure effects of cannabidiol in acute seizure models and a CNS infection-induced model of limbic epilepsy. American Epilepsy Society 2016 annual meeting abstract database. Accessed from http://www.aesnet.org

48.

Hosseinzadeh M, Nikseresht S, Khodagholi F, Naderi N, Maghsoudi N (2016) Cannabidiol post-treatment alleviates rat epileptic-related behaviors and activates hippocampal cell autophagy pathway along with antioxidant defense in chronic phase of pilocarpine-induced seizure. J Mol Neurosci 58(4):432–440. doi:10.1007/s12031-015-0703-6
Acknowledgements
This work was supported by the National Institute of Neurological Disorders and Stroke's Epilepsy Therapy Screening Program contract HHSN 271201100029C awarded to the University of Utah with Dr. H. Steve White as the Principal Investigator. In December 2015, Dr. Karen Wilcox assumed the role of Principal Investigator for contract HHSN 271201100029C. This manuscript is submitted as a contribution to a special issue of Neurochemical Research in honor of the significant contributions of Dr. H. Steve White to epilepsy research and the NINDS ASP.
Disclaimer
This report does not represent the official view of the National Institute of Neurological Disorders and Stroke (NINDS), the National Institutes of Health (NIH), or any part of the US Federal Government. No official support or endorsement of this article by the NINDS or NIH is intended or should be inferred.
Ethics declarations
Conflict of interest
The authors declare that they have no conflict of interest.
Ethical Approval
All procedures performed in the studies involving animals were in accordance with the ethical standards of the institution at which the studies were conducted.
About this article
Cite this article
Klein, B.D., Jacobson, C.A., Metcalf, C.S. et al. Evaluation of Cannabidiol in Animal Seizure Models by the Epilepsy Therapy Screening Program (ETSP). Neurochem Res 42, 1939–1948 (2017). https://doi.org/10.1007/s11064-017-2287-8
Received:

Revised:

Accepted:

Published:

Issue Date:
Keywords
Cannabidiol

Cannabinoid

Preclinical screening

6 Hz model

Maximal electroshock

Kindling model