Abstract
Early brain injury (EBI) following subarachnoid hemorrhage (SAH) is the main cause to poor outcomes of SAH patients, and early inflammation plays an important role in the acute pathophysiological events. It has been demonstrated that ethyl pyruvate (EP) has anti-inflammatory and neuroprotective effects in various critical diseases, however, the role of EP on EBI following SAH remains to be elucidated. Our study aimed to evaluate the effects of EP on EBI following SAH in the endovascular perforation rabbit model. All rabbits were randomly divided into three groups: sham, SAH + Vehicle (equal volume) and SAH + EP (30 mg/kg/day). MRI was performed to estimate the reliability of the EBI at 24 and 72 h after SAH. Neurological scores were recorded to evaluate the neurological deficit, ELISA kit was used to measure the level of tumor necrosis factor-α (TNF-α), and western blot was used to detect the expression of TNF-α, tJNK, pJNK, bax and bcl-2 at 24 and 72 h after SAH. Terminal deoxynucleotidyl transferase dUTP nick end labeling (TUNEL) and Fluoro-jade B (FJB) staining were used to detect neuronal apoptosis and neurodegeneration respectively, meanwhile hematoxylin and eosin (H&E) staining was used to assess the degree of vasospasm. Our results demonstrated that EP alleviated brain tissue injury (characterized by diffusion weighted imaging and T2 sequence in MRI scan), and significantly improved neurological scores at 72 h after SAH. EP decreased the level of TNF-α and downregulated pJNK/tJNK and bax/bcl-2 in cerebral cortex and hippocampus effectively both at 24 and 72 h after SAH. Furthermore, EP reduced TUNEL and FJB positive cells significantly. In conclusion, the present study supported that EP afforded neuroprotective effects possibly via reducing TNF-α expression and inhibition of the JNK signaling pathway. Therefore, EP may be a potent therapeutic agent to attenuate EBI following SAH.
Access options
Buy single article
Instant access to the full article PDF.
USD 39.95
Price includes VAT (USA)
Tax calculation will be finalised during checkout.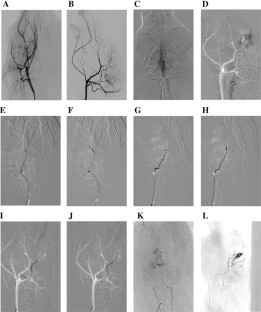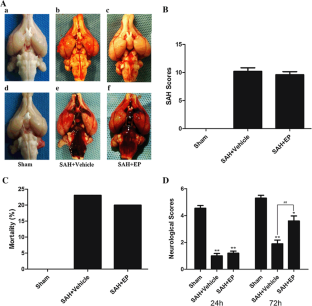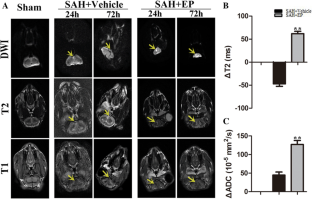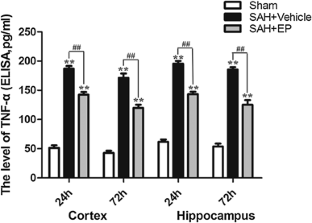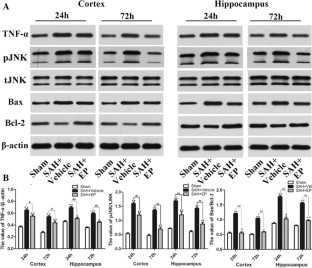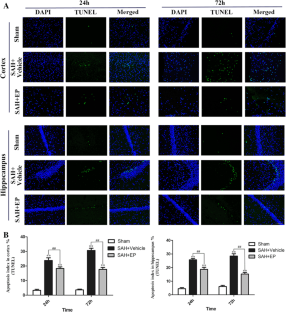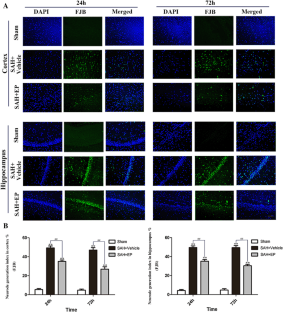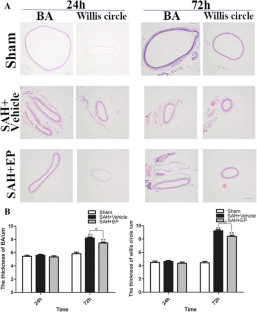 References
1.

Macdonald RL (2014) Delayed neurological deterioration after subarachnoid haemorrhage. Nat Rev Neurol 10(1):44–58. doi:10.1038/nrneurol.2013.246

2.

Macdonald RL, Higashida RT, Keller E, Mayer SA, Molyneux A, Raabe A, Vajkoczy P, Wanke I, Bach D, Frey A, Marr A, Roux S, Kassell N (2011) Clazosentan, an endothelin receptor antagonist, in patients with aneurysmal subarachnoid haemorrhage undergoing surgical clipping: a randomised, double-blind, placebo-controlled phase 3 trial (CONSCIOUS-2). Lancet Neurol 10(7):618–625. doi:10.1016/s1474-4422(11)70108-9

3.

Sehba FA, Pluta RM, Zhang JH (2011) Metamorphosis of subarachnoid hemorrhage research: from delayed vasospasm to early brain injury. Mol Neurobiol 43(1):27–40. doi:10.1007/s12035-010-8155-z

4.

Sehba FA, Hou J, Pluta RM, Zhang JH (2012) The importance of early brain injury after subarachnoid hemorrhage. Prog Neurobiol 97(1):14–37. doi:10.1016/j.pneurobio.2012.02.003

5.

Varma SD, Hegde KR, Kovtun S (2006) Oxidative damage to lens in culture: reversibility by pyruvate and ethyl pyruvate. Ophthalmologica 220 (1):52–57. doi:10.1159/000089275

6.

Fink MP (2007) Ethyl pyruvate: a novel anti-inflammatory agent. J Intern Med 261(4):349–362. doi:10.1111/j.1365-2796.2007.01789.x

7.

Cai B, Deitch EA, Ulloa L (2010) Novel insights for systemic inflammation in sepsis and hemorrhage. Mediat Inflamm 2010:642462. doi:10.1155/2010/642462

8.

Cheng BQ, Liu CT, Li WJ, Fan W, Zhong N, Zhang Y, Jia XQ, Zhang SZ (2007) Ethyl pyruvate improves survival and ameliorates distant organ injury in rats with severe acute pancreatitis. Pancreas 35(3):256–261. doi:10.1097/MPA.0b013e318064678a

9.

Huh SH, Chung YC, Piao Y, Jin MY, Son HJ, Yoon NS, Hong JY, Pak YK, Kim YS, Hong JK, Hwang O, Jin BK (2011) Ethyl pyruvate rescues nigrostriatal dopaminergic neurons by regulating glial activation in a mouse model of Parkinson's disease. J Immunol (Baltimore, Md: 1950) 187 (2):960–969. doi:10.4049/jimmunol.1100009

10.

Kao KK, Fink MP (2010) The biochemical basis for the anti-inflammatory and cytoprotective actions of ethyl pyruvate and related compounds. Biochem Pharmacol 80(2):151–159. doi:10.1016/j.bcp.2010.03.007

11.

Jang M, Lee MJ, Cho IH (2014) Ethyl pyruvate ameliorates 3-nitropropionic acid-induced striatal toxicity through anti-neuronal cell death and anti-inflammatory mechanisms. Brain Behav Immun 38:151–165. doi:10.1016/j.bbi.2014.01.015

12.

Kim SW, Jeong JY, Kim HJ, Seo JS, Han PL, Yoon SH, Lee JK (2010) Combination treatment with ethyl pyruvate and aspirin enhances neuroprotection in the postischemic brain. Neurotox Res 17(1):39–49. doi:10.1007/s12640-009-9075-4

13.

Shi H, Wang HL, Pu HJ, Shi YJ, Zhang J, Zhang WT, Wang GH, Hu XM, Leak RK, Chen J, Gao YQ (2015) Ethyl pyruvate protects against blood–brain barrier damage and improves long-term neurological outcomes in a rat model of traumatic brain injury. CNS Neurosci Ther 21 (4):374–384. doi:10.1111/cns.12366

14.

Kim HS, Cho IH, Kim JE, Shin YJ, Jeon JH, Kim Y, Yang YM, Lee KH, Lee JW, Lee WJ, Ye SK, Chung MH (2008) Ethyl pyruvate has an anti-inflammatory effect by inhibiting ROS-dependent STAT signaling in activated microglia. Free Radic Biol Med 45 (7):950–963. doi:10.1016/j.freeradbiomed.2008.06.009

15.

Chen W, Jia Z, Zhu H, Zhou K, Li Y, Misra HP (2010) Ethyl pyruvate inhibits peroxynitrite-induced DNA damage and hydroxyl radical generation: implications for neuroprotection. Neurochem Res 35(2):336–342. doi:10.1007/s11064-009-0059-9

16.

Jiang Z, Li X, Lin Z, Chen J, Guan X, Chen M (2015) Ethyl pyruvate reduces hepatic mitochondrial swelling and dysfunction in a rat model of sepsis. Int J Clin Exp Pathol 8(7):7774–7785

17.

Zeng J, Liu J, Yang GY, Kelly MJ, James TL, Litt L (2007) Exogenous ethyl pyruvate versus pyruvate during metabolic recovery after oxidative stress in neonatal rat cerebrocortical slices. Anesthesiology 107(4):630–640. doi:10.1097/01.anes.0000281898.01966.1e

18.

Relja B, Omid N, Wagner N, Mors K, Werner I, Juengel E, Perl M, Marzi I (2016) Ethanol, ethyl and sodium pyruvate decrease the inflammatory responses of human lung epithelial cells via Akt and NF-kappaB in vitro but have a low impact on hepatocellular cells. Int J Mol Med 37(2):517–525. doi:10.3892/ijmm.2015.2431

19.

Xu XH, Chen Q, Chen Y, Lv LX, Zhu CQ, Dai HL, Qian JQ (2010) [Effect of ethyl pyruvate on expression of inflammatory factors and mitogen-activated protein kinase proteins in renal ischemic/reperfusion injury in BABL/c mice]. Zhongguo wei zhong bing ji jiu yi xue = Chinese critical care medicine = Zhongguo weizhongbing jijiuyixue 22(12):750–75321

20.

Marbacher S, Fandino J, Kitchen ND (2010) Standard intracranial in vivo animal models of delayed cerebral vasospasm. Br J Neurosurg 24(4):415–434. doi:10.3109/02688691003746274

21.

Sugawara T, Ayer R, Jadhav V, Zhang JH (2008) A new grading system evaluating bleeding scale in filament perforation subarachnoid hemorrhage rat model. J Neurosci Methods 167(2):327–334. doi:10.1016/j.jneumeth.2007.08.004

22.

Jadhav V, Sugawara T, Zhang J, Jacobson P, Obenaus A (2008) Magnetic resonance imaging detects and predicts early brain injury after subarachnoid hemorrhage in a canine experimental model. J Neurotrauma 25(9):1099–1106. doi:10.1089/neu.2008.0518

23.

Zhang XS, Zhang X, Wu Q, Li W, Wang CX, Xie GB, Zhou XM, Shi JX, Zhou ML (2014) Astaxanthin offers neuroprotection and reduces neuroinflammation in experimental subarachnoid hemorrhage. J Surg Res 192(1):206–213. doi:10.1016/j.jss.2014.05.029

24.

Cui HK, Yan RF, Ding XL, Zhao P, Wu QW, Wang HP, Qin HX, Tu JF, Yang RM (2014) Platelet-derived growth factor-beta expression in rabbit models of cerebral vasospasm following subarachnoid hemorrhage. Mol Med Rep 10(3):1416–1422. doi:10.3892/mmr.2014.2350

25.

Marbacher S, Andereggen L, Neuschmelting V, Widmer HR, von Gunten M, Takala J, Jakob SM, Fandino J (2012) A new rabbit model for the study of early brain injury after subarachnoid hemorrhage. J Neurosci Methods 208(2):138–145. doi:10.1016/j.jneumeth.2012.05.010

26.

Gules I, Satoh M, Clower BR, Nanda A, Zhang JH (2002) Comparison of three rat models of cerebral vasospasm. Am J Physiol Heart Circ Physiol 283(6):H2551–H2559. doi:10.1152/ajpheart.00616.2002

27.

Woodcock RJ Jr, Short J, Do HM, Jensen ME, Kallmes DF (2001) Imaging of acute subarachnoid hemorrhage with a fluid-attenuated inversion recovery sequence in an animal model: comparison with non-contrast-enhanced CT. AJNR Am J Neuroradiol 22(9):1698–1703

28.

Bederson JB, Connolly ES, Jr., Batjer HH, Dacey RG, Dion JE, Diringer MN, Duldner JE, Jr., Harbaugh RE, Patel AB, Rosenwasser RH (2009) Guidelines for the management of aneurysmal subarachnoid hemorrhage: a statement for healthcare professionals from a special writing group of the Stroke Council, American Heart Association. Stroke a J Cereb Circ 40(3):994–1025. doi:10.1161/strokeaha.108.191395

29.

Sabri M, Lass E, Macdonald RL (2013) Early brain injury: a common mechanism in subarachnoid hemorrhage and global cerebral ischemia. Stroke Res Treat 2013:394036. doi:10.1155/2013/394036

30.

Provencio JJ, Vora N (2005) Subarachnoid hemorrhage and inflammation: bench to bedside and back. Semin Neurol 25(4):435–444. doi:10.1055/s-2005-923537

31.

Hanafy KA, Grobelny B, Fernandez L, Kurtz P, Connolly ES, Mayer SA, Schindler C, Badjatia N (2010) Brain interstitial fluid TNF-alpha after subarachnoid hemorrhage. J Neurol Sci 291(1–2):69–73. doi:10.1016/j.jns.2009.12.023

32.

Chou SH, Feske SK, Atherton J, Konigsberg RG, De Jager PL, Du R, Ogilvy CS, Lo EH, Ning M (2012) Early elevation of serum tumor necrosis factor-alpha is associated with poor outcome in subarachnoid hemorrhage. J Investig Med Off Publ Am Fed Clin Res 60(7):1054–1058. doi:10.2310/JIM.0b013e3182686932

33.

Vecchione C, Frati A, Di Pardo A, Cifelli G, Carnevale D, Gentile MT, Carangi R, Landolfi A, Carullo P, Bettarini U, Antenucci G, Mascio G, Busceti CL, Notte A, Maffei A, Cantore GP, Lembo G (2009) Tumor necrosis factor-alpha mediates hemolysis-induced vasoconstriction and the cerebral vasospasm evoked by subarachnoid hemorrhage. Hypertension 54(1):150–156. doi:10.1161/hypertensionaha.108.128124

34.

Jiang Y, Liu DW, Han XY, Dong YN, Gao J, Du B, Meng L, Shi JG (2012) Neuroprotective effects of anti-tumor necrosis factor-alpha antibody on apoptosis following subarachnoid hemorrhage in a rat model. J Clin Neurosci Off J Neurosurg Soc Australas 19(6):866–872. doi:10.1016/j.jocn.2011.08.038

35.

O'Connor JJ (2013) Targeting tumour necrosis factor-alpha in hypoxia and synaptic signalling. Ir J Med Sci 182(2):157–162. doi:10.1007/s11845-013-0911-4

36.

Sabio G, Davis RJ (2014) TNF and MAP kinase signalling pathways. Semin Immunol 26(3):237–245. doi:10.1016/j.smim.2014.02.009

37.

Zhang BF, Song JN, Ma XD, Zhao YL, Liu ZW, Li Y, Sun P, Li DD, Pang HG, Huang TQ (2015) Etanercept alleviates early brain injury following experimental subarachnoid hemorrhage and the possible role of tumor necrosis factor-alpha and c-Jun N-terminal kinase pathway. Neurochem Res 40(3):591–599. doi:10.1007/s11064-014-1506-9

38.

Dai Y, Zhang W, Zhou X, Shi J (2014) Inhibition of c-Jun N-terminal kinase ameliorates early brain injury after subarachnoid hemorrhage through inhibition of a Nur77 dependent apoptosis pathway. Neurochem Res 39(8):1603–1611. doi:10.1007/s11064-014-1355-6

39.

Chang CZ, Wu SC, Kwan AL, Lin CL (2015) Preconditioning with pitavastatin, an HMG-CoA reductase inhibitor, attenuates C-Jun N-terminal kinase activation in experimental subarachnoid hemorrhage-induced apoptosis. Acta neurochirurgica 157 (6):1031–1041; discussion 1041. doi:10.1007/s00701-015-2399-3

40.

Shen H, Hu X, Liu C, Wang S, Zhang W, Gao H, Stetler RA, Gao Y, Chen J (2010) Ethyl pyruvate protects against hypoxic-ischemic brain injury via anti-cell death and anti-inflammatory mechanisms. Neurobiol Dis 37(3):711–722. doi:10.1016/j.nbd.2009.12.010

41.

Wang Y, Li B, Li Z, Huang S, Wang J, Sun R (2013) Improvement of hypoxia-ischemia-induced white matter injury in immature rat brain by ethyl pyruvate. Neurochem Res 38(4):742–752. doi:10.1007/s11064-013-0972-9
Acknowledgements
This project was supported by the National Nature Science Foundation of China (No. 81471333), Seed Fund of Renji Hospital (No. RJZZ13-007) and the project to construct clinical ability of the third class hospital in suburban of Shanghai shen-kang hospital development center (No. SHDC12013906).
Additional information
T. Lv and Y.-F. Miao contributed equally to this work.
About this article
Cite this article
Lv, T., Miao, YF., Jin, YC. et al. Ethyl Pyruvate Attenuates Early Brain Injury Following Subarachnoid Hemorrhage in the Endovascular Perforation Rabbit Model Possibly Via Anti-inflammation and Inhibition of JNK Signaling Pathway. Neurochem Res 42, 1044–1056 (2017). https://doi.org/10.1007/s11064-016-2138-z
Received:

Revised:

Accepted:

Published:

Issue Date:
Keywords
Early brain injury (EBI)

Subarachnoid hemorrhage (SAH)

Ethyl pyruvate (EP)

Tumor necrosis factor-α (TNF-α)

Jun N-terminal kinase (JNK)