Abstract
Abnormal liver function has dramatic effects on brain functions. Hyperammonemia interferes profoundly with brain metabolism, astrocyte volume regulation, and in particular mitochondrial functions. Gene expression in the brain and excitatory and inhibitory neurotransmission circuits are also affected. Experiments with a number of pertinent animal models have revealed several potential mechanisms which could underlie the pathological phenomena occurring in hepatic encephalopathy.
Access options
Buy single article
Instant access to the full article PDF.
USD 39.95
Price excludes VAT (USA)
Tax calculation will be finalised during checkout.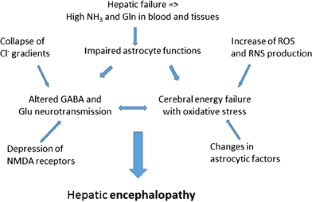 References
Walker V (2014) Ammonia metabolism and hyperammonemic disorders. Adv Clin Chem 67:73–150

Ferenci P, Lockwood A, Mullen K, Tarter R, Weissenborn K, Blei AT (2002) Hepatic encephalopathy definition, nomenclature, diagnosis, and quantification: final report of the working party at the 11th World Congresses of Gastroenterology, Vienna, 1998. Hepatology 35:716–721

Donn SM, Banagale RC (1984) Neonatal hyperammonemia. Ped Rev 5:203–208

Oja SS, von Bonsdorff HA, Lindroos OF (1966) Ammonia content of developing brain. Nature 212:937–938

Msall M, Batshaw ML, Suss R, Brusilow SW, Mellits ED (1984) Neurologic outcome in children with inborn errors of urea synthesis. Outcome of urea cycle enzymopathies. N Engl J Med 310:1500–1505

Cagnon L, Braissant O (2007) Hyperammonemia-induced toxicity for the developing central nervous system. Brain Res Rev 56:183–197

Miñana MD, Marcaida G, Grisolia S, Felipo V (1995) Prenatal exposure of rats to ammonia impairs NMDA receptor function and affords delayed protection against ammonia toxicity and glutamate neurotoxicity. J Neuropathol Exp Neurol 54:644–650

Bachmann C (2002) Mechanisms of hyperammonemia. Clin Chem Lab Med 40:653–662

Skowrońska M, Albrecht J (2013) Oxidative and nitrosative stress in ammonia neurotoxicity. Neurochem Int 82:731–737

Raabe WA (1989) Neurophysiology of ammonia intoxication. In Butterworth RF, Layrargues RG (eds) Hepatic encephalopathy: pathophysiology and treatment, Humana Press, Clifton, pp 49–77

Fan P, Lavoie J, Le NL, Szerb JC, Butterworth RF (1990) Neurochemical and electrophysiological studies on the inhibitory effect of ammonium ions on synaptic transmission in slices of rat hippocampus: evidence for a postsynaptic action. Neuroscience 37:327–334

Butterworth RF (1993) Portal-systemic encephalopathy: a disorder of neuron-astrocytic metabolic trafficking. Dev Neurosci 15:313–319

Görg B, Morwinsky A, Keitel V, Qvartskhava N, Schror K, Häussinger D (2010) Ammonia triggers exocytotic release of L-glutamate from cultured rat astrocytes. Glia 58:691–705

Hawkins RA, Mans AM (1994) Brain metabolism in encephalopathy caused by hyperammonemia. Adv Exp Med Biol 368:11–21

Anderzhanova E, Oja SS, Saransaari P, Albrecht J (2003) Changes in the striatal extracellular levels of dopamine and dihydroxyphenylacetic acid evoked by ammonia and N-methyl-D-aspartate: modulation by taurine. Brain Res 977:290–293

Skowrońska M, Albrecht J (2012) Alterations of blood brain barrier function in hyperammonemia: an overview. Neurotox Res 21:236–244

Bender AS, Norenberg MD (2000) Effect of ammonia on GABA uptake and release in cultured astrocytes. Neurochem Int 36:389–395

Dolińska M, Hilgier W, Albrecht J (1996) Ammonia stimulates glutamine uptake to the cerebral non-synaptic mitochondria of the rat. Neurosci Lett 213:45–48

Norenberg MD Baker I, Norenberg LO, Blicharska J, Bruce-Gregorios JH, Neary JT (1991) Ammonia-induced astrocyte swelling in primary culture. Neurochem Res 16:833–836

Blei AT (2005) The pathophysiology of brain edema in acute liver failure. Neurochem Int 47:71–77

Blei AT (2007) Brain edema in acute liver failure: can it be prevented? Can it be treated? J Hepatol 46:564–569

Back A, Tupper KY, Bai T, Chiranand P, Goldenberg FD, Frank JI, Brorson JR (2011) Ammonia-induced brain swelling and neurotoxicity in an organotypic slice model. Neurol Res 33:1100–1108

Norenberg MD, Rama Rao KV, Jayakumar AR (2005) Mechanisms of ammonia-induced astrocyte swelling. Metab Brain Dis 20:303–318

Cooper AJ (2001) Role of glutamine in cerebral nitrogen metabolism and ammonia neurotoxicity. Ment Retard Dev Disabil Res Rev 7:280–286

Albrecht J, Zielińska M, Norenberg MD (2010) Glutamine as a mediator of ammonia neurotoxicity: a critical reappraisal. Biochem Pharmacol 80:1303–1308

Laubenberger J, Häussing D, Bayer S, Gufler H, Hennig J, Langer M (1997) Proton magnetic resonance spectroscopy of the brain in symptomatic and asymptomatic patients with liver cirrhosis. Gastroenterology 112:1610–1616

Ziemińska E, Dolińska M, Lazarewics JW, Albrecht J (2000) Induction of permeability transition and swelling of rat brain mitochondria by glutamine. Neurotoxicology 21:295–300

Jayakumar AR, Norenberg MD (2010) The Na-K-Cl co-transporter in astrocyte swelling. Metab Brain Dis 25:31–38

Rangroo Thrane V, Thrane AS, Wang F, Cotrina ML, Smith NA, Chen M, Xu Q, Kang N, Fujita T, Nagelhus EA, Nedergaard M (2013) Ammonia triggers neuronal disinhibition and seizures by impairing astrocyte potassium buffering. Nat Med 19:1643–1648

Albrecht J, Sidoryk-Węgrzynowicz M, Zielińska M, Aschner M (2010) Roles of glutamine in neurotransmission. Neuron Glia Biol 6:263–276

Eid T, Lee T-SW (2013) Reassessing the role of astrocytes in ammonia neurotoxicity. Nat Med 19:1572–1574

Norenberg MD, Rama Rao KV, Jayakumar AR (2009) Signaling factors in the mechanism of ammonia neurotoxicity. Metab Brain Dis 24:103–117

Norenberg MD (2003) Oxidative and nitrosative stress in ammonia neurotoxicity. Hepatology 37:245–248

Alvarez VM, Rama Rao KV, Brahmbhatt M, Norenberg MD (2011) Interaction between cytokines and ammonia in the mitochondrial permeability transition in cultured astrocytes. J Neurosci Res 89:2028–2040

Sinke AP, Jayakumar AR, Panickar KS, Moriyama MR, Pichili VBR, Norenberg MD (2008) NFκB in the mechanism of ammonia-induced astrocyte swelling in culture. J Neurochem 106:2302–2311

Jayakumar AR, Panickar KS, Murthy CK, Norenberg MD (2006) Oxidative stress and mitogen-activated protein kinase phosphorylation mediate ammonia-induced cell swelling and glutamate uptake inhibition in cultured astrocytes. J Neurosci 26:4774–4784

Kosenko E, Kaminsky Y, Solomadin I, Marov N, Venediktova N, Felipo V, Montoliu C (2007) Acute ammonia neurotoxicity in vivo involves increase in cytoplasmic protein P53 without alterations in other markers of apoptosis. J Neurosci Res 85:2491–2499

Panickar KS, Jayakumar AR, Rama Rao KV, Norenberg MD (2009) Ammonia-induced activation of p53 in cultured astrocytes: role in cell swelling and glutamate uptake. Neurochem Int 55:98–105

Jayakumar AR, Tong XY, Curtis KM, Ruiz-Cordero R, Shamaladevi N, Abuzamel M, Johnstone J, Gaidosh G, Rama Rao KV, Norenberg MD (2014) Decreased astrocytic thrombospondin-1 secretion after chronic ammonia treatment reduces the level of synaptic proteins: in vitro and in vivo studies. J Neurochem 131:333–347

Murthy CR, Rama Rao KV, Bai G, Norenberg MD (2001) Ammonia-induced production of free radicals in primary cultures of rat astrocytes. J Neurosci Res 66:282–288

Skowrońska M, Zielińska M, Albrecht (2010) Stimulation of natriuretic peptide receptor C attenuates accumulation of reactive oxygen species and nitric oxide synthesis in ammonia-treated astrocytes. J Neurochem 115:1068–1076

Hilgier W, Anderzhanova E, Oja SS, Saransaari P, Albrecht J (2003) Taurine reduces ammonia-and N-methyl-D-aspartate-induced accumulation of cyclic GMP and hydoxyl radicals in microdialysates of the rat striatum. Eur J Pharmacol 468:21–25

Häussinger D, Görg B, Reinehr R, Schliess F (2005) Protein tyrosine nitration in hyperammonemia and hepatic encephalopathy. Metab Brain Dis 20:285–294

Swapna I, Sathya Sai Kumar KV, Murthy CR, Senthilkumaran B (2006) Membrane alterations and fluidity changes in cerebral cortex during acute ammonia intoxication. Neurotoxicology 27:402–408

Görg B, Qvartskhava N, Keitel V Bidmon HJ, Selbach O, Schliess F, Häussinger D (2008) Ammonia induces RNA oxidation in cultured astrocytes and brain in vivo. Hepatology 48:567–579

Murthy CR, Bender AS, Dombro RS, Bai G, Norenberg MD (2000) Elevation of glutathione levels by ammonium ions in primary cultures of rat astrocytes. Neurochem Int 37:255–268

Węgrzynowicz M, Hilgier W, Dybel A, Oja SS, Saransaari P, Albrecht J (2007) Upregulation of cerebral cortical glutathione synthesis by ammonia in vivo and in cultured glial cells: the role of cystine uptake. Neurochem Int 50:883–889

Hilgier W, Węgrzynowicz M, Ruszkięwicz J, Oja SS, Saransaari P, Albrecht J (2010) Direct exposure to ammonia and hyperammonemia increase the extracellular accumulation and degradation of astroglia-derived glutathione in the rat prefrontal cortex. Toxicol Sci 117:163–168

Pichili VBR, Rama Rao KV, Jayakumar AR, Norenberg MD (2007) Inhibition of glutamine transport into mitochondria protects astrocytes from ammonia toxicity. Glia 55:801–809

Albrecht J, Norenberg MD (2006) Glutamine: a Trojan horse in ammonia neurotoxicity. Hepatology 44:788–794

Norenberg MD, Jayakumar AR, Rama Rao KV (2004) Oxidative stress in the pathogenesis of hepatic encephalopathy. Metab Brain Dis 19:313–329

Rama Rao KV, Jayakumar AR, Norenberg MD (2005) Role of oxidative stress in the ammonia-induced mitochondrial permeability transition in cultured astrocytes. Neurochem Int 47:31–38

Rama Rao KV, Jayakumar AR, Norenberg DM (2003) Ammonia neurotoxicity: role of the mitochondrial permeability transition. Metab Brain Dis 18:113–127

Norenberg MD, Rama Rao KV, Jayakumar AR (2004) Ammonia neurotoxicity and the mitochondrial permeability transition. J Bioenerg Biomembr 36:303–307

Jayakumar AR, Rama Rao KV, Schousboe A, Norenberg MD (2004) Glutamine-induced free radical production in cultured astrocytes. Glia 46:296–301

DeJoseph MR, Hawkins RA (1991) Glucose consumption decreases throughout the brain only hours after portacaval shunting. Am J Physiol 260:E613–E619

Hilgier W, Beveniste H, Diemer NH, Albrecht J (1991) Decreased glucose utilization in discrete brain regions of rat in thioacetamide-induced hepatic encephalopathy as measured with [3H]-deoxyglucose. Acta Neurol Scand 83:353–355

Hindfelt B, Plum F, Duffy TE (1977) Effect of acute ammonia intoxication on cerebral metabolism in rats with portacaval shunts. J Clin Invest 59:386–396

Therrien G, Giguére JF, Butterworth RF (1991) Increased cerebrospinal fluid lactate reflects deterioration of neurological status in experimental porta-systemic encephalopathy. Metab Brain Dis 6:225–231

Haghighat N, McCandless DW (1997) Effect of ammonium chloride on energy metabolism of astrocytes and C6-glioma cells in vitro. Metab Brain Dis 12:287–298

Felipo V, Kosenko E, Miñana MD, Marcaida G, Grisolia S (1994) Molecular mechanism of acute ammonia toxicity and of its prevention by L-carnitine. Adv Exp Med Biol 368:65–77

Leke R, Bak LK, Anker M, Melo TM, Sørensen M, Keiding S, Vilstrup H, Ott P, Portela LV, Sonnewald U, Schousboe A, Waagepetersen HS (2011) Detoxification of ammonia in mouse cortical GABAergic cell cultures increases neuronal oxidative metabolism and reveals an emerging role for release of glucose-derived alanine. Neurotox Res 19:496–510

Haghighat N, McCandless DW, Geraminegad P (2000) The effect of ammonium chloride on metabolism of primary neurons and neuroblastoma cells in vitro. Metab Brain Dis 15:151–162

Schousboe A, Waagepetersen HS, Leke R, Bak LK (2014) Effects of hyperammonemia on brain energy metabolism: controversial findings in vivo and in vitro. Metab Brain Dis 29:913–917

Iversen P, Mouridsen K, Hansen MB, Jensen SB, Sørensen M, Bak LK, Waagepetersen HS, Schousboe A, Ott P, Vilstrup H, Keiding S, Gjedde A (2014) Oxidative metabolism of astrocytes is not reduced in hepatic encephalopathy: a PET study with [11C]acetate in humans. Front Neurosci 8:353

Martinez-Hernandez A, Bell KP, Norenberg MD (1977) Glutamine synthetase: glial localization in brain. Science 195:1356–1358

Rose CF, Verkhratsky A, Parpura V (2013) Astrocyte glutamine synthetase: pivotal in health and disease. Biochem Soc Trans 41:1518–1524

Suárez I, Bodega G, Fernández B (2002) Glutamine synthetase in brain: effect of ammonia. Neurochem Int 41:123–143

Butterworth RF (2010) Altered glial-neuronal crosstalk: cornerstone in the pathogenesis of hepatic encephalopathy. Neurochem Int 57:383–388

Hermenegildo C, Monfort P, Felipo V (2000) Activation of N-methyl-D-aspartate receptors in rat brain in vivo following acute ammonia intoxication: characterization by in vivo brain microdialysis. Hepatology 31:709–715

Albrecht J (1998) Roles of neuroactive amino acids in ammonia neurotoxicity. J Neurosci Res 51:133–138

Hermenegildo C, Montoliu C, Llansola M, Muñoz M-D, Gaztelu J-M, Miñana M-D, Felipo V (1998) Chronic hyperammonemia impairs the glutamate-nitric oxide-cyclic GMP pathway in cerebellar neurons in culture and in the rat in vivo. Eur J Neurosci 10:3201–3209

Zielińska M, Law RO, Albrecht J (2003) Excitotoxic mechanism of cell swelling in rat cerebral cortical slices treated with ammonia. Neurochem Int 43:299–303

Saran T, Hilgier W, Kocki T, Urbańska EM, Turski WA, Albrecht J (1998) Acute ammonia treatment in vitro and in vivo inhibits the synthesis of a neuroprotectant kynurenic acid in rat cerebral cortical slices. Brain Res 787:348–350

Szerb JC, Retondo IM (1993) Astrocytes and the entry of circulating ammonia into the brain: effect of fluoroacetate. Metab Brain Dis 8:217–234

Schliess F, Görg B, Fischer R, Desjardins P, Bidmon HJ, Herrmann A, Butterworth RF, Zilles K, Häussinger D (2002) Ammonia induces MK-801-sensitive nitration and phosphorylation of protein tyrosine residues in rat astrocytes. FASEB J 16:739–741

Kruczek C, Görg B, Keitel V, Bidmon HJ, Schliess F, Häussinger D (2011) Ammonia increases nitric oxide, free Zn2+, and metallothionein mRNA expression in cultured rat astrocytes. Biol Chem 392:1155–1165

Yonden Z, Aydin M, Kilbas A, Demirin H, Sutcu R, Delibas N (2010) Effects of ammonia and allopurinol on rat hippocampal NMDA receptors. Cell Biochem Funct 28:159–163

Hilgier W, Węgrzynowicz M, Mączewski M, Beręsewicz A, Oja SS Saransaari P, Albrecht J (2008) Effect of glutamine synthesis inhibition with methionine sulfoximine on the nitric oxide-cyclic GMP pathway in the rat striatum treated acutely with ammonia: a microdialysis study. Neurochem Res 33:267–272

Bużańska L, Zabłocka B, Dybel A, Domańska-Janik K, Albrecht J (2000) Delayed induction of apoptosis by ammonia in C6 glioma cells. Neurochem Int 37:287–297

Cauli O, Gonzalez-Usano A, Agusti A, Felipo V (2011) Differential modulation of the glutamate-nitric oxide-cyclic GMP pathway by distinct neurosteroids in cerebellum in vivo. Neuroscience 190:27–36

Gonzalez-Usano A, Cauli O, Agustí A, Felipo V (2013) Hyperammonemia alters the modulation by different neurosteroids of the glutamate-nitric oxide-cyclic GMP pathway through NMDA-, GABAA- or sigma receptors in cerebellum in vivo. J Neurochem 125:133–143

Gonzalez-Usano A, Cauli O, Agusti A, Felipo V (2014) Pregnenolone sulfate restores the glutamate-nitric-oxide-cGMP pathway and extracellular GABA in cerebellum and learning and motor coordination in hyperammonemic rats. ACS Chem Neurosci 5:100–105

Izumi Y, Izumi M, Matsukawa M, Funatsu M, Zorumski CF (2005) Ammonia-mediated LTP inhibition: effects of NMDA receptor antagonists and L-carnitine. Neurobiol Dis 20:615–624

Izumi Y, Svrakic N, O'Dell K, Zorumski CF (2013) Ammonia inhibits long-term potentiation via neurosteroid synthesis in hippocampal pyramidal neurons. Neuroscience 233:166–173

Zorumski CF, Paul SM, Izumi Y, Covey DF, Mennerick S (2013) Neurosteroids, stress and depression: potential therapeutic opportunities. Neurosci Biobehav Rev 37:109–122

Itzhak Y, Roig-Cantisano A, Dombro RS, Norenberg MD (1995) Acute liver failure and hyperammonemia increase peripheral-type benzodiazepine receptor binding and pregnenolone synthesis in mouse brain. Brain Res 705:345–348

Desjardins P, Bandeira P, Raghavendra Rao VL, Ledoux S, Butterworth RF (1997) Increased expression of the peripheral-type benzodiazepine receptor-isoquinoline carboxamide binding protein mRNA in brain following portacaval anastomosis. Brain Res 758:255–258

Desjardins P, Butterworth RF (2002) The "peripheral-type" benzodiazepine (omega 3) receptor in hyperammonemic disorders. Neurochem Int 41:109–114

Cagnin A, Taylor-Robinson SD, Forton DM, Banati RB (2006) In vivo imaging of cerebral "peripheral benzodiazepine binding sites" in patients with hepatic encephalopathy. Gut 55:547–553

Agusti A, Dziedzic JL, Hernandez-Rabaza V, Guilarte TR, Felipo V (2014) Rats with minimal hepatic encephalopathy due to portacaval shunt show differential increase of translocator protein (18 kDa) binding in different brain areas, which is not affected by chronic MAP-kinase p38 inhibition. Metab Brain Dis 29:955–963

Ahboucha S, Coyne L, Hirakawa R, Butterworth RF, Halliwell RF (2006) An interaction between benzodiazepines and neuroactive steroids at GABAA receptors in cultured hippocampal neurons. Neurochem Int 48:703–707

Ahboucha S, Gamrani H, Baker G (2012) GABAergic neurosteroids: the "endogenous benzodiazepines" of acute liver failure. Neurochem Int 60:707–714

Mladenovic D, Hrncic D, Petronijevic N, Jevtic G, Radosavljevic T, Rasic-Markovic A, Puskas N, Maksic N, Stanojlovic O (2014) Finasteride improves motor, EEG, and cellular changes in rat brain in thioacetamide-induced hepatic encephalopathy. Am J Physiol Gastrointest Liver Physiol 307:G931–G940

Matsuoka M, Igisu H, Kohriyama K, Inoue N (1991) Suppression of neurotoxicity of ammonia by L-carnitine. Brain Res 567:328–331

Felipo V, Miñana M-D, Cabedo H, Grisolia S (1994) L-Carnitine increases the affinity of glutamate for quisqualate receptors and prevents glutamate neurotoxicity. Neurochem Res 19:373–377

Miñana M-D, Hermenegildo C, Llansola M, Montoliu C, Grisolia S, Felipo V (1996) Carnitine and choline derivatives containing a trimethylamine group prevent ammonia toxicity in mice and glutamate toxicity in primary cultures of neurons. J Pharmacol Exp Ther 279:194–199

Matsuoka M, Igisu H (1993) Comparison of the effects of L-carnitine, D-carnitine and acetyl-L-carnitine on the neurotoxicity of ammonia. Biochem Pharmacol 46:159–164

Llansola M, Erceg S, Hernandez-Viadel M, Felipo V (2002) Prevention of ammonia and glutamate neurotoxicity by carnitine: molecular mechanisms. Metab Brain Dis 17:389–397

Felipo V, Hermenegildo C, Montoliu C, Llansola M, Miñana MD (1998) Neurotoxicity of ammonia and glutamate: molecular mechanisms and prevention. Neurotoxicology 19:675–681

Lheureux PER, Hantson P (2009). Carnitine in the treatment of valproic acid-induced toxicity. Clin Toxicol (Phila) 47:101–111

Kosenko E, Kaminsky Y, Grau E, Miñana M-D, Grisolia S, Felipo V (1995) Nitroarginine, an inhibitor of nitric oxide synthetase, attenuates ammonia toxicity and ammonia-induced alterations in brain metabolism. Neurochem Res 20:451–456

Hilgier W, Oja SS, Saransaari P, Albrecht J (2004) A novel glycine site-specific N-methyl-D-aspartate receptor antagonist prevents activation of the NMDA/NO/cGMP pathway by ammonia. Brain Res 1015:186–188

Túnez I, Muñoz MC, Villavicencio MA, Medina FJ, de Prado EP, Espejo I, Barcos M, Salcedo M, Feijóo M, Montilla P (2005) Hepato- and neurotoxicity induced by thioacetamide: protective effects of melatonin and dimethylsulfoxide. Pharmacol Res 52:223–228

Albrecht J, Węgrzynowicz M (2005) Endogenous neuro-protectants in ammonia toxicity in the central nervous system: facts and hypotheses. Metab Brain Dis 20:253–263

Bobermin LD, Quincozes-Santos A, Guerra MC, Leite MC, Souza DO, Goncalves C-A, Gottfried C (2012) Resveratrol prevents ammonia toxicity in astroglial cells. PLoS One 7(12):e52164. doi:10.1371/journal.pone.0052164
About this article
Cite this article
Oja, S.S., Saransaari, P. & Korpi, E.R. Neurotoxicity of Ammonia. Neurochem Res 42, 713–720 (2017). https://doi.org/10.1007/s11064-016-2014-x
Received:

Revised:

Accepted:

Published:

Issue Date:

DOI: https://doi.org/10.1007/s11064-016-2014-x
Keywords